It's rare to find a situation that I could describe as win-win. Duluth Trading Company (NASDAQ:DLTH) presents such an opportunity today. The short-term catalysts and long-term catalysts are quite strong, with medium term uncertainty. My prediction is that this over-shorted stock will produce good earnings results on December 8th, 2016 after market close based on new store additions, strong demand for the products overall, and a scalable business model with lots of room for growth.
While following DLTH I was surprised to discover that short-interest has climbed significantly. If earnings are good, this can be provide additional upside due to short-sellers trying to cover their positions. Right now the days to cover for Duluth Trading Company is 15.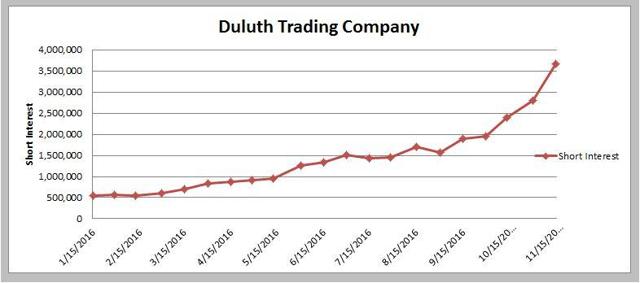 Duluth just opened their 16th store at 18101 East Bass Pro Drive, Independence, MO and have room to rapidly expand their store count in the coming years. Per their latest investor presentation: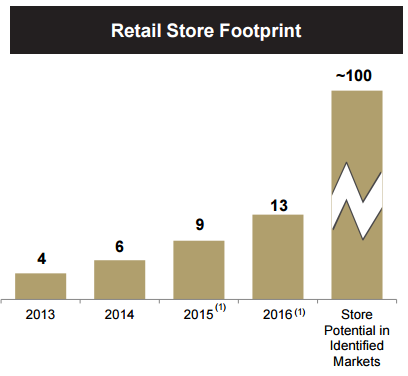 According to the NPD group, 80 - 85% of all apparel in the US is bought at brick-and-mortar. By expanding their store base this company will effectively build brand awareness and draw in new customers. The model for new stores is a payback of less than two years at a cost of 2 - 2.6 million. Thus far, management has handled capital well; achieving an average return on invested capital of 41% in the last three years.
Looking at all 16 of their stores, I have made a summary of the reviews both positive and negative. Keep in mind I did not take into account false or fake postings to sway someone from visiting or not visiting a store (so we're assuming everyone who left a review is 100% honest which is a big assumption). The figures below were gathered from their own website. Reading through many of the comments, mind you I was not going to read all 7293, I noticed a trend of friendly sales people and tidy stores. I did find some grumblings about some products not being made in the USA. Also, I visited the store in Port Washington, WI which has been around close to five years and personally found the staff friendly, the place tidy, and overall I could confirm the comments made by others.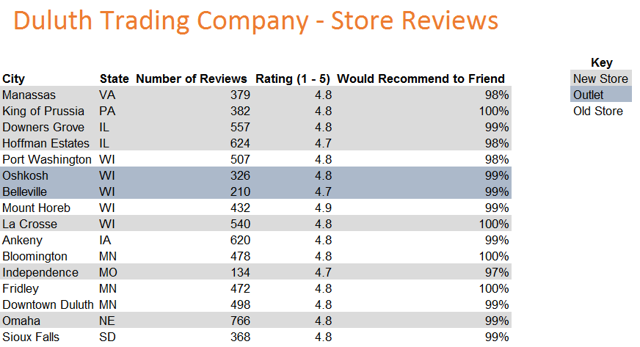 The most popular products are certainly the "Buck Naked" underwear, the fire hose work pants (which I own a pair of), and according to their website the fire hose shirt jac (pictured below). In the store, the sales people seemed to try and sell the flannels more than anything, perhaps because December 6th (the day I visited) the flannels and underwear were on sale. Putting items on sale isn't necessarily viewed positively in my view, especially when you have a premium quality product. However, when I visited it was an hour prior to closing time and the store had 15 - 20 customers who seemed intrigued by the products.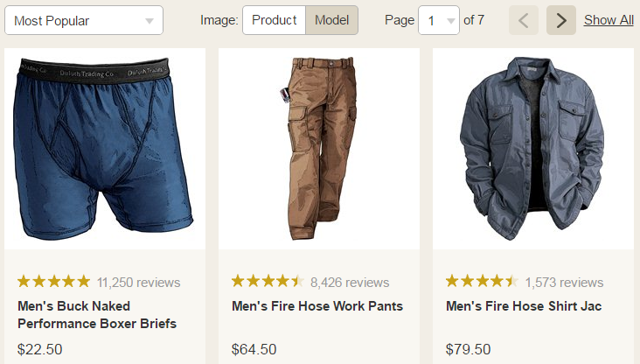 Duluth has grown sales substantially over a long-period of time and even with accelerating new store openings I expect this trend to continue. Per their latest 10-Q report, sales have increased year-over-year for 26 consecutive quarters through July 31, 2016. Operating income as a % of total net sales has also increased in the six months ended July 31, 2016 as compared to August 2nd, 2015 from 7.8% to 8.4%. Also, note that while more growth will come from the retail segment, roughly 85% of the net sales are through the direct channel (online and catalog). Management targets a long-term shift of about 70% direct and 30% retail.

Duluth trades at a high P/E of 42 and a P/S of 2.7, indicating premium valuation. Due to the accelerated growth of new stores, I actually think the P/E can go even higher. This company doesn't have presence in many states where I think the customers would respond well to high quality workman's clothing (Wichita, Kansas for example).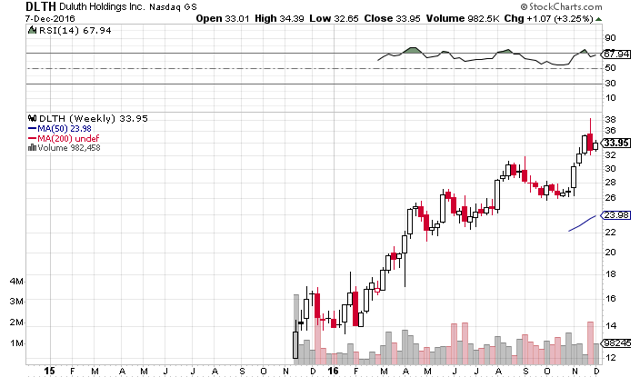 The price of Duluth has performed phenomenally well since their IPO in November of 2015. Even with this success, I think that Wall Street hasn't fully realized this company's potential. If this stock isn't right for your portfolio or level or risk, well, atleast I found you a place to get a Christmas gift for your dad.
Disclosure: I/we have no positions in any stocks mentioned, but may initiate a long position in DLTH over the next 72 hours.
I wrote this article myself, and it expresses my own opinions. I am not receiving compensation for it (other than from Seeking Alpha). I have no business relationship with any company whose stock is mentioned in this article.