Just like Johnny from the Outsiders was scorched by a massive fire, the price of gold (NYSEARCA:GLD) has also melted away over the past month. Gold has plummeted $170 / oz over the past 20 trading days, a drop so sharp that even fearless Ponyboy would be running for the hills. If Johnny were still with us today, he'd say "Stay (NASDAQ:LONG) gold, Ponyboy". Things could not look uglier for the metal, but gold investors may be getting a second lease on life today.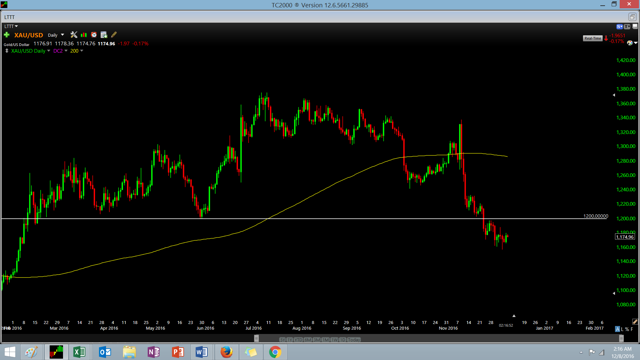 (Source: TC2000.com)
Sentiment on gold has been despondent as of late, and even most bulls are having a hard time coming to grips with the recent market malaise. Similar to how Dallas and Ponyboy could hardly bear to look at Johnny's lifeless body in the hospital, most precious metals investors don't rush home to check their gold stocks anymore. These feelings are completely warranted given the fact that sentiment has only been this pessimistic one other time in the past 30 years. Bullish sentiment has been stuck underneath the 15% level for 19 straight trading days, an extremely rare occurrence for the yellow metal. I spent several hours last night going through sentiment data dating back to 1987. To my amazement, the only sentiment picture that mirror's the current one was on October 5th, 2014.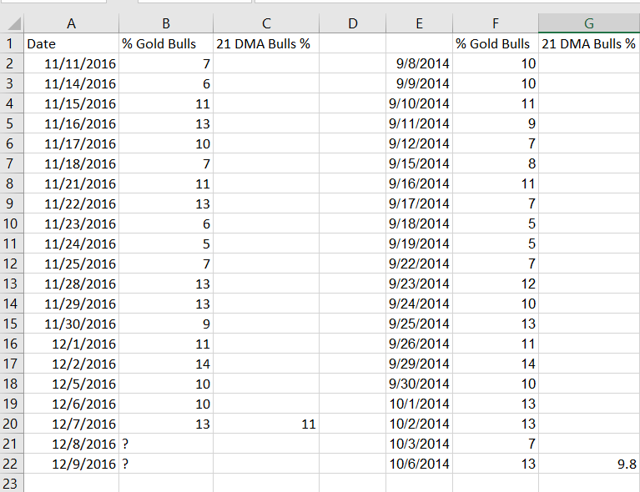 (Source: Daily Sentiment Index, Author's Table)
Between September 8th and October 6th of 2014, bullish sentiment on gold was stuck underneath 15% bulls. This was a total of 21 trading days, and only slightly longer than the current period. To give a better snapshot of both periods, I have compiled the above table. The 21-day moving average of bullish sentiment currently sits at 11%, while the 21-day moving average of bullish sentiment over the 2014 period was at 9.8% bulls.
Taking a look at the box in the below chart, we can see what the 21-day period of sub 15% bulls looked like for gold. Gold began its first day under 15% bulls at $1,266 / oz, and by the 21st day under 15% bulls had hit a low of $1,183 / oz. After the 21st day, gold finally closed back above the 15% bulls level, and staged a 3-week rally from $1,183 / oz to $1,255 / oz. This represented a 6% rally off the lows, and was an overdue relief bounce for gold. After stopping just short of its downtrend line and the 200-day moving average, gold gave back all of this move, and made new lows at $1,130 / oz. This drop undercut the October 6th lows by 4.5%, but setup a strong rally over the next 3 months to $1,307 / oz. This was a 16% gain off the final lows, and 10.5% rally from the initial lows of the signal.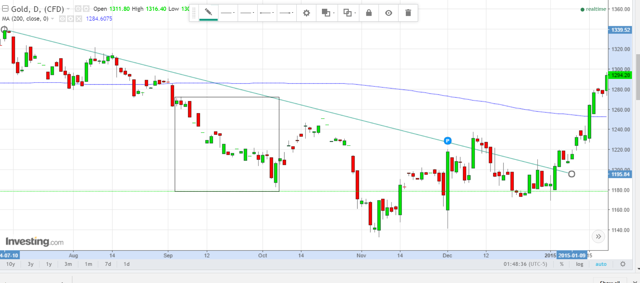 (Source: Investing.com)
If the past signal were to play out like the current one, we could expect to rally to $1,246 / oz over the next month. Gold would then make a new low near $1,123 / oz, which would set the stage for a rally to $1,300 / oz early next year. I do not believe this signal will play out exactly like this one, but it's worth noting that the 10-day and 3-month returns were very strong based on the past signal. While there was some turbulence to sit through, the 10-day return for the signal was 5%, and the 3-month return was over 10%. One other occurrence in 20 years is not a very reputable sample size to go off of, but this can be attributed to the rarity of this signal.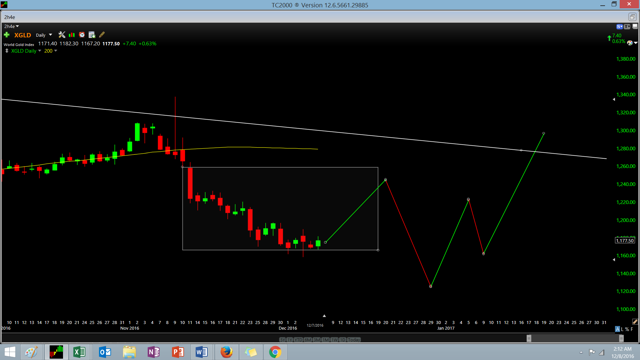 (Source: TC2000.com)
The above image is not meant as a guide for trading gold going forward. It is simply showing how the past signal played out.
This past weekend, I published an article on silver (NYSEARCA:SLV), noting how we have finally got the sentiment buy signal I was looking for. Silver bulls are now at 23%, and I am long a half position from $16.69. Gold is currently lagging silver in bullish sentiment, but has registered a new buy signal as of today's close. The sentiment buy signal on gold has not occurred above 15% bulls, which makes me slightly less confident in the signal. Silver's sentiment buy signal instilled much more confidence in me, as silver closed at 20% bulls that day.
When I am looking at Daily Sentiment Index (NYSEARCA:DSI) data, there are two things I am looking for:
1) How many bulls are in the market?
2) What are the sentiment moving averages telling us?
Depressed sentiment readings alone are not buying opportunities based on my system. While some traders scale into positions on depressed sentiment readings, I prefer not to do this. Extreme pessimism often leads to more selling, and therefore sentiment readings under 20% can be very dangerous for longs. The strongest buy signals are generated when bullish sentiment comes off a depressed reading, and then moves higher above its sentiment moving averages.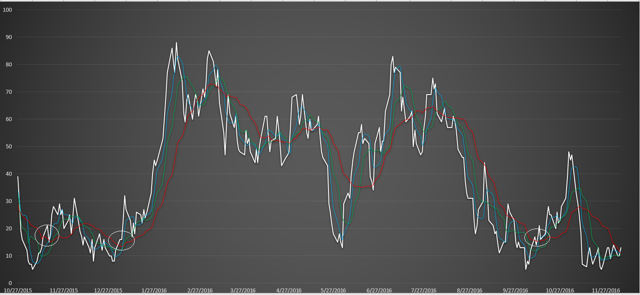 (Source: Daily Sentiment Index, Author's Chart)
Chart Legend - White Line: Gold Bullish Sentiment, Blue Line: 5-Day Moving Average, Green Line: 10-Day Moving Average, Red Line: 21-Day Moving Average
I have shown the past signals in the chart directly above to show what I am looking for on the sentiment chart I have built. I have built these sentiment charts to help readers better visualize what sentiment looks like for different asset classes. In addition to using DSI data, I have added my own moving averages in hopes of timing trend changes in sentiment. The three circles in the above chart to show when the white line crossed above all of the moving averages, after being at a level of below 10% bulls. Generally, the longer sentiment stays below 15% bulls, the more powerful the upside move out of this level is. Given the fact that this is the longest we've spent below 15% bulls since late 2014, it should set up a decent move higher for bulls.
Taking a look at the above chart, we can see bullish sentiment on gold (white line) has closed above all of its moving averages. This has occurred after a considerable amount of time stuck beneath the 15% bulls level, setting up a potentially powerful buy signal. While I would prefer that gold bulls closed above 15% today, the sentiment buy signal is still valid.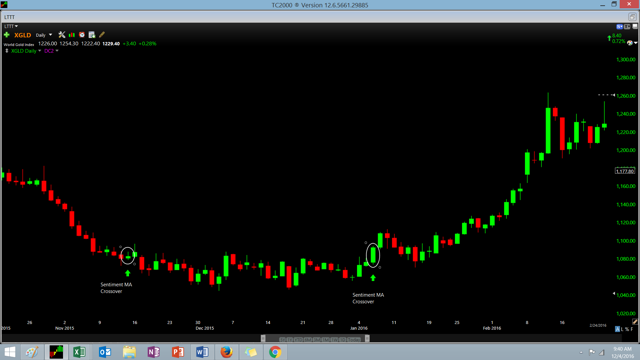 (Source: TC2000.com)
In the above chart, I have shown what the 2015 buy signals based on this crossover looked like. The November signal was not a great signal by any means, but it did get you in after the majority of the downside had been inflicted. While the trade did see a drawdown of 3%, it provided a great entry if you were able to sit with your $1,080/ oz gold when it traded down to $1,047/ oz. The second buy signal was nearly perfect timing, and preceded a 15% move in gold in less than 25 trading days. If one used both of these buy signals to build a position, you would have had an average cost on gold of $1,187/ oz prior to the massive rally to begin the year.
The sentiment buy signal in October would have been initiated at $1,258 / oz, and gold saw a 6% gain over the next month. Unfortunately for most investors, the last leg of this trade occurred in gold futures, and most investors never saw this translated into their mining positions.
Technical Outlook & Summary
Due to the sentiment buy signal explained in this article, I have gone long a half position in gold tonight at $1,176 / oz. In addition to being long gold, I have moved my gold exposure from 33% at the end of November to 40% this week. My stop on this new gold trade in my futures account is below $1,130 / oz on a closing basis. I have chosen $1,130 / oz as I want to give this trade a little wiggle room to play out.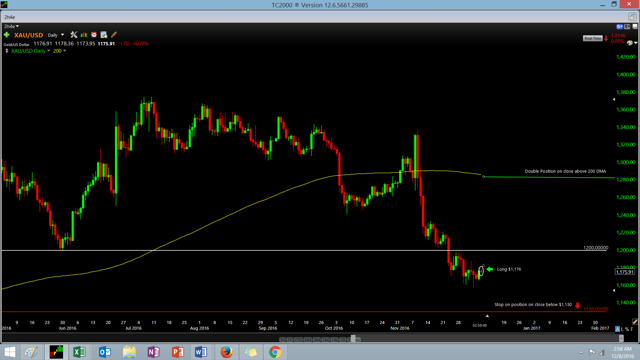 (Source: TC2000.com)
Gold currently remains below its 200-day moving average, therefore per my rules I am not allowed to hold a full position. In order for me to open a full position long gold, I would need to see a close above $1,286 / oz using today's 200-day moving average value. The $1,200 / oz level has been support for bulls all year, and the bulls first order of business is to regain this level. A close above the $1,200 / oz level would likely put the bears on the ropes, as being short is a crowded trade in the metals currently.
The 200-day moving average on gold has gone from a positive slope, to a slightly negative slope over the past 2 months. This is not a positive development for the bulls, and the bulls will need to mount a comeback soon to save the slope of this moving average. Price tends to find resistance at a falling 200-day moving average, and support at a rising 200-day moving average. For the potential for a bull case to remain in tact for gold, the metal will need to wake up soon.
According to Robert Frost 'nothing gold can stay', but gold itself may have regained its innocence as of today's close. I have decided to take another stab long gold this year, as I believe the odds are back in the bulls favor. This is the best setup gold bulls have seen all year to get long, with the exception of the January signal. If I am wrong on this trade, I have a stop in place to mitigate my downside risk. I believe the time to be bearish and short gold was the past month when gold lost $1,250 / oz, and was on the way down. Entering new shorts here looks like a dangerous trade to me, and I believe the bulls may have a bounce in order starting soon.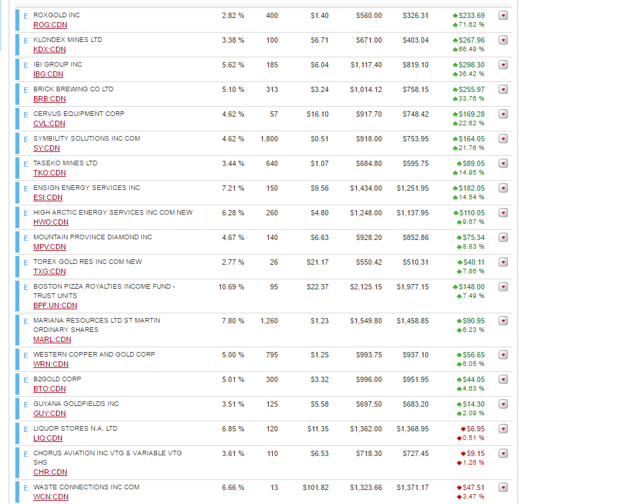 (Source: CIBC Investors Edge Account)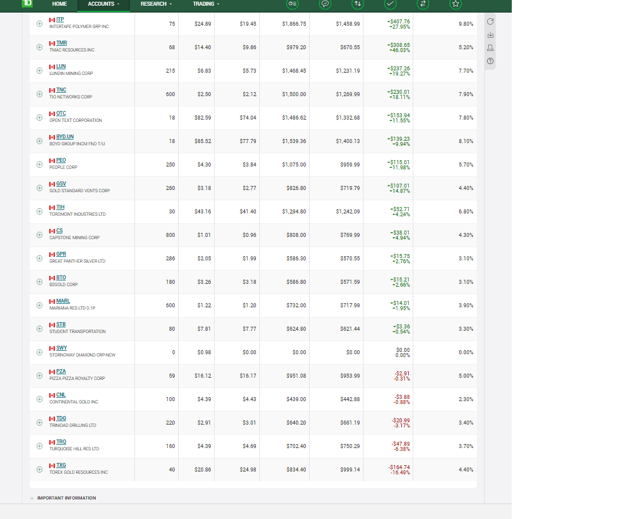 (Source: TD WebBroker Account)
For full transparency and to show my money is where my mouth is, I have shown my two main investment accounts above.
Disclosure: I am/we are long GLD.
I wrote this article myself, and it expresses my own opinions. I am not receiving compensation for it (other than from Seeking Alpha). I have no business relationship with any company whose stock is mentioned in this article.
Additional disclosure: If you liked this article and found it useful, please feel free to follow me by clicking on my name next to my avatar at the top of this article. I also invite you to follow me at www.twitter.com/TaylorDart01 where I routinely share my entries, exits, and stops on new positions, as well as updating followers on sentiment data on markets I am following.