"The Islamic Republic of Iran is now able to sell as much crude oil and to any country it deems appropriate," Iranian President Hassan Rouhan said. Although this does not necessarily mean that Iran will not abide by the quota it was given at the OPEC meeting last week, it was not the sort of thing the market likes to hear. And I believe Iran would pump above its allocation, if it can.
More gamesmanship is emerging. Venezuelan oil minister said that 500,000 b/d of its heavy oil production is "not included in the agreement."
Crude oil hedgers and traders are taking prices down, notwithstanding OPEC's Vienna Agreement a week ago, which I think contains a number of errors and flaws. A Reuters survey of 260 energy professionals reported that the majority do not fully buy into the promised cut and are only willing to price-in half of it. The mean estimate of the survey puts OPEC production at 33.0 million barrels per day (mmbd) for 2017. I think there are many scenarios that create much uncertainty as to what it ends up being next year.
The Energy Information Administration (NYSEMKT:EIA) released its Short-Term Energy Outlook (STEO) for December, and it estimates OPEC production at 33.15 for 2017, up from 32.5 for 2016. But its estimate for November 2016 was 33.19, exactly one million barrels per day lower than the Reuters and Bloomberg's surveys.
The EIA forecasts that non-OPEC production will average 57.2 mmbd in 2017, 350,000 b/d higher than in 2016. EIA forecasts that U.S. crude production has bottomed and will rise to 9.0 mmbd by the end of 2017. The increase is on the back of a rise in output from the Gulf of Mexico.
However, there are reports that American shale oil companies have been hedging (selling) heavily into the crude futures market after prices popped on the surprise OPEC announcement of a production cut, distributed among most members. Companies could hedge around $55/b in the out-years, which locks-in profitability even if prices should drop from the additional supplies they bring to the market. The EIA model is not built around factoring-in hedgers' futures and options contracts. We will get our first look at their activities in the report on Friday.
Though EIA projects world oil consumption to gain a solid 1.5 mmbd next year, it estimates that oil inventories will still build, albeit much more slowly than this year or last. It projects that stocks will build by about 20 million barrels through 2017. This is not what OPEC wants to hear.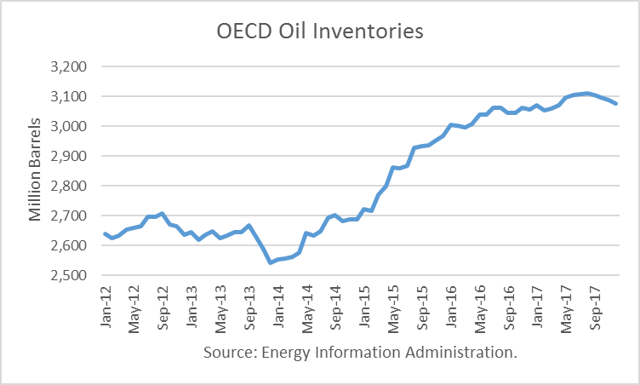 This past week ending December 2nd, total U.S. stocks built by 2 million barrels (mmb) to end at 1.343 billion, up 69 million from a year ago. Crude stocks in Cushing, Ok, rose by 3.8 mmb, one of the largest one-week builds, and have built by 6.2 mmb over the past 2 weeks. But total U.S. crude stocks actually fell by 2.4 mmb. Crude stocks ended at 485.8 mmb, completely reversing their drop from August, which OPEC had cited in their Algiers' press release as an indication that world supplies had begun the balancing process.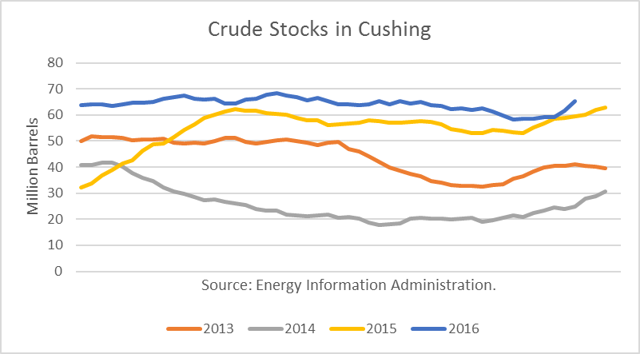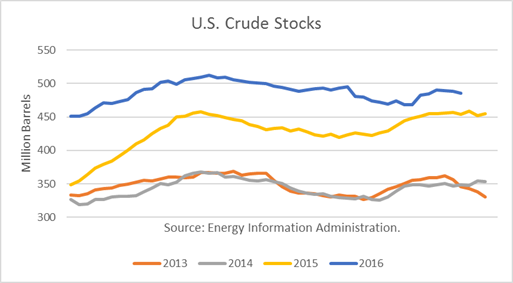 Imports are ample. Net crude imports at 7.5 mmbd are 6.0% higher over the past 4 weeks v. a year ago.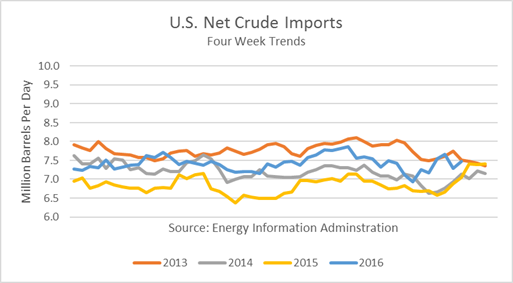 But petroleum product demand has weakened. Over the past 4 weeks, it is down 1.0% v. a year ago and is the lower than in 2014 and 2013 as well. (This dip may be temporary.) In the year-through- October, demand is up just 0.1% v. a year ago. Saudi energy minister Khalid al-Falih had commented last week:"…We can also depend on recovery in consumption, especially from the U.S."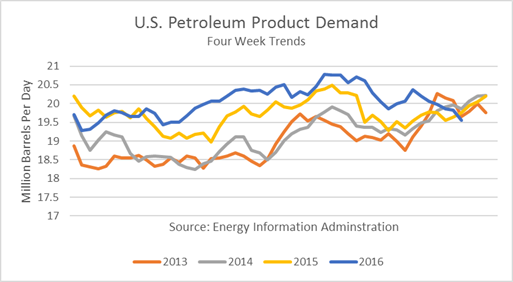 Conclusions
OPEC got a deal to show the market a week ago, and prices jumped. It appears that American shale companies took advantage by hedging (selling) to lock-in future profits. But this cycle has happened very quickly. I hope and expect shale companies will get a few more chances to hedge at good levels ($55) so that the industry is on a better footing when the OPEC deal fails.
Disclosure: I/we have no positions in any stocks mentioned, and no plans to initiate any positions within the next 72 hours.
I wrote this article myself, and it expresses my own opinions. I am not receiving compensation for it (other than from Seeking Alpha). I have no business relationship with any company whose stock is mentioned in this article.