For several years, I have been watching Pershing Gold (NASDAQ:PGLC) but never pulled the trigger to buy some shares. More than one year ago, I even once wrote an article about the company, titled: Pershing Gold: Relief Canyon Mine History Will Drive The Future.
Unfortunately, the share price hasn't seen the price appreciation one should hope for. The big question remains: When will the long wait for shareholders end?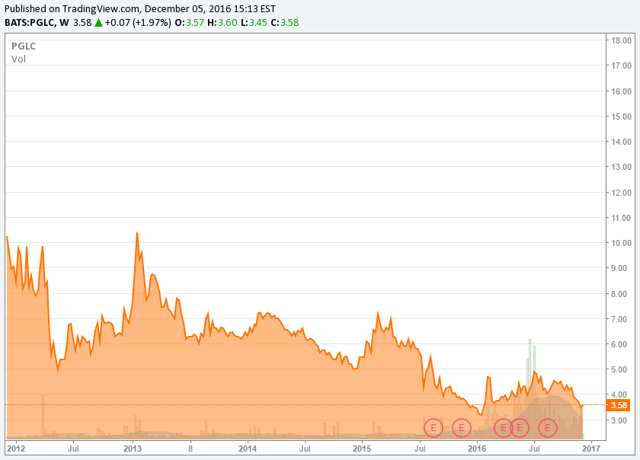 For investors who are not familiar with Pershing Gold, the company is an exciting gold play for commodity investors who are looking for emerging producers that are close to production.
The company's principal asset is the Relief Canyon Mine in Pershing County, Nevada. Pershing Gold's land property holds approximately 25,000 acres including three open-pit mines and a heap-leach processing facility.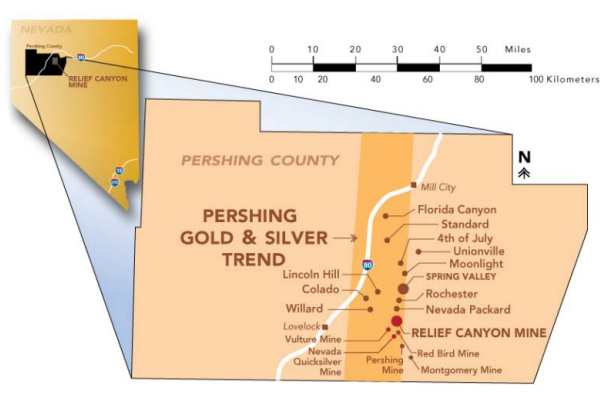 I believe the following three bullish signs could be evidence that something is going to happen next year.
Insider Trading
Director of the Board of Directors, D. Scott Barr, has been active the last months. He has more than 35 years of experience in the mining sector from technical aspects to operational management.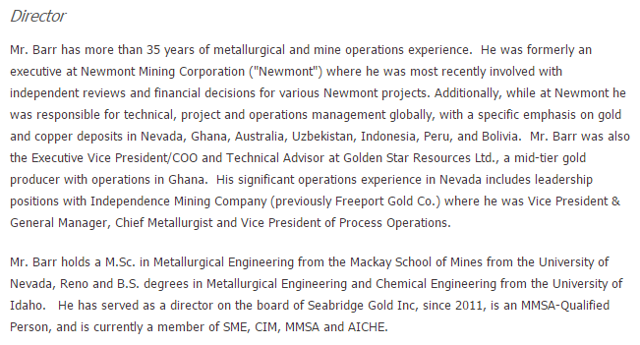 A talented Board of Directors is a critical factor for building a profitable gold producer. The fact that Mr. Barr is buying shares in the company he works for is a confirmation of faith in the prospects of Pershing.

Sprott Resource Corporation Backs Pershing
On December 1, Pershing announced that it received a commitment for a credit facility from Sprott Resource Lending. The drawdown facility of up to $20 million is non-binding and subject to a due diligence review and some other conditions.
One of these conditions is the requirement to raise equity financing with every draw from the account. These amounts would bear interest at 9.0% per annum.
The loan would be used to advance the Relief Canyon project towards production.
The Sprott engagement is a positive sign because it is considered a value-added partner that is supportive in developing resource assets.
One of their focus items is financing early stage resource companies with significant potential. The fact that they are making a commitment proves that they think Pershing has a strong growth potential.
Price Targets Much Higher
Currently, six analysts are following Pershing Gold. The lowest price target is $5.50 which means more than 50% upside potential from the current stock price. Moreover, the highest price target is $9.75, an upside potential of almost 170%. The mean consensus for Pershing is an OUTPERFORM rating. There is no hold, underperform or sell rating on the stock.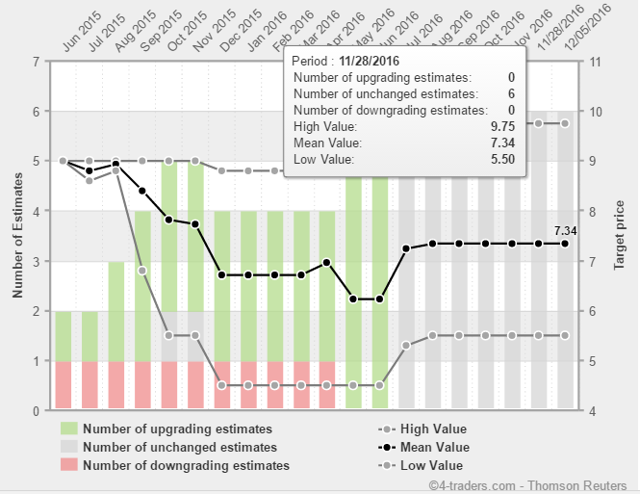 Despite all the positive analyst views, investors stay cautious, and the stock price lags behind. In my opinion, a rerating of the stock price could only come when the start-up decision is made, and Relief Canyon moves into production.
All the other factors mentioned below don't play a major role right now because investors are not confident enough yet.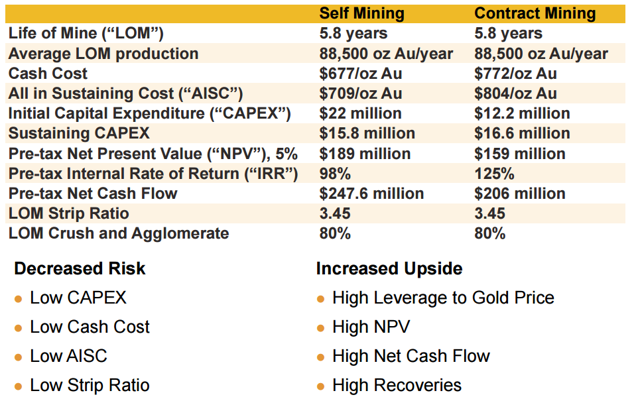 From a fundamental view, the metrics shown above look bright, and that's why institutional ownership is 24%, and insiders hold 34% of the shares. One would argue institutions and insiders have the knowledge to make better investment decisions regarding the company.
Institutional investors can even employ mining (sector) professionals to oversee all the aspects of the company and its assets. But all that doesn't matter because Mr. Market determines the outcome.
When Will The Long Wait For Shareholders End?
It's not the gold price and also not the company's metrics. There is only one answer to this question: when does commercial production start?
Disclosure: I/we have no positions in any stocks mentioned, and no plans to initiate any positions within the next 72 hours.
I wrote this article myself, and it expresses my own opinions. I am not receiving compensation for it (other than from Seeking Alpha). I have no business relationship with any company whose stock is mentioned in this article.
Additional disclosure: Sources: Seeking Alpha, IR presentation company's website, openinsider and 4-traders.
Editor's Note: This article covers one or more stocks trading at less than $1 per share and/or with less than a $100 million market cap. Please be aware of the risks associated with these stocks.