The rally in gold and silver prices has been a boon for miners of precious metals this year and Hecla Mining (NYSE:HL) is no different. Hecla has managed to improve its financial results drastically in 2016, driven by an improvement in gold and silver pricing, while a rapid reduction in costs has been another tailwind.
In fact, in the last reported quarter, Hecla's top line had increased more than 70% on a year-over-year basis, while it had managed to turn its bottom line into a profit as compared to a loss in the year-ago period. Now, looking ahead, it is likely that Hecla Mining will be able to sustain its strong top and bottom line performances. This is because the company gets a sizable 43% of its revenue from silver sales and the demand for the metal is set to get better in the long run, which will eventually lead to better pricing.
Why silver's rally is set to continue
Silver prices have averaged almost $17.33/ounce so far in 2016. At this level of silver pricing, Hecla's operating cash flow in the first nine months of 2016 came in at $173 million, up from just $79 million in the year-ago period. This improvement in the operating cash flow is a result of a net income of $49 million in the first nine months of the year as compared to a loss of $24 million in the year-ago quarter.
This improvement in the bottom line is a result of higher silver pricing that Hecla has enjoyed in 2016. For instance, in the first nine months of 2015, Hecla's average realized price was $16.08 an ounce. Thus, the direction of silver prices will play a key role in enhancing Hecla's financial performance in the long run.
The good thing is that the price of silver is expected to continue rising going forward due to lower production from primary mines. In fact, three-fourths of the primary silver mines across the globe are set to be put under maintenance, which will lower primary silver production. In fact, due to lower production and higher demand, the silver market is expected to witness a deficit of 21%, or 1,005 metric tons this year.
The deficit will be driven by a 2% reduction in production. This is the first time in 10 years that silver production is retreating, and this is one of the key reasons behind the strength in pricing. Additionally, as compared to 2015 levels, silver supply is expected to go down by 13% after a 9.2% drop this year.
Hence, as the supply deficit in the silver market widens, Hecla Mining will witness stronger silver prices going forward. In fact, the World Bank forecasts that silver pricing could rise to $18.80 an ounce by 2019, indicating an upside of almost 12% from current levels. This improvement in silver pricing is great news for Hecla Mining since the company is on track to reduce its cost base further going forward.
Hecla's lower costs will lead to margin expansion
Hecla has largely benefited from its cost reduction moves. For instance, last quarter, its silver cash costs were down in half to just $3.68 an ounce, which led to a rapid expansion in its silver cash margins as shown below: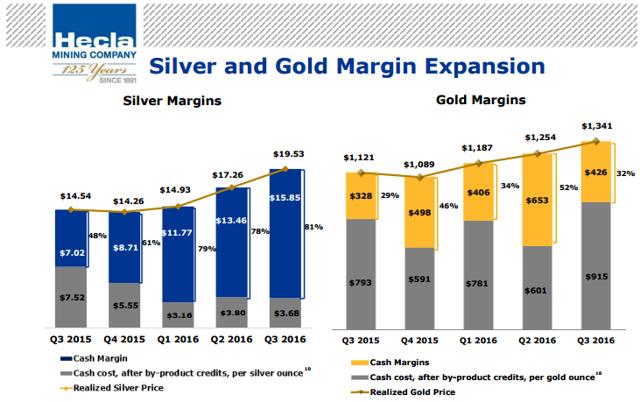 Source: Hecla Mining
More specifically, in the first nine months of the year, Hecla's cash margin has come in at $13.79 an ounce with cash costs of $3.54 an ounce and average silver pricing of $17.33 an ounce. Looking ahead, if Hecla manages to keep its cash costs constant at these levels in 2019, its cash margin will come in at $15.26/ounce as prices are expected to increase to $18.80 an ounce, as mentioned earlier in the article.
This represents an increase of more than 10% in its margins in the next couple of years. But, it won't be surprising if Hecla manages to beat this forecast since it is making smart moves to lower its cost structure further.
For instance, the company is on track to start production from the no. 4 Shaft at Lucky Friday by the end of 2016. The important thing to note about this mine is that Hecla has witnessed an increase in grades over here. For instance, it recently saw grades increasing by 15% at Lucky Friday, which means that it can mine more silver ore at lower costs.
The #4 shaft will contribute positively to Hecla's cost base since a higher grade ore is easier to extract due to the mining of less amount of waste material. In fact, driven by its discovery of higher grades, Hecla has bumped up its production forecast for 2016, while lowering the cash cost forecast at the same time.
It expects its silver production to come in at 16.25 million ounces this year, up from its earlier guidance of 15.75 million ounces. The important thing to note here is that this improved silver production is expected to come in at a lower cost base. More specifically, Hecla has reduced its cash cost guidance by 16% to $4.00 per silver ounce as compared to $4.75 per silver ounce earlier.
Conclusion
Hecla Mining has done really well this year due to a combination of stronger silver pricing and lower costs. Looking ahead, the trend is expected to continue as a deficit in the silver market will lead to higher pricing of the commodity. At the same time, Hecla's focus on higher grade assets will lead to a lower cost base. So, in my opinion, it will be a good idea to stay long Hecla Mining since improving end-market conditions and a better operational profile will be catalysts going forward.
Disclosure: I/we have no positions in any stocks mentioned, and no plans to initiate any positions within the next 72 hours.
I wrote this article myself, and it expresses my own opinions. I am not receiving compensation for it (other than from Seeking Alpha). I have no business relationship with any company whose stock is mentioned in this article.