Several months of publishing op-eds in national newspapers, financing (subscription required) professional reports, writing letters to the administrator of the Environmental Protection Agency [EPA], and supporting a fellow billionaires' long-shot bid for the White House appear to have finally paid off for mega-investor Carl Icahn. First, The Wall Street Journal reported earlier this week that President-elect Donald Trump was giving his fellow New Yorker a say in the selection of the next EPA head. Then came Wednesday's announcement that Mr. Trump had ultimately selected Oklahoma Attorney General Scott Pruitt for the position, which was hailed as "a great pick" by Mr. Icahn.
Mr. Icahn's crusade against the costs that the revised Renewable Fuel Standard [RFS2] were imposing on the refiner that he controls, CVR Refining (NYSE:CVRR), and the refining sector, in general, had a touch of tilting at windmills to it when he launched it over the summer. The notion that the EPA would listen to a single investor, albeit a large one, by implementing changes to the RFS2 that were opposed by the American Petroleum Institute, among others, was broadly discounted. Then, Mr. Trump won the election and Mr. Icahn's proposal was suddenly credible. The news of the EPA nod prompted an extension of the post-election rally of the share prices of independent refiners Alon USA Energy (NYSE:ALJ), Delek US Holdings (NYSE:DK), PBF Energy (NYSE:PBF), Tesoro (TSO), and Valero (NYSE:VLO), led by a double-digit one-day gain for CVR Refining (see figure).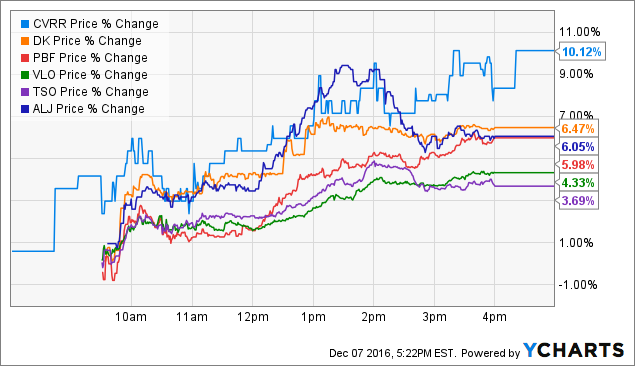 CVRR Price data by YCharts
Most of the headlines about Mr. Pruitt's nomination are focused on his opposition to the EPA's Clean Power Plan and his skepticism (those on the political left would say "denial") of anthropogenic climate change. A former adviser to President Barack Obama, Dan Pfeiffer, had an eye-catching response to the announcement:
At the risk of being dramatic. Scott Pruitt at EPA is an existential threat to the planet

- Dan Pfeiffer (@danpfeiffer) December 7, 2016
Possible melodrama aside (all due respect to Mr. Pfeiffer, but U.S. greenhouse gas emissions have declined in recent years because of states like Oklahoma rather than the EPA), Mr. Pruitt has also staked out the position in a Supreme Court brief that blending ethanol with gasoline in excess of the 10 vol% so-called "blend wall" damages vehicle engines and drives food prices higher. Both of these statements have been subsequently disproved, of course: corn prices are near decade-lows despite record U.S. ethanol production this year (see figure), while more than 80% of new U.S. vehicles are approved for not just 10 vol% but also 15 vol% blends.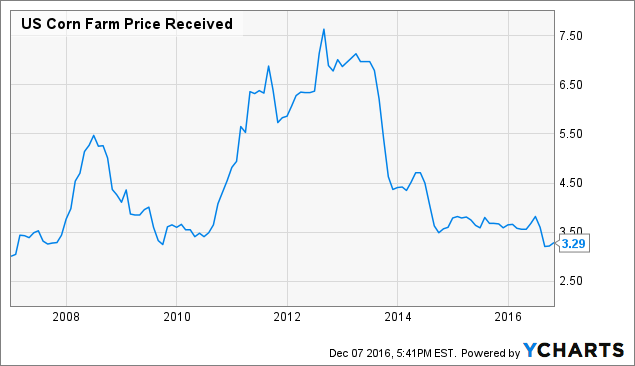 US Corn Farm Price Received data by YCharts
Mr. Pruitt's reputation precedes him, however, and the prices of Renewable Identification Numbers [RIN], which are the credits that are purchased by refiners with insufficient biofuel blending, fell by roughly 6% following Mr. Pruitt's nomination. This decline certainly contributed to the rally in the share prices of the aforementioned refiners. As a reminder, independent refiners such as those listed above are required by the RFS2 to either blend a predetermined volume of biofuels with their refined fuels prior to retail or purchase an equal number of RINs on the open market. Those refiners that lack access to downstream blending and retail capacity have incurred large and growing RIN expenses, however, hurting their financial returns, so any reform that reduced RIN prices would be a boon for them. However, while RIN prices did decline substantially on the news, they still remain near all-time daily highs and above previous average highs (see figure).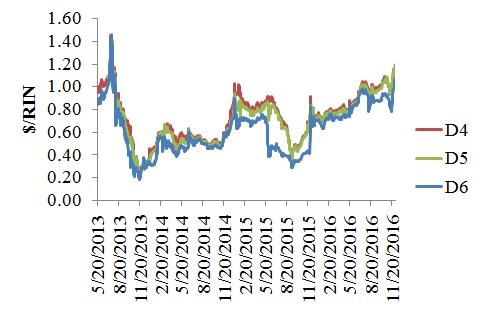 Source: EcoEngineers (2016)
The fact that Mr. Pruitt previously labeled the biofuels mandate as "unworkable" and a "flawed program" will prompt speculation that he will unwind the program by reducing the required blending volume, much as the EPA did in Q3 2013. It should be noted that conditions in 2013 were very different than at present, though, as at that time the ethanol market was caught between the effects of falling gasoline consumption and high corn prices following the previous year's Midwest drought. Today, on the other hand, gasoline consumption (and, therefore, the volume of ethanol permitted by the 10 vol% blend wall) is at record-highs even as corn prices remain low.
The fact that today's conditions are different from those that prompted Mr. Pruitt's criticism in 2013 likely explains why the share prices of major biofuel producers such as The Andersons (NASDAQ:ANDE), Green Plains (NASDAQ:GPRE), Pacific Ethanol (NASDAQ:PEIX), Renewable Energy Group (NASDAQ:REGI), and REX American Resources (NYSE:REX) ended the day in flat or positive territory (see figure). Mr. Icahn's proposed reform would increase the number of "obligated blenders" under the RFS2, resulting in lower RIN expenses for those refiners that are already making purchases under the mandate without reducing the blending volume. The lower expenses would result because the total blending requirement would remain unchanged even as the denominator (the number of companies required to fulfill the mandate) would increase. Last month, I wrote that the market was signaling such a result, and it is difficult to interpret today's action much differently.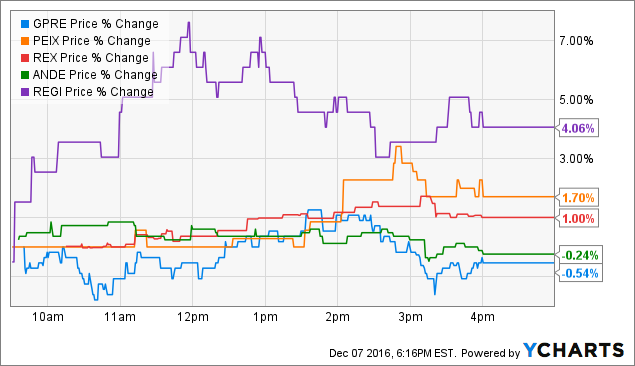 GPRE Price data by YCharts
Market analysts will spend much time discussing the full financial implications of Mr. Pruitt's nomination as EPA Administrator and likely confirmation by the Senate in the weeks ahead. That said, at first glance, this development is not as negative for the biofuels sector as could have been the case (Mr. Trump's opponent in the presidential campaign was at one point also believed to be considering a noted biofuel critic for the spot) despite being a clear positive for CVR Refining and other independent refiners. The mandate has provided the biofuels sector with substantial support in the form of rising demand ever since gasoline prices began to decline in mid-2014, and its investors should keep a close eye on Mr. Pruitt's upcoming confirmation hearings for further information about his plans for the RFS2 given its importance. In the meantime, however, the market is guardedly optimistic about the sector's outlook.
Disclosure: I am/we are long REGI, PBF.
I wrote this article myself, and it expresses my own opinions. I am not receiving compensation for it (other than from Seeking Alpha). I have no business relationship with any company whose stock is mentioned in this article.