Indonesia (NYSEARCA:IDX) is developing a global reputation that is fashioning up to be among the best for emerging markets (NYSEARCA:EEM) investors and especially so in the Asia-Pacific region (NYSEARCA:GMF). The domestic economy is strong and President Joko Widodo presides over a government that has embraced free-market reform policies to aid growth. The Indonesian economy had been in a downtrend since 2010 through about halfway through 2015, before stabilizing and seeing an uptick toward the end of 2015.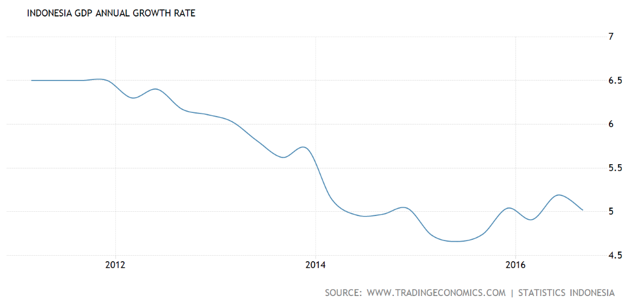 On the back of such growth, Indonesia has been one of the strongest performing emerging markets of the past year, only behind the spectacular performance improvements seen in, in order, Peru (NYSEARCA:EPU), Brazil (NYSEARCA:EWZ), Russia (NYSEARCA:RBL), Argentina (NYSEARCA:ARGT), Colombia (NYSEARCA:GXG), and Chile (BATS:ECH). In the Asia-Pacific region, it's past-twelve-months' performance in its domestic capital markets has been on par with that of Thailand (NYSEARCA:THD) and Taiwan (NYSEARCA:EWT). The benefit of the Indonesian market is that it represents a high-yield market. Thailand's sovereign debt market produces yields that are roughly on par with those of US Treasuries while Taiwan's 30-year debt yields under 200 basis points annually. On the other hand, Indonesia is yielding nearly 7% on its 1-year and around 8.6% on its 30-year.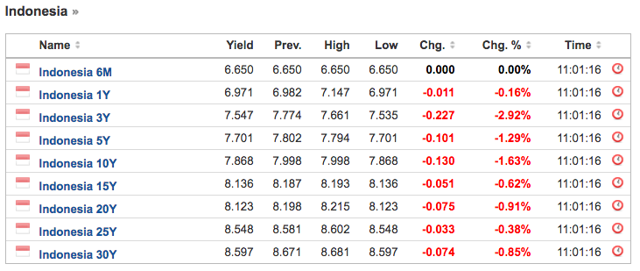 (Source: investing.com)
In the past year, the country's central bank ("Bank Indonesia") has cut interest rates from a benchmark rate of 7.5% all the way down to 4.75%, which has been bullish for asset prices through its effect on compressing costs of capital throughout the economy, allowing for more accretive investments or cheaper spending at the government, corporate, and household levels.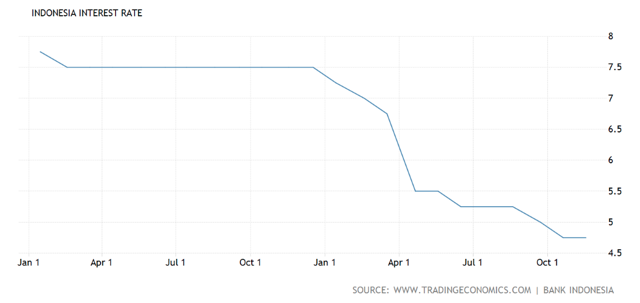 The country's inflation is very manageable, with 3.5%-4.0% seemingly representing a new normal. For sovereign debt investors, the inflation rate is always a key area of interest, as coupon and principal payments are made in the originating country's currency, which increases foreign exchange risk. Nevertheless, this can always be mitigated by hedging directly in the currency market itself, by buying equal monetary amounts of foreign bonds and dollars (or whatever currency is preferred) against the currency in which the bonds are being purchased.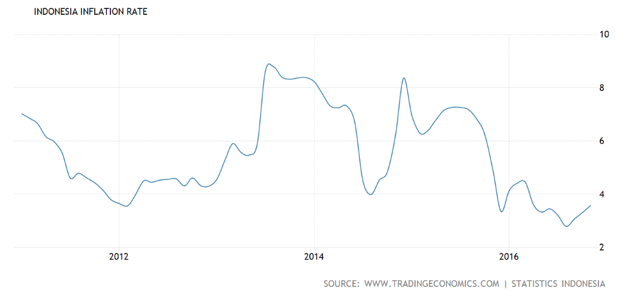 In terms of other figures, the country's jobless rate is currently 5.6%, which is technically meaningless in a vacuum, but is the lowest it's been since the beginning of the century.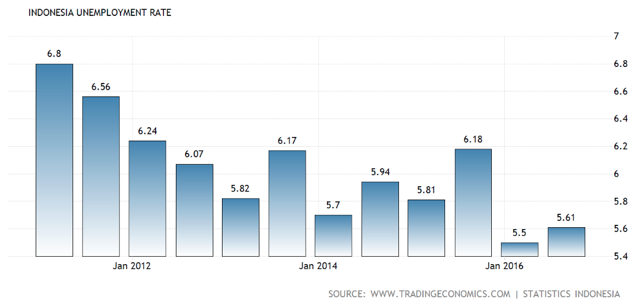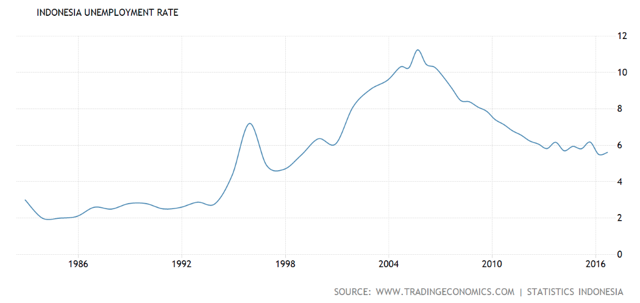 Both its fiscal budget and current account are between -2% to -3% as a percentage of GDP. The budget has ticked up in recent years as a consequence of its economic slowdown, while its current account faded out of positive territory in 2012 as the country has progressively reduced its reliance on foreign exports as a growth strategy.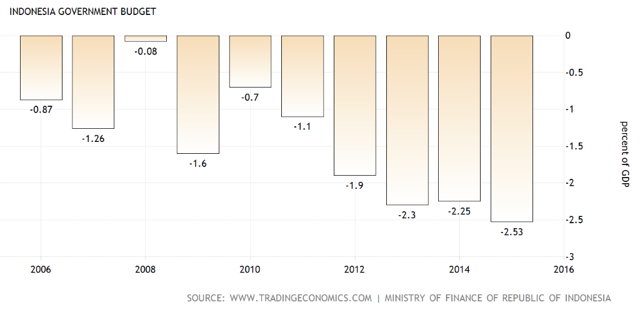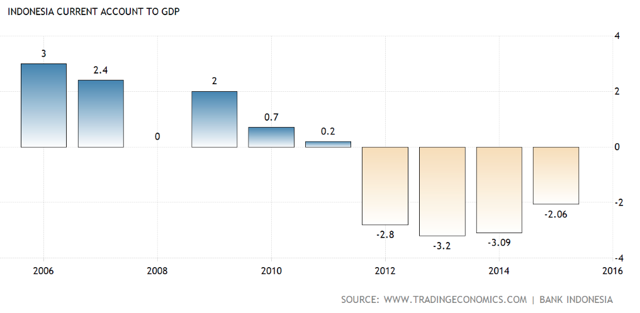 Its government debt to GDP ratio is extremely manageable, having declined significantly over the past couple decades and trending in the 23%-27% range since 2009.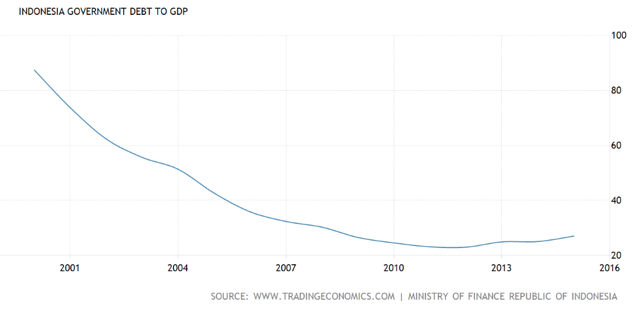 Much of the developed world is grappling with aging demographics that are rapidly producing increased dependency ratios (number of retirement age to working age citizens) and outright shrinkages in labor supply. In the case of Indonesia, it has the world's fourth-largest population in the world - behind that of China, India, and the US - with an average age of just 29.9 in 2016. This pales in comparison to the European Union (average age in the early-40's) and Japan (late-40's), which are struggling to grow as labor supply growth slows or begins to contract. There are also substantive benefits to a larger population, as it increases scale within the economy. This facilitates greater economic diversification and better year to year revenue stability to aid in the servicing of outstanding debt.
In July, President Widodo introduced a tax amnesty plan that has sought to broaden the tax base and repatriate Indonesian cash held overseas through the provision of fiscal incentives to private investors. Fiscal deficit metrics are expected to improve going forward as the new policies produce additional tax revenue.
With the additional benefits of disciplined government spending, pro-market fiscal policies, and low inflation, it's reasonable to believe that Indonesia has the structural foundations in place from a demographic, fiscal, and monetary standpoint to sustain growth moving ahead.
Valuing Indonesian Sovereign Debt
When it comes to equities and corporate bonds, I prefer to value on the basis of discounted cash flow. For sovereign debt, I prefer to value similarly to how the credit agencies assess risk - by looking at a composite of factors and bucketing into a generalized quality tier: median/mean real GDP growth, volatility in real GDP growth, GDP per capita, inflation, inflation volatility, government debt to GDP, government debt to revenue, interest expenses to GDP, interest expenses to revenue, fiscal deficit as a percentage of GDP, current account as a percentage of GDP, public debt to GDP, financial sector capital ratios, financial sector size as a percentage of GDP - roughly in that order - and more qualitative factors, such as the country's level of economic diversification, geopolitical risks, domestic political climate, corruption risk and quality of its rule of law.
Many of these ratios then bucket into a particular quality rating based on predetermined range and based on an adjustable weighting factor system, are collectively assigned an overall rating. Through a database one can determine how often comparable scenarios defaulted in the past based on various time horizons - one-year, five-year, ten-year, etc. For 30-year Indonesian bonds that mature in April 2042, one should expect to calculate out an expected default rate until then.
From the expected default probability, we can then calculate out an appropriate discount rate that should represent the country-risk premium, equal to:
Country-risk premium = probability of default * (1 + 10-year Treasury) / (1 - probability of default)
The ten-year Treasury is used as a global risk-free rate. (Further theory behind this can be seen in a 1985 paper by Sebastian Edwards.)
I also assume that nothing will be recovered in the event of default although that's almost never true. But I find it useful for the sake of conservatism.
When I first did this exercise, I calculated Indonesia had a default probability of 6.3% by April 2042. Based on a 10-year Treasury of 1.8%, that gave a country-risk premium of 6.8%. This, in other words, would be considered the "fair yield" of the 30-years. If this is at a 10%-20%+ discount to its trading yield, I look to buy in. If the yield is enticing enough, I'm willing to compromise more on the perceived discount to intrinsic value rather than if the yield is lower.
Given the Indonesian 30-year bonds were trading at a ~24% discount to its then-9.0% yield I decided to go long. Now, I consider Indonesia to possess a country-risk premium of about 6.7% for its 30-years. This is still at about a 22% discount to fair value.
If fair yields trend below the 10%-20% discount I normally do not look to sell. When I buy into any type of bond, I expect that I may end up holding it to maturity. I generally will look to consider selling when my personal calculation of country-risk premium matches up with its yield in the market (unless, of course, the coupon is extremely alluring) or even possibly sooner if I wish to commit the capital to another higher-yielding idea instead.
Risks
Any 8.6% yield in this market is certain not devoid of risk. While the financials of the country look very good, there are qualitative risk factors that must be taken into account. Given that Indonesia is an island and at the same time contains 260 million inhabitants with various cultural, social, economic, and religious backgrounds, social tension and group-to-group conflict has been an inevitable part of the country's fabric over the years. Moreover, the role of the Indonesian military has been curtailed in the past twenty years, which has had an influence on the level of ethnic and religious tension observed since.
Sociopolitical tension has also directly influenced the leadership within the central government, such as the ousting of Suharto, the country's second president, and the New Order government in 1998. Indonesia's rankings in corruption indexes have favorably improved over the past 10-12 years, ranking just 57th out of 178 in this particular example, and overall the political climate is more favorable today than it was in prior years.
The country's infrastructure is still sorely lacking at the moment despite President Widodo's desire to modernize large swaths of it. At the moment, a budget pushing a deficit toward nearly 3% of GDP has made finding the funding difficult, but should be aided in part by the newly rolled out tax amnesty plan and overseas cash repatriation incentives. The increasing level of economic activity and urbanization in the country places additional demands on the state of its weak infrastructure. At the same time, Indonesia's geographic location also opens it up to natural disaster risk (e.g., earthquakes, tsunamis), where a notable event could potentially generate tens of billions of dollars in infrastructure damage given how outdated much of it is.
Conclusion
Indonesia offers 8.6% yield on its 30-years, which is outstanding considering its prudent fiscal management, stable inflationary environment, low leverage, favorable savings and investment ratios, growing economic diversification, and demographic tailwinds. Roughly two-thirds of its population is of working age (15-64) with significant additional scope for further urbanization. While there is nonetheless some level of country-specific risk, as with any investment, I believe the 8.6% yield provides sufficient overlay to outweigh these downsides.
Disclosure: I am/we are long 30-YEAR INDONESIAN BONDS, USD/IDR.
I wrote this article myself, and it expresses my own opinions. I am not receiving compensation for it (other than from Seeking Alpha). I have no business relationship with any company whose stock is mentioned in this article.