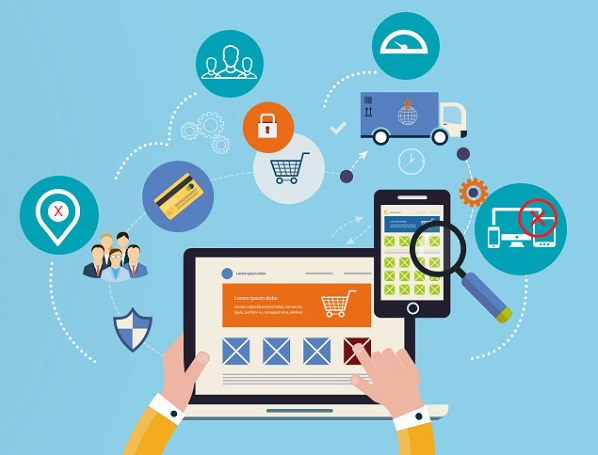 Source: Google Images
The September 2016 third quarter update for e-commerce remains very positive. E-commerce retail sales continue to grow at the expense of traditional retail sales, now reflecting nearly 9 percent. This performance was supported by individual company results as well, as many U.S. companies witnessed an acceleration of net sales growth during the third quarter.
Amazon.com (NASDAQ:AMZN) remains at the forefront as the core driver for this growth. Net product sales grew 22 percent to $64 billion through September 2016 versus last year. Other e-commerce related services grew 49 percent through September to $19.5 billion. Amazon's AWS segment grew 59 percent to $8.7 billion through September.
While Amazon has clearly taken market share from traditional retail, this year has witnessed two events that further threaten the traditional retail markets. First, Amazon announced in September that Prime Now had added its first beauty brand to its one-hour delivery service via Chicago's Merz Apothecary.
Second, earlier this week, Amazon announced Amazon Go, a physical grocery store concept excluding the traditional checkout process. This news quickly garnered interest as both analysts and experts agreed that this form of purchasing could pave the way for the future retail shopping experience.
Either way, both initial public releases of information had significant impacts on company stock prices operating in these traditional retail segments. Ulta Salon, Cosmetics & Fragrance (NASDAQ:ULTA) witnessed an immediate decline once the announcement was made for Merz Apothecary. Amazon's threat to a company like ULTA is nothing new. As more and more people subscribe to the Prime offering, individual brands may consider directly selling products via Amazon's e-commerce platform versus traditional outlets.
While some have speculated that e-commerce could never completely eliminate traditional retail stores, the competitive position Amazon could gain through increasing third-party e-commerce services over time is nothing to scoff at.
Amazon Go is a very interesting concept. Amazon has recently espoused the desire to open physical grocery stores, around 2,000 across the U.S. If Amazon were to successfully grow a traditional retail concept incorporating technology providing a better customer experience, this concept could also be used for other retail sectors.
Amazon's brand has gained significant traction through the web, and has become one of the strongest across the globe. It makes perfect sense to combine brand, technology and traditional retail to compete and grow market share on two fronts; the web and in stores. It is for this reason that other retail sectors could be at risk over the long term.
Amazon's ambitions are bold. Thus, no traditional retail stock is safe. Amazon is looking at retail long and hard. When it sees the amount of grocery sales across the country, it is interested in that market. Who is to say that Amazon is not also looking at markets involving The Home Depot (NYSE:HD), among others.
For these reasons, as well as Amazon's own personal business growth success, it is important for investors to view Amazon as a potential hedge against underperforming traditional retail companies. There are not many companies out there having the level of impact that Amazon has on an area like retail with as wide of a market in the trillions to continue growing into.
The remainder of the quarterly update below is meant to provide a high-level review of related global e-commerce companies.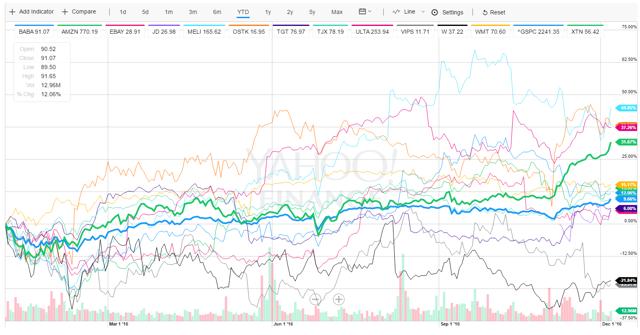 Source: Yahoo Finance
Through September 2016, leading e-commerce pure-plays by stock performance have included MercadoLibre (NASDAQ:MELI) and Overstock.com (NASDAQ:OSTK), up 45 and 37 percent, respectively. Juggernauts Amazon and Alibaba (NYSE:BABA) were up 13 and 12 percent, respectively.
eBay (NASDAQ:EBAY) was up 5 percent while JD.com (NASDAQ:JD), Vipshop Holdings (NYSE:VIPS) and Wayfair Inc. (NYSE:W) were all down substantially at -16, -23 and -22 percent, respectively. ULTA has been a leading traditional retail performer up 37 percent through September. Wal-Mart Stores (NYSE:WMT) and The TJX Companies (NYSE:TJX) have been strong at 15 and 10 percent, respectively, while Target Corporation (NYSE:TGT) was up 6 percent.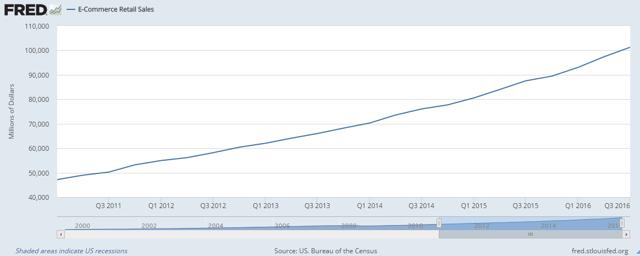 Source: Federal Reserve Bank of St. Louis Economic Research
Per the St. Louis Federal Reserve, Bank of St. Louis Economic Research data, e-commerce retail sales totaled nearly $292 billion through September 2016. This amount reflected a 33 percent increase from the same period during 2015.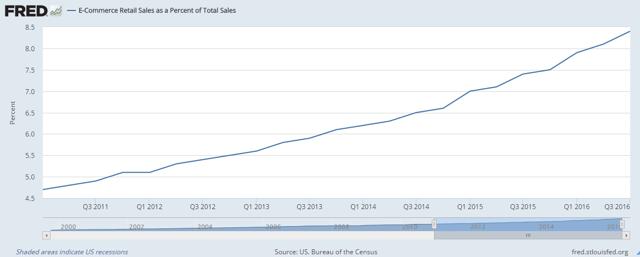 Source: Federal Reserve Bank of St. Louis Economic Research
Since the first quarter of 2011, e-commerce retail sales, as a percent of total retail sales, have grown from 4.6 percent to 8.4 percent. This amount, as of September 2016, represented an 83 percent increase from 2011, and 13.5 percent increase versus the third quarter of 2015.
These trends within the U.S. are indicative of larger global trends which have been occurring in Europe, Asia, South America and the Middle East and Africa.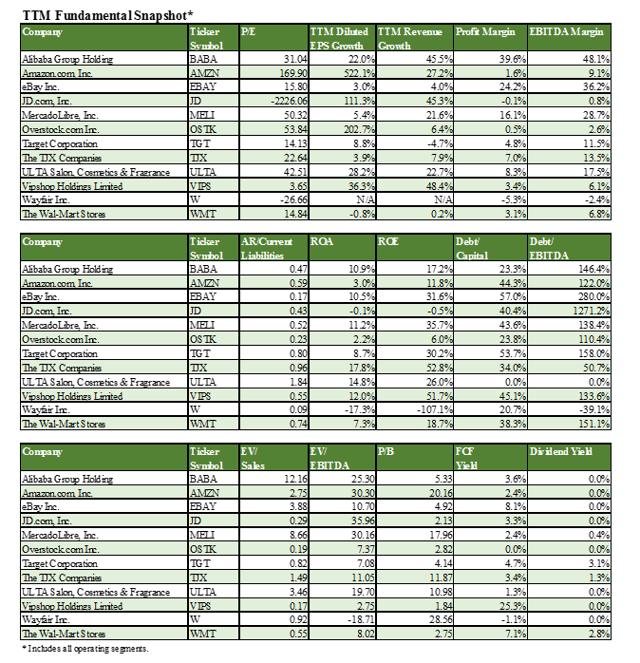 Source: Company financials and personal database
When it comes to the fundamentals, whether pure-play or diversified by traditional retail, companies with exposure to e-commerce offer a myriad of valuation levels, profitability, leverage and free cash flow and dividends.
This ranges from the higher valuation multiples and lower profit margins for a company like Amazon to lower-valued yet higher-profiting companies like Alibaba and eBay to extremely discounted companies like Vipshop with respectable profitability and other fundamental measures. Of particular interest is Vipshop's current free cash flow yield of 25 percent.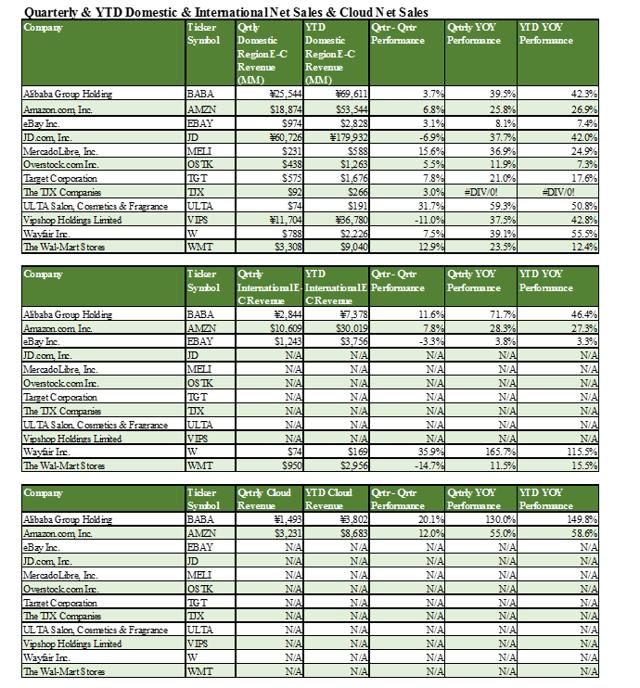 Source: Company financials and personal database
My perspective is that Amazon should be owned as both a company, which will continue to grow, and as a hedge against the long-term headwinds impacting traditional retail companies. But investors should consider their own objectives and strategies as to how they wish to play e-commerce potential over the next decades.
For net sales comparison against Chinese peers, investors should use a currency conversion factor of one Chinese Yuan equivalent to 0.15 U.S. Dollars. By this factor, Amazon's domestic e-commerce sales were five times that of Alibaba, two times that of JD and 10 times that of Vipshop through September 2016. Amazon's results were six times that of Wal-Mart, 20 times eBay, 24 times Wayfair and 31 times Target's results.
For international e-commerce net sales, Amazon's September year-to-date results were 27 times that of Alibaba, 10 times Wal-Mart and eight times eBay. For cloud net sales, Amazon's performance was 15 times that of Alibaba through September.
Chinese firms continued to witness substantial growth rates all outpacing Amazon's performance during the third quarter and through September. The substantial majority of this growth is tied solely to the Chinese economy and will continue to be for the foreseeable future.
For this reason, India has become a battleground for further growth as Alibaba has seriously attempted to challenge Amazon here. Alibaba knows that it does not have as good of a chance to substantially compete in other regional markets.
Aside from Chinese firms, there really is no substantial threat to Amazon's growth potential. Wal-Mart and Target both witnessed accelerated growth during the third quarter but both failed to outperform Amazon and are significantly behind, especially when factoring for both domestic and international net sales performance.

Source: Company financials and personal database
Profitability through September is just as mixed as the fundamental measures above. Amazon has led all peers with substantial improvement to its bottom line. Overstock's nearly 300 percent year-to-date performance was largely driven by recognized legal settlement proceeds. Chinese firms have been strong, with the exception being JD, who has struggled to consistently generate profits.
Traditional retail peers including ULTA and Target both witnessed double-digit performance of 30 and 12 percent, respectively through September. Most other companies witnessed marginal to flat performance, with Wayfair being the exception as the company has yet to become profitable.
Overall, Amazon's U.S. and international dominance is clear. Many major investment funds and hedge funds own Amazon for the simple reason that it is a market leader. Even so, the company still has room to run and is highly motivated to expand its market share. For U.S. investors, there is not a better e-commerce pure-play, neither is there a traditional retailer making enough e-commerce inroads to serve as an alternative to Amazon.
Investors willing to consider any of the Chinese firms may wish to take a closer look at Vipshop. The company has become greatly discounted versus its larger Chinese peers. But investors should perform their due diligence here as Vipshop has been a target over the past year and a half by short sellers claiming accounting shenanigans. The company has yet to substantially recover from its stock price lows during 2016. Alibaba and/or JD may serve as better investment options.
Disclosure: I am/we are long AMZN, ULTA.
I wrote this article myself, and it expresses my own opinions. I am not receiving compensation for it (other than from Seeking Alpha). I have no business relationship with any company whose stock is mentioned in this article.