While I've never been a big fan of Guess? (NYSE:GES), the 10.2% decline last week following the company's fiscal Q3 earnings release struck me as a bit of a knee-jerk reaction to lowered FY17 (ending January) guidance. The decline pushed GES to its lowest level since just after the bear market lows in early 2009 - yet the turnaround at Guess? isn't supposed to be a 2017 story.
CEO Victor Herrero rolled out the company's multi-year plan less than nine months ago on the Q4 conference call. While early returns (particularly in the Americas) don't look particularly strong, I'm not sure 2017 EPS really should be moving the stock all that much. That's especially true because weaker performance already looked priced in: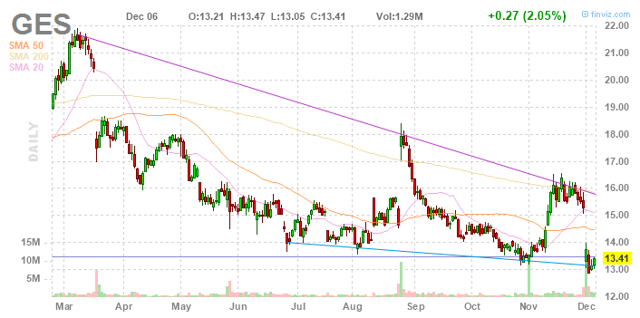 Source: finviz.com
And there was some good news in the Q3 report, with Guess? posting strong results in Europe (in particular) and driving growth in Asia. Herrero repeatedly has emphasized (as he pointed out on the Q1 call) that Guess? is "not a U.S.-centric company," and strength overseas does imply some small amount of hope.
So while I haven't seen enough in YTD results, or Q3, to turn bullish, I have seen enough to at least keep an open mind toward the turnaround strategy here. The near-term problem is that the Americas and Licensing businesses (the latter in particular) still drive a substantial portion of earnings - and the stronger dollar impacts margins in the overseas segments.
Even with GES's enterprise value now at just $800 million, I'm skeptical those international businesses - plus some run-off cash flow from Americas and Licensing - can support even the current, depressed, valuation. And I'm skeptical about the chance Guess? has to improve either of those businesses.
Supporting The Current Valuation
With Guess? pulling down full-year guidance to $0.42-$0.52 from $0.62-$0.75 after Q2, the stock still is pricing in at least some level of rebound from current levels. Wednesday's close of $13.62 still values shares at ~21x the midpoint of FY17 (ending January) EPS guidance plus $3.87 per share in cash. The question remains as it has for most of the last five years of declining earnings and an eroding share price (GES now is down ~70% from 2011 peaks): how can Guess? drive that rebound?
From a long-term perspective, Guess? really doesn't need that much improvement to support $14. A 10x multiple plus cash seems reasonable, if not conservative, for a stabilized GES (given myriad pressures and brand questions); that would require ~$1 in EPS, $84 million in net income and ~$140 million in operating income.
To put that in perspective, GES drove ~$400 million in operating income in both FY11 and FY12; returning to one-third of those levels probably drives upside for the stock. On the other hand, it also requires a more than doubling of operating income from current levels - FY17 guidance implies $66 million at the midpoint - and given a ~$70 million run rate in corporate overhead, a 50%+ increase at the segment level.
So Guess? needs about $200 million in segment-level operating earnings - a number it hit in both FY15 and FY16. With the company posting strong results in Europe this year (including in Q3) and expanding in Asia, there would seem to be a possibility that those two regions alone could at least begin the stabilization process. But there's a big problem with that theory at the moment: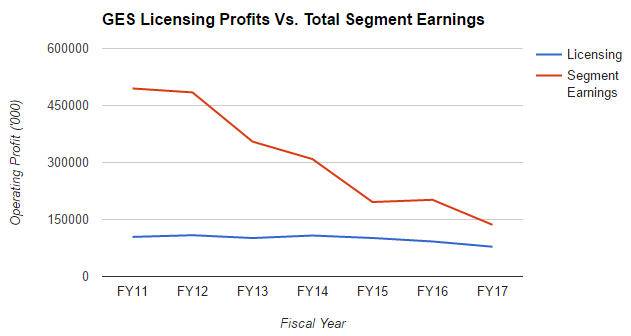 Source: Author from GES filings; FY17 author estimate
The Licensing segment had been the one bastion of stability, with operating profit in a tight range between $101 and $108 million from FY11 to FY15. But operating income fell 9% in FY16, and is down 14% YTD, including a 19% decline in Q3.
Guess? doesn't seem to have an answer for the revenue declines, which themselves are compressing operating margin - which dropped 480 bps year over year in Q3. The company's initial guidance for FY17 projected a mid single-digit revenue decline; post-Q3, the company now is guiding for a low double-digit drop. The 10-Q cited watch and footwear softness, and management has discussed weakness in purses in past commentary as well.
On the Q3 conference call, Herrero said the company had signed multi-year deals in handbags, watches, and footwear "that we are very pleased with." In response to a follow-up in the Q&A, CFO Sandeep Reddy gave a somewhat rambling, and discomfiting answer, admitting weakness in watches (which seems unlikely to reverse) and citing a "current downturn" that is driving "softness" across the category. While Guess? has rolled out detailed, and audacious plans, for the regional operating segments, it's had little to say about the licensing business, and shown little reason for confidence that its weakness will abate in FY18.
That's a concern from a branding standpoint, obviously. But in terms of getting the overall business stabilized, it also represents a substantial headwind. Licensing operating earnings should decline about $15 million this year; the other four segments are likely to generate ~$60 million or so combined (again, at the midpoint of FY17 EPS guidance). Another low double-digit decline in FY18 would offset ~20% growth in the rest of the business. And if Guess? could somehow stabilize the segment at the ~$75-$80 million earnings level that seems likely for FY17, it would only need a ~6% operating margin in the other segments; the more Licensing erodes, the higher that margin needs to be.
As far as the rest of the business goes, the bottom hasn't been hit, and, Europe aside, I'm not sure there's a base for the type of growth GES needs. If licensing declines, Guess? needs to double operating earnings elsewhere. The Americas Retail business may be able to help as Guess? reduces rent and closes unprofitable stores: Herrero cited cash savings of $9 million a year from renegotiated leases and an $11 million benefit from closed stores.
But that business already is skidding: The segment actually has posted a $4 million loss at the operating level over the past twelve months. The G By Guess concept - the focus of an original plan to open more stores in the U.S., one which may be walked back - did comp positive in Q3, so there may be a way that Guess? can drive some value. A $20 million contribution would be a start - but the stores that aren't being closed or renegotiated have to stabilize, and that hasn't happened yet.
Americas Wholesale missed guidance badly in Q3: Guess? had projected a mid single-digit increase but posted a 2.2% decline year over year. Operating income has decreased 21% YTD after falling nearly 40% between FY13 and FY16. (Here, too, there has to be concern about the health of the brand.) Combined, in the struggling Americas and Licensing businesses, the best Guess? can hope for in FY18 at the moment is to keep operating income flat, with rent reductions and closures being offset by Licensing and Americas weakness. And I don't see any evidence that Guess? can keep those earnings stable beyond next year.
That puts a lot of pressure on the business in Europe and Asia - too much, in my opinion. Based on trailing twelve-month operating earnings, the combined contribution overseas has to double to get EPS to the ~$1 mark. Europe has a chance to improve, as Guess? has added a number of stores across the Continent, drove a 1% increase in wholesale in Q3, and is seeing solid comps across the board. Operating earnings actually have declined YTD by 22% - but increased 81% in Q3, thanks to leverage in wholesale and retail.
Still, this is a business that has generated just $50 million over the past four quarters. Q4 revenue guidance looks very strong (net revenue up mid-to-high teens in constant currency), so that figure should improve, and growth next year should help. But I'm still not quite sure it's enough without better performance in Asia.
Herrero - a long-time executive in the region for Inditex (OTCPK:IDEXY) - likely was hired at least in part with an eye toward improving performance in Asia, but results this year have been disappointing. Guess? talked up results on the Q3 call, but quarterly sales badly missed guidance: Revenue increased 6.4% in constant currency against a low-to-mid double-digit projection. Operating margin has plunged this year, falling 770 bps and turning negative, due to deleveraging outside China and expenses from expansion in that country.
So there's hope there on the margin front as the business normalizes in FY18 and beyond. But the revenue growth has to come at some point, and Guess? has missed badly. The company originally guided for high teens to low twenties revenue growth in Asia. Coming out of Q4, it's expecting just a low single-digit increase for the year (with a sharp acceleration in Q4). There have been some impacts from lower tourist traffic in Macau and Hong Kong, but that doesn't explain all of the delta between projections and performance. And given that Asia was a key focus of the long-term plan Herrero detailed earlier this year, early stumbles have to be a concern.
Valuation
So there is a path, at least on paper, for GES to get back to that $1 EPS level and support the current price (and likely a bit of upside). But coming off a year where most of the business has disappointed (Europe being the only exception), there has to be a fair amount of skepticism built in. It's not just a matter of performance; guidance has been off as well, and given that the long-term plan still implies expansion across the world, there's the risk that out-year projections already are too optimistic - and that strategy thus unwise.
There have been a few pieces of good news this year, and the balance sheet means Guess? has plenty of time. There is a valuation where GES doesn't need the Americas and Licensing businesses to support its share price - but that price is closer to $9-$10, at which growth overseas basically is canceled out by declines in those segments. The dividend yield might lead some investors to a "get paid to wait" argument - and it did seem to provide support for GES at $18 for a good chunk of 2015 and early 2016. But that support gave way, and if Guess? can't stabilize the overall business, I imagine it will again.
From here, Guess? needs legitimate good news somewhere beyond Europe - and, at the moment, Asia looks like the only segment capable of providing that boost. That aside, it needs a sharply lower price - about a 30% decline in shares, which is a 40%+ drop in enterprise value. Even near a seven-year low, GES still is pricing in growth at some point. But I'm still far from convinced that growth will ever come - and very skeptical it can come soon.
Disclosure: I/we have no positions in any stocks mentioned, and no plans to initiate any positions within the next 72 hours. I wrote this article myself, and it expresses my own opinions. I am not receiving compensation for it (other than from Seeking Alpha). I have no business relationship with any company whose stock is mentioned in this article.