Algeria is one of the largest producers of oil and gas in North Africa. This country is confronted with a fall in oil prices and a sharp decline in state revenues, which are formed mostly from exports of energy resources.
Revenues from sales of oil and gas are expected to fall by 50% this year, bringing total amount to $34 billion, according to the Prime Minister of Algeria Abdelmalek Sellal.
Algeria may reduce shipments to Europe over the next three years due to political instability, lack of investments, and revision of contracts, according to Carlo Malacarne, CEO of Italy-based Snam SpA, Europe's largest transporter and operator of the gas transportation system. European demand for Algerian natural gas is getting lower, according to the company Eurogas.
Forecast for gas production in North Africa has worsened due to slow development of new fields in Algeria, according to the latest forecast by World Energy Outlook.
IEA analysts lowered its forecast for gas production in Algeria. It is expected that the country will produce 116 bcm of gas by 2040, or 20% less than what was previously thought.
The cartel met frequently after informal meeting on 28th September. Since that date, the price of Brent managed to climb to $53 per barrel, pulled back to $44, and then rose to $49. So, can this international intergovernmental organization control the production quotas and not miss the opportunity to justify its mission this time?
According to OPEC's own estimates, supply and demand show that Algeria can hardly keep a record surplus of oil next year without the cooperation with non-OPEC countries. And the fact that Algerian total quota in OPEC is defined as 32.5-33 mbp/d means that now Algeria has to reduce production.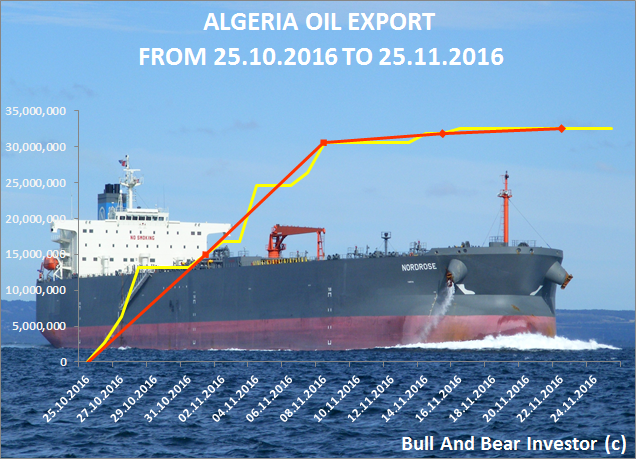 (Source: Tanker tracking data, Bull And Bear Investor's calculations)
We can see from the trend line of oil export that until 8th November delivery has taken place and then almost stopped. Incidentally, the situation with frost of supply in November is a sort of reaction on OPEC policy. Taking into account the fact that Algeria is one of the most vocal supporters of exports reduction policy, we can expect a further export decline, or, as a last resort, freeze. So, a desire to sell oil at current prices is a feather in the hand, but a deep necessity to "freeze" prices is a bird in the air.
Boutarfa held a press conference after a meeting with Iranian Oil Minister Zanganeh Bijanov. In particular, he expressed hope that oil quotations will reach $60 a barrel before the end of 2016, but main producers of oil have to agree on volumes of mining at the same time.
The government of Algeria has offered a reduction of total OPEC production by 1.1 mbp/d, and the proposal was presented to the Oil Minister of Iran. Boutarfa made an effort to urge oil producers outside of OPEC to limit oil production for at least 0.6 mbp/d in order to prevent a risk of serious decline in oil prices.
Overall, we strengthened in the opinion that new buyers of Algerian oil have no real effect on total Algerian sales. Additionally, we can observe the stagnation of deliveries, which can be explained as a result of the agreements within the framework of OPEC, and supposedly lowering of European interest in Algerian oil. If OPEC members do not follow the agreement, the price will fall below $ 50 per barrel that can lead a destructive impact on the Algerian economy.
Our articles are typically based on tanker tracking data, which is not available for free anywhere else. If you want to receive notifications on when our articles are published, please go to the top of this page next to my profile, click the "Follow" button and then click on "Real-time alerts on this author."
Disclosure: I/we have no positions in any stocks mentioned, and no plans to initiate any positions within the next 72 hours.
I wrote this article myself, and it expresses my own opinions. I am not receiving compensation for it (other than from Seeking Alpha). I have no business relationship with any company whose stock is mentioned in this article.
Additional disclosure: The material presented in this article is provided for informational purposes only and is based upon information that is considered to be reliable.