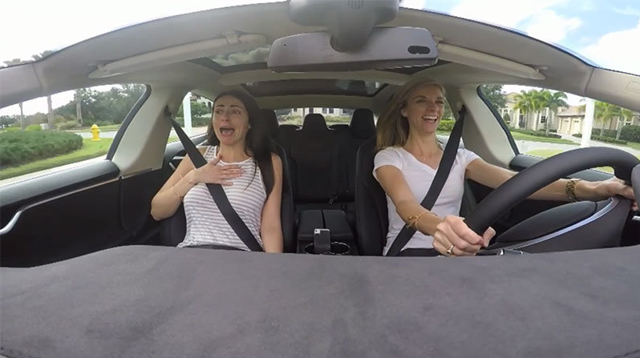 Another Caution Flag For Tesla Longs
Two of the firms we look to for insights into stock trends are Squeeze Metrics, which tracks stock trades in private markets, and LikeFolio, which tracks sentiment about brands on social media (we have an affiliate relationship with Squeeze Metrics, and are compensated when readers join that site; we have no financial relationship with LikeFolio). On Wednesday we wrote about LikeFolio's bullish call on Chipotle (NYSE:CMG), but back in August, we mentioned their warning on Tesla (NASDAQ:TSLA), Social Data Sours On Tesla.
In our August article, we presented a couple of hedges for Tesla, but suggested that, given the cost, longs might be better off not owning the stock. Since then, Tesla shares were down 16%, as of Wednesday's close.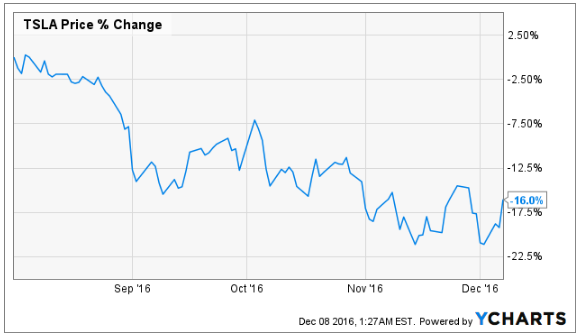 Now, Squeeze Metrics has issued its own caution flag on Tesla. More on that below. First, we'll recap the less expensive of our Tesla hedges from August and show how it reacted to Tesla's drop since. Then we'll look at the current warning from Squeeze Metrics.
The August 1st Optimal Collar Hedge:
As of August 1st's close, this was the optimal collar to hedge 200 shares of TSLA against a greater than 17% drop by mid-March while not capping an investor's upside at less than 6% by the end of that time period (screen captures via the Portfolio Armor iOS app).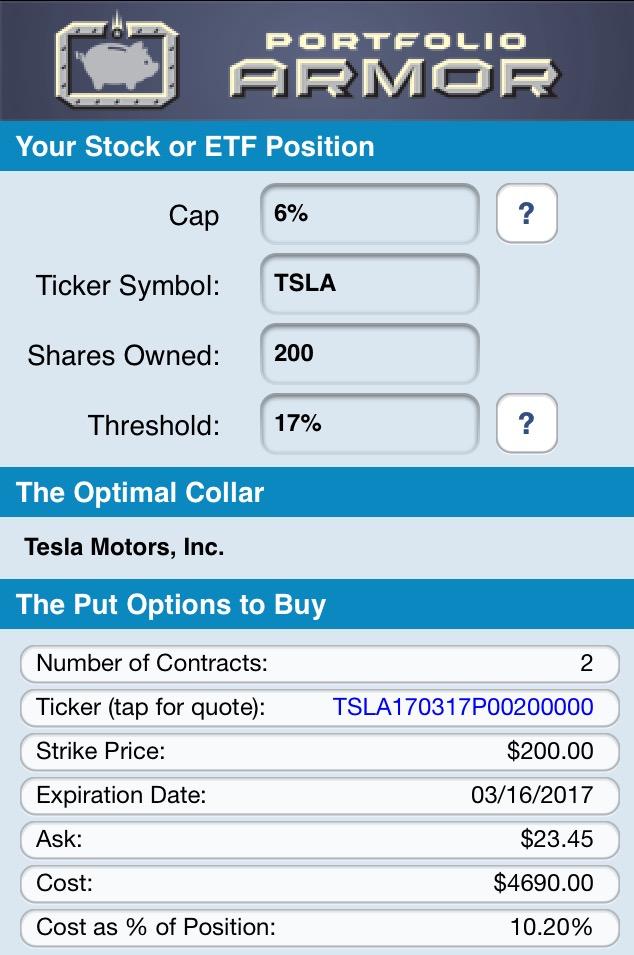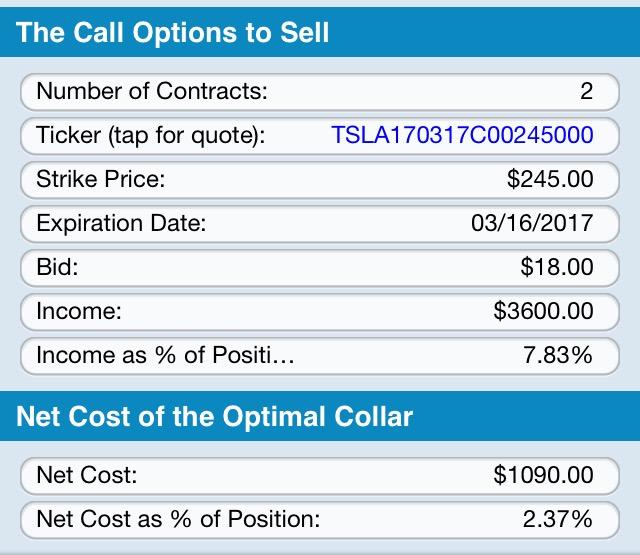 As you can see at the bottom of the screen capture above, the cost was $1,090, or 2.37% of position value (calculated conservatively, using the ask price of the puts and the bid price of the calls). Let's see where you'd be had you hedged and held until December 7th.
How The August 1st Collar Responded To Tesla's Drop
Here's an updated quote on the put leg as of Wednesday:

And here is an updated quote on the call leg:

How That Hedge Ameliorated Tesla's Drop
TSLA closed at $230.01 on Monday, August 1st. A shareholder who owned 200 shares of it and hedged with the collar above then had $46,002 in TSLA's stock plus $4,690 in puts, and if he wanted to buy-to-close his short call leg, he would have needed to pay $3,600 to do that. So, his net position value on August 1st was ($46,002 + $4,690) - $3,600 = $47,092.
TSLA closed at $193.15 on Wednesday, December 7th, down 16% from its closing price on August 1st. The investor's shares were worth $38,630 as of 12/7, his put options were worth $4,100, and if he wanted to close out the short call leg of his collar, it would have cost him $443, using the midpoint of the spread in both cases. So: ($38,630 + $4,100) - $443 = $42,287. $42,287 represents a 10.2% drop from $47,092.
Somewhat More Protection Than Promised
So, although TSLA had dropped by 16% at the time of the calculations above, and the investor's hedge was designed to limit him to a loss of no more than 17%, he was actually down about 10% on his combined net hedge plus the underlying stock position by this point, illustrating the impact of time value on a hedge designed to protect based on its intrinsic value alone. Not as good as getting out of the stock in August, but better than staying long and unhedged.
Wednesday's Squeeze Metrics Warning
After the close Wednesday, we received the email below from Squeeze Metrics:
Hey there,

Looks like there was some unusual dark pool activity in some of the tickers you follow.

TSLA had a DPI of 33%.

Click through to your dashboard for more info: here
That email mentions "DPI," which stands for Dark Pool Indicator (recall that dark pools are private exchanges where institutions trade shares without the transparency of public markets; dark pools were elaborated on in an article earlier this year, Seeking Alpha In The Dark).
DPI looks at the ratio between institutional buying and selling in dark pools: a DPI over 50% means most of the dark pool volume is institutional buying, and a DPI below 50% means most of the dark pool volume is institutional selling. So, the 33% DPI for TSLA is a bearish indicator. A bearish DPI isn't enough to trigger one of those emails though; the email is only triggered when the DPI represents a one-standard-deviation move, relative to the stock's dark pool activity over the previous 120 trading days. We were surprised to receive this email on a day when Tesla shares closed up 3.5%.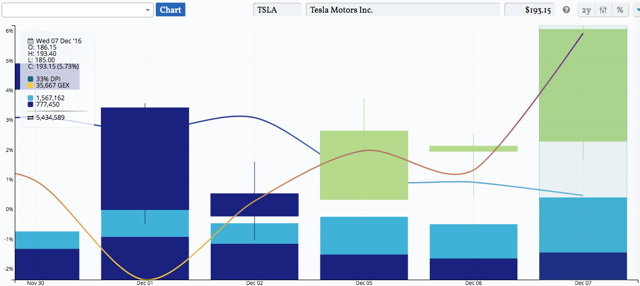 You can see the 33% DPI highlighted in the top left corner of the TSLA chart above, via Squeeze Metrics.
The other number we pay attention to there is the GEX, or Gamma Exposure (for detailed explanation of Gamma Exposure, see this article). A negative GEX is a potentially bullish indicator as it was in the case of Kellogg (NYSE:K) last week (Trump Train Targets Kellogg), but here the GEX is positive, so it's not. There's no silver lining in the Dark Pool cloud this time.
Disclosure: I/we have no positions in any stocks mentioned, and no plans to initiate any positions within the next 72 hours.
I wrote this article myself, and it expresses my own opinions. I am not receiving compensation for it (other than from Seeking Alpha). I have no business relationship with any company whose stock is mentioned in this article.