Investment Thesis
In spite of CARBO Ceramics (CRR) trading below a conservatively-adjusted book value and having steady financials, my research into this company highlights a warning flag in its recent credit raise of May 2016.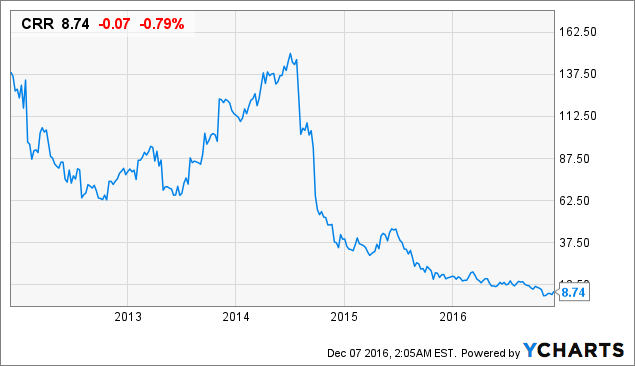 Business Overview
CRR is engaged in the supply of ceramic proppant. It provides fracture simulation software, engineering and consulting services and a broad range of technologies for spill prevention, containment and countermeasures.
Financials
CRR has been profitable nearly every year in the last decade, apart from during this severe downturn, which negatively affected its results of fiscal 2015 to present.

Source: Morningstar.com, author's calculations
Moreover, while many investors like to define a good business as one with high ROE, I prefer to define a good quality company as one that is able to generate a free cash flow margin above 5% (defined as FCF/Revenue (%)). In the case of CRR, it fails to be a good business on both of these metrics.
Adjusted Book Value
Please see my adjusted book value calculations.
Source: Sec filings, author's calculations
As you can see above, I have made my own impairments and adjusted the liquidation value of the assets and taken the liabilities at full value. You can see that there is still about $412m of equity and the stock is currently trading at around $224m, this leaves contrarian investors with a nice margin of safety on this investment at its current trading price.
Short sellers
As a deep value investor, the more shorted the stock, the better. The reason is twofold.
First, because anyone that sells short is fully committed to repurchasing the shares at some point in the future. Of course, short sellers are betting that they will buy the shares at a lower price. But they are committed nevertheless. Currently, about ~27% of the shares are short sold.
Secondly, when a share is heavily shorted, all the pessimism is already priced into the share price. That is why I enjoyed buying stock when there is no hope being priced in, and at a 5-year low, there is no expectation priced in, just pessimism.
Possible Conflict Of Interest
Two directors put up $25m in May 2016
We welcome the $25 million of debt on attractive terms and appreciate the commitment and confidence in the Company shown by the two Directors
As a deep value investor, I am always very dismissive of anyone that brings a pessimistic thesis to a stock that trades below book value.
My argument is that any bad news is already priced in. However, in the case of CRR, I will have to make an exception. The above quote that highlights the fact that the capital infusion was "on attractive terms" in a company that had its revenue decline more than 55% (between full year 2014-2015 and roughly the same amount again in the trailing twelve months). This highlights a yellow flag in my analysis of CRR. Therefore, I do not feel confident recommending an investment in CRR irrespective of the current illusion of a margin of safety.
It is possible that this concern of mine is immaterial, but it does make me skeptical of why this company chose not to raise capital via the traditional routes of going to a creditor, opening up its books for a creditor to do its due diligence? Again it might be nothing, just a coincidence. However, remember, this company had breached its covenants earlier in the year (March 2016) and that might have had something to do with it.
...failed to comply with the asset coverage ratio covenant in such credit agreement...
Thus, two directors Mr. Morris and Mr. Rubin who own so much of the company already, with Mr. Morris (CEO) owning 12.6% and Mr. Rubin (Chairman) 1.8%, funding the company.
Conclusion
In spite of the fact that its valuation is compelling, I do not believe that an investment in CRR has the necessary margin of safety required of investors due to a qualitative aspect. Being a deep value investor, I know that in Security Analysis, Graham avoided any qualitative valuation as he felt that investors over-discount the qualitative aspects of a business.
However, I also know that later in Graham's life when he wrote the later editions of Intelligent Investor, he did add some very minor qualitative aspects to his analysis of individual stocks. Needless to say that Buffett and Greenblatt do a lot of legwork on the qualitative aspect of a valuation, therefore I must recommend that in spite of the illusion of being cheap that investors avoid an investment in CRR. I recommend that investors look for better opportunities in another out of favor energy stock or something a little different.
Thank you so much for reading my article. If you have enjoyed reading this article, please click "Follow" to get more articles of mine in real time.
Disclosure: I/we have no positions in any stocks mentioned, and no plans to initiate any positions within the next 72 hours.
I wrote this article myself, and it expresses my own opinions. I am not receiving compensation for it (other than from Seeking Alpha). I have no business relationship with any company whose stock is mentioned in this article.