Introduction:
Today, I'm looking at a regional grocery store chain that I find very interesting for its measured approach to expansion and its local produce program. A food retailer with approximately 18,000 employees, Weis Markets, Inc. (NYSE:WMK) operates 204 stores in Pennsylvania, Maryland, Virginia, New York, New Jersey, Delaware, and West Virginia.
Established by Harry and Sigmund Weis in 1912 and incorporated in 1924, the Company's outlets sell bakery products, beer and wine, dairy products, deli products, floral, fresh produce, frozen foods, fuel, general merchandise items, groceries, meats, pharmacy services, prepared foods, and seafood. Weis Markets regularly purchases locally grown produce from around 150 farmers in Pennsylvania, Maryland, New Jersey and New York.
Others of its scope
1. Sprouts Farmers Market, Inc. (NASDAQ:SFM) operates as a fresh, natural, and organic food retailer in the U.S. The company offers bulk foods, baked goods, dairy products, deli, fresh produce, frozen foods, packaged groceries, meat and seafood, natural body care and household items, and vitamins and supplements. As of November 3, 2016, it operated 252 stores in 13 states.
2. Smart & Final Stores, Inc. (NYSE:SFS) operates as a food retailer in the U.S. As of October 9, 2016, it operated 304 grocery and foodservice stores under the "Smart & Final," "Smart & Final Extra!" and "Cash & Carry Smart Foodservice" banners in California, Oregon, Washington, Arizona, Nevada, and Idaho. The company has an additional 15 stores in Northwestern Mexico operated via a joint venture (JV).
3. Ingles Markets, Incorporated (NASDAQ:IMKTA) operates a chain of supermarkets in the southeast U.S. Ingles supermarkets offer grocery, meat, produce, deli and bakery department products. Ingles also offers pharmacies and fuel at most of its locations. The Company operates 192 supermarkets under the Ingles name; and 9 supermarkets under the Sav-Mor name in western North Carolina, western South Carolina, northern Georgia, eastern Tennessee, southwestern Virginia, and northeastern Alabama.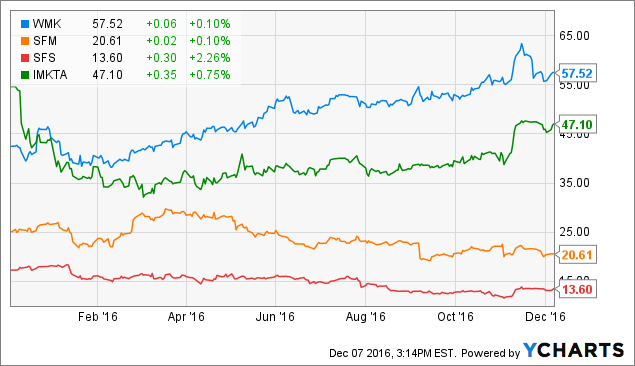 Weis Markets' recent performance
Sales & same-store sales
For Q3 2016 (the thirteen-week period ended September 24, 2016), Weis' sales grew a healthy 4.4 percent to $743.0 million versus $712.0 million for the same 2015 period. The Company's same-store (or comparable store) sales grew 2.7 percent.
Kudos to Weis Markets for this nice sales growth in the tough supermarket space. Especially notable is the Company's same-store sales increase. I've written before about same-store sales being something important to consider when evaluating retail operations.
Same-store sales evaluate sales of outlets open for a year or more. A business can determine how its foundational, existing stores, with a longer track record of operating, are performing. The goal is to continue to extract value from these core operations, while building sales and profit momentum through the addition of new stores.
It's a combined package here of both old and new adding value to a company and its shareholders. However, this same-store sales metric gives a picture of how a company's backbone operations are faring.
So, how are the other chains mentioned above performing in regards to sales?
Sprouts Farmers Market, for the 13-week Q3 ended October 2, 2016, had net sales of $1.0 billion. This represents a 15 percent increase from the same 2015 period. Same-store sales growth was 1.3 percent; two-year same-store sales growth was a robust 7.5 percent.
Smart & Final Stores, for Q3 ended October 9, 2016, had a net sales increase of 11.9 percent, to $1,394.4 million. Its same-store sales dropped 1.3 percent.
For the three months ended June 25, 2016, versus the three months ended June 27, 2015, Ingles Markets net sales rose by $11.2 million, or 1.2%, to $957.2 million, from $946.0 million. Same-store sales grew 2.6 percent over the comparative fiscal Q3.
As a side note, Kroger (NYSE:KR) had 0.1% growth in Q3 non-fuel same-store sales. However, this was the smallest increase in the 52nd consecutive quarters that it has posted positive same-store sales.
Here's a few other important metrics to look at for Weis Markets and the others:
Net income
Weis' Q3 net income fell 16.9 percent to $10.6 million. This is in comparison to $12.8 million for Q3 2015.
Sprouts' net income dropped $8 million from the same 2015 period. Smart & Final's net income was $7.0 million, versus net income of $12.4 million in the same period the year prior. Ingles' net income totaled $12.7 million for its Q3, versus $13.8 million Q3 2015.
Therefore, regarding the bottom line here, we're ascertaining the financial health of these businesses. We want to know how much money remains for them after all their expenses have been deducted from revenues. Consequently, it's positive for Weis and the others, buts it's less positive than previously.
This is something these businesses must address. After all, producing and growing profits is the major responsibility they have regarding shareholders, and investors track this diligently.
Weis Markets noted that the fall in its Q3 net-income was mainly because of $4.4 million in net costs related to the acquisition, conversion and reopening of stores. Mr. Jonathan Weis, Chairman and CEO, said, "In the third quarter, we invested in driving sales during a time of record growth for our company despite significant deflation in key categories, notably meat and dairy."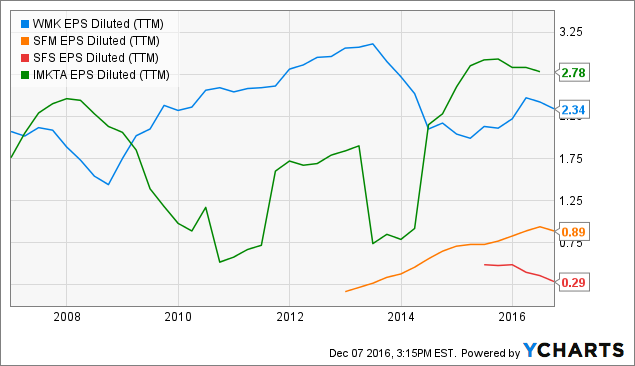 Earnings per share (EPS)
Weis Markets' EPS for the trailing twelve months is $2.34. Sprouts' is $0.89; Smart & Final's is $0.29, and Ingles' is $2.78.
The takeaway here is that you want to know how profitable a business is on a stockholder basis. EPS quantifies the amount of net income earned per share of outstanding stock. In essence, how much cash each share of stock would get upon a profit distribution to outstanding shares. Thus, Weis Markets is performing nicely here in regards to businesses of about the same scope.
Operating cash flow
Weis' operating cash flow for the trailing twelve months is $148.13 million. Sprouts' is $256.84 million; Smart & Final's is $116.85 million, and Ingles' is $155.9 million.
Here we see good numbers from Sprouts', with Weis Markets and Ingles in the same general territory but well behind Sprouts, so there's room for cash flow improvement despite these positive numbers. Investors want to see operating cash flow growth as it represents money produced from a company's normal everyday operations. It highlights the health of the core operations of a business.
Levered free cash flow
Likewise, levered free cash flow is an indication of financial health and a company's ability to re-invest in its business and/or pay dividends. Weis Markets' levered free cash flow for the trailing twelve months is $22.61 million. Sprouts Farmers Market's is $71.77 million; Smart & Final's is in the negative at -($131.66 million); and Ingles Markets' is $18.35 million. The more levered free cash flow the better, and Sprouts' is performing the best among these four companies.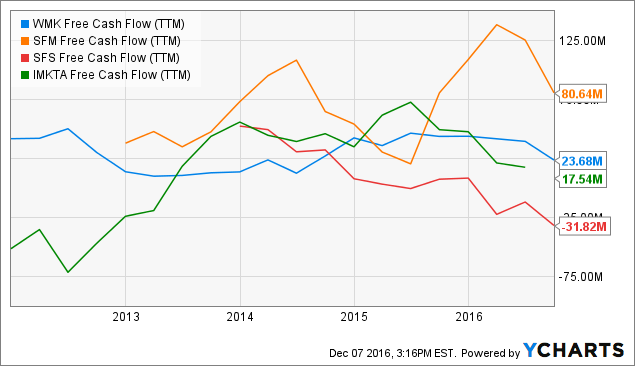 Weis acquisitions

The Company recently increased its operating stores by 25 percent. As RIS (Retail Info Systems) reported in its "Top 10 Grocers" report, "That 25 percent growth matches the grocer's stock price gain over the past year as investors have shown confidence in the brand's expansion plans." (RISNews.com - October/November 2016)
Recently, the Company acquired five Mars Super Market locations in Baltimore County, Maryland. It also acquired 38 Food Lion stores across Maryland, Virginia and Delaware, and a Nell's Family Market in East Berlin, Pennsylvania. Therefore, Weis Markets completed the conversion of 44 supermarkets.
Industry challenges
A) Flat grocery store sales
Supermarket News reported at the end of November that U.S. grocery store sales decreased by 1.4 percent during November 2016, chiefly because of lower overall volumes (IRI figures). Per a report issued in November by BMO Capital Markets, year-over-year results have been flat. (Supermarket News - Grocery sales slide on lower volume - Jon Springer - November 30, 2016)
It's a fragmented marketplace for food retailers. Non-traditional food retailers, such as dollar stores, organic food stores, club stores, online food retailers, and unique specialty stores, and even convenience stores, are taking a piece of the pie. This all adds up to slowing sales for traditional supermarket operations. They are now forced to change operating paradigms to meet new competition head on.
B) Online retailers
Despite currently still commanding only a small percentage of sales, Supermarket News (SN) noted that "…nearly one-quarter (24%) of all respondents to SN's 13th annual Survey of Center Store Performance said that online retailers are posing the biggest threat to center store sales in supermarkets." (SN -2016 Center Store Survey - Reimagining Center Store - Julie Gallagher - October 24, 2016)
C) Increased industry consolidation
Regional supermarket chains have more behemoths to contend with because of mergers and acquisitions in the industry. Consolidation permits companies to engage in economies of scale to keep a rein on operating costs. It also gives them new markets, increased market share, and provides the potential for significantly increased sales and profits.
Consider that Weis Markets has added those 44 new stores to its family. It sees this as a way to grow its business to remain viable in a very competitive food retailing environment.
Reuters recently reported that Albertsons is in advanced talks to buy Price Chopper. Reuters stated that, "A deal would underscore the wave of consolidation sweeping the U.S. grocery industry, as regional chains struggle to compete against online retailers such as Amazon.com Inc (NASDAQ:AMZN), big box stores such as Wal-Mart Stores Inc (NYSE:WMT), and discount chains such as ALDI Inc." (Reuters - November 29, 2016)
Those discounting online sales as a threat because its percentage of the take is low, right now, should consider the growing threat of online shopping to traditional grocery stores. It's a reality.
Conclusion:
I have an affinity for the retail food industry, having worked in it for 27 years in different capacities. Does that mean I'm all out to invest in it? Not really. However, I do like Weis Markets measured approach to growth. It's a company I'll consider as my first foray into stock ownership of this industry. It's such a volatile sector and due to first-hand experience, I've shied away from supermarket stocks as an investment vehicle. I much preferred collecting a regular paycheck from the industry.
Yes, Weis Markets experienced Q3 net income decline - not a good thing. Nonetheless, Weis said the decline was mainly because of $4.4 million in net costs associated with the acquisition, conversion, and reopening of five former Mars Super Markets in the Baltimore marketplace and ten former Food Lion units in Maryland. Its investing for growth here.
The supermarket industry is in a deflationary mode so it's tough to grow sales. Weis has though, overall sales and same-store sales, so I believe it's headed in the right direction - slow and steady growth while navigating industry headwinds daily.
Disclosure: I/we have no positions in any stocks mentioned, and no plans to initiate any positions within the next 72 hours. I wrote this article myself, and it expresses my own opinions. I am not receiving compensation for it (other than from Seeking Alpha). I have no business relationship with any company whose stock is mentioned in this article.