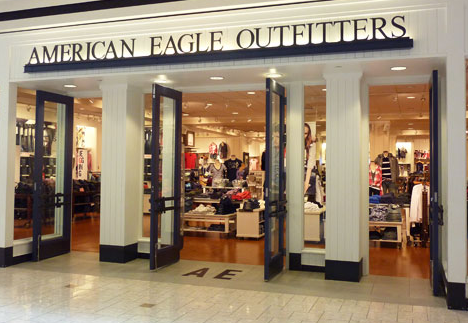 American Eagle (NYSE:AEO) has been a relative bright spot in a sector of retail that hasn't been great this year. Apparel retailing has been a tough business in 2016 as consumers have pulled back at a time when labor costs are rising and that has exposed weaker chains for what they are. AEO has experienced no such pain, however, and it continued its strong performance in the third quarter. But investors punished the stock for some weak Q4 guidance; is this a buying chance?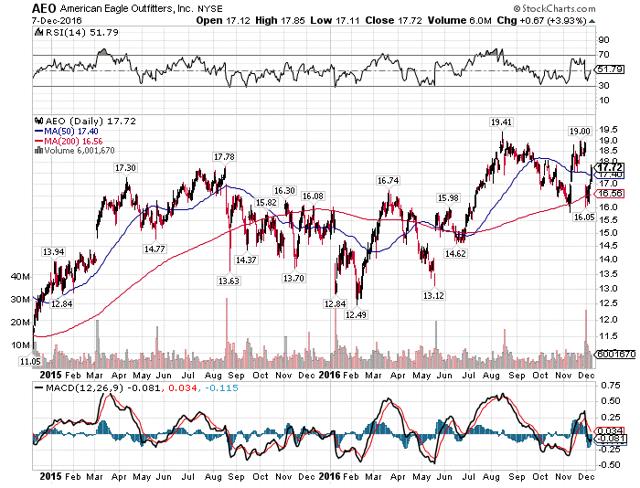 Total sales were up 2% as the entirety of the gain came from yet another positive quarter of comp sales. AEO has been very strong with its comps in recent quarters and the gain this year came on top of a 9% gain in last year's Q3. That's a very tough comparable but AEO was up again anyway and I'd urge investors not to overlook the fact that the comp was positive at all on top of last year's blockbuster gain. Two-year stacked comps of 11% are really quite something and AEO is certainly providing customers with the assortments they want.
That success has translated to pricing power as well as gross margins were up 20bps in Q3. The gain was due to better initial margins but offset somewhat by increased markdowns. That seems a bit counterintuitive - higher initial markups and higher markdowns - but the strategy worked and overall margins were stronger. Margins are everything in retailing and AEO's success is certainly welcomed. But in light of weak EPS guidance given for Q4, margins will be in focus even more so than normal for Q4. If AEO's pricing strategy holds and continues to improve margins, the bull case is much easier to defend. If not, we've got a potentially bearish situation on our hands. My base case is higher margins into next year but if the Q4 read is weak, I'll have to reassess.
AEO has also done a terrific job with respect to controlling expenses as it managed to spend more on advertising in Q3 but still leverage SG&A costs down by 60bps. That's a material gain in terms of operating margins and management deserves a lot of credit. That kind of leverage on a 2% comp gain is due to terrific discipline and remember that this is at a time when minimum wages are rising across the country; AEO is really doing a nice job here. That allowed operating margins to rise 70bps to 12.6% in Q3, terrific operating margins for an apparel retailer.
Despite all of AEO's success this year and in the third quarter in particular, guidance for Q4 was weak. EPS was guided for 37 to 39 cents against last year's adjusted number of 35 cents. That's not the sort of growth anyone was expecting and it is curious considering that comps were forecast to be flat to slightly up. With controlled expenses, I would have thought that we'd have seen a better number but perhaps management is simply being cautious. Obviously, the fourth quarter is of huge importance and investors were right to whack the stock given that guidance was weak, although the magnitude was probably a bit much. Estimates prior to the cut were in the 45 cent range so we are talking about a material miss here if indeed AEO comes in at 38 cents or so but we'll just have to wait and see.
The thing is that even with the move back towards its highs that we've seen and the weak Q4 guidance, AEO is still only going for 13 times forward earnings. That's cheap by any measure and in particular, if we consider the tailwinds to earnings that AEO has in its favor. Comp sales continue to rise, although it is worth pointing out that comparables will continue to be more and more difficult as time goes on. We've seen that with Q3's result of +2% and with Q4's weaker guidance near flat. It isn't that AEO necessarily must see lower comps but with the bar being ever higher, things do become more difficult with time.
Margins are still strong as better pricing remains intact so I fully expect we'll see a bit of gross margin leverage into next year as well as some additional SG&A leverage. Just how much depends upon what we see in terms of comp sales gains but given AEO's terrific discipline with respect to costs, I don't doubt we'll see at least some operating margin expansion.
Growth is still going to be tough to come by but at 13 times earnings, I still think AEO is cheap. In addition to that the chart looks very bullish here. The knee-jerk reaction from the earnings report was bought in force and the stock has rebounded sharply. In addition, it is still well in excess of the rising 200DMA, which should serve as support until further notice. The highs at $19 are still there to contend with but for now, the risk/reward equation looks tilted in the favor of the bulls right now. AEO has proven itself a first rate apparel retailer and given its cheap valuation, I think there is some more upside ahead.
Disclosure: I am/we are long AEO.
I wrote this article myself, and it expresses my own opinions. I am not receiving compensation for it (other than from Seeking Alpha). I have no business relationship with any company whose stock is mentioned in this article.