Former Federal Reserve chairman Allen Greenspan is credited as being the first person to popularize the expression "irrational exuberance". It is instructive to revisit today the excerpt from the 1996 Greenspan speech during the dot.com bubble:
Clearly, sustained low inflation implies less uncertainty about the future, and lower risk premiums imply higher prices of stocks and other earning assets. We can see that in the inverse relationship exhibited by price/earnings ratios and the rate of inflation in the past. But how do we know when irrational exuberance has unduly escalated asset values, which then become subject to unexpected and prolonged contractions as they have in Japan over the past decade?
Today, equity markets are characterized by unduly escalated valuations against a backdrop of anemic economic growth and less-than-stellar company earnings (see our November 25 Commentary). Several events this year lend, once again, credence to the phase irrational exuberance. To this end, last weekend we got another political hiccup and another equity rally. Like the Brexit and the election of Donald Trump, the Italian constitutional referendum last weekend, which ousted Matteo Renzi and will likely usher to power the euro-skeptic Five Star party in Italy, brought another strong wave of buying, particularly on European equity markets. Once again this year we have learned that all news is a reason to buy risk assets. Sounds sort of like irrational exuberance, no? Of course, on the surface, there is nothing positive about a European national government working to pull their county out of the eurozone. In fact, looking back to 2011, the risk of Greece leaving the euro zone was very disruptive to European markets, to say the least.
As many market observers now understand, the equity rallies post-Brexit, post-Trump, and post-Italian referendum have nothing to do with the nature of the political risk (which admittedly in all three case brings great uncertainty to markets). The strong equity buying has everything to do with classical conditioning. This harkens back to the work of Russian physiologist Ivan Pavlov. He demonstrated the concept of conditioned reflex when examining the rates of salivations among dogs. When a buzzer was sounded in subsequent time with food being presented to the dog in consecutive sequences, the dog would initially salivate when the food was presented. The dog would later come to associate the sound with the presentation of the food and salivate upon the presentation of that stimulus, in anticipation of receiving the food. It would seem that investors (or algo/program traders) today have become the epitome of Pavlov's dog. The Italian referendum has only evoked hopes of a prolongation of European Central Bank quantitative easing and official purchases of Italian debt…much as the Brexit evoked investor expectations of more stimulus from all world central banks. There is no other way to sugar-coat these two political risks into a palatable reason to buy equities.
Another occurrence of irrational exuberance we are seeing in markets today is the post-U.S. election bank stock rally. The spin that Wall Street is putting out is that Trump is now good for bank stocks (recall that Hillary Clinton was the choice of Wall Street pre-election). His pledge to deregulate industry and specifically repeal Dodd-Frank has explained why money is flooding into bank stocks. Additionally, investors are playing the bank stocks as a catch-up trade (the bank sector is the only major S&P sector that has not passed its 2007 bull market high). Since everything else is too expensive, investors are now buying what has not worked this cycle up to present. The S&P Bank Index (NYSEARCA:KBE) up a mind-boggling +25% since the U.S. election. Goldman Sachs is up +32%. Is Goldman's business 32% more valuable than three weeks ago??? Moreover, buying bank stocks on the unlikely chance that Trump will convince Congress to repeal Dodd-Frank would seem again to reflect the irrational exuberance in the markets.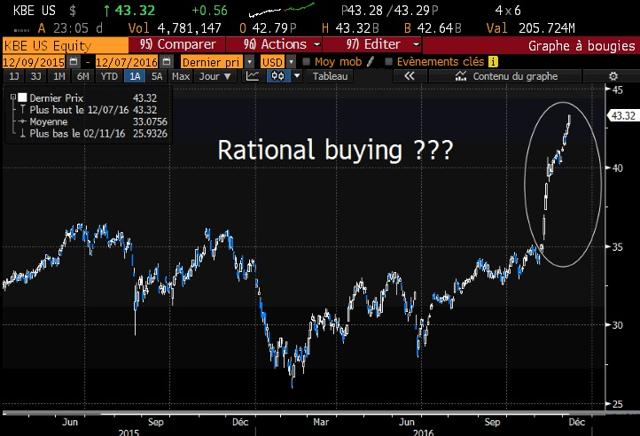 The recent rally since election day is also predicated on Trump's ability to reignite U.S. economic growth. While fiscal stimulus has been lacking in the U.S., and would be positive for growth, the reality of Trump coming in and magically producing robust economic growth after eight year of anemic growth may also border on irrational exuberance. Again, Trump will need to get Congress on board. While getting bi-partisan support for infrastructure spending would be a good bet (a theme we like going forward, see our November 4 Commentary), getting tax cuts, deregulation (Washington loves regulations), and obtaining an increase in the debt ceiling remains very uncertain. Trump's economic plan involves adding more debt. Adding debt to an economy recovering from a debt crisis seems to be a recipe for disaster.
As we remember from Greenspan's speech in 1996, irrational exuberance does not imply a market top. However valuations today are much higher than in the 1990's (only surpassed by valuations at the 2000 market peak). While there is no indicator which can predict the end to the market melt-up, investors have a smorgasbord of reasons to choose from when it becomes time to find an excuse to sell-off. We remain attentive to the post-FOMC meeting period into January 2017. No one knows what to base investment decisions on today, other than playing the central bank liquidity theme. Investors have been looking back and copying recent market reactions to similar events, as evidenced by the comparable equity price action post-Brexit, post-Trump, and after the Italian referendum. As such, how the markets will initially react to the Fed's second rate hike this cycle on December 14 is anyone's guess. However, we overlaid the S&P 500 (NYSEARCA:SPY) price action from the end of 2015 into 2016 with today's S&P 500 price. The vertical line on our chart indicates the date the Fed hiked rates in December 2015. In a value-agnostic market turning a blind eye to fundamentals, the chart may provide some insight into how the next weeks will play out on the markets. We expect the rally to last into the FOMC meeting, followed by sideways trading into year-end as fund managers "window dress" portfolios for annual reporting. As we turn the calendar, look for investors to begin taking profits on 2016 gains, just as we saw in January 2015.
Conclusion
U.S. equity markets are very frothy but it appears the melt-up will continue in December, provided that the European Central Bank and the Federal Reserve continue to appease markets. Extremely over-bought conditions (with the RSI at a two year high on the S&P 500, below) may persist for a couple weeks, but the risk of a significant pull-back should increase as we enter 2017.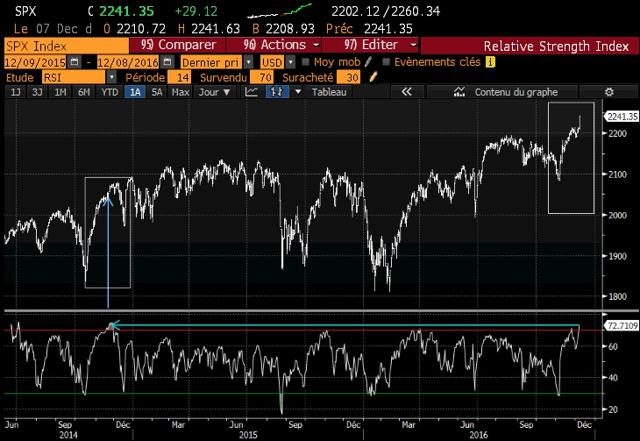 Disclosure: I/we have no positions in any stocks mentioned, and no plans to initiate any positions within the next 72 hours.
I wrote this article myself, and it expresses my own opinions. I am not receiving compensation for it (other than from Seeking Alpha). I have no business relationship with any company whose stock is mentioned in this article.