Data from Fiksu.com confirm that Samsung (OTC:SSNLF) is in no danger of losing its position as the most popular Android smartphone brand. Samsung models dominate the list of the top Android phones with 16 models comprising 43% of Android all active Android phones.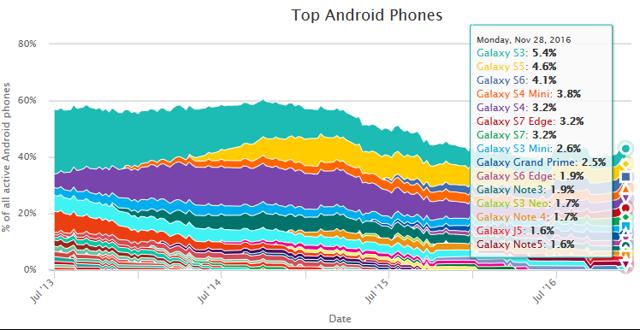 Source: Fiksu.com
With an installed base of over 2.2 billion as of July 2016, those 16 Samsung branded smartphones comprise over 900 million devices. They are not the only Samsung devices in use, just the top 16.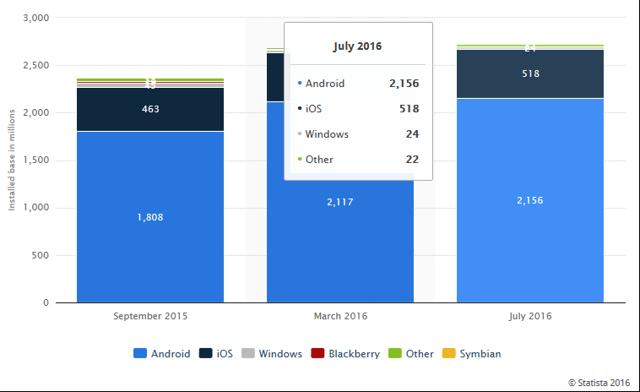 Source: Statista.com
Apple (NASDAQ:AAPL) iPhones have an installed base of some 500 million units, a fraction of Android and very likely about half that of Samsung. Once prolific BlackBerry (NASDAQ:BBRY) and Microsoft (NASDAQ:MSFT) Windows OS smartphones have all but disappeared.
Neither BlackBerry nor Microsoft have admitted defeat although BlackBerry has turned to a licensing arrangement to keep BlackBerry branded devices available to consumers. That may or may not succeed but it seems to me that there is a market for the BlackBerry brand and I still see a lot of BlackBerry smartphones here in Canada, mostly the new PRIV model which seems to be becoming a favorite of law firms from what I can tell.
Microsoft has taken massive write-offs and licensed others to build Nokia branded smartphones, but is tenaciously hanging on to a sliver of market share in higher end devices. I am hopeful that results in a first-class Windows 10 phone - something I would buy in a nanosecond. I like Windows 10 and the integration with the Microsoft ecosystem is of real value to me. I use a Surface Pro tablet and Windows 10 desktops, and find the cloud-based Outlook and Office productivity software to be the best Microsoft has ever produced. Using these on a Windows 10 smartphone is seamless and intuitive. Bu, the current crop of Microsoft smartphones remains sub-par on a power and performance basis as far as I can tell.
HP (NYSE:HPQ) has tried to fill that gap with its Elite X3 which has the best specifications of any Windows 10 phone and offers power, storage, long battery life and the full advantages of Continuum and Cortana. It is a powerful and versatile device but likely a niche one given a high price and the choice of a Qualcomm processor limiting the range of applications it can run well.
Having said that, there appears to be no real threat to Android's dominance or to Apple's short-term profits. Android will very likely continue to grow and expand its reach beyond smartphones well into the Internet of Things (IoT) space. Microsoft is not likely to abandon its smartphone presence despite its minimal position since Windows 10 has been developed for all platforms and seems to perform well on each.
Apple is the one that is vulnerable - not now and not in the very short term - but ultimately will suffer from reduced market share in a slow growth marketplace. The recent spate of iPhone fires in China will dampen growth in that key market if Samsung's Note 7 experience is any guide. Apple has already seen market share declines in China although the iPhone continues to enjoy strength in the United States according to the latest Kantar data.
All things considered, with stock markets at record highs and interest rates close to record lows, this is not a great time to be long what must be the world's most popular stock. In any sharp market decline investors tend to sell what they can and AAPL stock is a good candidate as a source of cash given its broad following and high liquidity. I expect the bull market to come to an end sooner rather than later.
In summary, the smartphone space does not seem to be as attractive an investment target as in years gone by, and AAPL is no longer a growth stock. This is very likely a good time to trim positions and wait for much lower indices to become more bullish on the markets generally and on AAPL in particular.
Disclosure: I/we have no positions in any stocks mentioned, and no plans to initiate any positions within the next 72 hours.
I wrote this article myself, and it expresses my own opinions. I am not receiving compensation for it (other than from Seeking Alpha). I have no business relationship with any company whose stock is mentioned in this article.
Editor's Note: This article discusses one or more securities that do not trade on a major U.S. exchange. Please be aware of the risks associated with these stocks.