Ladder Capital Corp. (NYSE:LADR) pulls in robust core earnings from its multiple, complementary businesses, has core earnings upside related to an interest hike, and just increased its recurring cash dividend by 9 percent.
With interest rates still way too low, investors have to turn elsewhere for income and yield. Fortunately, commercial real estate finance REITs like Ladder Capital offer income investors an attractive entry dividend yield, strong dividend coverage, and attractive prospects for dividend growth.
Ladder Capital serves the entire commercial real estate finance spectrum: The REIT originates and invests in first mortgage loans whose values are underpinned by cash flow-producing commercial real estate across the United States. Ladder Capital also invests in commercial mortgage-backed securities and in direct real estate.
The result is a highly diversified, highly secure commercial real estate investment portfolio that produces recurring interest income.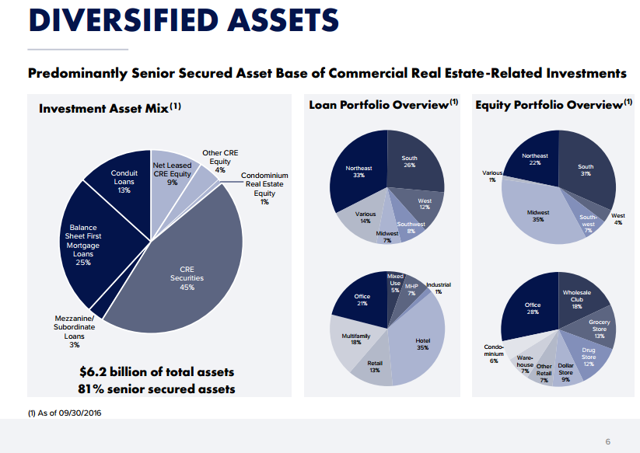 Source: Ladder Capital
As opposed to fixed-rate conduit loans (loans that are put into CMBS pools, securitized, and then sold to sophisticated investors like pension funds, hedge funds, insurance companies etc.), balance sheet first mortgage loans typically are floating-rate, providing Ladder Capital with a kicker for higher net interest income as short-term interest rates rise.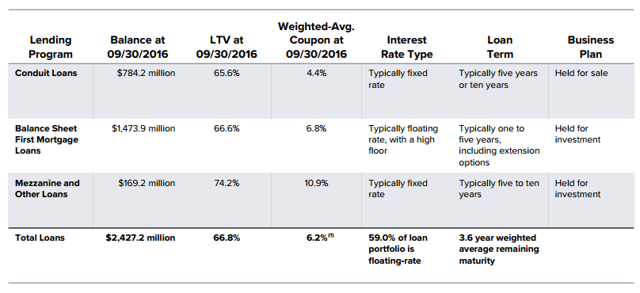 Source: Ladder Capital
Net Interest Income Upside
Ladder Capital has ~$1.4 billion in floating-rate assets sitting on its balance sheet, which will produce more income as short-term interest rates rise.
The real estate finance company anticipates a $2.4 million boost in yearly net interest income, assuming a 100 bps increase in LIBOR.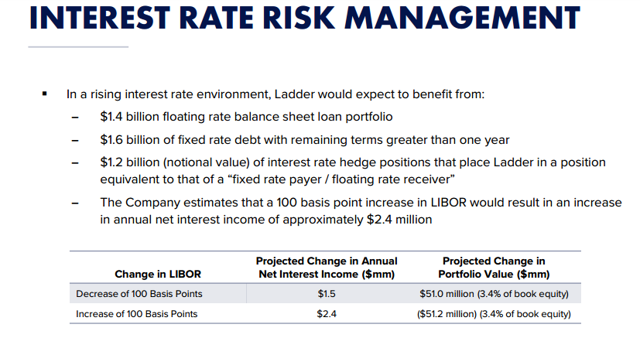 Source: Ladder Capital
Ladder Capital Has Consistently Been Profitable
Commercial real estate is not a steady business. The CRE market is volatile and can create wide swings in core earnings from one quarter to the next. That being said, though, Ladder Capital has been consistently profitable since inception, and the REIT does not have any problems at all covering its dividend with core earnings.

Source: Ladder Capital
Significant Potential For Dividend Growth
If you buy Ladder Capital today, you can lock in a 7.86 percent yield, which is not bad for starters.
Last week Ladder Capital announced a dividend raise of 9.1 percent (!) thanks to its strong core earnings trajectory. The new quarterly cash dividend is therefore rising from $0.275/share to $0.30/share. I don't know of many REITs, whether in the commercial real estate finance business or elsewhere, that have the wiggle room to finance such a big raise. In any case, the dividend hike makes Ladder Capital a compelling income vehicle for a DGI portfolio.
Ladder Capital has cushy dividend coverage, too, which bodes well for future dividend raises. The company pulled in $0.39/share in core earnings in the last five quarters, handsomely covering its dividend payout in every single quarter.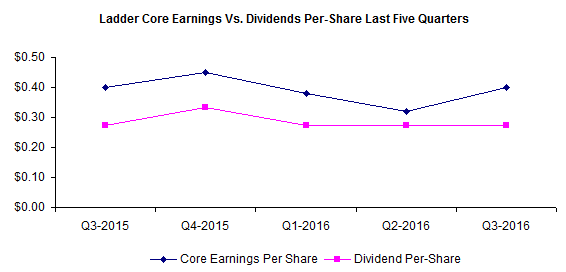 Source: Achilles Research
Reasonably Cheap Given Ladder Capital's Excess Dividend Coverage
Ladder Capital sells for ~9.5x run-rate Q3-16 core EPS. From a book value perspective, income investors pay a ~12.4 premium to the last reported Q3-16 GAAP book value of $13.59/share.
Your Takeaway
Commercial real estate finance vehicles are compelling income vehicles, largely because they have invested heavily in floating-rate loans that they keep on their balance sheets. Therefore, the combination of net interest income upside related to a rise in short term interest rates, and strong dividend coverage on a core EPS basis support the bull case. Ladder Capital has just hiked its dividend by a whopping 9 percent. Buy for income.
If you like to read more of my articles, and like to be kept up to date with the companies I cover, I kindly ask you that you scroll to the top of this page and click 'follow'. I am largely investing in dividend paying stocks, but also venture out occasionally and cover special situations that offer appealing reward-to-risk ratios and have potential for significant capital appreciation. Above all, my immediate investment goal is to achieve financial independence.
Disclosure: I/we have no positions in any stocks mentioned, and no plans to initiate any positions within the next 72 hours.
I wrote this article myself, and it expresses my own opinions. I am not receiving compensation for it (other than from Seeking Alpha). I have no business relationship with any company whose stock is mentioned in this article.