Background
LGI Homes (NASDAQ:LGIH) is a small-cap homebuilder (15th largest in the U.S.) that was founded in 2003 in The Woodlands, Texas and became a public company in November of 2013. LGIH builds single-family, entry-level homes throughout the country, with about half of their revenue coming from Texas and the remaining half coming from various states in the Southwest, Southeast, and Pacific Northwest, all of which are regions where LGIH has recently been expanding. Cofounder Eric Lipar is the CEO and owns about 10% of the company's outstanding shares. Lipar and his team at LGIH have developed a brilliant strategy that has allowed for explosive, industry-leading growth by cornering a specific portion of untapped homebuyers.
Unique Strategy & Great Execution
Historically, young homebuyers have averaged 40% of all purchasers, but in 2015 that number fell to 32%, the lowest level in three decades, according to the National Association of Realtors (via the Wall Street Journal). Much of this can be attributed to the increasing popularity of renting, as prospective buyers have been unable or unwilling to save enough to make a down payment on a mortgage. This same WSJ article also states that first-time homebuyers now make up 52% of prospective buyers looking to purchase in 2017, up from 22% in the prior year, according to data from Realtor.com. LGIH has taken advantage of this market dislocation by buying affordable land in more distant suburban locations, building entry-level houses that are ready to move in, and aggressively marketing these houses to renters living within a 25-mile radius. LGIH is often able to entice customers with no down payment and a monthly rate that is lower than their current rent, which obviously is a very attractive offer.
This differentiated market approach towards entry-level buyers can be seen in the table below, courtesy of Bloomberg Intelligence: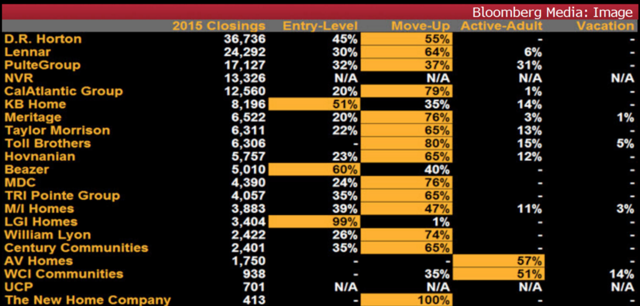 Source: Bloomberg Terminal
LGIH is the only publicly traded U.S. homebuilder that focuses more than 60% of their homes at the entry-level. Other homebuilders have largely deemphasized this segment in favor of the higher-priced move up market. LGIH has captured this slice of the market and has the track record to prove that it is working very well. Ever since its IPO in 2013, LGIH has been growing at explosive rates, while improving many of its profitability metrics, which can be seen in the table below.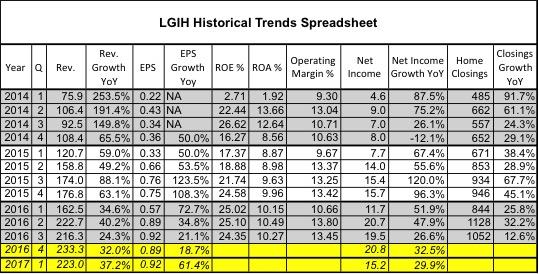 *All data taken from Bloomberg Terminal or LGIH quarterly filings. Highlighted figures represent Bloomberg estimates. Revenue and Net Income are quoted in thousands. Chart created by myself*
This table shows how consistently LGIH has performed since it became a publicly traded company. Since 2014 LGIH has boasted revenue CAGR of 48%, EPS CAGR of 56% and Net Income CAGR of 59%, using the Bloomberg estimates for Q4 2016. Additionally, margins have held up extraordinarily well, showing that LGIH is not sacrificing profit for growth. Management commented in the most recent earnings call that total closings would finish the year between 4000-4300 homes, which would represent a 30% 2-year CAGR at the low end of the range. Management also guided to a 20% increase in community count for 2017, which should translate to continued growth moving forward.
Average Selling Prices for LGIH's homes grew 10% to an average of $205,613 in their most recent quarter and the company commented that several new markets, such as Seattle and Denver have ASP's greater than $300,000, putting LGIH in a pricing sweet spot as they continue to roll out their expansion. The two charts below shows the favorable trend occurring in LGIH's favor, as lower priced new homes take market share away from the higher priced tier.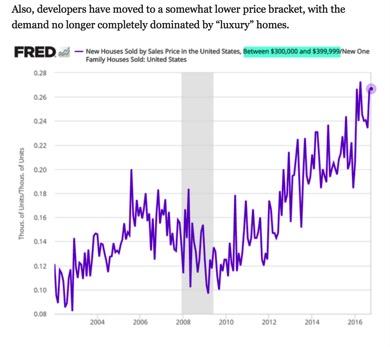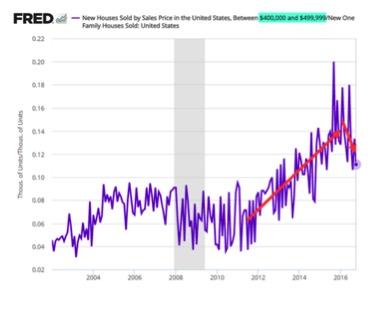 Source: Wall Street Journal's The Daily Shot - Nov. 28
If LGIH were able to experience such great success in the toughest environment for new homebuyers in thirty years, imagine what they will be able to do as the housing trends finally provide them with a tailwind. I expect management to take advantage and propel this growth company even higher in the years ahead.
Peer Comparison
LGIH has clearly executed very well in recent years, yet it remains undervalued by the market. Take a look at the chart below, which shows LGIH compared to other homebuilders with at least $400 million in market cap.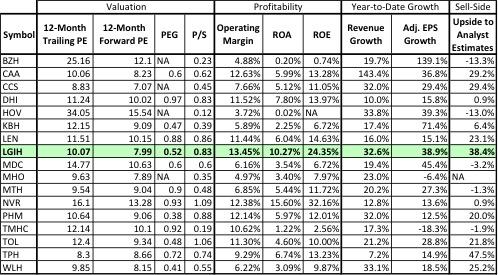 *All data taken from Bloomberg or individual company quarterly filings. Chart created by myself*
On a profitability basis, no other company is operating remotely as well as LGIH with the exception of NVR, which actually bests LGIH in both ROA and ROE, which is very impressive. However, when combining the profitability metrics along with valuation and growth, we can see why LGIH is a very attractive GARP (growth at a reasonable price) stock. LGIH is among the best values in the sector when looking at price ratios (Forward P/E of 7.99 and PEG of 0.52) but is also growing at one of the fastest clips in the industry (Revenue up 32.6% and EPS up 38.9%). Conversely, a company like NVR, despite showing excellent profitability with industry-leading ROA and ROE, is growing at only a third of the pace of LGIH and is one of the more expensive homebuilders.
While there are companies that are similar to LGIH on a valuation and growth basis, such as CalAtlantic Group, Inc. (NYSE:CAA), Century Communities, Inc. (CCS), PulteGroup, Inc. (PHM), TRI Pointe Homes (TPH), and William Lyon Homes (WLH), none of them offer the impressive margins that LGIH can produce. When reviewing the data, I keep coming back to the same conclusion: there is simply no other homebuilder that is as strong as LGIH when considering valuation, profitability, and growth.
Potential Risks
One red flag that jumped out to me was the high level of short interest in LGIH, which is currently over 30% of the float. This is an unusually large percentage, and is among the highest in the homebuilding sector. While I have yet to see a valid reason as to why LGIH would have a short interest of this size, this article posted recently on the subject had some interesting theories. I believe the shorts are misguided and think that they will get squeezed out eventually due to reasons stated previously, but this is a metric to keep an eye on.
Conclusion
I believe that LGIH remains undervalued to both the greater market and the homebuilding sector, and although LGIH is up about 31% year-to-date it is still 19% off of its all-time closing high of $39.46 set back in early September of this year. Only 5 analysts cover LGIH, but they provide an average price target of $44, which equates to roughly 38% upside from the time of this writing. If we apply an industry average P/E ratio of 10x to next year's average analyst estimate for EPS of $4.00 we get a price target of $40 by next year. I believe this is somewhat conservative as LGIH has beaten analyst's earnings estimates the past eight quarters in a row and actually deserves a premium valuation. The chart below shows some of LGIH's price multiples over the past three years.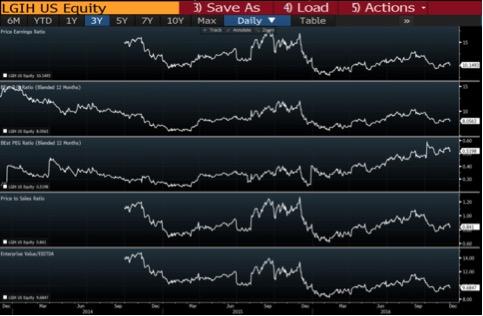 Source: Bloomberg Terminal
The stock is towards the lower ends of its historical average in all categories, with the exception of PEG, which is still at a very reasonable 0.52 level. LGIH is a compelling GARP stock for investors who want some exposure to an interesting niche in the homebuilding sector.
Disclosure: I am/we are long LGIH.
I wrote this article myself, and it expresses my own opinions. I am not receiving compensation for it (other than from Seeking Alpha). I have no business relationship with any company whose stock is mentioned in this article.