Many investors heavily rely on the dividends they receive from their stocks. Therefore, a dividend cut is a really painful development for these investors, particularly if they are near or at their retirement phase. Not only does their income stream significantly decrease, but there is also a simultaneous plunge of the stock price, which results in capital losses. Therefore, these investors should formulate a solid strategy in order to select the proper stocks, which will not cut their dividends.
Historical record
Dividend-oriented investors should first check the dividend aristocrats, i.e., stocks that have grown their dividend for at least 25 consecutive years. The consistency of these stocks ensures that a solid business model is in place, at least to some extent. As such a record is remarkable, these companies are likely to do their best to continue to raise their dividend. Therefore, the odds of a dividend cut are really low in most of the cases. Examples of dividend aristocrats are Wal-Mart (NYSE:WMT), Procter & Gamble (NYSE:PG), McDonald's (NYSE:MCD) and Coca-Cola (NYSE:KO), which have raised their dividend for 43, 59, 40 and 54 consecutive years, respectively.
While these companies are mature and have failed to grow during the last 3 years, they have kept raising their dividend in order to maintain their exceptional streaks. Moreover, they implement a moderate amount of share repurchases, which somewhat mitigate the financial burden of the dividends on the companies, as the dividends are distributed to a lower number of shares. All in all, while these companies do not have great growth prospects ahead, they are likely to keep raising their dividends for the foreseeable future. Only a major disruption would lead them to reduce it, which is not likely to occur any time soon.
Payout ratio
This is one of the first things that all the dividend-oriented investors check so I will not spend much time on it. The higher the payout ratio (dividend divided by free cash flow) the riskier the dividend. Even if the dividend is not cut, a high payout ratio indicates that there is little room for future hikes.
Kinder Morgan (NYSE:KMI) is a great example to illustrate the importance of the payout ratio. It kept paying a dividend greater than its earnings for some years but it eventually had to land to reality and thus cut its dividend by 75%. Even worse, its stock is still 50% off its peak about a year and a half ago. Therefore, its shareholders incurred a double hit; a huge dividend cut and great capital losses. This should remind them why they should always check the sustainability of a generous dividend; in most cases the dividend cut is minor compared to the capital losses. As a side note, the shareholders of Kinder Morgan should have also been alerted by the excessive debt load ($44.5 B) of the company (more on this below).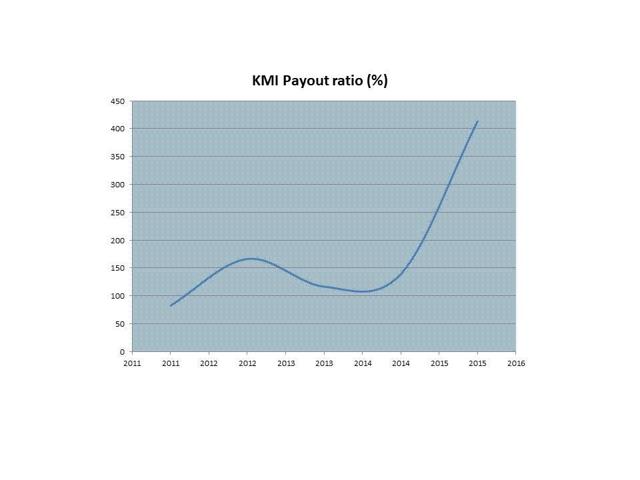 Cyclical stocks
Investors who want to avoid a dividend cut should stay away from most cyclical stocks. As these companies experience sharp declines in their earnings during the down cycle, most of them are forced to cut their dividends during rough periods. The off-shore drillers, such as Ensco (NYSE:ESV), Seadrill (NYSE:SDRL) and Noble (NYSE:NE), decimated their dividends during the ongoing downturn of their sector, which resulted from the plunge of the oil price. Industrials and commodity producers are cyclical in general and thus they rarely manage to maintain a dividend growth streak for many years. An exception is Deere (NYSE:DE), one of the largest global farm and construction equipment companies, which has not reduced its dividend during the last 28 years.
Balance sheet
Investors should avoid companies that have a huge debt load, as these companies are prone to cutting their dividend when the next crisis shows up. As a rule of thumb, the interest expense should not "eat" more than 10% of the operating income while the net debt (as per Buffett, net debt = total liabilities - cash - receivables) should not exceed 3-5 times the earnings.
The importance of a strong balance sheet, which should not be underestimated, is evident in the case of the oil majors Exxon Mobil (NYSE:XOM) and Chevron (NYSE:CVX). While the earnings of these companies have plunged in the last two years, along with the price of oil, the two stalwarts have not reduced their dividends. Instead Exxon has kept raising its dividend while Chevron froze it for 10 consecutive quarters and just raised it by $0.01 only to maintain its exceptional streak. Consequently, thanks to a strong balance sheet, the shareholders of these two oil giants have not seen a dividend cut even though their earnings have plunged about 80% this year compared to 2013.
Of course the two companies have maintained their dividends by adding debt so their balance sheets are much weaker now than they were 3 years ago, particularly in the case of Chevron. Therefore, the oil producers will need a rebound of the oil price to maintain their exceptional dividend growth streaks. Nevertheless, investors should not miss the importance of the above lesson.
Abnormally high dividend yields
Investors should avoid stocks that offer an abnormally high dividend yield, e.g. above 5%. When a stock offers such a high yield, there is almost always a good reason behind it, particularly in the current environment of near record-low yields. While an exceptionally high dividend yield, in the range 5%-10%, is always tempting, investors should almost always resist the temptation. In the vast majority of these cases, the subsequent capital losses more than offset the dividend income.
This is particularly true when the high dividend yield is the result of the plunge of the stock price. For instance, the above mentioned off-shore drillers, Ensco and Seadrill, offered a 10% dividend yield at some point, thanks to their generous dividend but also thanks to the plunge of their stock. Investors who were allured by the high yield took their lesson the hard way, as both stocks have plunged more than 50% since then while they have essentially eliminated their dividend.
When investors are tempted by a high dividend yield, they should first check whether the competitors have already cut their dividend. If the answer is positive, then they should probably stay away from the stock under study. Even if some competitors have not cut their dividend, investors should not be allured by a high dividend yield if there is deteriorating business performance.
Conclusion
To sum up, a dividend cut can be very costly, not only for its reduced income stream, which is particularly painful for retirees, but also for the simultaneous capital losses due to the plunge of the stock price. Dividend-oriented investors should perform the above tests to determine how risky a dividend is. If a stock passes all the above tests, then it is really unlikely to cut its dividend any time soon.
Disclosure: I/we have no positions in any stocks mentioned, and no plans to initiate any positions within the next 72 hours.
I wrote this article myself, and it expresses my own opinions. I am not receiving compensation for it (other than from Seeking Alpha). I have no business relationship with any company whose stock is mentioned in this article.