Care Capital Properties, Inc. (NYSE:CCP) looks attractively priced after the most recent sell-off. I think there is an opportunity here to gobble up some shares at a low price relative to the Real Estate Investment Trusts' funds from operations. Further, an investment in Care Capital Properties has high appeal for income investors due to its 9 percent covered dividend yield.
Consolidation Translates Into Buying Opportunity
You may remember that I have warned investors of an overheating REIT sector and inflated FFO multiples earlier this year. Specifically, I warned investors of the high price of Care Capital Properties that they were supposed to pay this summer. I had this to say at the time:
At the very least, the significant increase in REIT prices this year is reason enough to tread a little more cautious now. Like most REITs, Care Capital Properties has seen a surge in valuation lately, which puts the company at risk of a correction...Wait for a drop towards $26 before buying.
When this piece was published at the end of July, Care Capital Properties sold for about ~$30. Today, shares can be gobbled up for ~$25. The point is that nothing has fundamentally changed in the last four months, which in turn is good news for yield-hungry investors with cash at hand.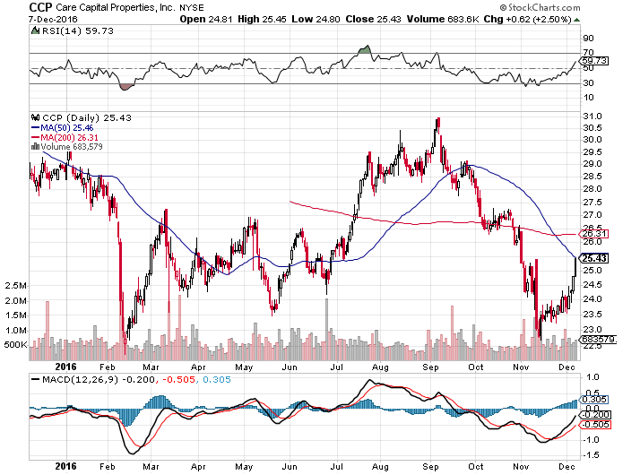 Source: StockCharts.com
Why A Health Care REIT?
Simple: The population grows older, and more people need medical assistance in old age. Advances in the medical field and longer life expectancies create a unique opportunity for health care REITs to capitalize on increased health care spending on the elderly.

Source: Care Capital Properties
Strong SNF Presence Across the United States
Care Capital Properties owns 340 skilled nursing and related health care properties with approximately 37,500 beds in 36 U.S. states. 91 percent of the REIT's rental revenues originate from skilled nursing facilities.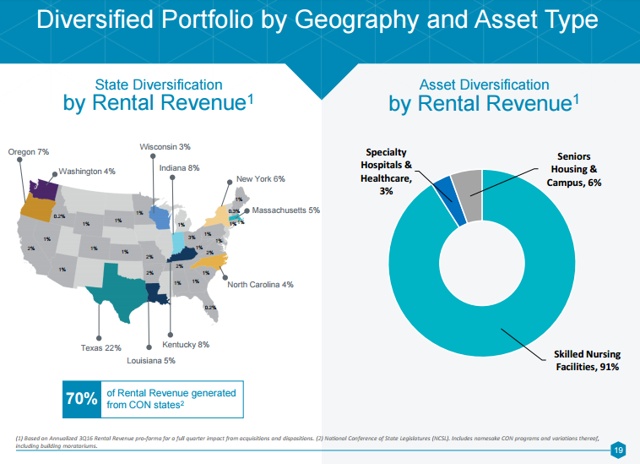 Source: Care Capital Properties
Opportunity For Growth
The SNF market is fragmented, and REIT ownership of SNF properties has a lot of potential to grow. Care Capital Properties' strong relationships with facility operators support the REIT's ambition to grow its national presence via acquisitions.

Source: Care Capital Properties
Strong Dividend Coverage With FFO
Care Capital Properties' pulls in way more money in normalized FFO per-share than it pays out in dividends, leaving room for organic and acquisition growth.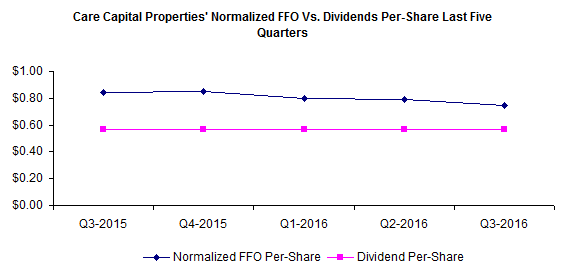 Source: Achilles Research
The FFO payout ratio, however, has increased over the last five quarters.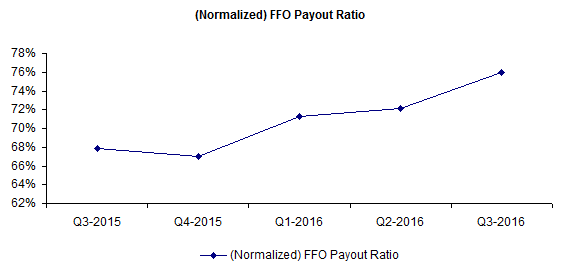 Source: Achilles Research
Raised Guidance
Care Capital Properties just increased its FFO guidance when it released 3rd quarter earnings. The health care REIT now expects to rake in $3.00-$3.04/share in normalized FFO on the back of better-than-expected portfolio performance (previous guidance called for $2.92-$2.98/share in normalized FFO).
Low Valuation Based On New FFO Guidance And Run-Rate FFO
Based on Care Capital Properties' updated 2016 normalized FFO guidance, the health care REIT's shares are changing hands for ~8.4x 2016e FFO.
Based on Care Capital Properties' 3rd quarter results, income investors pay ~8.5x run-rate Q3-16 normalized funds from operations.
Steady Dividend Payout
Care Capital Properties pays a regular quarterly cash dividend of $0.57/share. Since the company is already paying a high dividend to shareholders and invests heavily in portfolio growth, I wouldn't expect any dividend growth to occur over the short haul. Nonetheless, even flat dividend payments can be appealing as long as they are covered why FFO: An investment in CCP throws off an 8.97 percent yield.
Your Takeaway
Care Capital Properties is a promising income vehicle in the health care REIT sector. An aging population, increased senior health care spending, and a huge market opportunity related to the consolidation of the SNF market supports the bull case for Care Capital Properties.
Care Capital Properties is fairly lowly valued given its attractive prospects for growth in its core market, and the company easily covers its dividend with normalized FFO. An investment in CCP throws off a ~9 percent dividend yield, and the correction offers a promising entry point. Buy for income and capital appreciation.
If you like to read more of my articles, and like to be kept up to date with the companies I cover, I kindly ask you that you scroll to the top of this page and click 'follow'. I am largely investing in dividend paying stocks, but also venture out occasionally and cover special situations that offer appealing reward-to-risk ratios and have potential for significant capital appreciation. Above all, my immediate investment goal is to achieve financial independence.
Disclosure: I/we have no positions in any stocks mentioned, and no plans to initiate any positions within the next 72 hours.
I wrote this article myself, and it expresses my own opinions. I am not receiving compensation for it (other than from Seeking Alpha). I have no business relationship with any company whose stock is mentioned in this article.