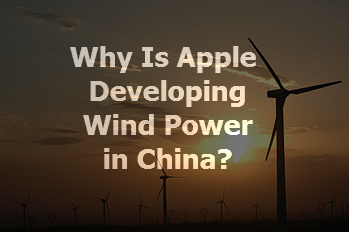 Last night, the world's largest wind power turbine maker, Xinjiang Goldwind Science & Technology (OTC:XJNGF), announced a joint venture with Apple (NASDAQ:AAPL) on wind power developments in China.
According to the filing, Beijing Tianrun (a subsidiary of Goldwind) has agreed to transfer 30% equity in four of its subsidiaries to Apple. These four subsidiaries and their locations are:
1. "Nanyang Runtang New Energy" in Henan Province
2. "Zibo Runchuan New Energy" in Shandong Province
3. "Shuozhou Pinglu Sineng Wind Power" in Shanxi Province
4. "Qiojia Tianqiao Wind Power" in Yunnan Province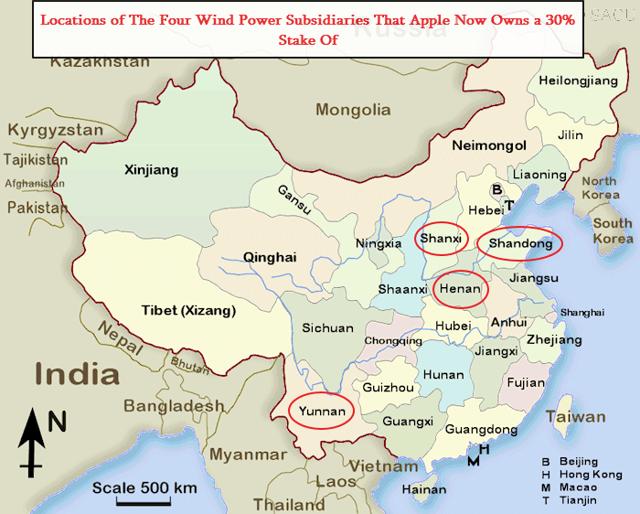 Map provided by Sacu.org - annotations by author
So why does Apple want wind power?
The likely answer is that Apple wants to provide a source of clean energy to its Chinese manufacturing facilities owned by Foxconn (OTC:FXCOF) and maybe Pegatron (OTC:PGTRF). Goldwind would manufacture wind power turbines for Apple, and those turbines would be utilized at the manufacturing plants. I believe the wind power turbines are intended for Foxconn and not Pegatron due to the chronological chain of events that have unfolded recently. Here is a timeline of what I believe happened:
1. Donald Trump tries to persuade Tim Cook to build a manufacturing plant in the U.S. (Fact)
2. A convinced Tim Cook talks to Foxconn (Apple's biggest device assembler) about building a plant in the U.S., citing benefits and potential subsidies.
3. Foxconn agrees, but only if there is some sort of investment or upgrade to its Chinese factories thrown into the deal.
4. Apple and Foxconn settle on the idea of Apple providing clean energy to Foxconn's Chinese factories in exchange for Foxconn building a manufacturing plant in the U.S.
5. Yesterday afternoon, Foxconn announced that it was in preliminary discussions to expand its U.S. operations. (Fact)
6. And later that night, Goldwind announced a joint venture with Apple to develop wind power to China. (Fact)
7. So rather than just purchasing wind power turbines for Foxconn's manufacturing facilities, Apple chose to take a partial equity stake in the largest wind power turbine producer in the world.
It all seems to add up, but there's a chance that my deductions could be off.
According to Dow Jones Newswires:
"It isn't clear that any Foxconn expansion in the U.S. would be to make Apple products… Foxconn has been investing in diverse high-tech sectors including robotics, e-commerce, consumer-tech startups and healthcare."
It's unknown at the moment how much Apple paid to receive the 30% equity stake in the four subsidiaries (known as the "Target Project Companies").
But as of September 24 (most recent quarterly report), Apple had $67.2 billion in cash and short-term investments. In contrast, Goldwind has a market cap of "43.89 billion renminbi" at the current price per share of "17.26 renminbi." Apple generated approximately $50 billion EBITDA in fiscal 2016.
Goldwind was reported to have gapped up 7% on the joint venture announcement, and Apple is also trading higher today, although the broad market as a whole is rising at the time of this writing.
Disclosure: I have a small stake in Apple which I purchased a few days ago at the cost of $109.49 per share. In my research, I pegged that Apple was trading at approximately 11 EV/EBIT. With the company paying a 2% dividend yield and sitting on a horde of cash, I felt compelled to pick up some shares as a "foothold" to cost-average into a bigger position over time especially on any declines.
Disclosure: I/we have no positions in any stocks mentioned, but may initiate a long position in AAPL over the next 72 hours.
I wrote this article myself, and it expresses my own opinions. I am not receiving compensation for it (other than from Seeking Alpha). I have no business relationship with any company whose stock is mentioned in this article.
Editor's Note: This article discusses one or more securities that do not trade on a major U.S. exchange. Please be aware of the risks associated with these stocks.