Business development companies ("BDCs") are popular among investors seeking sustainable dividend yields that currently range from around 8% to 16% annually. Assessing individual BDC "risk" is critical for many reasons including potential credit issues driving declines in interest income and net asset value ("NAV") per share, ultimately responsible for sustaining dividends and share prices.
Reaching For Yield
BDCs with higher cost of capital are required to invest in assets that provide higher yields. These investments typically involve more risk and should be closely watched by investors who are concerned about late-stage credit cycle issues including higher defaults that are primarily responsible for most BDC dividend cuts in 2016.
The primary expenses for BDCs:
Management and incentive fees (discussed in "Part 1")
Dividend expense (cost of equity capital discussed in "Part 2")
Interest and borrowing expense (cost of debt capital)
Other operating expenses
Credit losses (mostly for poorly managed BDCs)
Required yield from assets = cost of capital (debt and equity) + operating expenses (includes fees to management).
Not a coincidence: In my previous article "Reaching for Yield: Part 2", I discussed and ranked the cost equity capital for each company using the annual amount of dividends divided by the current NAV per share. Subsequently, five of the BDCs with the highest cost of equity capital, PennantPark Investment (NASDAQ:PNNT), CM Finance (NASDAQ:CMFN), THL Credit (NASDAQ:TCRD), Garrison Capital (NASDAQ:GARS) and Horizon Technology Finance (NASDAQ:HRZN), all reduced their dividends and effectively lowered their cost of capital. I will discuss this in upcoming articles along with "other operating expenses" and "weighted average cost of capital" to estimate "required yield from assets" and rank which BDCs need to reach for yield. For all previous articles on dividend coverage and risk rankings, BDC expense ratios, suggested BDC portfolios, pricing charts, interest rate discussion, my upcoming/historical purchases and current positions, please see "Index to Free BDC Research".
Cost of Debt Capital
The following table shows the updated "effective borrowing rates" for each BDC that includes interest expense, amortization of debt issuance costs and facility fees. Medley Capital (NYSE:MCC) has not reported 9/30/16 results and uses the previous quarter.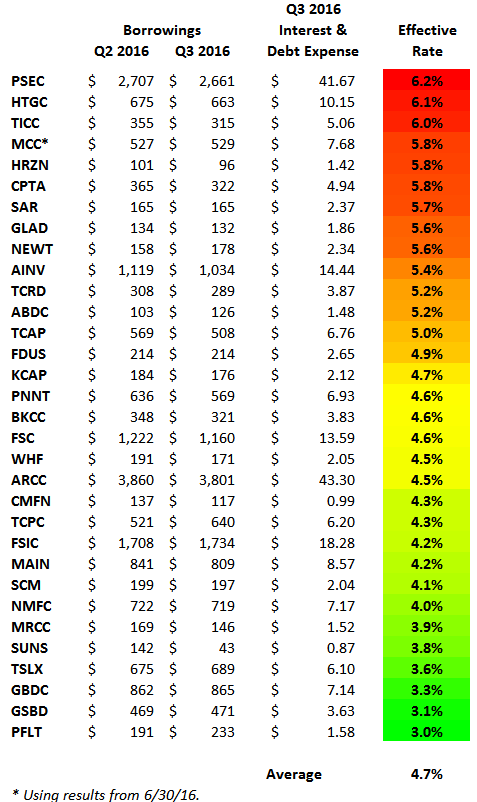 Rising interest rates: As the potential for higher interest rates increases, we will likely see more BDCs issuing fixed-rate notes as discussed in many of my "Interest Rate" articles. Many of the BDCs with higher effective rates have higher amounts of fixed-rate borrowings and/or longer-term maturities including Medley Capital, Prospect Capital (NASDAQ:PSEC), Hercules Capital (NASDAQ:HTGC), Capitala Finance (NASDAQ:CPTA), Saratoga Investment (NYSE:SAR), Gladstone Capital (NASDAQ:GLAD), Newtek Business Services (NASDAQ:NEWT), Triangle Capital (NYSE:TCAP), Apollo Investment (NASDAQ:AINV), Ares Capital (NASDAQ:ARCC) and Fifth Street Finance (FSC). However, some of the BDCs with lower borrowing rates have been using Small Business Investment Company ("SBIC") licenses to borrow at much lower fixed-rates that are currently around 3.3% for 10-year interest-only loans including Hercules Capital, Golub Capital BDC (NASDAQ:GBDC), New Mountain Finance (NYSE:NMFC), Stellus Capital Investment (NYSE:SCM), Monroe Capital (NASDAQ:MRCC), Main Street Capital (NYSE:MAIN) and to a lesser extent Ares Capital and TCP Capital (NASDAQ:TCPC) that are slowly utilizing SBA debenture availability.
Many of the BDCs with lower borrowing rates are using higher amounts of variable-rate borrowings including PennantPark Floating Rate Capital (NASDAQ:PFLT), Goldman Sachs BDC (NYSE:GSBD), TPG Specialty Lending (NYSE:TSLX), Solar Senior Capital (NASDAQ:SUNS) and WhiteHorse Finance (NASDAQ:WHF).
Some changes since previous results
ARCC has been focused on reducing its borrowing rates through refinancing higher rate debt, including the June 2016 repayment of $230 million in 5.125% convertible notes and the February 2016 repayment of $575 million in 5.75% convertible notes using its credit facility at LIBOR + 1.75%.
TICC Capital (TICC) is a bit of an outlier with higher borrowing costs yet over 60% at floating rates (including CLO notes) and the remaining convertible debt at 7.50% (fixed rate).
PSEC continues to use higher cost borrowings including its unsecured retail note issuances. The following table shows the various borrowings for PSEC, but please keep in mind that the coupon rates exclude amortization, accretion and undrawn facility fees.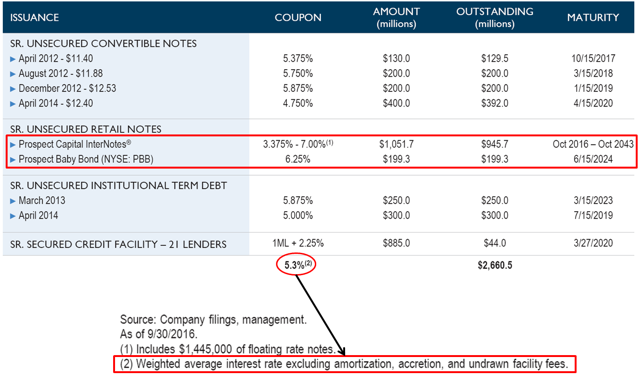 As mentioned earlier, in the following articles, I will cover other operating expenses and combine with "weighted average cost of capital" to come up with "required yield from assets" to rank which BDCs need to reach for yield.
Personal note: I have updated my positions to reflect changes in my holdings, but please keep in mind that some of the positions are very small and mostly for research purposes. There are over 50 publicly-traded BDCs, and I try to cover as many as possible, but I do not have the bandwidth to include each company for each article.
Disclosure: I am/we are long ABDC, AINV, ARCC, BKCC, FDUS, FSC, FSFR, FSIC, GAIN, GARS, GBDC, GLAD, GSBD, HCAP, HTGC, MAIN, MCC, MRCC, NMFC, PFLT, PNNT, PSEC, SLRC, SUNS, TCAP, TCPC, TPVG, TSLX.
I wrote this article myself, and it expresses my own opinions. I am not receiving compensation for it (other than from Seeking Alpha). I have no business relationship with any company whose stock is mentioned in this article.