Subscribers to the marketplace service, 'Yield Hunting: Alternative Income Opportunities' received an early look which in many cases results in a lower entry price.
National General Holdings- (NASDAQ:NGHC)(NGHCZ)(NASDAQ:NGHCO)

About National General Holdings
National General Holdings Corp. is a New York-based specialty insurance business founded back in 1939. They insure both personal and commercial property including automobile, homeowners, umbrella, recreational vehicle, motorcycle, supplemental health, and other niche insurance products. The firm was formerly GMAC Insurance Group and is the only insurance company to be born out of an automobile company. National General acquired them in 2013 and took on their targets' name.
They operate arms-length affiliates: AmTrust Financial Services (NASDAQ:AFSI), Maiden Holdings (NASDAQ:MHLD), and ACP Re Ltd.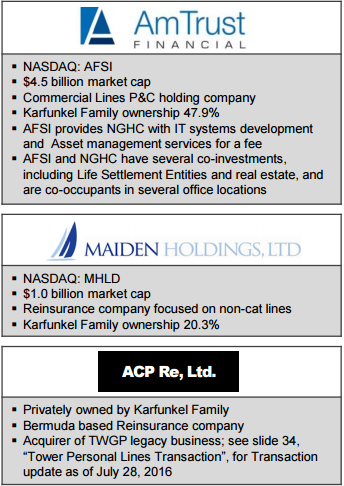 Personal lines holding company with property and casualty (P&C) and auto and health (A&H) operations.
Significant management ownership aligning interests. Karfunkel Family owns 43% of NGHC. AFSI has additional 11.6% ownership of NGHC.
As of the end of 2015, they had approximately $2.6 billion of managed premium and $1.7 billion of shareholders' equity.
54% of gross written premium comes from personal and auto insurance, another 14% from homeowners, and 11% from A&H.
Their strategy is to be proactive and prompt in claims management in order to reduce losses and expenses. To achieve that end, they utilize innovative technology and extensive Big Data resources in order to appropriately price and structure policies, reduce loss, and enhance the forecasting of losses.
1. Profitable Underwriting and Expense Management
Management targets 3-5% organic growth with a company-wide combined ratio (incurred losses plus expenses divided by earned premium) of 92% to 94%. To achieve this, they focus on:
Profitable underwriting focusing on niche markets and niche distribution channels in order to produce superior returns on capital.
The use of Big Data and sophisticated analytics tools to enhance risk selection and improve margins.
Disciplined expense management includes the use of technology to create operating leverage and keeping expenses below industry average (they target 29-30%).
After acquiring GMAC in 2010, they have been creating efficiencies and improving the cost structure of the acquired assets.
2. Acquisition Strategy
Since 2010, the company has undertaken a significant amount of acquisitions diversifying their personal lines business. Management states that growth through acquisitions are a core competency at NGHC and that they plan to build through both organic growth and opportunistic purchases. Their goal is to find a business that has solid underwriting skill while poor expense management in an effort to bolt on the business and implement their 'National General Advantage'.
The National General Advantage:
Proven leadership with an experienced management team that creates shareholder value.
Technology-driven infrastructure that creates a competitive advantage in operational efficiency.
Strong focus on profitable underwriting and disciplined expense management.
Opportunistic acquisitions that augment their organic growth opportunities.
A strong balance sheet with a conservative investment portfolio, stable loss reserves, and a solid capital position.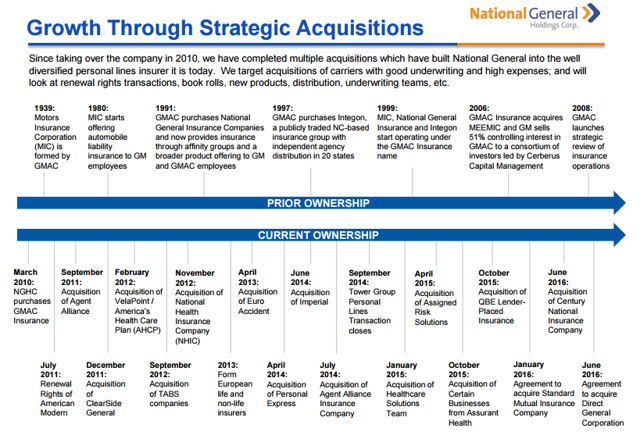 (Source: Investor Presentation)
3. P&C High Net Worth Opportunity
The P&C segment operates through two primary distribution channels: agency and affinity. The agency channel utilizes the 22,000 independent agents who offer their property and casualty policies on auto, homeowners, and umbrella. The affinity channel is a partnership program which operates under a 'white label' basis. Affinity partners' primary focus is providing RV coverage, where NGHC is one of the largest providers in the US.
NGHC has positioned themselves at the lower end of the high-net worth space. The high net worth market has seen dislocation over the last few years due to new players entering the space threatening long-established business models. Management sees this as an opportune time to expand into the area that they see as being historically underserved in P&C.
The NatGen Premier product suite was designed to address this opportunity. It was launched in the first quarter of 2016 and offers homeowners and package policies for the affluent market. They target home values between $1 and $3 million- which they note as the mass affluent market. It is currently offered in five states but is in the process of being rolled out into additional states throughout 2016 and 2017.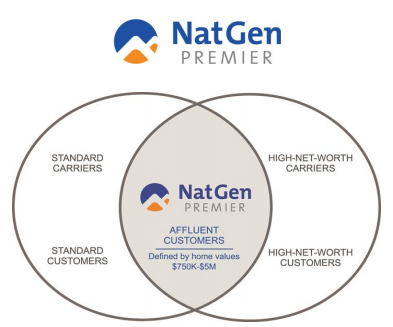 (Source: Investor Presentation)
4. Conservative Investment Portfolio
The investment portfolio is a key variable to assessing the risk taken on by management. As of the end of 2015, 87% of their total investment portfolio was invested in fixed income. Obviously this opens them up to interest rate risks. However, most insurance companies hold to maturity meaning that the implied unrealized capital losses from higher interest rates would eventually be amortized away barring any defaults.
The pie chart below shows how they favor very high-quality credits, mostly corporate bonds. They do invest in residential MBS (~10% of portfolio), municipal bonds (~11%), and structured securities (~7%). Note the fairly short 'intermediate' term duration.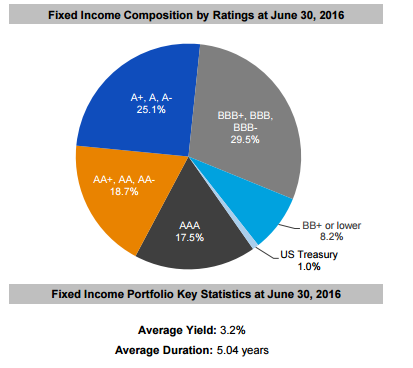 (Source: Investor Presentation)
5. Balance Sheet And Capital Positioning
A.M. Best rates the company overall as A- in terms of financial strength and issuer credit rating, which is the same rating they have had for the last several years. Their preferred stock is rated double-B and their senior subordinated (exchange traded debt) at BBB-. The strong profitability and conservative investment portfolio allows it to be flexible on acquisitions taking advantage of depressed prices for small, inefficient businesses.
NGHC has been active on the capital issuance and actions front. In March of 2015, they issued $150 million of 7.50% non-cumulative preferred stock callable in 2020. In August of 2015, they closed on $100 million in subordinated notes with a 7.625% coupon due in 2055. In October 2015, they closed on another $100 million note offering due 2024. In January of this year, they entered into a $225 million revolving credit facility. And in June, they issued $200 million of 7.50% non-cumulative preferred stock callable in 2021.
Since 2010, shareholders' equity has grown at an astounding 30.3% CAGR to $1.7 billion as of the end of the second quarter. Total debt as of June 30th was $680 million for a total capital position of $2.4 billion. The debt to equity ratio is 40.5% with a debt to total capital ratio of 28.8%. Overall, a strong capital position.
The company can continue to generate pre-tax ROE of over 21%. That is derived from a 14%-15% ROE from underwriting and another 7% ROE from investing. The former relies on a combined ratio of 92%, or 8% underwriting profit, and operating leverage of 1.8x. The investing ROE comes from their yield of 3.5% on their investment portfolio and applying the 2.0x investment leverage. Pre-tax ROE of 21% is reduced to a mid-teen after-tax ROE to common shareholders.
In August, the board of directors increased the dividend payment by 33% to $0.04 - a yield of 0.75%. We think the large increase in the dividend recognizes the appetite of investors today and the close alignment of management/owners and shareholders. We noted that there is a significant amount of inside ownership at 53% of the shares.
Credit Analysis
We are not advocating buying the common but are interested in the two securities higher up on the capital structure. They have two preferred stock issues and one exchange-traded debt issue. The issues are all trading below par making them attractive at the moment as the interest-rate sensitivity of perpetual preferreds has scared many investors out of the space. This was an area that was a darling to many income investors just six months ago with large amount of fund flows pouring into the preferred securities space.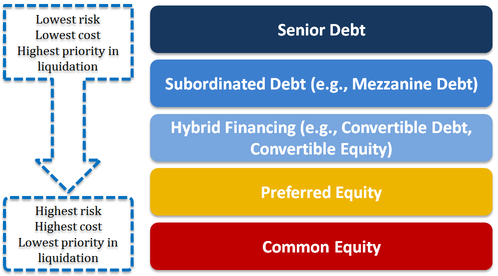 (Source: Axial.net)
Given the priority of debt over equity, our main concern is the viability of their cash flows to cover interest expense (i.e. credit risk). Operating cash flows have increased substantially after their acquisitions to $419 million on a trailing twelve-month basis. Capex spend is nominal at $37.4 million leaving free cash flow of $381.3 million. Opex cash flows (indirect method) incorporate total interest expense since it starts with net income.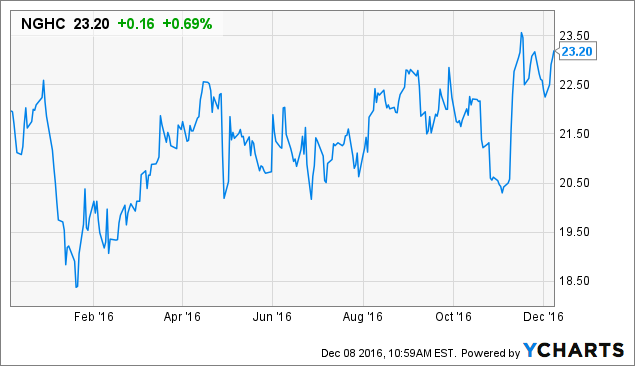 ROE has improved significantly in the last two and a half years and could be in excess of 13% following the digestion of their recent acquisitions.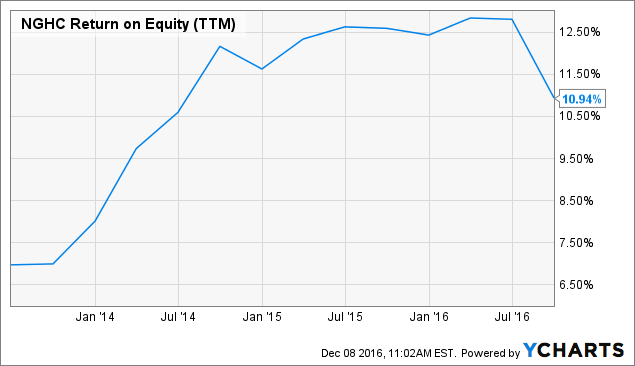 P/B has trended lower as the company has been adept at creating book value over the last several years.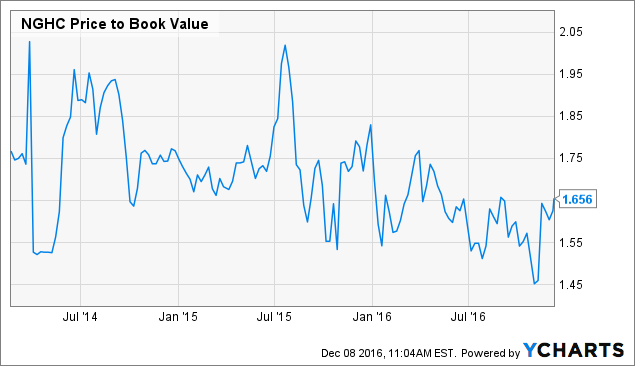 Interest coverage of the company has improved by 65% since the September 2015 quarter to 9.08x. Over the last four sequential quarters, they have been able to increase that coverage ratio by near 0.75x every three months. The largest driver of that change is the increase in EBITDA generation which is up 55% yoy while interest expense has increased just 10.9%.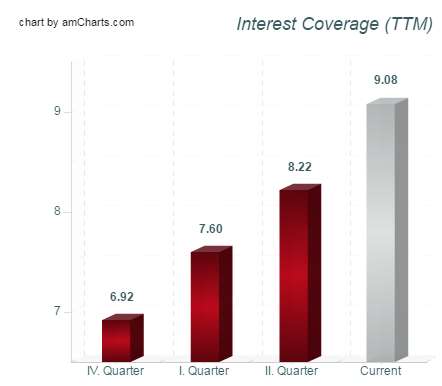 Lastly, the common shares are up in the last few weeks based on improving fundamentals while the exchange-traded debt shares and preferred stock are down nearly 10%. They are instead being traded on perceived higher interest rates causing a broader sell-off of the space with massive outflows from preferred ETFs like the iShares Preferred ETF (NYSEARCA:PFF).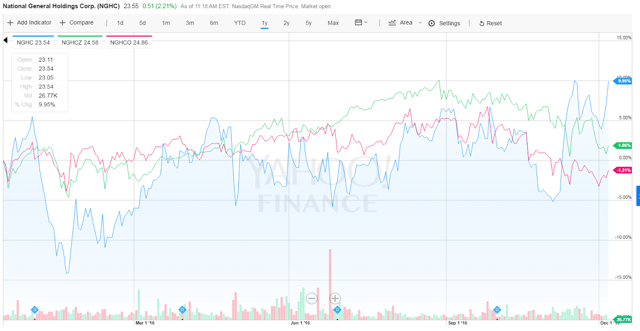 (Source: Yahoo Finance)
Two Ways To Play It
We think the best way to invest is through either the preferred stock or the baby bonds - both of which we will add to our Alternative Income Ideas portfolio which is available to our subscribers. Given the perpetual maturity of the preferred and the 2055 maturity of the baby bonds, we have kept them out of our other portfolio models.
During periods of market stress, issues like these tend to sell off due to their non-investment grade credit rating. In early 2016, the preferred share price quickly fell to $23 before rebounding to $24.20 in less than 30 days. We outline our trading strategy for both baby bonds and preferreds that generate lower entry points to subscribers as well.
National General Holdings Corp. 7.625% Sub Notes (NGHCZ)
National General Holdings Corp. 7.50% Non-Cum Preferred (NGHCO)
On NGHCZ, the baby bonds, the price is down by $1.25 in the last two months due to the concern regarding higher interest rate. The current yield is 7.56% with payments on the March, June, September, December quarterly schedule. The shares have sold off recently opening up an opportunity to add in the low-$25 range. The shares are not callable until September 2020 and mature in 2055. Average volume is about 9,300 shares.
On NGHCO, the preferred stock, shares are down from nearly $27 trading at $24.87 for a current yield of 7.54%. The shares trade much more frequently than the baby bonds with 25K trading on average per day. The dividend is paid on the quarterly January, April, July, October schedule.
Clearly, buying both at a discount to par is preferable but not entirely necessary for a strong return. Additionally, the baby bonds offer up one of the higher yields of all exchange-traded debt that has more than one year to the earliest call date. The exchange-traded debt, even though it is higher on the capital structure than the preferred stock (it carries an investment grade rating BBB- versus BB for the preferred) also has a higher yield. This is likely due to the lower liquidity of the baby bonds.
Bottom Line
For investors hunting for safe yield, we think the recent sell-off in the preferred stock and exchange-traded debt of National General Holdings offers a great 7%+ income stream. The shares of both the preferred and baby bonds have sold off from the mid-to-high $26 range to the current low-$25/high-$24 area improving yield-to-call. Given the lack of many of these issues trading below par today, there appears to be value in these shares. We think the shares will provide a safe 7+% yield for the next several years.
Note: To get these types of articles as soon as they are published, just click on the "follow" button next to my profile and choose the 'real-time alerts' option.
Marketplace Service For Those Hunting For Yield
In April 2016, we launched our marketplace service Yield Hunting: Alternative Income Investing dedicated to yield investors who wish to avoid the froth associated with most of the equity market. We encourage investors to utilize the free two-week trial in order to benefit from our yield opportunities within closed-end funds, business development companies, and other niche areas. We attempt to construct a "low-maintenance portfolio" with a yield in excess of 7% on a tax-equivalent basis with capital gain optionality. The core portfolio is now up 15.8% YTD through the end of September and generates a high-single digit yield.

Disclosure: I am/we are long NGHCZ.
I wrote this article myself, and it expresses my own opinions. I am not receiving compensation for it (other than from Seeking Alpha). I have no business relationship with any company whose stock is mentioned in this article.
Additional disclosure: The commentary does not constitute individualized investment advice. The opinions offered herein are not personalized recommendations to buy, sell or hold securities. As I have no knowledge of individual investor circumstances, goals, and/or portfolio concentration or diversification, readers are expected to complete their own due diligence before purchasing any stocks mentioned. The strategies discussed are strictly for illustrative and educational purposes and should not be construed as a recommendation to purchase or sell, or an offer to sell or a solicitation of an offer to buy any security. There is no guarantee that any strategies discussed will be effective. The information provided is not intended to be a complete analysis of every material fact respecting any strategy. The examples presented do not take into consideration commissions, tax implications or other transactions costs, which may significantly affect the economic consequences of a given strategy. This material represents an assessment of the market environment at a specific time and is not intended to be a forecast of future events or a guarantee of future results. This information should not be relied upon by the reader as research or investment advice regarding the funds or any security in particular.