When it comes to Trump, the market sees what it wants to see, good or bad. Too much focus is given to words, too little to actions, and when these words do not fit the narrative, they are either ignored or called "code language" as a rationalization into what the hearer believes Trump represents.
These rationalizations prevent the market from accurately anticipating the impacts of his presidency on sectors like healthcare and banking.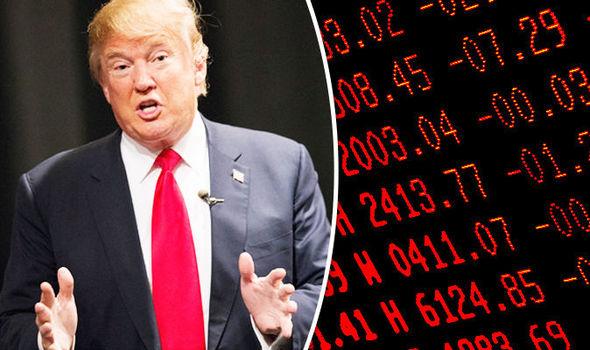 source:express.uk
This Trump misunderstanding has affected the gold market, the banking industry, and the pharmaceutical industry. However, the pharmaceutical industry's rationalization about Trump is the most unjustifiable because the President-elect made his intention quite clear from day one.
Background
The pharmaceutical/biotech (NASDAQ:IBB) industry rallied on November 8th when Trump won the presidency under the assumption that a "pro-business billionaire Republican" must surely want to deregulate healthcare. International Perspective thought differently. Quote from October 2nd "Valeant's (NYSE:VRX) Regulatory Nightmare":
"Trump's plan (for healthcare) is devastating (for Valeant). Not only does Trump want to reduce the barriers to generic competition, but he also wants to allow imports of drugs from overseas markets.
Yes, that is correct. In clear language, Trump's plan promotes what would be one of the most aggressive actions possible against pharmaceutical pricing power in the U.S market."
Quote from the plan via statnews:
"Congress will need the courage to step away from the special interests and do what is right for America," the plan says. "Though the pharmaceutical industry is in the private sector, drug companies provide a public service. Allowing consumers access to imported, safe, and dependable drugs from overseas will bring more options to consumers."
There was no reason for pharma stocks to rally on a Trump victory. The reality is that by taking little to no contributions from this sector and running on a populist platform, Trump has absolutely no reason to favor pharmaceutical firms over the general public.
The evidence suggests that, contrary to the thinking of the market, forces inside the industry were betting on Clinton the whole time. Money talks louder than words
Implications
Many pharmaceutical firms use their increased pricing power in the U.S market to subsidize markets in the rest of the world. For example, Nexium, a drug that costs over $200 in the U.S, costs $23 in the Netherlands.
It would be difficult for highly-leveraged firms like Valeant to continue as going concerns if forced to compete with international prices in the U.S market.
Wellbutrin, Valeant's #1 selling drug, is available for 1/3rd its U.S price in Canada. Valeant could end up losing over $100 million every year on this drug alone - on top of losses on the firm's other cash-cow brands. Trump's policy would most likely result in bankruptcy.
The fact that such an anti-pharma policy could be there, in black and white, on Trump's own health-care policy statement yet his election still resulted in a biotech/pharma rally, speaks volumes to the level of misinformation and bias that is distorting the market's reaction to Trump.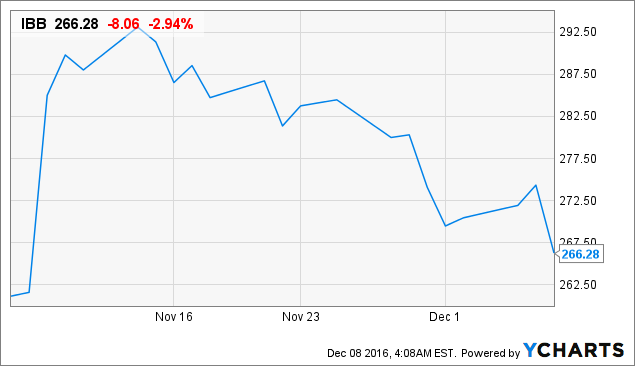 My predictions for the 1st term.
1. The banking rally will correct downward because it, like the pharma rally, was predicated on incorrect assumptions. Trump actually favors strong regulation on this sector.
2. Pharma will face increasing pricing pressure for the foreseeable future. This may lead to the bankruptcy of highly leveraged firms like Valeant.
3. The overall market and dollar rallies may be overblown because they are predicated on incorrect assumptions. However, strong economic data defrays these concerns to some extent.
Conclusions
Trump's policies are being misread and misinterpreted by the market. There was no justifiable reason for pharmaceutical stocks to rally on a Trump victory, and the correction we see in pharma may soon hit other sectors like banking.
The pharmaceutical industry will face increasing pressure for the next few years and highly leveraged firms like Valeant may be good shorts. If Valeant is forced to use its non-U.S prices for its U.S diversified segment, the likely result would be bankruptcy.
Disclosure: I/we have no positions in any stocks mentioned, and no plans to initiate any positions within the next 72 hours.
I wrote this article myself, and it expresses my own opinions. I am not receiving compensation for it (other than from Seeking Alpha). I have no business relationship with any company whose stock is mentioned in this article.