The EIA reported a storage draw of -42 Bcf, bringing the total storage number to 3.953 Tcf. This compares to the -69 Bcf draw last year and the -61 Bcf draw for the five-year average.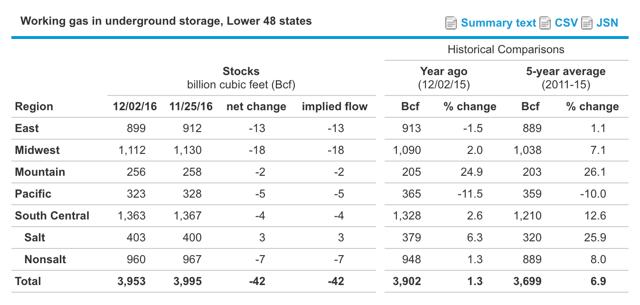 Going into this report, Reuters took a survey of 18 traders and analysts and the average was -43 Bcf with a range between -32 to -67 Bcf. We expected -37 Bcf and our forecast was off by 5 Bcf as the implied flow was more bearish than what was reported.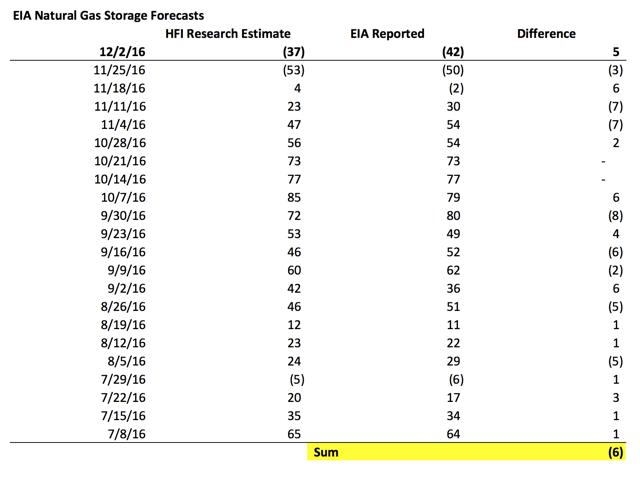 Source: HFI Research Natural Gas Storage Forecast Track Record
Since we've started tracking our storage forecasts, the total difference between our forecast and EIA's reported figure is 6 Bcf.
Looking at the price action and speaking to natural gas traders, no one cared about this storage report. Yes, the supply/demand last week was weaker than expected, but natural gas prices rallied as forecasts are showing a polar vortex to hit in the 6-10-day forecast.
Heating demand last week was lower than what we had expected causing the storage draw to be less, but EIA's report signaled that our original HDD forecast was correct. We kept revising lower our storage forecast last week as we thought the implied flow would be lower. Nonetheless, this is likely to be the last "bearish" storage report we will get for the rest of this year. Looking at our current storage forecast, it's going to be quite crazy how much we can draw down in the next several weeks with the current weather outlook. The storage glut bears keep talking about will practically vanish in just three weeks. That's another reason why people shouldn't trade or base their views on "current storage" as it's mostly priced in.
Flipping to the fundamentals this week, heating demand was significantly stronger week over week as weather is now more "normal." The storage draw next week will be quite substantial as we currently forecast -140 Bcf, and our first prediction will come out tomorrow. We release updated storage forecasts (if needed) to premium subscribers daily for the following four weeks, so if you are interested, sign up here.
Overall, natural gas traders, investors and followers should expect some pretty sizable storage draws in the next several weeks. Storage overhang won't be an issue by the end of this month, and there's going to be quite a bit of volatility in our storage forecast depending on the severity of the polar vortex. We look forward to updating you.
Disclosure: I/we have no positions in any stocks mentioned, and no plans to initiate any positions within the next 72 hours.
I wrote this article myself, and it expresses my own opinions. I am not receiving compensation for it (other than from Seeking Alpha). I have no business relationship with any company whose stock is mentioned in this article.