Illinois legislators recently approved a $235 million per year subsidy for nuclear plants in the state that will allow for Exelon's (NYSE:EXC) unprofitable nuclear power plants to remain operative. The subsidy will begin on June 1, 2017 and last for a ten-year duration. Exelon's Quad City and Clinton plants were among those most benefited by the law, invoked through a clean energy provision deemed "zero emissions standards." The state has six nuclear power plants in total, which fulfill around 49% of the state's energy needs, according to the US Energy Information Administration ("EIA"). The bill was signed into law by Governor Bruce Rauner on December 7.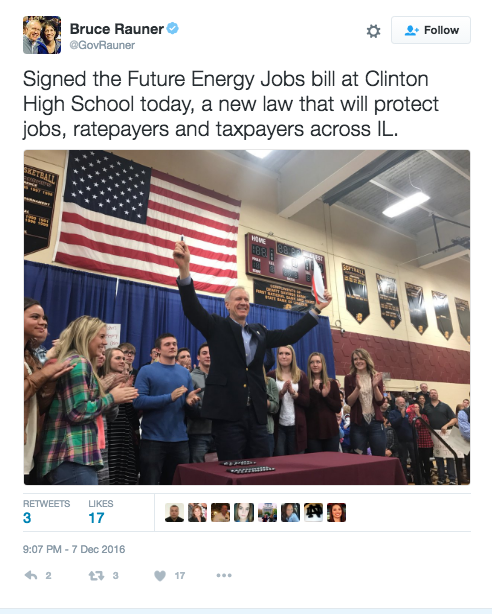 The cost of the subsidy will be passed onto utility customers and paid through their monthly bills at a rate of a few dollars per month. Exelon had already decided that it would shut down the plants if the bill had not been passed. The plants had become economically unviable, losing about $100 million between the two (or more $150 million pre-tax), representing about an $0.11 per share drag on earnings.
Those favoring emissions control will support the policy out of environmental/clean-air concerns and the fact that it will save over 4,200 jobs. Detractors will argue the move works to support uneconomical business activities, as the energy source is costlier yet less effective than alternatives, such as coal (supplying 36% of the state's energy needs) and natural gas (13%), which will be comparatively hurt by the legislation. Alternatives (2%) such as wind and solar are already subsidized in the state.
Even despite the criticism from staunch free-market supporters, this bill was by and large a bipartisan effort. Most nuclear power plants are negative-return assets when excluding the effects of government subsidization. However, nuclear tends to receive a level of political support from both sides of the political spectrum given these plants provide rural areas and smaller communities with employment opportunities that would not exist in their absence. Reduction in carbon emissions is a side bonus for politicians concerned over any business inefficiencies that the subsidy might work to incentivize and the ultimate cost to the consumer is relatively mild at about $1.50 per citizen per month.
Moreover, the subsidization of nuclear increases the overall supply of energy in the market, keeping prices down and potentially saving customers money. Replacing the power generated from the Quad City and Clinton plants would have likely cost several hundred million dollars between increased electricity costs (due to diminished supply) and/or capital investment requirements by businesses to replace the energy lost.
What the subsidy price ultimately comes to remains to be seen, as it will depend on how forward contracts trade in the futures market. If energy prices rise, the subsidy will go down in accordance with the bill's stipulation that it will be capped at $235 million per year. For the time being, the subsidy is expected to total between $0.012-$0.017 per kilowatt hour (kWh). If we assume the median of this range, wind will still be subsidized at about 60% higher and solar energy will be subsidized at about 15x the rate.
Whatever it ends up being will drop down directly to the company's earnings, as the subsidy provision is wholly cost-free to Exelon. In total, the legislation will work to add $0.14-$0.15 in annual EPS [($235M - $100M) / 923 million shares outstanding). At 13x forward earnings, the accretive effect could be understood as roughly a ~5.6% increase to share prices. Since news broke on December 1, we've seen a 5.3% appreciation in the stock.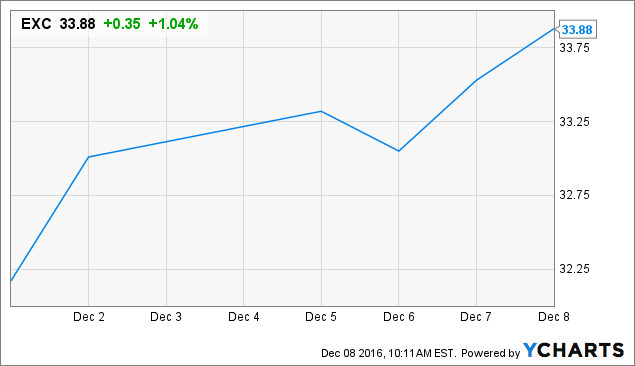 EXC data by YCharts
Further Significance
A push for nuclear plant subsidies has seen additional traction in 2016. New York passed its own nuclear power subsidy program in August. Now that Illinois has joined the fray, it becomes more likely that additional states, such as Pennsylvania and New Jersey, begin introducing their own measures on the issue now that legislative precedents have been set and are available to replicate.
Nonetheless, these subsidy programs are not immune from potential legal backlash, as firms that forewent capital investments into nuclear plants - due to reservations that they would not be cash flow positive over their life or within a desired period - are now competitively disadvantaged despite their initial (largely correct) judgment. The legislative and ancillary judicial processes are also typically strung out over months (sometimes years) due to political gridlock and when matters lack an element of time sensitivity.
With studies supporting the notion that nuclear power has helped stave off premature deaths due to environmental quality reasons, nuclear power is spreading in popularity abroad. China (NYSEARCA:GXC) is expected to double its nuclear output by 2020-2021 and increase it by a factor of 6x by 2030. It is currently the country's fastest growing source of electricity in 2015 at 29% year-over-year growth. Within a quarter century, it is expected that the country's nuclear plant count will increase tenfold. Part of the reason is out of environmental concerns, with China having passed the US in carbon emissions and expected to produce up to 52% of all global carbon emissions by 2030. But a portion is based on economics. Most of China's coal supply is located in the northern-most part of the country where transportation to southern population centers represents an enormous cost. Approximately half of all railroad use is dedicated toward transporting coal to southern power stations. The country's natural gas reserves are also located in the northwestern part of the country, where a drier water-deficient environment makes for difficult extraction conditions.
In time, one would expect that China would aim to improve upon its already strong understanding of reactor engineering and development standards and work to export that technology abroad within the coming decades, especially with respect to the higher-margin components in a reactor's supply chain.
Disclosure: I/we have no positions in any stocks mentioned, and no plans to initiate any positions within the next 72 hours.
I wrote this article myself, and it expresses my own opinions. I am not receiving compensation for it (other than from Seeking Alpha). I have no business relationship with any company whose stock is mentioned in this article.