Alcoa (NYSE:AA) is the leader in the production of aluminum products such as primary aluminum, fabricated aluminum, and alumina. The company is involved in every aspect of the industry including mining, refining, smelting, and recycling. Aluminum products and alumina represent more than three-fourths of Alcoa's revenues; accordingly the company is heavily impacted by aluminum prices. The company's non-aluminum products include fasteners for aerospace and industrial customers. Alcoa operates in more than 30 countries worldwide, in addition to investments in Australia, Brazil, China, Russia, Guinea, and Saudi Arabia. Bauxite, the primary ore used in aluminum production, along with alumina and power, make up most of the company's operating costs. Other raw materials used include petroleum coke, aluminum fluoride, fuel oil, steam, and coal.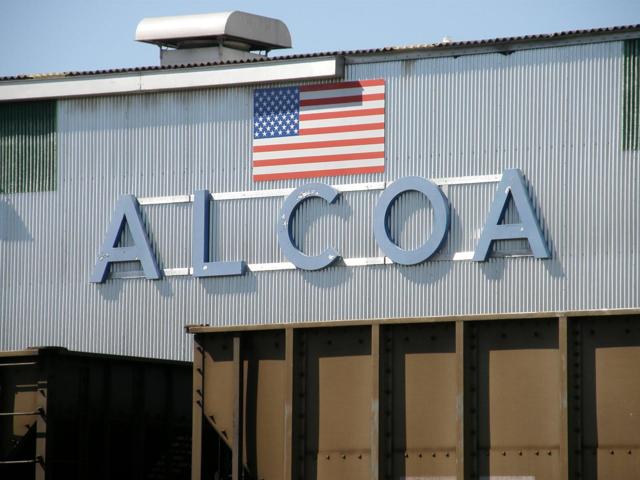 Source: Alcoa
Market overview.
In the last few years, Chinese bauxite imports have faced some challenges, namely:
Indonesia revoking mining and export licenses and imposing 20% export tax in May 2012; then
Indonesia banning bauxite exports beginning Jan 2014; and
Malaysia banning mining of bauxite beginning Jan 2016. The response of the Chinese bauxite consumers was similar each time: They brought in excess quantities ahead of the ban/tax and developed alternative sources. Chinese imports have now stabilized; they were down 3% in August, but up 4% YTD August. The YTD average import rate has been 4.2 mnt/month, supporting about 40% of domestic aluminum production; and Asian Metals reports that China currently had ~30 mnt of imported bauxite inventory as of mid September, or about 7 months of imports.
Over the past year, Alcoa began selling third-party bauxite in a meaningful way, and I have only just been able to see the impact with the filing of the Form 10. These third-party tons sell for higher margin. I believe they add ~$100 mn in incremental EBITDA annually. In addition, I think there are highly economic brownfield bauxite projects available to Alcoa going forward.
As part of its old reporting structure, Alcoa sold its alumina this year at a ~$50/t (or ~22-25%) premium to index prices. Investors questioned the sustainability of this premium. Also, the business should trade at multiples similar to Aluminum.
I view the premium as sustainable, since a large part of the premium is due to Alcoa's growing third-party bauxite sales which have so far been reported in realized alumina prices. The new reporting structure makes it easier to view this revenue stream, and gives Alcoa the opportunity to make up to $100 mn in EBITDA/year. Barring a sudden and unlikely reversal of the export ban in Indonesia and the mining ban in Malaysia, the profitability appears sustainable. I explore the market dynamics of bauxite below.
Company strategy.
Alcoa's bauxite segment is a dominant player in the global aluminum supply chain and accounts for ~1/5th of global supply. It takes about 4 tonnes of bauxite to make 2 tonnes of alumina and 1 tonne of aluminum. I would highlight that China is net long aluminum, nearly self sufficient in alumina supply, but its bauxite self sufficiency is only ~2/3rd.
The company will continue to be broken into three segments: Engineered Products and Solutions, Global Rolled Products and Transportation and Construction Solutions. EPS and GRP each account for approximately 45% of the company's overall revenue, with TCS accounting for the remainder.
EPS has four segments: Power & Propulsion, Fastening Systems, Forgings & Extrusions and Titanium Products. I believe Arconic to be an industry leader in APP, AFSR and AFE.
GRP has three segments: Aerospace & Automotive Products, Brazing, Commercial Transportation & Industrial and Micromill. AAP is the most important segment in GRP, but we believe the MPS may ultimately have the largest growth profile.
TCS has three segments: Wheel and Transportation Products, Building and Construction and Latin America.
While the company had to complete a tremendous amount of work in order to separate itself from the upstream business, I think that the hard work has only begun for Arconic. Management has indicated that the Firth Rixon integration is behind schedule and I believe that there continues to be significant costs that need to be taken out of the business, in order for the company to achieve the returns similar to its industry peers. I see no reason why margins cannot trend towards the 25-30% range that Precision Castparts typically achieved before it was acquired by Berkshire Hathaway (NYSE:BRK.B) in the 1Q16, but while there continues to be conversations around gaining further efficiencies, I remain unaware of what the formal plan is to improve profitability.
Aluminum prices have weakened considerably over the last year or so as a result of weak global demand and oversupply, negatively impacting Alcoa's Primary Aluminum and Alumina businesses. In order to lessen its dependence on its commodity businesses, the company has been transforming its product portfolio towards its value-added business segments, which have more favorable demand prospects. The company also has just split its upstream and value-added businesses into two publicly traded companies.
Macroeconomic conditions limit upside to aluminum prices in near term:
Aluminum has diverse applications in industry. Thus the sales of aluminum are largely dependent on global economic growth. China, the world's largest consumer of aluminum, is expected to witness a slowdown in GDP growth to 6% in 2017, from 6.9% and 6.3% in 2015 and 2016 respectively. Weakness in Chinese economic growth will result in weakness in demand for aluminum. This would limit the growth in aluminum prices in the near term.
Indonesian export ban to provide support to prices.
As per the provisions of a law passed by its Parliament, the Indonesian government halted the exports of bauxite ore from the country in January 2014. The country intends to boost its domestic mineral processing capacity at the cost of exporting unprocessed mineral exports. Bauxite is the key mineral ingredient for the production of alumina. Indonesia used to account for 10-15% of global bauxite supply and was a major exporter to China, the world's largest aluminum producer. A constriction of supply due to the Indonesian export ban would put upward pressure on the prices of bauxite, which is used to produce alumina, the precursor for aluminum. More expensive input prices will provide support to the prices of both aluminum and alumina.
Alcoa expects strong long-term demand from its aerospace end markets. Current order books for commercial jets represent nine years of production at 2015 delivery rates. The strength in demand is also represented in demand for jet engines and other aircraft components.
Strong growth in automotive end markets.
Robust growth in the sales of commercial vehicles will drive overall auto sales in the U.S. over the forecast period, bolstering the demand for aluminum based automotive parts. Further, the average age of vehicles in the U.S. has risen steadily, which could be indicative of pent up demand for automobiles.
In addition, there is increasing demand for aluminum components from the automobile industry as manufacturers aim to reduce the weight of their automobiles in order to meet increasingly stringent emissions regulations.
The Alumina division carries out mining of bauxite, which is then refined into alumina. It operates through entities referred as Alcoa World Alumina and Chemicals, which is one of the leading producers of alumina for the chemical industry. This division produces commodity-grade products including alumina minerals and smelter grade alumina and supplies to manufacturers across the world. The division mainly caters to the aluminum smelter customers and also supplies chemical grade alumina to the alumina chemicals industry. AWAC alumina finds application in building blocks for everyday products such as refractory insulation, water purification chemicals, abrasives and fire-retardant carpet backing. In FY2015, the alumina production was 15.72 million metric tons. The division operates bauxite mines across Australia, Brazil, the U.S., Guinea, Jamaica and Suriname. Primary Metals division comprises smelter operations and upstream operations. The division processes and produces primary aluminum, which is used in the company's fabricating businesses. The primary aluminum is sold to external customers, aluminum traders, and commodity markets. Alcoa's aluminum smelting facilities are located across Australia, Canada, Iceland, Italy, Norway, Spain and the U.S. Alcoa had a smelting capacity to produce 3.4 million tons per annum. Its network of primary aluminum facilities produces a range of high-purity ingot, commodity-grade aluminum ingots, extrusion log and billets, rolling ingots, aluminum powders, rolling slabs, cast rods and casting alloys. The Global Rolled Products division produces and distributes aluminum plates, sheets, and foil. It caters to the needs of automotive, aerospace, building and construction, and commercial transportation markets. The company, through this division, manufactures rigid container sheets, primarily for consumer and packaging industry to produce the bodies, ends and tabs of beverage and food cans. Global Rolled Products division has production plants in Australia, Brazil, China, France, Hungary, Italy, Russia, Spain, the UK, and the U.S.
The two primary drivers of my long-term price outlook are China-related. First, although Chinese aluminum demand has grown at an impressive 15% annual rate over the last decade, I forecast roughly 2% annual growth through 2020. In short, this will be a function of rapidly slowing fixed asset investment, as construction and electrical applications still account for nearly 60% of the country's aluminum demand. Second, I anticipate that large-scale additions of low-cost smelting capacity in China will weigh on aluminum prices. Over time, this dynamic will cause Alcoa to lose ground on the industry cost curve, even though the company continues to pursue cost-cutting initiatives.
The negative impact of lower aluminum prices will be only partially offset by higher profits from Alcoa's aluminum rolling and casting operations, for which aluminum prices serve as a key input cost.
This appears to be a transitional year for the aerospace industry: Given that aerospace sales should drive nearly 40% of Arconic's total business, downtrends in the commercial aerospace industry, as well as reductions in defense spending by the U.S. government, could lead to reduced demand for new aircraft and non-aero military applications.
While I have factored in anticipated cuts to wide-body build rates for the A380 and Boeing 747 and 777, and adjusted my expectations following softer than anticipated 3Q earnings growth reported by some of the key aerospace players, a further slowdown in production levels beyond current forecast could lead to a more bearish scenario than a base case.
Energy, Industrial & Construction end markets experience a further slowdown in demand: Speciality, Industrial and Building & Construction markets comprise roughly 35% of Arconic's overall revenues. While oil & gas and energy markets have remained depressed throughout 2016, construction trends have slowly grinded higher, but a further demand slowdown in either could negatively impact ARNC's earning power.
Conversely, a new administration post next-week's presidential election could, early in its tenure, put in place a new plan for infrastructure and stimulus spending in the relevant end markets, leading to increased demand for the company's TCS applications beyond my current forecast.
Chinese smelter restarts could bring more global aluminum capacity online, leading to downward pressure on prices. China recently announced the restart of several smelters showing increased monthly aluminum output at 2.75MT. Given anticipation of a shift to Chinese surplus in 4Q, I expect prices to continue moving lower, particularly as restarting/capacity expansion becomes a reality. Beyond 2016, they see the market moving from a 691kt global deficit to a 388kt surplus, maintaining the downward pressure on prices, which could negatively impact ARNC's contract pricing and revenues in its largest segment, GRP.
Based on forecasts, the engineered products and solutions segment will be the key driver of profitable growth for Arconic through 2020. Commercial aerospace serves as the key end market for the EPS segment, with management having increased the company's aerospace exposure via roughly $4.6 billion of acquisitions since late 2014. This segment manufactures a variety of specialty metals and alloys, and aluminum volumes no longer generate the majority of the segment's revenue. Accordingly, although many legacy aluminum product lines remain, Arconic is more appropriately classified as a multimaterial specialty metals manufacturer, rather than as an aluminum manufacturer.
The global rolled products segment's most attractive growth market is now automotive, via the production of aluminum auto sheet. I view rising auto sheet volumes as a secular, rather than cyclical, growth driver, as aluminization will be driven by the need for lighter materials due to increasingly stringent fuel-efficiency standards.
Long-term outlook remains bright.
While the near-term aerospace component supply-chain will need to destock, I consider that the medium to long-term prospects for the company are somewhat better. The penetration of aluminum into automobiles is unmistakable, and Arconic is well positioned in the high profile, exposed auto body sheet market. As Corporate Average Fuel Economy (CAFÉ) standards continue to trend higher I expect additional automobile models will shift to exposed aluminum sheet. Additionally, airline passenger seat miles continue to trend higher, a development which I expect to continue. Thus I view the situation in aerospace to be a mid-cycle pause in a longer-term secular bull market. I expect that the destocking cycle may last 12 - 18 months, but as we approach the latter portion of the decade, a healthier environment should materialize.
Disclosure: I/we have no positions in any stocks mentioned, and no plans to initiate any positions within the next 72 hours.
I wrote this article myself, and it expresses my own opinions. I am not receiving compensation for it (other than from Seeking Alpha). I have no business relationship with any company whose stock is mentioned in this article.