Investment thesis
I have recently started to regularly write for Seeking Alpha, and being a deep value investor, I end up commenting a lot on either energy stocks or retailers. And Guess? (NYSE:GES) is one of my best picks out of the retailers that I have recently commented on.
Like a lot of retailers, it is struggling in this downturn and it is highly cyclical. Nevertheless, at the current share price, I believe that investors have significant downside protection and a 6.7% dividend yield while they wait for the business to turn around.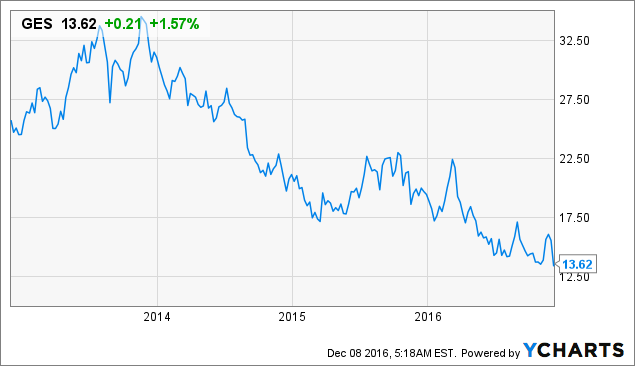 Financials
Although very cyclical, GES has great financials.

Source: Morningstar.com; author's calculations
GES is growing very steadily over the last 10 years at an average of 7%. Additionally, I should highlight that it has made a profit every year in the last decade.
One measure by which I define a good quality company is when a company is able to generate free cash flow ("FCF") margin above 5% [defined as FCF/Revenue (%)]. And GES has a normalized FCF% of 7%, which for a cyclical retailer, is simply outstanding and should command a significantly higher trading multiple than that of other retailers. In Buffett's words, GES has a moat, although very narrow a moat nevertheless.
Additionally, GES has a respectful 14% ROE with normalized FCF of roughly $165m.
Improving Profitability
In spite of the tough environment that GES is competing in, management is doing a great job on improving profitability; see graph below.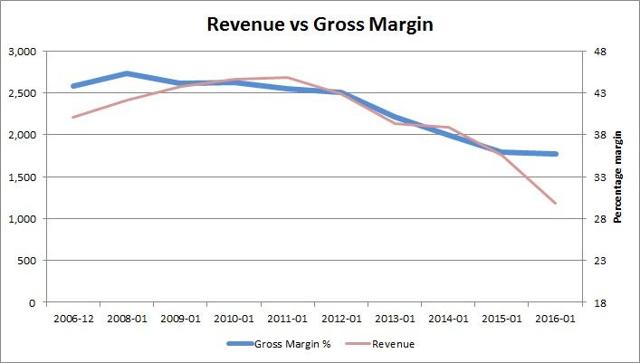 Source: Author's calculations
You can see in the blue line above, how in the last fiscal year, management has managed to break the trend and increase its gross margin. In its latest quarter (2017 Q3), management said,
We enjoyed strong double digit growth in Europe and in Asia, and we remain focused on improving our profitability in North America
Since the North America segment has not only been responsible for a drag on the overall performance but is also where the majority of the revenue comes from (~40%), I feel confident that at the current price, an investment in GES has a margin of safety.
Shorts sellers
As a deep value investor, the more shorted the stock, the better. But sadly, GES is not heavily shorted, ~13%. When a share is heavily shorted, all the pessimism is already priced into the share price. That is why I enjoyed buying stock when there is no hope being priced in, and at a 5-year low, there is no expectation priced in, just pessimism.
Relative Valuation
I performed both a relative valuation and a DCF valuation.

Source: Morningstar.com
First, from the relative valuation perspective. My favorite metric is the P/S. I like it because it is quite a clean metric. I like to compare what investors have been willing to pay for a stock over the past five years and what they are willing to pay for it now. In the past five years, investors were happy to pay 1x P/S. Currently, investors are asked to pay only 0.5x P/S, half.
Furthermore, investors over the last 5 years have been quite happy to get a 3.5% yield on their GES investment. Currently, investors are getting nearly double that yield at 6.7%.
DCF Valuation
I confirmed this when I performed a back-of-the-envelope DCF analysis with a normalized $165m of FCF, with 4% growth over the next five years (certainly below the 10-year average growth of 7%), before leveling off at 1% (below inflation). I then discounted this FCF back at 10%. I used 10% because GES is highly cyclical. This brings the DCF to ~$2.1B or at least a 60% upside to the current share price.
Peer Group
When I compare the safety of an investment in GES with Buckle (NYSE:BKE), which I wrote about last week, I think that at the current price GES trades at, there is a bigger margin of safety in GES.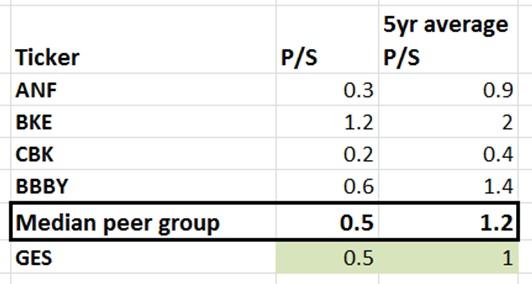 Source: Author's calculations. All the above stocks I have written about in Seeking Alpha in the last week.
Conclusion
GES trades at a discount to intrinsic value of at least 60% and I expect an appreciation on this stock from its current share price over the next two years.
I can also recommend that investors compare with a different type of retailer or something a little different.
Thank you so much for reading my article. If you have enjoyed reading this article, please click "Follow" to get more articles of mine in real time.
Disclosure: I/we have no positions in any stocks mentioned, and no plans to initiate any positions within the next 72 hours.
I wrote this article myself, and it expresses my own opinions. I am not receiving compensation for it (other than from Seeking Alpha). I have no business relationship with any company whose stock is mentioned in this article.