This is the fourth installment of my sector rotations guide. Each month (or major swing in the markets), I try to beat the S&P 500 (SPY) by buying SPDR sector ETFs.
The idea is fairly simple. There is more potential for profit (and loss) in individual sectors, especially when the index is trading sideways. I try to buy strong sectors which have pulled back onto support and avoid overbought sectors at resistance. I also use Elliott Wave to identify cycles of buying and selling and stages in trends.
So how did I do last month and what could future months have in store?
November's Review
Let's get straight to the point here: November was a bit of a disaster. Trump changed everything.
It wasn't as if I was taken by surprise by the election result. I even wrote an article on how Trump could still win. I just didn't expect his election to be so bearish bonds and bullish financials.
I came into the election long Utilities (NYSEARCA:XLU) and Consumer Staples (NYSEARCA:XLP). I didn't particularly like the XLU long but held anyway till my stop was taken. As I said in my last article,
To be honest, I don't like the look of XLU here, and I expect to be stopped on the remainder of my position. I would not recommend a buy at this point in time.
Here's how each sector performed against the benchmark over the last 30 days.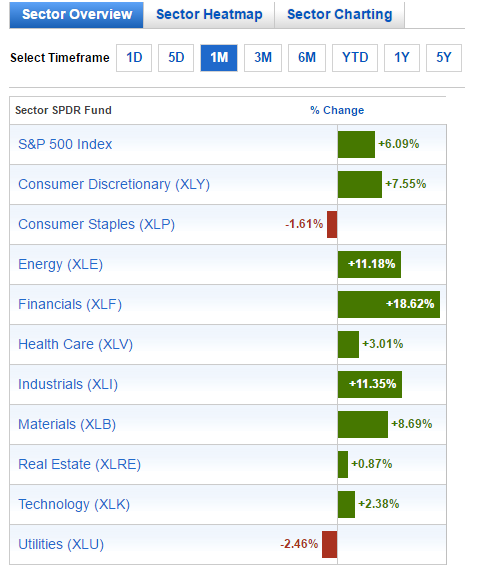 The two red ones were my holdings. I still hold Consumer Staples , but more on that later.
If I was to simply quote the conclusion in my last article I could probably gloss over the details and make out like I had a good month,
Many sectors are approaching support and could be a good buy in November. XLK, XLP, XLI, and XLF are my favorites, but timing and trade management are crucial.
The devil is in the detail. I wanted to buy Industrials (NYSEARCA:XLI) at $55.8.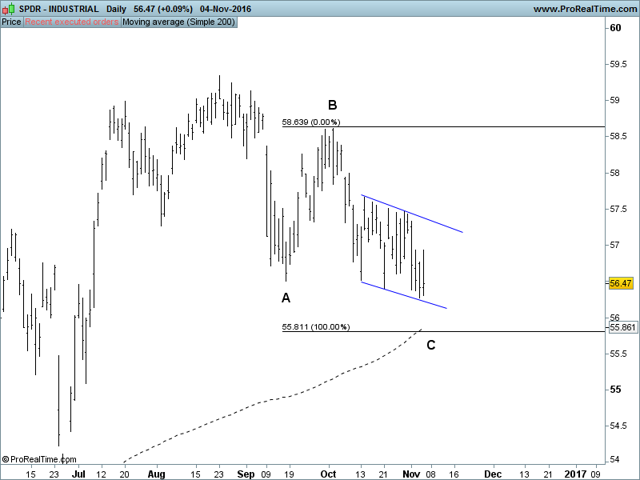 My order was half a Dollar too low and this is what I missed: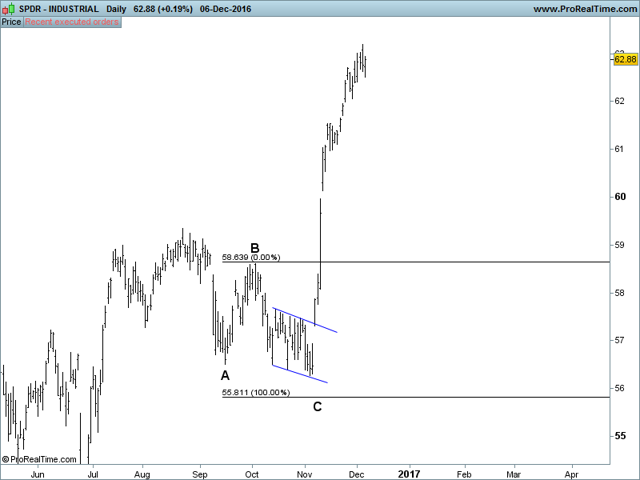 'Nearly' doesn't really cut it when trading. The same happened with Technology (NYSEARCA:XLK) and my bid at $45.2 also missed by about half a Dollar. I did manage to catch XLK later, but for the purposes of this article, it's only fair to include trades laid out in the last update.
To cut a long story short, my only declared position through November was in Consumer Staples. That position is currently at a loss.
Did I beat the index? I think you already know the answer.
December (and beyond)
We are only as good as our last trade. If I could trade November again I would prepare and think through what a Trump election could mean for each sector and just how far they could realistically move. But there's no point in dwelling on the 'could have beens'. With this in mind, lets look forward to the next 30 days.
The strongest sectors such as XLI and Financials (NYSEARCA:XLF) will likely only have a shallow pull back (usually the 23.6% Fibonacci retrace of the preceding move up) before rallying further. Cyclically they have further to go and the 'Trump effect' doesn't look like fading for quite a few months. Where this pullback comes from is anyone's guess, but when it happens (and it has to at some point), I will buy.
This chart of XLI below gives a rough idea of what the pullback may look like and what to expect going forward. $70.5 is a realistic target in Q2 2017.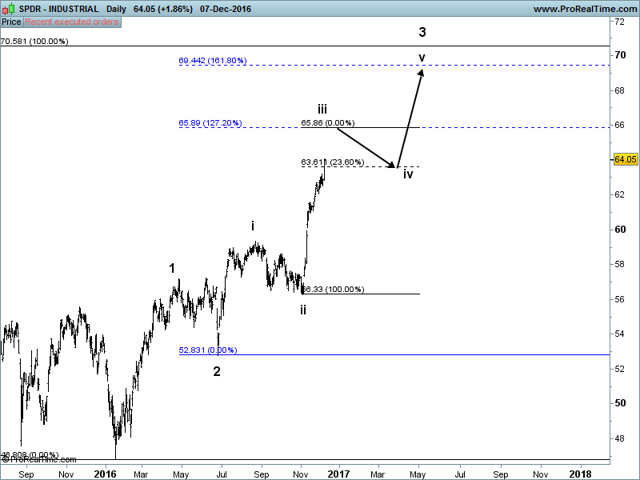 I could make a similar chart with XLF, but again I don't want to say where the pullback will start from. When it does, take a Fibonacci retrace from the September low and buy at the 23.6% retrace. XLF has a target of $25 in H1 2017, but the most powerful part of the trend is behind it and the rest of the rally could get choppy.
Healthcare (XLV) faded quickly after the election, but holding the November low is positive and it looks like we could see a move up towards $73 over the next few months. This would complete a measured move and a harmonic Gartley pattern.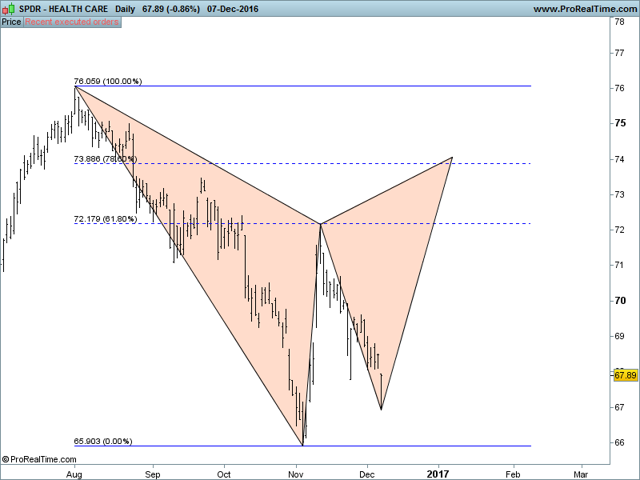 Whether you believe in harmonic patterns or not, risking $2 (to new lows) for a reward of $6.8 (to target $73.8) makes sense. I am long.
Real Estate (NYSEARCA:XLRE) just broke its channel and should benefit from any retrace in yields. It's a weak sector, but it can be bought for a return to around $32. This isn't a long term hold for me, but we can still profit from an unwind in the donwtrend.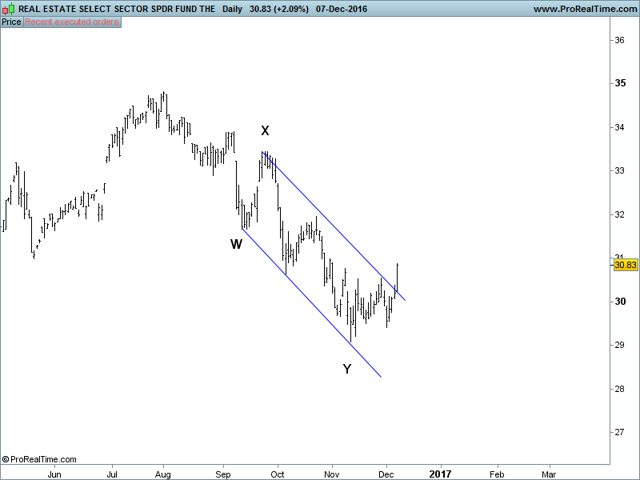 Consumer Staples has a chance to reverse and retrace the first part of its new downtrend. It has very likely topped, but that doesn't mean we can't hold it for a month and catch the bounces. Alternatively it can be shorted if it gets nearer the high.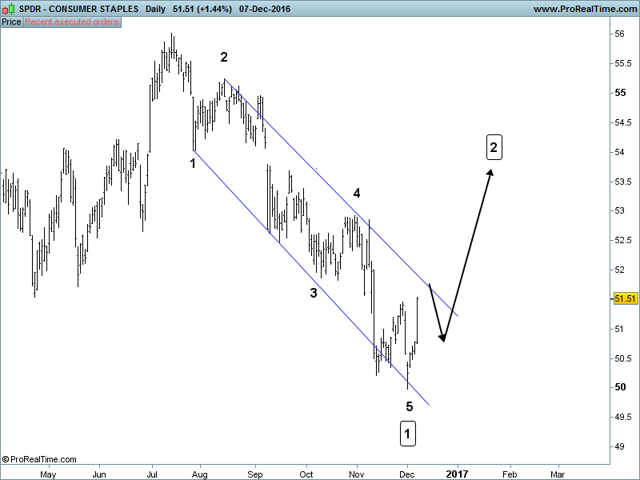 It may test the gap at $53.7. I am still holding from around $52 and have a hard stop at $49.8. To be honest here are better sectors to be involved in.
Consumer Discretionary (XLY) has nearly the exact same chart as the S&P500 and is approaching resistance.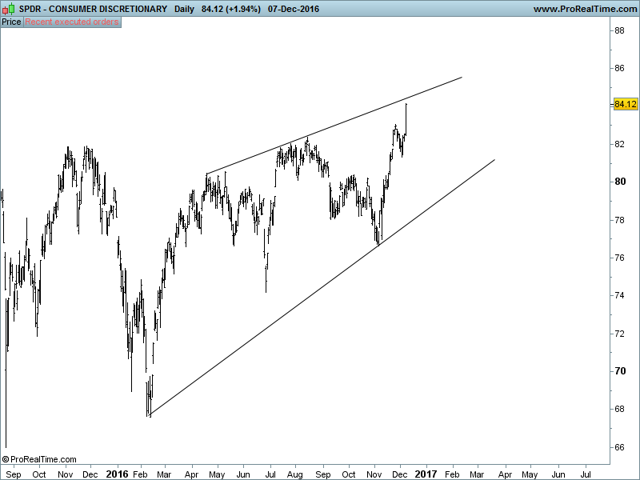 A blow off move into resistance is an 'avoid' for me, but there may be opportunities in the future when it has pulled back.
Other sectors are not saying much either way and when I don't see an edge I move on.
Conclusions
Rotating in and out of sectors at the right times can be profitable, but getting it wrong can be disastrous. Trump's election stirred up the sectors in a way few people imagined.
I have learned some lessons, but won't change my approach because of one crazy month. I'm looking to buy XLF and XLI on any pullback. I continue to hold XLP, XLV and I will buy XLRE.
Disclosure: I am/we are long XLP.
I wrote this article myself, and it expresses my own opinions. I am not receiving compensation for it (other than from Seeking Alpha). I have no business relationship with any company whose stock is mentioned in this article.
Additional disclosure: I am long xlv