Southern Company (NYSE:SO) is a large electric and natural gas company that is well suited to a core position in a dividend growth portfolio. Buying it at the right price will ensure good results. The more than 7% price drop over the last 6 months brings it in range of a good price. SO has been a part of my portfolio for several years.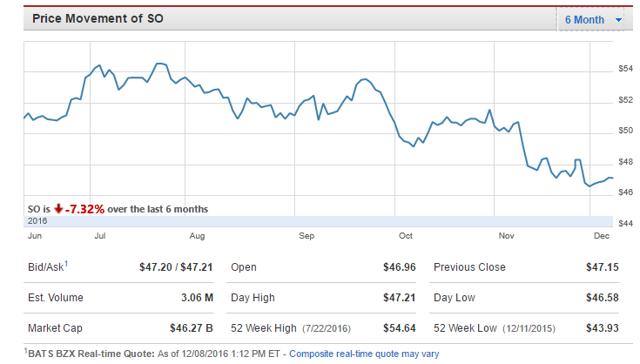 What does the latest earnings report say?
Below are a bunch of slides that show various financial metrics for SO. They all support the idea that SO is a growing and profitable company.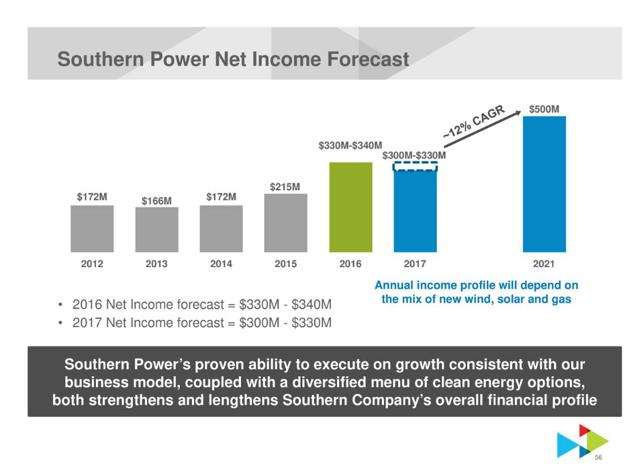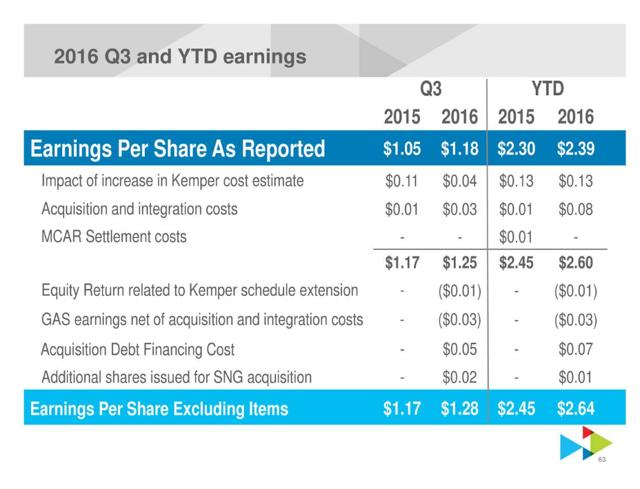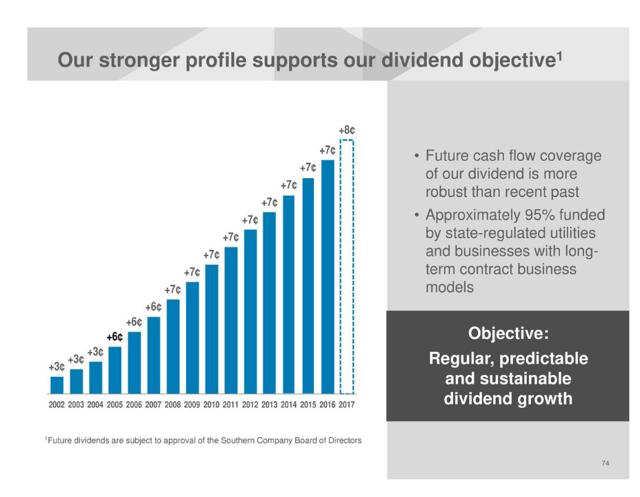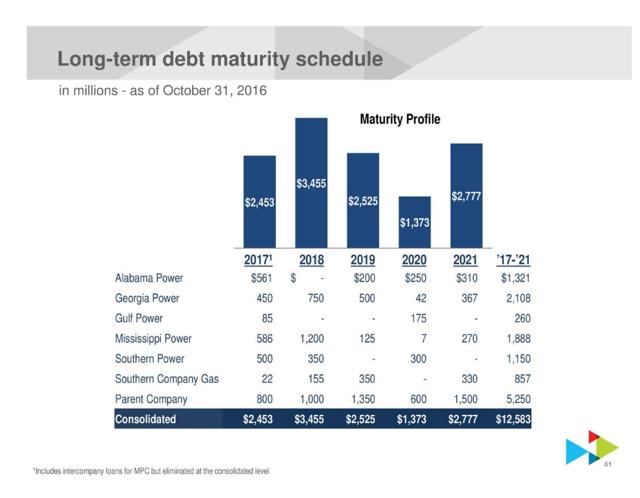 The main issue for concern is the Kemper coal gasification facility and its continuing delays and cost over-runs. The latest news has it not going online till January. The $25 to $30 million cost for each month of delay isn't huge, unless the plant delay is a lot longer than expected. And the latest delay was announced only a month after being delayed a month back in November. SO seems to be a well-managed company, so I am not sure what happened with this Kemper project - maybe it's just the nature of the technology used.
What's a good price?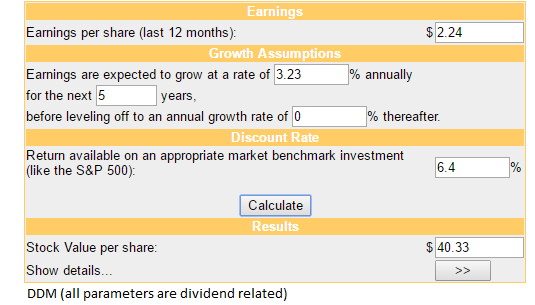 Using the DDM/DCF calculator as a DDM calculator, dividends of $2.24 go into the cash parameter, the lowest DG rate (in this case, the rate of the latest increase) of 3.23% goes into the growth rate parameter for a 5-year period, the terminal growth rate is 0%, and the discount rate is the expected rate of income growth for my portfolio of 6.4% (which is twice the long-term inflation rate). Some people wonder why I think inflation will be 3.2% long term, since the rate for the last 20-30 years is lower. I use the value the Fed has for average inflation since it began tracking inflation because it includes periods like the '70s and early '80s where inflation was high and periods like the Great Depression where it was quite low. I don't expect either of those periods to repeat, but I like to be prepared for things I don't expect.
The calculator using parameters I typically use produces a present value for the predicted dividends of $40.33. Morningstar rates SO as 3 stars with a fair value of $48. Using the calculator number as the bottom and Morningstar as the top gives me a fair value range of $41-$48, which includes where the stock is currently trading (although it's at the top of the range).
Can options help?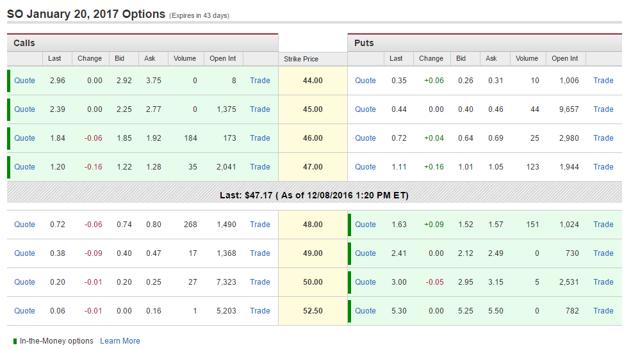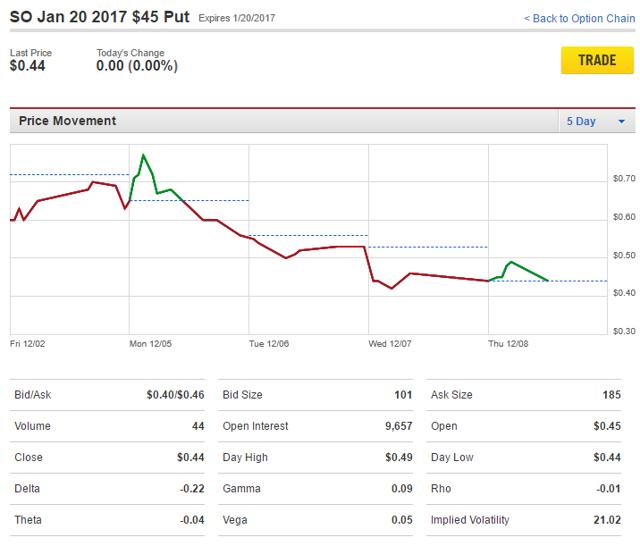 With the Delta showing that there is approximately a 78% chance you won't get the shares, the $0.40 bid is attractive enough to wait for a better price. I very much recommend using a limit order to get more than the bid here as well.
On the call side, the $49 strike offers a reasonable premium, and with only a 27% chance for the shares to be called away, I think it's a good bet. I don't think the price increase that will happen after the initial reaction to the Fed interest rate increase will push the stock this high by the January expiration date.
What about interest rates?
The ECB today left rates alone and set up the dates it will begin to taper its purchase of bonds, which means that they didn't do anything that would impact the Fed's actions at all. Having now passed all the events that might alter what the Fed would do, I think it's a foregone conclusion that the Fed will bump up interest rates when it meets later this week. I think that the market has priced in most of that increase, but expect a short-term drop in the price of interest rate sensitive stocks. I expect the drop to last a very short time and then for prices to head higher.
Conclusion
SO is a good utility company that has done well for me over the years I have held it. Like any utility company, it's important to buy it at a good price. Right now, SO is trading at the very upper end of a good price. There may be an opportunity to get a better price once the Fed bumps interest rates, but it will be a small window. If an investor has the cash to write a put, I think that is likely the best way to get SO for the right price. Also going forward, investors will need to keep an eye on the delays at the Kemper coal gasification plant as that could be a drain on cash if it lasts very long.
Note: I hope you all got something out of this article. I do appreciate the time you took reading it. If you are one of those who follow me here, I appreciate it; if you'd like to include yourself amongst those individuals, please hit the "Follow" button next to my name as well as following other contributors whose work you enjoy. As always, please leave any feedback and questions you may have in the comments below.
Disclaimer: This article is intended to provide information to interested parties. As I have no knowledge of individual investor circumstances, goals, and/or portfolio concentration or diversification, readers are expected to complete their own due diligence before purchasing any stocks mentioned or recommended. The price I call fair valued is not a prediction of future price but only the price at which I consider the stock to be of value for its dividends.
Disclosure: I am/we are long SO.
I wrote this article myself, and it expresses my own opinions. I am not receiving compensation for it (other than from Seeking Alpha). I have no business relationship with any company whose stock is mentioned in this article.