TheStreet recently published a short position for CarMax Group (NYSE:KMX), arguing there has been a drastic increase in car leasing, which would put downward pressure on used car prices from bloated supplies. Furthermore, it claimed that increased consumer confidence would cause consumers to buy new vehicles instead of used ones. After much thought, I'm not fully convinced by its argument.
While an increase in car leasing does put downward pressure on used car prices, KMX will experience huge profit margins on leases and still get another opportunity to sell the car after the lease is up. Therefore, more leases should ultimately help KMX, especially since it has its own highly profitable financing arm (CarMax Auto Finance) that finances 43% of unit sales, per Morningstar Report.
Bearish investors also cite increased consumer confidence and rising oil prices. While consumer confidence could certainly cause some car shoppers to purchase new cars at retail, I predict that used car sales will still increase dramatically. For example, rather than pay $23,070 for the newest Toyota (NYSE:TM) Camry, I could go to KMX and purchase a 2012 Mercedes-Benz C300 with only 30K mileage for $20,600. The graph below shows that total unit sales (retail and used vehicles) have consistently followed consumer confidence. However, used car unit sales have remained almost unchanged in that same period (.73% CAGR).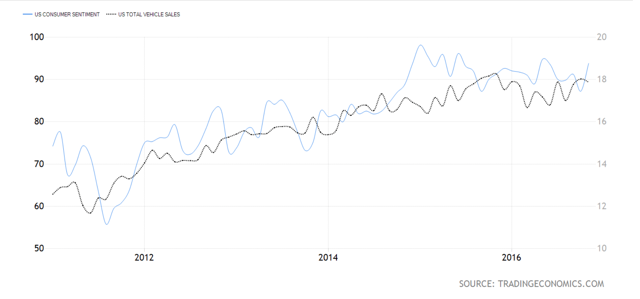 Another factor is that oil prices have started to bounce back after OPEC finally agreed to limit production. Again, while the argument could be made that higher oil prices will hurt KMX sales, I would argue that the sales decline will be partially mitigated by the fact that car shoppers will turn towards cheaper used cars to offset the increased gas spending.
Regardless of consumer confidence and oil prices, I believe KMX has little downside because of its robust revenue growth despite drastic fluctuations in consumer confidence and oil prices over the past five years. KMX is expected to have a 10.2% compounded annual revenue growth rate from 2011 to the end of this year, per a Morningstar report. The best-case scenario would be for the U.S. to experience high consumer confidence and low oil prices. However, any combination of consumer confidence and oil prices should not cause significant downside for KMX in the long run.
While most analysts already posted a buy/hold rating for KMX when it was trading below $56 in mid-November, I believe there is still potential for upside, as the issues mentioned above are still putting downward pressure on KMX's current price of $64. KMX is currently with a P/E of 21 compared to the sector median of 19. I believe this small premium is more than reasonable as KMX is the largest U.S. car dealer and has significantly better operating margins (6.7%) than its peers (~3.7%) - AutoNation Inc. (NYSE:AN), Lithia Motors, Inc. (LAD), Group 1 Automotive Inc. (GPI), Asbury Automotive Group, Inc. (ABG). But most importantly, KMX has a solid corporate strategy, which allows it to use a "no-haggle" sales method that competing dealerships have struggled to implement.
Disclosure: I/we have no positions in any stocks mentioned, but may initiate a long position in KMX over the next 72 hours.
I wrote this article myself, and it expresses my own opinions. I am not receiving compensation for it (other than from Seeking Alpha). I have no business relationship with any company whose stock is mentioned in this article.