As early as a few years ago, Cellceutix was largely valued for its novel anti-cancer drug Kevetrin. On the strength of the clinical-stage p53 modulating drug, the company was fairly carrying a market valuation in the range of $200-$250 million leading up to the acquisition of PolyMedix late in 2014, which was followed by a spike in valuation above $500 million. The jump in value was underscored by the Phase 1 trial of Kevetrin for solid tumors progressing without complications at Harvard's Dana-Farber Cancer Center and affiliate hospitals and the acquisition, which brought a large portfolio of unique drug candidates known as defensin-mimetics under the Cellceutix umbrella.
Prurisol, which widely became thought of as the "dark horse" drug candidate in the Cellceutix pipeline was an afterthought to some, but after two successful clinical trials in less than two years, the anti-psoriasis drug is arguably now worth the entire Cellceutix market capitalization.
Attribute it to a shift in sentiment away from biotech in general over the past 18 months or a nefarious and debunked hit piece article that likely was a component of an orchestrated short attack against Cellceutix, but shares of CTIX have fallen far below their all-time high of $4.93 printed in December 2014 to the area of $1.15 presently.
While every young biotech faces challenges, I believe that Cellceutix is fundamentally stronger than ever before and looking forward to a 2017 that has a number of potential catalysts that will result in a market correction back towards previous highs.
A Case That Prurisol is Currently the Most Valuable Cellceutix Drug
As mentioned, Prurisol (abacavir acetate) was regarded as the pipeline laggard. I paint this background because, by large, the markets were giving essentially no value to Prurisol, a small molecule ester of the HIV drug Ziagen (abacavir sulfate) that Cellceutix is developing as a new oral treatment for psoriasis. I can only theorize that the markets didn't attribute value to Prurisol before because of the lack of clinical research for treating psoriasis, the dominance of biologics in the space and because abacavir (the active ingredient in Ziagen) is known to have side effects amongst patients positive for the HLA-B*5701 allele, which can dampen sentiment about prospects.
Through promising pre-clinical research and two successfully completed clinical trials, Cellceutix has addressed these points. With regards to the allele, a common test identifies and disqualifies people (which is a small percentage) from exposure to abacavir. In the clinical process, Prurisol has become what I believe is the most valuable drug at this moment in the Cellceutix pipeline due to a high degree of industry interest for new psoriasis drugs. To that point, if there is a partnering opportunity at hand in the mid-term, Prurisol could very well be the lead horse in that race for Cellceutix.
Saying that Prurisol is the "most valuable" is relative to timelines to a certain extent. It by no means diminishes the value of Kevetrin or the defensin-mimetic franchise led by Brilacidin, as these drug candidates in mid-stage trials should command strong value on their own merits for their potential to address large areas of unmet medical need and, thus, attract lucrative partnerships. The "most valuable" designation is predicated upon the fact that the current Phase 2b trial of Prurisol should be completed in the first half of 2017, with top line results no later than early in the second half of the year. When there is a cavalcade of data expected from trials targeting large opportunities such as psoriasis, cancer, inflammatory bowel disease, etc., the data that arrives first and could result in ventures with big pharma without necessitating additional studies is what I am dubbing the most valuable.
That's what Prurisol has to offer. If one of the other drug candidates beats Prurisol to the punch, well, then all bets are off as to where the stock could go.
The Background
Lab studies conducted by Cellceutix showed the potential of Prurisol to reduce psoriatic tissue in a human xenograft model as compared to the commonly-used therapy methotrexate or in untreated control animals. Data from the research (images of animal models below) showed Prurisol to act upon the PRINS (psoriasis-associated non-protein coding RNA induced by stress) pathway with efficacy also pointing towards a cascade effect on interleukin-20 and CD4+ and CD8+ lymphocytes that play a role in the immunopathogenesis of psoriasis.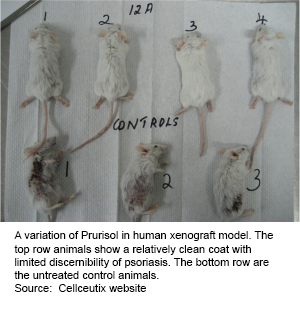 Because of sharing the active moiety of Ziagen, the FDA advised Cellceutix that a 505(b)(2) pathway is an appropriate development approach. The 505(b)(2) pathway allows Cellceutix to utilize documented safety data on Ziagen in their research of Prurisol, shaving time and development expenses. Taking some of the worries and costs away related to safety is always attractive to potential partners. To maneuver down this pathway, Cellceutix late in 2014 proved to the FDA in a Phase 1 trial that Prurisol safely converts into abacavir in healthy humans.
Cellceutix Challenges Prurisol and Nails it with Clinical Data
Early in 2016, Cellceutix successfully completed a 115-patient Phase 2 trial of Prurisol demonstrating a two-point improvement in patients with mild to moderate chronic plaque psoriasis after an 84-day treatment period as measured by the Investigator's Global Assessment (NYSE:IGA) scale. Candidly, I was surprised by Cellceutix selecting this patient population and evaluation metric. Why? Because the IGA scale is only a five-point system (clear = 0, severe = 4; also seen as 0/1 - 4/5) and the fact that the less severe the psoriasis, the more difficult it is to deliver quantifiable efficacy. Simply, it was a tougher clinical design for a psoriasis study in my opinion. That's why most pharma use the PASI (Psoriasis Area Severity Index) calculator, which ranges from 0 (no disease) to 72 (maximum disease) and target moderate to severe psoriasis. According to the IGA scale, mild and moderate psoriasis are recorded at scores of 2 and 3, respectively. That means that in order for Cellceutix to hit the primary endpoint in its Phase 2a study, patients with mild psoriasis (score = 2) needed to be psoriasis-free (score = 0) and those with moderate (score = 3) psoriasis needed to become nearly totally free of psoriatic tissue (score = 0 or 1) after only 12 weeks of Prurisol treatment.
With those things in mind, it is fair to say that Cellceutix set a high bar with expectations that Prurisol could basically clear-up patients' psoriasis in only 84 days. That's a daunting task for the first human trial ever evaluating Prurisol's efficacy, especially when optimal dosing levels are still unknown.
In the multi-site, 4-arm study - ~29 patients per arm randomized into three treatment arms (50mg, 100mg, 200mg) or a placebo arm - 35.0% of patients in the 200mg arm demonstrated a clinically meaningful improvement (≥ 2 points), compared to 16.7% in the placebo group. The chart below shows this, as well as the fact that there was a noticeable effect as early as 14 days into therapy in the 200mg group. The graph further shows that the effect of 200mg of Prurisol accelerated with continued drug exposure, as gauged by the percentage of subjects experiencing a 2-point or greater improvement rising to 5% at 4 weeks, 20% at 8 weeks and finally 35% at 12 weeks.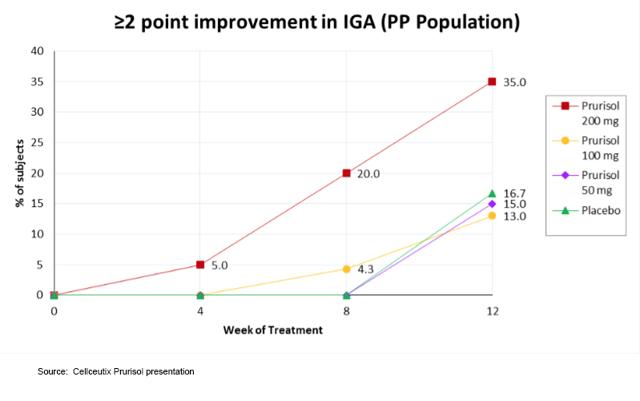 Cellceutix added that they suspected investigator non-compliance may have occurred at one clinical site. If data from that site were excluded, the top-line figure for percentage of patients in the 200mg group demonstrating a meaningful benefit rose to 43.7% (versus the 35.0% reported). Cellceutix did not specify the rationale behind their conviction of non-compliance, but it could mean things such as investigator bias towards a particular therapy or failure to properly follow protocol, amongst other things.
No clinical meaningful benefits were demonstrated compared to placebo in the low-dosing 50mg and 100mg arms, but there were still small takeaways, namely that patients treated with any amount of Prurisol demonstrated at least a one-point improvement in IGA score at a higher rate than those taking a placebo. Headache was the most frequently reported adverse event, (reported in six patients) and one serious adverse event (an increase in liver enzymes), was reported in a patient in the lowest dose group (50mg). Overall, Prurisol was well tolerated.
Focusing on the 200mg group and patients with more severe disease is where the value of Prurisol emerges and sets the stage for the now-ongoing Phase 2b study. The data shows (even including the site with possible non-compliance) that 46.2% of patients with moderate psoriasis (score = 3) that were treated with 200mg of Prurisol demonstrated at least a two-point improvement at day 84.
The pharmacokinetic data supports higher doses of Prurisol, which lends optimism to efficacy and safety in the Phase 2b trials. In the first study, the recorded half-life was similar in all three dosing levels, averaging 1.3 hours in aggregate. Short half-life reduces the risk of contraindicated drugs and means that a drug can reach a "steady state" more quickly, which is thought to reduce side effect risks. Cellceutix said that the dropout rate in the first Phase 2 study was higher in the placebo group than in groups receiving Prurisol, which fits with the pharmacology data and suggests patient satisfaction.
The Phase 2b Trial
Screening of patients began in the Phase 2b study at the end of October. Cellceutix made several notable changes in the protocol of this trial compared to the first Phase 2 study. First, the dosing is much higher, with patients randomized (3:3:1, respectively) to receive either 300mg or 400mg of Prurisol or be assigned to placebo group. Second, patients will have moderate to severe psoriasis (rather than mild to moderate as in first Phase 2 trial). Third, improvement in skin condition will be measured by PASI, rather than IGA, score.
These changes put Cellceutix in a position to compare the results of Prurisol on a more "apples-to-apples" basis with approved drugs and others in clinical development. In turn, it gives the investment community, as well as potential partners, better comparators as a proxy of value for Prurisol. As investors, this is what we really want to see.
The Value of a New Psoriasis Drug
Psoriasis is a condition that causes red, thick, scaly patches on the skin. Sometimes, the swelling and pain go into the joints and spine, a condition known as psoriatic arthritis. Present, Cellceutix is only focused on psoriasis and while that could be the only indication it ever works on, there is a theme for approved drugs in that they also work on other conditions.
To wit, I must concede that some of these are difficult to discern exactly where sales fall for certain indications because they are approved for multiple maladies. However, it's easy to see the type of value drugs in the space command. Here's a few examples of leading drugs and their sales in 2015:
| | | | |
| --- | --- | --- | --- |
| Drug | Manufacturer | 2015 Sales | Indication(s) |
| Humira (adalimumab) | AbbVie (NYSE: ABBV) | $14 Billion | Psoriasis, Rheumatoid Arthritis, Crohn's, other autoimmune diseases |
| Remicade (infliximab) | Johnson & Johnson (NYSE: JNJ) | $6.6 Billion | Psoriasis, Arthritis, Crohn's, other autoimmune diseases |
| Enbrel (etanercept) | Amgen (NASDAQ: AMGN) | $5.4 Billion | Psoriasis, Rheumatoid Arthritis, Arthritis, ankylosing spondylitis |
| Stelara (ustekinumab) | Johnson & Johnson | $2.5 Billion | Psoriasis, Psoriatic Arthritis, Crohn's |
Biologics, injectable medications of genetically engineering proteins constructed from human genes, dominate the space when it comes to treating moderate to severe psoriasis. Doctors are more frequently going straight to prescribing biologics instead of long-used drugs such as Soriatane, Gengraf or Rheumatrex, each of which have a list of generics today.
Those sales figures are reflective of just how very large the market is. It is estimated that about 7.5 million Americans suffer from psoriasis. Add in the rest of the world and there could be as many as 125 million people dealing with the itching and soreness associated with the condition. GlobalData estimates that the market just for psoriasis drugs tops $6 billion currently and that it will more than double to at least $13 billion by 2024.
Competition is fierce. Eli Lilly's Taltz and Novartis' Cosentyx, two drugs that recently got the nod from the FDA to treat psoriasis, have been spending heavily of direct to consumer advertising to build brand recognition. These drugmakers are not just looking ahead, but behind too because there are several more drugs coming down the pipeline that will compete for market share. J&J is turning heads with its guselkumab. For some of the older drugs on the market, biosimilars (the equivalent of a generic for a biologic drug) are just around the corner too, putting more pressure to keep innovating. Embattle pharma Valeant (NYSE: VRX), who agreed to pay AstraZeneca (NYSE: AZN) up to$445 million for Siliq (brodalumab) this summer got a positive vote from a FDA advisory panel in its bid to win approval for its biologic for psoriasis.
On a slightly different note, after its bid to merge with Allergan fell apart, Pfizer spun around in May and paid a 55% premium to acquire Anacor Pharmaceuticals (NASDAQ: ANAC) in a$5.2 billion deal for the crown jewel of the topical eczema treatment crisaborole. Crisaborole is also being evaluated for treating psoriasis.
An Easy Pill to Swallow
Fact is, though, that biologics are given through a needle and that's not something most people love. A pill is much better. The value of an oral drug for psoriasis is best exemplified by Celgene's Otezla. Approved in 2014 in the U.S. and EU in 2015, sales of the drug have accelerated at warp speed, including a whopping 98% year-over-year surge during the third quarter to $275 million. With sales of $712.1 million in the first nine months of 2016, Otezla should hit the vaunted $1 billion level this year.
The space remains hot button. In September, Allergan (NYSE: AGN) strengthened its derm pipeline by paying$639 million for Vitae Pharmaceuticals (NASDAQ: VTAE). Vitae's most advance drug is VTP-43742, a Phase 2 oral drug for psoriasis. Let's not also forget that Dr. Reddy's (NYSE: RDY) agreed to pay$490 million to XenoPort (NASDAQ: XNPT) for U.S. rights for the failed oral psoriasis drug XP23829 that it thinks can be revived.
Remember, Cellceutix's Prurisol is an oral drug too. As mentioned, one that has completed a Phase 2 study already with strong results to boot. Yet, the market hasn't responded and the company is still carrying a market capitalization around $144 million. It's arguable that the Brilacidin franchise or the anti-cancer drug Kevetrin in Cellceutix's portfolio are worth that valuation. With respect to Prurisol, shares of CTIX are down about 31% from approximately $1.66 on May 23, the day before news was released of hitting the primary endpoint in the Phase 2 study.
Cellceutix management has never been one to not speak their mind; that's one thing I've always liked about them. They have not shied away from saying that Prurisol compares favorably to - or even better than - Otezla at the same point in development. Armed with that data, I don't think it is a pipe dream to think that Cellceutix is in discussions with potential partners that just want to see how the Phase 2b trial pans out. The fact that Cellceutix new President and CMO Dr. Bertolino is extremely seasoned in the dermatology business is not lost on me for the value add that it is.
All-in-all, I think the disconnect between Prurisol and peers will soon be corrected and it will be a correction that is more than the total value of the company today.
It's Not That There is No Risk
Every stock carries risk, but things get elevated with "over the counter" stocks like Cellceutix. Factor in the biotech sector, which is notoriously volatile and littered with a long road of failed drugs and drug developers and the risk jumps up another notch. By diversifying their portfolio, Cellceutix trims that risk by not being a one-trick pony, but brings on a different component by needing a lot of funds to see the drugs through to a new drug application. As of the quarter ended September 30, Cellceutix only had$5.56 million in cash on hand and an accumulated deficit of $57.05 million. Net loss for the quarter was $3.03 million. Cellceutix has budgeted approximately $19.0 million over the next three years, $15.0 million of which is expected for clinical trials. I think that figure is on the low side and it certainly doesn't include conducting a Phase 3 trial of Brilacidin for ABSSSI, which will cost a minimum of $30 million.
Just some simple math shows the company needs to raise capital or secure a partnership. They still have about $20.0 million remaining as part of a $30.0 million share purchase agreement with Aspire Capital Fund, which will certainly be a huge help in 2017. Aspire has been a valuable partner and may step to the table with a new deal, but the fact is that Cellceutix is going to have to do a larger raise more money, which almost certainly will be dilutive.
The obvious other risk here is Prurisol fails in clinical studies, albeit the Phase 2b or a Phase 3 trial in the future. The reality is that the markets don't seem to have given any value to Prurisol yet, so a failed trial quite honestly shouldn't have any impact, but it most certainly will. Generally, if a biotech misses a primary endpoint there is a sharp market reaction to the downside immediately. Sometimes it corrects as investors realize a knee jerk reaction can get overblown and that a company doesn't have all its eggs in one basket, but that doesn't diminish the risk.
Cellceutix can help itself to some degree by getting of the OTC and on to a senior exchange. Not only will it help with the games played on the OTC and the company's reputation, but it will open new funding opportunities and a whole new audience of investors that refuse to touch OTC stocks.
Good Odds: Three Lead Horses
To me, the Cellceutix of a few years ago is a distant memory in a good way in every sense, save the stock price. As a long, I can ride these waves and even add when appropriate. I believe the company is much stronger based upon the developing pipeline and the most experienced and knowledgeable leadership team (management and ad visors) in the company's history. All of this portends good things for Cellceutix. By focusing on Prurisol, I am by no means discounting the value Brilacidin or any drug candidates in the defensin-mimetic franchise of Kevetrin, drugs that I believe have blockbuster potential on their own.
Admittedly, I was one that viewed Prurisol as a dark horse. However, my view has completely changed based upon due diligence that has proven to me how valuable Prurisol is now and could be going forward. That's why I focused solely on Prurisol for this piece. I now see Cellceutix as a three-lead-drug company, a true anomaly in the small/micro-cap space. In fact, if a deal comes Cellceutix's way, right now I think that Prurisol is the most likely candidate to provide the type of payment to Cellceutix that will erase any concerns about risks over available capital.
Disclosure: I/we have no positions in any stocks mentioned, and no plans to initiate any positions within the next 72 hours.
I wrote this article myself, and it expresses my own opinions. I am not receiving compensation for it (other than from Seeking Alpha). I have no business relationship with any company whose stock is mentioned in this article.
Editor's Note: This article discusses one or more securities that do not trade on a major U.S. exchange. Please be aware of the risks associated with these stocks.