Rationale for this Article
British Telecom (NYSE:BT) is a top-20 company by market cap in the FTSE 100 index. Its stock chart has been under pressure for the last few years; but appears to have found support, despite currency headwinds for U.S. investors. I am long this security, and I propose to better understand this holding in view of the various issues which constitute its environment.
Background - British Telecom
British Telecom is a large cap telecom services provider, with over 102,000 employees; a market cap of about $43 billion and over $27 billion in 2015 revenue with continuing year-over-year subscriber growth. BT has relationships with most FTSE and S&P 500 listed companies (2016 BT 20-F pg. 59).
BT services roughly one third of both broadband and fixed phone line markets in the U.K. It became a major player in mobile with its early 2016 acquisition of EE, England's largest operator. It also provides a variety of commercial services across 180 countries. About 20% of revenue is from outside the U.K. (20-F pg. 2).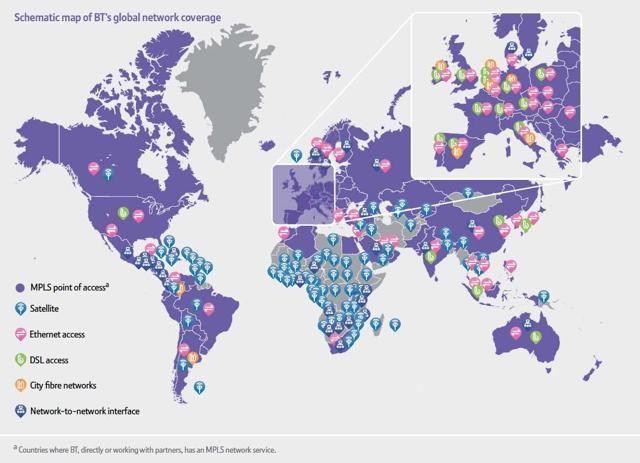 Source - 2014 BT 20-F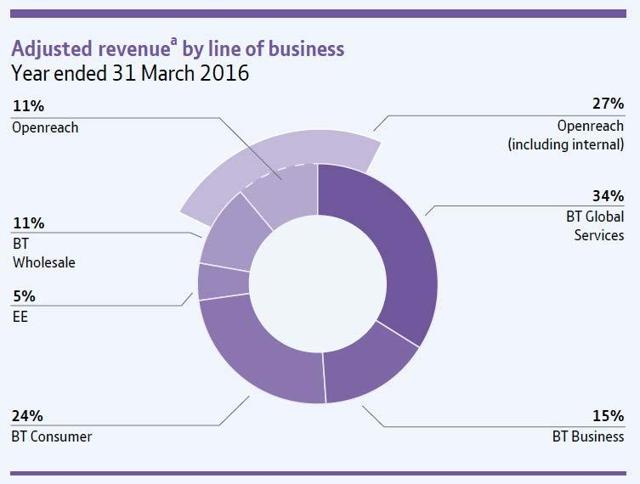 Source - 2016 BT 20-F
The Regulatory Environment
The U.K. has in recent years by design developed a significant online culture, with a heavy demand for broadband. Meanwhile, the U.K. (as well as the U.S.) has struggled with the regulation of broadband as distinct from telephone lines.
As broadband became available in the U.K., some operators have been compelled to gain access to their customers thru BT. After a history of complaints and studies, the British Office of Communications (Ofcom), the U.K. equivalent of the FCC, recently ordered the legal separation of BT's broadband division Openreach. BT is intent on maintaining ownership of this division, despite competitor and shareholder calls for a spinoff.
Ofcom has further limited the participation of BT as well as Vodafone (NASDAQ:VOD) in its bandwidth auctions.
For a forecast on the implications of an eventual Brexit, see here.
Competition
Major competitors include AT&T (NYSE:T), Verizon (NYSE:VZ) and Orange (NYSE:ORAN) (20-F pg. 60).
BT also competes against more than 800 resellers and operators within the U.K. (20-F pg. 66). These include Virgin Media; Sky; O2 UK; Three and TalkTalk. Its U.K. competitor Vodafone has had its own difficulties with Ofcom.
Balance Sheet
On its 2016 20-F pg. 146, BT reports total assets of 3.3 pounds per share, based on 8.2 billion diluted shares (20-F pg. 165). Of these assets, 25% are current, speaking of the long-term disposition of this company.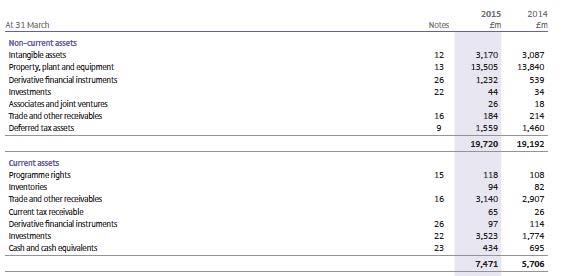 Source: 2016 BT 20-F
These assets are to be compared with 4.1 pounds per share of contractual obligations (chart below). BT has invested heavily in its future with its recent 12.5 billion pound acquisition of EE.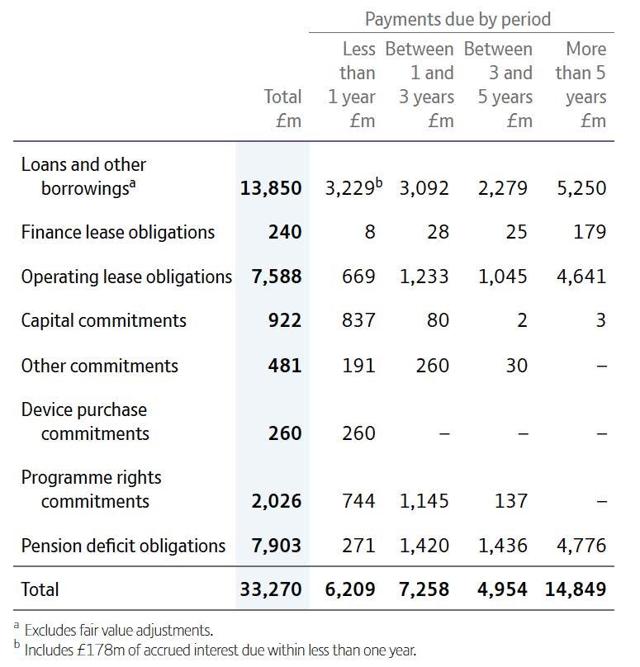 Source - 2016 BT 20-F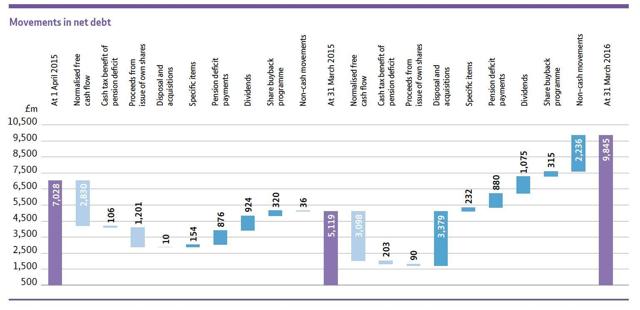 Source: 2016 BT 20-F
A list of long-term debt instruments (i.e. "loans and other borrowings") have been taken out in multiple currencies and is found in 20-F pg. 211.
Despite the EE acquisition as well as pension plan concerns, company debt was upgraded by Moody's to Baa1 from Baa2 in Jun-2016. For BT debt class ratings, see 20-F pg. 218.
Cash Flow
For cash flow data, see 20-F pg. 148. The acquisition of EE has contributed materially to 2016 BT cash flow, as seen in the chart below.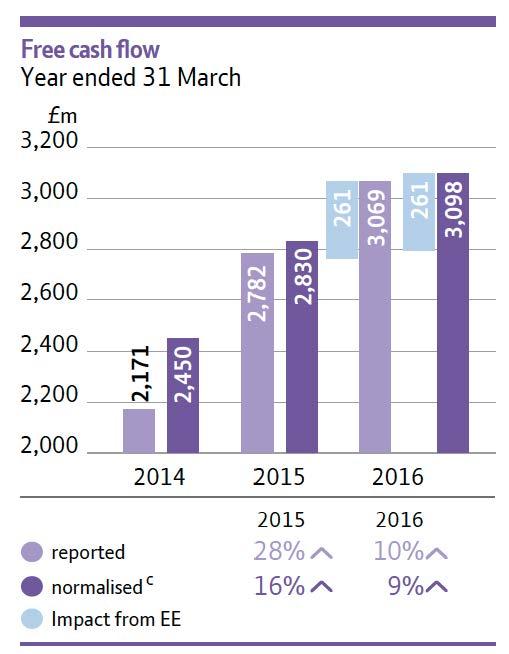 Source: 2016 BT 20-F
The chart below (expressed in U.S. dollars, 1:1.42 on 3/31/16) indicates cash flow (orange line) for BT over the last 20 years compared to its stock price (black line).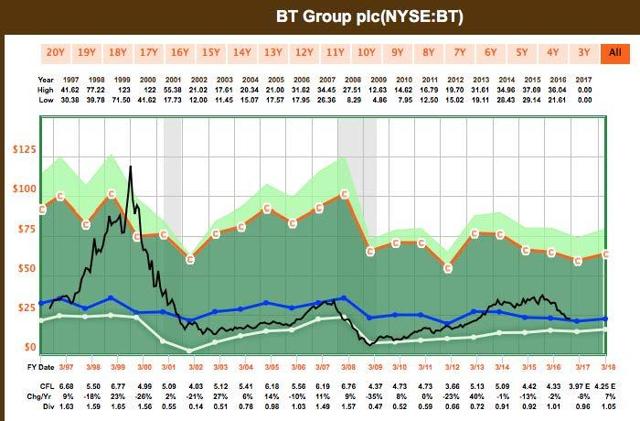 Courtesy: FastGraphs.
Takeaways from the chart are: the regular dividend (white line and light green area) is well covered by cash flow; the stock valuation has been in a buy range for several years (in the dark green area); and that the market has been unwilling to bid a premium for this security since the 2000-01 telecom meltdown.
Currency Environment
BT is traded on the London Stock Exchange as BT.A, with pound-to-dollar exchange rate here.
The British pound has taken a significant beating in the last few years. In 2014-15 this was consistent with U.S. Federal Reserve indications that it would be raising interest rates in a QE world. Further currency headwinds arrived with the Jun-2016 referendum vote to leave the European Union and with sentiment in the aftermath.
The security presently has a 4% dividend (14.0 pence/350 pence = 0.04, see 20-F pg. 100), with a tax treaty between the U.S. and the U.K.

Courtesy: FinViz
Analyst and Ownership Profile
According to the 2015 20-F pg. 250, out of about 9.97 billion shares outstanding, 92% of these shares are held by 13,937 financial institutions. This would be a strong indicator of support for this company.
Less than 2% of shares are held by ADS shareholders, sponsored by JPMorgan (NYSE:JPM). According to London Stock Exchange records, the short position on this security is low.
Mood of the Market
Despite the strengths of this company, its stock has been crushed to near or below its 2014 levels.
BT.A on the LSE (first chart below) dropped 30% from its late 2015 high to its recent low. By comparison, BT on the NYSE (second chart) dropped about 40%.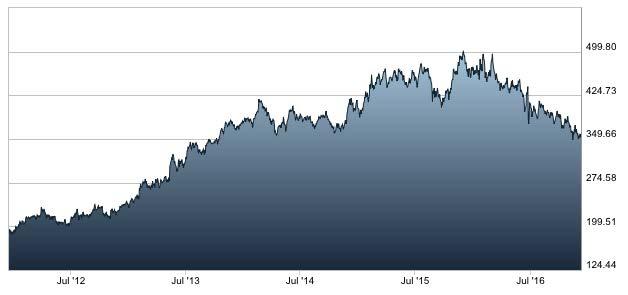 Courtesy: London Stock Exchange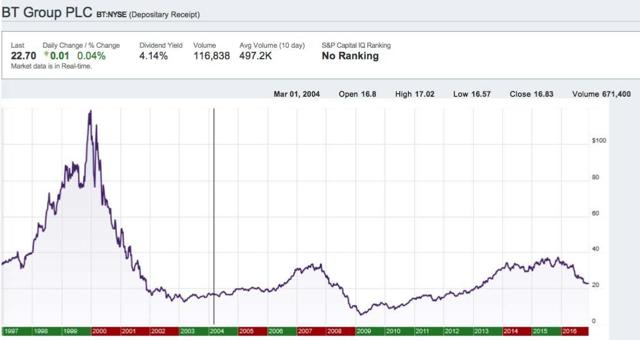 Courtesy: Scottrade
Conclusion
Recent large movements of funds out of government treasury bonds have found their way into a latter 2016 stock market rally. BT finds itself at a low in this situation.
Despite its regulatory issues, I suggest that this company is a long-term survivor and that its inherent strengths have been overly discounted with assistance from international currency issues.
I hold British Telecom long in a U.S. retirement account, where no withholding tax will be incurred on the 4% dividend. I expect to hold this position for an extended period.
Disclosure: I am/we are long BT.
I wrote this article myself, and it expresses my own opinions. I am not receiving compensation for it (other than from Seeking Alpha). I have no business relationship with any company whose stock is mentioned in this article.