Earlier in the year, emerging markets (NYSEARCA:EEM) investors pushed into Mexico's (NYSEARCA:EWW) sovereign debt with its standing as one of the most liquid developing economies in the world. Moreover, as oil's fall into the $20's per barrel plagued most emerging markets via contagion, Mexico's was relatively resilient to falling global asset prices despite its own dependence on the commodity cycle. By consequence, January 2016 set Mexico's all-time record for foreign direct investment in one month at 1.57 trillion pesos ($85 billion). Mexico, in effect, was serving as a safe haven for the emerging market world.
For the greater part of the past 2+ years, Mexico's 15-year bonds have been trading around the 6.5% yield mark. In terms of the yield-devoid nature of most debt markets these days with trillions of dollars' worth of quantitative and credit easing programs and ultra-low interest rates throughout the developed world bidding up prices, 6.5% yield in an investment-grade emerging market isn't too bad. Yet for investors expecting double-digit annual returns and not looking to leverage to much of an extent, it's still a market that many may not be willing to look at.
In November, the outcome of the US presidential election shook things up. As many who followed the election cycle know, president-elect Donald Trump took a hardline stance against US corporations looking to reduce labor costs by moving their production facilities to Mexico. Anyone who did was threatened with a 35% (or thereabouts) tariff as punishment for moving US jobs out of the country and thereafter looking to sell products back into the US, as part of Trump's "fair trade" message.
Whether this is a rigid stance or merely a starting point for negotiation is uncertain. But investors interested in Mexican financial assets were forced to take notice, as such a policy stance could disrupt foreign direct investment and other capital inflows. This in turn will tangibly alter returns expectations.
In the early morning of November 9, the yield on the 15-year bond increased by a full percentage point as many market participants exited their positions.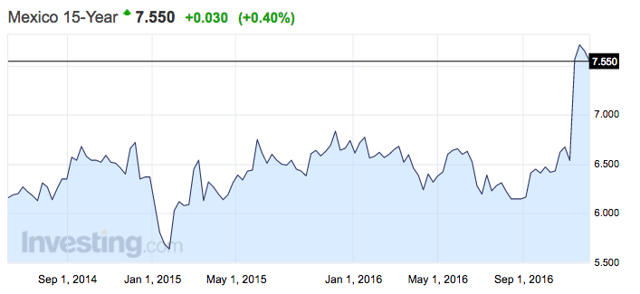 (Source: investing.com)
Financials
When evaluating sovereign debt, real GDP growth is the single most important factor in my view. Real growth sets the stage for the entire economy. When growth is strong many things fall into place. Mexico has consistently been growing at around the 2% mark in real terms for four years. Given that about one-third of the Mexican economy is based on oil revenue, with the recent volatility we've seen in the oil and gas sector, the stability in its real GDP growth rate should be looked upon favorably.
Currently the economy is facing headwinds from industrial production, manufacturing, and mining, but is seeing tailwinds in the form of increased corporate activity, especially in financials.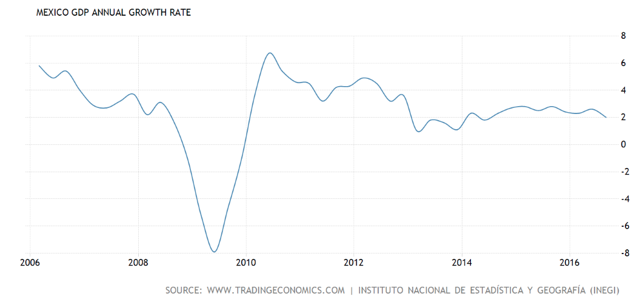 In late 2015, Mexico attempted to coordinate its interest rate policy with that of the US, given its status as the world's largest economy and as the country's largest trading partner. Given lagging growth and inflation in the US, the Federal Reserve hiked once in December 2015 and hasn't hiked in the twelve months since (though will at its last meeting of the year on December 16). Despite the Fed's reticence, Mexico has tightened its policy throughout the year, going from a benchmark rate of 3.00% in December 2015 to 5.25% in November.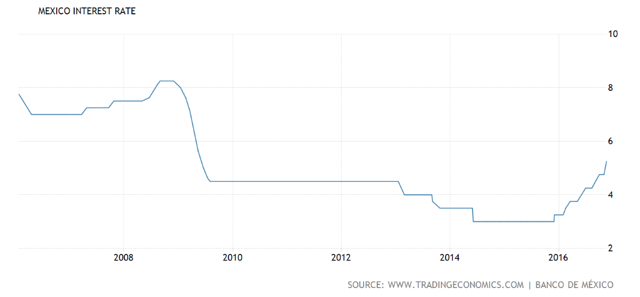 The economy has handled a robust tightening regimen (by the rest of the world's standards) relatively well, with inflation at a 3.31% - its highest mark since 2014.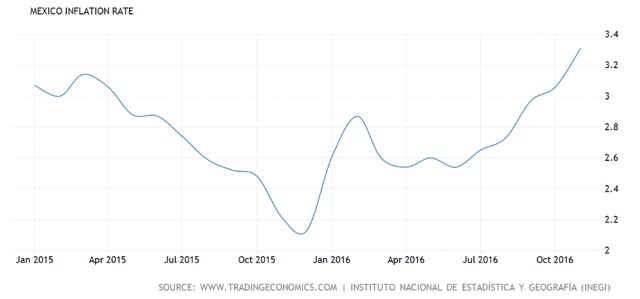 Unemployment has been falling steadily for a number of years, declining to its lowest level since 2008.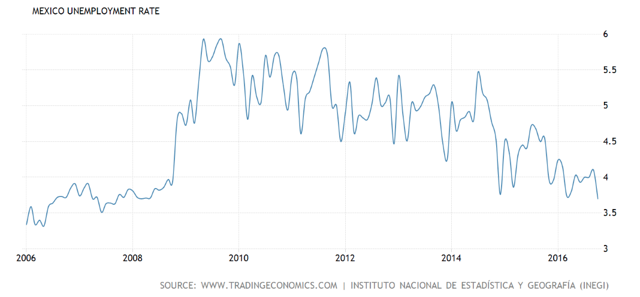 On top of that, the aggressive rate hiking should help avoid excessive pressure on the currency, which is trading at a level 50% beyond what it's averaged over the past ten years and 35% over the past five.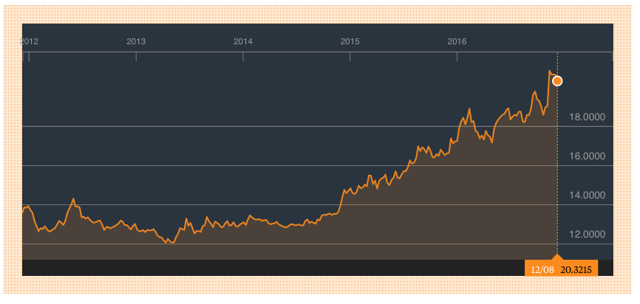 (Source: Bloomberg)
A key benefit to a cheaper currency is that a country's exports become more competitive on the world market. Mexico's current account, which tracks the country's income (or losses) from trade and other foreign channels, has followed an overall downtrend over the past ten years. A weaker currency combined with higher rates should help in this respect.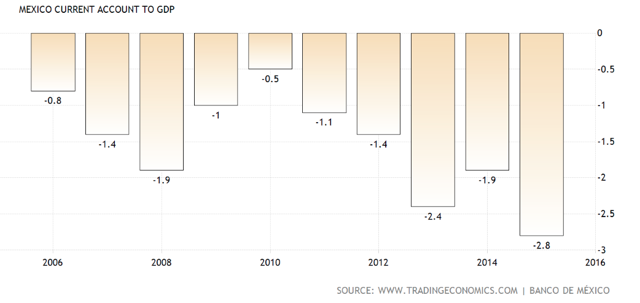 One area of slight concern comes from its rising fiscal budget deficit, measured as a percentage relative to GDP. Even during the sharp recession that followed the 1994 crisis, Mexico was regularly able to maintain a balanced budget or at least with no more than a 1% budget deficit. Over the past 25 years, the deficit has averaged -0.84% of GDP. Since the financial crisis, the deficit fell below 2% and recently has trended down further into the 3%-4% range since, which is generally the lower end of the tolerable range. Countries tend to get themselves into trouble when running below -3% to -4% for an extended period.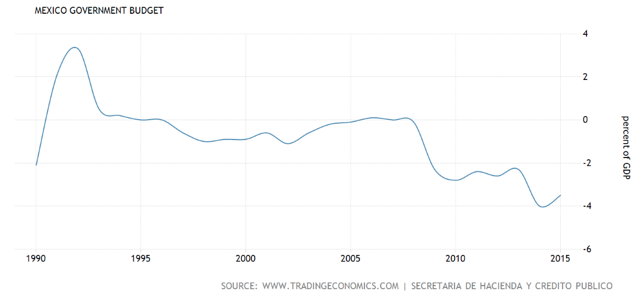 A strained budget prevents the government from investing into initiatives to help spur growth, such as infrastructure. While developed nations can rely on a well-developed private sector in many cases to fulfill the financial and economic necessities of the country, emerging markets will have difficulty in the absence of one and rely more heavily on the quality of their institutions and political climate. In such cases it may necessitate additional debt issuances and rising debt-to-GDP ratios, diluting the interests of existing debtholders.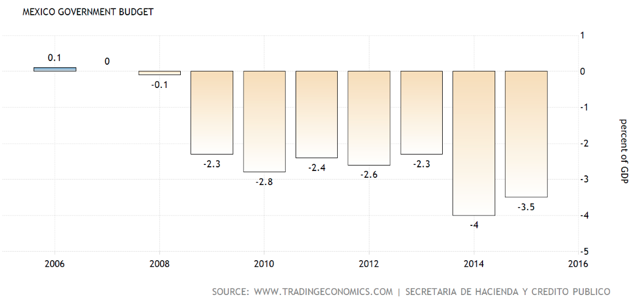 A burgeoning fiscal deficit has forced Mexico into further expansion of the national debt, with its debt-to-GDP ratio double what it was in 2008. Naturally, the relative cheapness of the credit over the past eight years has led to a surge in its attractiveness as a financing source. Gross debt as a percentage of GDP had increased 4.7% annualized from 2007-end to 2015-end.
Demographics
Mexico has a population of 128 million, ranking 10th in the world. In terms of median age, Mexico sits at just 28, ranking 130th (out of 227), and below the world median of 30. Both of these are positives. A higher population generally comes with a greater degree of economic diversification while a lower average age results in lower dependency ratios (the ratio of retirement age citizens to working-class citizens) and entitlement spending needs at the government level.
Risks
Mexico has burned investors in the past. In 1994, Mexico sharply devalued the peso in response to violent social tension in the state of Chiapas and later due to the assassination of presidential candidate Luis Donaldo Colosio. The events resulted in higher risk premia in its financial assets as a consequence of the resultant political instability. To avoid contracting its liquidity, the central bank began purchasing its own debt while simultaneously honoring its interest payments, which drew down its foreign exchange reserves.
To continually meet its debt burdens, Mexico was forced to devalue (print more money), which in turn led to more capital flight as risk premia increased further. To stop the outflows, the central bank decided to raise interest rates, but the economy slowed to the point where accessing the debt markets became nonviable and the country was forced to default. A $50 billion bailout from the International Monetary Fund was coordinated, but a hyper-inflationary spiral ensued and growth remained hampered for years.
The moral of the story is not even necessarily that there is a precedent in the Mexican market, but rather that something that was not even originally financially related set in motion a chain of events leading to eventual default. Even a country with solid and improving financial prospects can have a sudden and rapid reversal of fortune.
The currency risk with Mexican sovereign debt is high, but can always be hedged by purchasing equal monetary amounts of bonds and USD/MXN, unless one has a directional bias on the currency. One also has the option of buying Mexican debt in US dollar denominations, but the spread over Treasuries is generally only 200 basis points or so, which limits the attraction (at least in my view).
In terms of general characteristics, Mexico is a fairly predictable economy relatively speaking, as it possesses low volatility with respect to real GDP, which has value, and relatively stable inflation. Given its macroeconomic ties to the US through trade partnerships, the business cycle in Mexico roughly dovetails with that of the US.
Nonetheless, Mexico also holds strong associations with the "emerging markets" asset class as a whole, but functions as a relative safe haven. In times of emerging market downturn, Mexico does comparatively well; during emerging market bull runs, Mexico tends to lag behind the average returns of the sector as a whole.
This year has been slightly peculiar for Mexico's assets as a whole, given the incoming political environment in the US may be less amenable to Mexico's economic interests relative to prior administrations. For 2016, of the 23 country-specific emerging markets on Seeking Alpha's "Emerging Markets ETFs" page Mexico ranks 22nd in terms of annual or year-to-date performance, ahead of only Nigeria (NYSEARCA:NGE). Of the 53 ETFs listed on the page, it is still second-to-last.
But for value investors, does this represent an opportunity?
Valuation
For purposes of this post, I am looking at only the 15-year bond as the yield is similar to the 20-year and 30-year, and longer-duration bonds inherently carry larger degrees of event risk. In my recent post on the Indonesian sovereign debt market, I included a portion on how I work to value sovereign debt. I have re-presented the relevant portion below:
When it comes to equities and corporate bonds, I prefer to value on the basis of discounted cash flow. For sovereign debt, median/mean real GDP growth, volatility in real GDP growth, GDP per capita, inflation, inflation volatility, government debt to GDP, government debt to revenue, interest expenses to GDP, interest expenses to revenue, fiscal deficit as a percentage of GDP, current account as a percentage of GDP, public debt to GDP, financial sector capital ratios, financial sector size as a percentage of GDP - roughly in that order - and more qualitative factors, such as the country's level of economic diversification, geopolitical risks, domestic political risks, corruption and quality of its rule of law.

Many of these ratios then bucket into a particular quality rating based on a predetermined range and an adjustable weighting factor system, are collectively assigned an overall rating.

Through a database one can determine how often comparable scenarios defaulted in the past based on various time horizons - one-year, five-year, ten-year, etc. One should expect to calculate out an expected default rate until maturity.

From the expected default probability, we can then calculate out an appropriate discount rate that should represent the country-risk premium:

Country-risk premium = probability of default * (1 + 10-year Treasury) / (1 - probability of default)

The ten-year Treasury is used as a global risk-free rate. (Further theory behind this can be seen in a 1985 paper by Sebastian Edwards.)
For a 15-year Mexican bond, I calculate a 5.5% default probability. Using the formula above, this provides a country-risk premium of 5.96% for this particular bond. Based on its 7.55% yield, if we go on the basis of price, this is trading at about a 15% discount to fair value. Last month, it was at a 9% discount to intrinsic value. Based on these results, I weight the risks of Trump's election to Mexico's future less than the average person, as I don't believe the effects will be as punitive as many expect. (That accounts for the discount to fair value rising.) Revising NAFTA, for example, will also be difficult due to the integration of the supply chains across various geographies. It a complex process and will require negotiation on behalf of both parties.
For my purposes, the 15-year is borderline, but ultimately not a buy. First, I believe the yield is slightly too low for the discount to fair value and the leverage I would need to meet my returns expectations in the mid-teens (percentage-wise) would require leveraging up around 2:1. I would personally like to see the bond get closer to 8%+ yield without a simultaneous deterioration in its fundamentals.
Conclusion
There is plenty to like about Mexico's sovereign debt market. Its real GDP growth is remarkably stable even with a large portion of it tied to the commodity cycle. Inflation is reasonably stable; its degree of leverage within its economy is fairly low despite an expansion that has exceeded its GDP growth since the financial crisis. Mexico's central bank has hiked rates 225 bps in the past year and the jobless rate has continued to fall.
Its business cycle runs roughly similar to that of the US. But its financial assets are more aligned with the "emerging market" asset class generally, only with less volatility, making it a safer option during more bearish spells. Longer-dated maturities are trading around the 7.5% yield mark and I do believe the market is trading at a discount to fair value across all maturities, but as I require larger discounts to fair value for lower yields, I am passing on this market for now.
Disclosure: I/we have no positions in any stocks mentioned, and no plans to initiate any positions within the next 72 hours. I wrote this article myself, and it expresses my own opinions. I am not receiving compensation for it (other than from Seeking Alpha). I have no business relationship with any company whose stock is mentioned in this article.