Australia is not in a balanced position now. It rises and falls in the sphere of economics, and everyone is trying to consider different scenarios for the future. As an illustration, the existing forecasts for Australian economy discuss scenarios opposing one another. The lower exchange rate in comparison with the fixed exchange rate for the forecasts is a welcome development. Essentially, it would generate stronger economic growth and provide further triggers to integral growth.
As an alternative, vagueness regarding the global economic outlook might culminate in households becoming more cautious. As a result, people are intended to save more and consume less than expected. Another reason for the uncertainty is the growth in non‑mining business investment. There has been observed the transitions of economy from capital‑intensive resource investment to labor‑intensive service sectors. Taking into account global macro models for trading economics and expectations of analysts, the inflation rate in Australia is estimated to be 1.30% by the end of Q4. In the long term, it is estimated to stand at 2.00% in 12 months' time.
The Organization for Economic Co-operation and Development (OECD) said that economic growth in Australia is projected to pick up to only 3% until 2018. However, there are some expectations that the nominal GDP will grow 5% in 2017. In case Australia's terms of trade (export prices relative to import prices), predicted by Macquarie Bank Ltd., reach 7 % in 2017, the nominal GDP will grow up to more than 5%. James McIntyre, head of economic research in Sydney, considers this the best result since 2011. Anyway, the crisis is still there (see image below).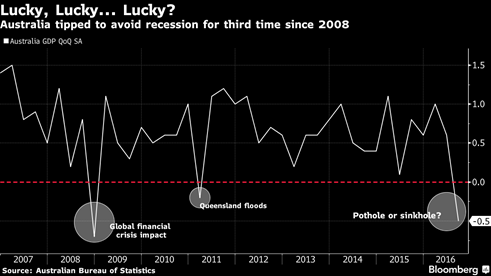 Source: Bloomberg.com -- "China Set to Rescue Australia Economy at Just the Right Time"
The only positive news for now, since the global oil policy has changed in a negative way for Australia, comes from Asia. For China, Australia is one of the biggest commodity suppliers. Recently, strong trade figures, with exports and imports both beating forecasts, were unexpectedly reported by China. After this, imports of such commodities like iron ore, coal, copper, etc. surged in terms of volume in November.
Going back to the production cut, there are some other moments to mention. After OPEC's agreement, everyone should expect worsening prospects for the tanker markets. These are just one of the indirect influences, which is supposed to start in the very beginning of 2017 and last for the next six months. The agreement caused an increase in oil prices, making life more expensive for anyone who buys or transports fuel.
Nevertheless, world is changing rapidly. The idea of possible high prices for crude oil can, in fact, be just a hypothesis, not a reality. We need to take into account the fact that U.S. shale producers are still in play. Due to this fact, the agreement is likely to set a floor for the price, not send it into the cosmos. Oxford Economics names the biggest barriers to high prices. They are cheating and weak demand because of the state of the global economy. The fragility of the Vienna agreement, and the six-month timeline to materialize it, are another two factors keeping forecasts muted.
However, the worst forecasts for Australian oil imports are still valid. As we presented in a previous article, our calculation based on tanker tracking data shows that Australia received 2.5 times less oil in November than in October. During the first several days of December, this decreasing trend also took place. To be more precise, the crude oil import in December was already 2x lower than for the similar period in November.
In conclusion, we can say that oil imports for Australia are already decreasing and, most likely, there will not be any significant changes in the near future. One of the most striking features of this problem is that several negative factors might strengthen each other. For example, the new OPEC oil policy is making prices go up. Meanwhile, the Australian economy is going down. However, not everything is so negative out there. China is somehow helping to stabilize Australian economics by fulfilling its own exigencies. During such a volatile time, this export growth is a key driver for Australian economy, at least for some time.
Note from the author: Our articles are typically based on tanker tracking data, which is not available for free anywhere else. If you want to receive notifications on when our articles are published, please go to the top of this page next to our profile, click the "Follow" button and then click on "Real-time alerts on this author."
Disclosure: I/we have no positions in any stocks mentioned, and no plans to initiate any positions within the next 72 hours.
I wrote this article myself, and it expresses my own opinions. I am not receiving compensation for it (other than from Seeking Alpha). I have no business relationship with any company whose stock is mentioned in this article.
Additional disclosure: The material presented in this article is provided for informational purposes only and is based upon information that is considered to be reliable.