While the S&P 500 (NYSEARCA:SPY) and banks grind higher post-election, few stocks have seen performance as impressive as Best Buy (NYSE:BBY). The stock has exploded higher after reporting its Q3 earnings, gaining 20% over the past 20 trading days. Unfortunately, I missed the bulk of Best Buy's rally this year but saw an opportunity the morning of the Q3 earnings report.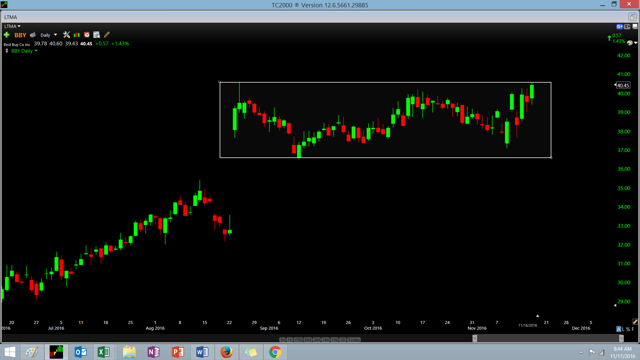 (Source: TC2000.com)
In my November article 17th article "Best Buy Q3: Big Surprise", I explained how I was playing the gap up on earnings:
"I have been waiting for new 3-month highs to signal an entry on Best Buy, and unfortunately, they only came yesterday. I was unable to act on it and get long the stock, so have done so this morning in pre-market trading. I am long the stock from $42.30, with a stop on this trade at $35.49 on a closing basis."
Since my purchase on November 17th at $42.30, the stock has been out of the strongest performers in my portfolio. The stock is up over 15% since, a return of 1% per day for investors. Despite this massive rally over the past month, I have no interest in taking profits just yet. The stock continues to trend higher above its moving averages and is showing no signs of slowing down.

(Source: YCharts.com)
Best Buy has cleared significant hurdles over the past 12 months from a fundamental perspective. The company has already reported earnings of $1.95 for the first nine months of 2016, with the strongest quarter for the company still to come. I expect Best Buy to report between $1.35 and $1.45 in diluted EPS for Q4 2016, putting its annual earnings at $3.35 for the year. This would represent a 30% increase over last year's earnings and a big step towards solidifying the company's turnaround.

(Source: YCharts.com)
My trading strategy is a momentum approach, with a fundamental backdrop to screen for growth stocks. I find momentum trading to be very black and white, as there is no need to overthink things. Price is the final arbiter in momentum trading. As long as a position is going up, there's no need to second guess it. Best Buy exudes all the qualities of a winning position, trending higher above its 50-day and 200-day moving averages. While many authors recommended taking profits on the stock after its Q2 report, this was precisely when the stock went onto my watch list.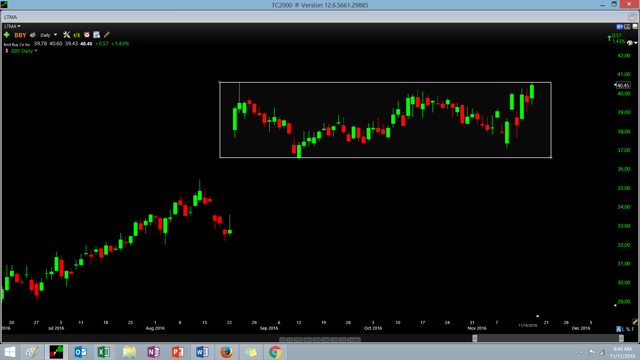 (Source: TC2000.com)
As we can see above, the stock also gapped higher after Q2 earnings and showed commitment to this new price level. The stock traded for nearly three months in a tight base between $37.00 and $40.00, before exploding higher on Q3 earnings. This is exactly what I am looking for when a stock gaps higher. This tight price action serves to shake out any of the weak hands, and also allows the moving averages to play catch up.
Technical Outlook & Summary
Best Buy is up almost 100% from the January lows, and those still in the stock are potentially looking to lock in profits. I have zero interest in taking profits on a stock that continues to make new highs, and am instead holding with conviction. While value investors are continually re-evaluating stocks and trimming them as they go higher, momentum investors are holding their winners and letting go of their losers.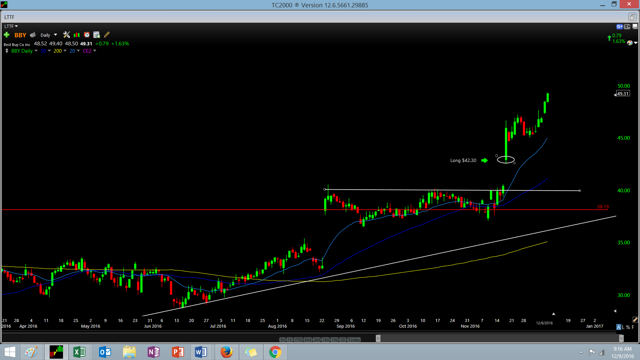 (Source: TC2000.com)
I have never understood value investing personally, as the practice makes no sense when compared to real-life examples. If a business owner were a value investor, he would fire his best employees, and give second chances to his worst workers. Instead, the exact opposite should be done. The best workers should be rewarded by being kept in the business and the laggards (those losing money for the business) should be cut.
Due to my trading methodology, I am simply holding Best Buy, and could care less if it appears to be overbought to some. Overbought can get much more overbought, and riding winners is a risk-free exercise. Imagine if you had a sales team and one of your best workers continued to have record consecutive sales weeks. After the 10th week of record sales, would you fire him since you thought he was a little too "hot" lately? This is what traders are doing when they sell a winning position because it's gone up too far too fast.
The same is true of sports teams, and I read a funny quip regarding this a few weeks ago.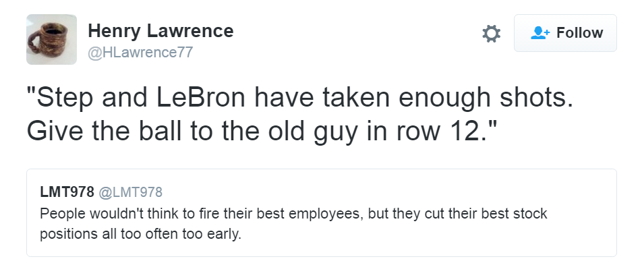 (Source: Twitter.com/HLawrence77)
As we can see below, Best Buy has made new five-year highs this month, an extremely positive development for the stock. The stock is on track to post its highest monthly close since 2008, and could not look more bullish long term. Due to this new development, the stock should have no trouble taking out the $50.00 level, and I expect to see $56.00-60.00 in 2017. This is an upgrade to my previous target in my November article below.

(Source: SeekingAlpha.com)
What if I am wrong and Best Buy stalls out here?
If Best Buy stalls out and its chart falls apart, I have stops in place to protect my downside. My stop on Best Buy currently sits at $38.18 on a closing basis. This means that if the stock closes below the red line in the below chart, I will be exiting the stock. Some readers may be confused as this represents a loss on the stock, from a current winning position.
A popular adage in trading is: "Never let a winning trade turn into a losing trade". I completely disagree with this statement being a trend follower. My goal is to have as many open winners as possible, and give them enough wiggle room to allow them to realize their full potential. I have no interest in micro-managing my best employees and breathing down their necks all day. Instead, I give them a loose enough stop to perform, and only discipline them (trim the position) if they make a serious valuation (break trend).
There are two reasons for my $38.18 stop:
1) A close below $38.18 would represent a violation of the breakout level at $40.00. While I do not mind Best Buy re-testing this breakout level as it should be a support, a close 3% below it would concern me.
2) A close below $38.18 would also represent a close below the 50-day moving average (blue line). The 50-day moving average currently sits at $41.39, and I am not concerned if the stock breaks this level briefly. Having said that a close almost 10% below this moving average could cause some supply issues in the stock. My stop of $38.18 gives me 10% risk on this trade, and a risk of 0.7% of my total portfolio.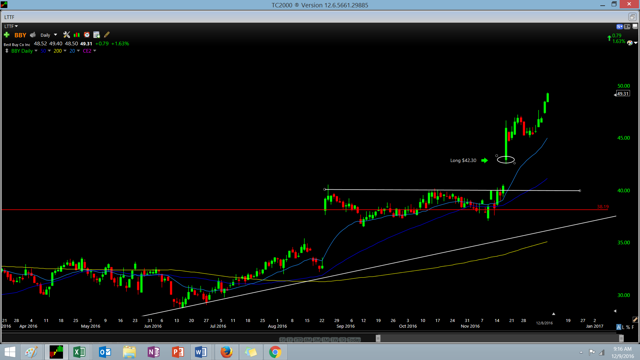 (Source: TC2000.com)
Investors in Best Buy would be best served to give the stock some wiggle room in the coming weeks. While many likely have an itchy trigger finger, I don't see any reason to cut the stock loose just yet. The stock has been a top performer this year, and there's no reason to overthink things. If there are problems under the surface in Best Buy, the technicals will be the first red flag. Currently, the technicals are telling us a much larger move is at hand, as the stock has the potential to close at a new eight-year high for a monthly close. I remain unwaveringly bullish Best Buy, and will update readers if my position changes in the future. Don't fire your best employees just because they've been doing exceptional work lately, instead consider giving them a chance to make you more money.
Disclosure: I am/we are long BBY. I wrote this article myself, and it expresses my own opinions. I am not receiving compensation for it (other than from Seeking Alpha). I have no business relationship with any company whose stock is mentioned in this article.
Additional disclosure: If you liked this article and found it useful, please feel free to follow me by clicking on my name next to my avatar at the top of this article. I also invite you to follow me at www.twitter.com/TaylorDart01 where I routinely share my entries, exits, and stops on new positions, as well as updating followers on sentiment data on markets I am following.