THIS IS A REPRINT OF AN ARTICLE THAT INITIALLY APPEARED ON FORBES.COM
Yes, like pretty much every living organism inhabiting this and possibly other planets, I have opinions regarding Donald Trump and his victory in the presidential election. But politics is not my publishing area so I'll keep those views to myself. Instead, I'll discuss potential stock-market implications and more specifically, how one might use fundamental screening to help identify stocks that might have promise assuming the Trump Administration is successful in implementing its programs, or at least as successful as any president today can be given the contentiousness and (probably) compromise that typifies Washington.
My Assumptions
Forbes guest columnist Avi Tiomkin is not an optimist; he assumes Trump's economic agenda will send the U.S. Into recession. He suggests Trump ought not be compared to Ronald Reagan, a previous purveyor of so-called "voodoo economics" that, actually, turned out pretty well. Is he right? I don't know. I'm not sure anybody does. It's not as if experts saw good things ahead of time from Reagan, and let's face it, analysts of all stripes have not been covering themselves with glory lately. (And actually, as I recall, the early Reagan recession was a doozy, but we came out of it quite well; even those who bought and held in November 1980). So all I can say about recession is, if you think that's going to happen and you aren't able to wait it out, sell.
I do expect rising interest rates and higher (but not horrible) inflation. This is not a Trump thing. I've long expected such a scenario. It might cause economic disaster. But then again, it might not. Higher interest rates and higher inflation could (and should if Trumpanomics works) be associated with better economic activity and that's a good thing. Too many have repeated the mantras of low rates and low inflation as if they were ends in and of themselves. They aren't. They are desirable if and only to the extent they support good overall economic activity and if they get in the way, as has arguably been occurring, they should be de-prioritized, as I believe will happen.
Therefore, I'll be proceeding from an assumed non-recessionary non-bearish scenario that involves economic activity and stocks that move forward on the basis of factors unlike any we've seen since I and my contemporaries had better knees and plaid bell bottoms.
Likely Beneficiaries
Mr. Market's choices are clear. Portfolio123's Sector-Industry data tool shows that Financials and Industrials have been recent market leaders.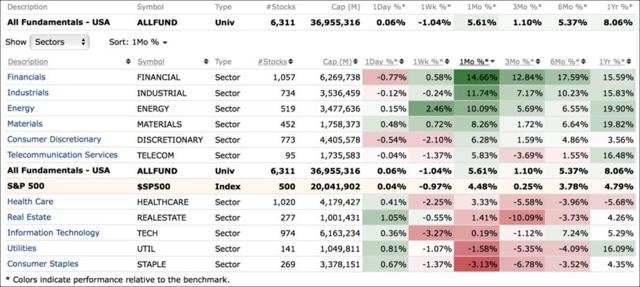 Mr. Market is assuming Financial companies will see rising interest rates impact their revenues more quickly and to a greater extent than the impact on expenses. Also, many expect a slowdown in the pace of regulatory oversight, through out-and-out rollback and/or through less enthusiastic enforcement than might have been expected had the election gone another way.
Industrials seem likely to be another clear beneficiary of Trumpanomics. The President Elect is, after all, on record as wanting to get manufacturing jobs back into the U.S. Whether he can succeed or not, who knows. But for what it's worth, it's high on the agenda and even if Trump can't achieve his dream, he may at least be able to stem the outflow. Will such trade policies likely increase inflation? Yeah, probably. But there's more to life than a near-zero CPI, and if U.S. workers can keep pace with a reasonable inflation rate, we could wind up seeing some improvement in lately-plummeting monetary velocity and get the economy going.
There's a lot that can go wrong. I'm assuming something of a Goldilocks scenario; not too hot, not too cold, just right. If we slip too far one way or the other, critics will turn out to be right and selling stocks will turn out to have been the more timely move. But the theme of this article is stock-picking for those buying into the bullish scenario. So on that basis, here goes.
Choosing Trump Stocks
When it comes to this sort of stock picking, a lot depends on top-down choices which in this case calls for limiting consideration to Financial and Industrial stocks. (Energy is a close number three but I covered that recently.)
Because a bullish investment case requires a scenario that is likely to differ so starkly from what we've seen in the past (or at least so much of the past as can be tested), we may benefit from a relaxed view when it comes to fundamentals. Rather than screening for the best, I'll screen to weed out those likely to be the worst (an often under-appreciated approach in general). I screen for stocks that rank above 25 (on a zero to 100 scale) in each of two Portfolio123 ranks, one based on Value and the other based on Quality. Then, I pick the top 10 Industrials and the top 10 Financials based on a simple Momentum ranking system (not a day-trading-type system but something more academic, an approach that looks at most of the past year).
In other words, I'm looking for non-dumpster fires that have received the kindest treatment at the hands of Mr. Market. I rely on Mr. Market for this heavy lifting because given the likelihood the future won't look like the past, I feel a need to soft-pedal the numbers and tap into the collective judgments of a bunch of human brains with skin in the game (i.e. Buyers, not opinion disseminators like yours truly).
A Bit of Testing
Yeah, yeah, I know; I said the future won't look like the past. But still, backtesting is so darn easy on Portfolio123. How could I resist taking a peek? I just need to evaluate results in a non-dogmatic manner.
Based on the need for common sense, I'm not bothered by the fact that the Financial portion of the portfolio underperformed equal-weight S&P 500 benchmark in a ten-year test (which assumed 0.25% per trade slippage and every-three-month refresh periods). The Financials returned 3.7% annually, versus 6.3% for the benchmark. Considering how this wasn't a threat period for the sector, I'm actually happy it didn't do worse. I am, however, definitely pleased that the Industrial portion did well, having returned 12.3% annually.
The Stocks
Here are the stocks that pass the first Trumpanomics screen I ever created (I expect it won't be the last).
Ticker

Company

Financials

Assured Guaranty

BofI Holding

Endurance Specialty Holdings

Essent Group

Lincoln National

LPL Financial Holdings

MGIC Investment

Popular

SLM Corp

SVB Financial

Industrials

Brink's Co

EMCOR Group

Granite Construction

Joy Global

MasTec

Oshkosh

SWFT

Swift Transportation

Terex

Trex Co

Trinity Industries
Disclosure: I/we have no positions in any stocks mentioned, and no plans to initiate any positions within the next 72 hours. I wrote this article myself, and it expresses my own opinions. I am not receiving compensation for it. I have no business relationship with any company whose stock is mentioned in this article.