By Parke Shall
Insys Therapeutics (NASDAQ:INSY) is a stock we have written about over the last six months, and have recommended investors avoid. Since a slate of investigative journalism pieces that outed the company's questionable tactics in selling its extremely potent opioid, Fentanyl, the company has been in a downward spiral.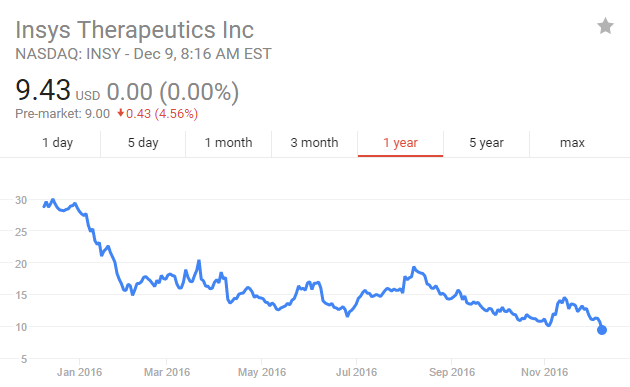 With the indictment and arrest of the company's former CEO announced yesterday, and the company's acknowledgment that it continues to be investigated, we simply believe there remains too much risk to take a position in INSY, as we have been saying for months.
Our last article warned that arrests of former employees could be a precursor to additional arrests. Yesterday, former CEO Michael Babich was arrested on charges of racketeering and allegedly running a scheme to illegally sell fentanyl to people who may not have needed it. The Wall Street Journal story, linked above, stated:
Six former executives and managers at Insys Therapeutics Inc. were arrested on Thursday and charged with conspiring to defraud health insurers and bribe doctors in exchange for prescribing the company's fentanyl painkiller, Subsys, the Justice Department said.

Among those arrested were former Chief Executive Michael Babich, who resigned from the company in November 2015. Mr. Babich, 40 years old, was charged with conspiracy to commit racketeering, conspiracy to commit wire and mail fraud, and conspiracy to violate the anti-kickback law.

The racketeering, wire fraud and mail fraud charges each carry penalties of up to 20 years in prison, in addition to fines and supervised release, the government said. Violation of the anti-kickback statute carries up to five years in prison.
The full complaint filed by the US government is even more alarming.
Even more interesting than the DOJ press release was the company's subsequent statement released close to market close yesterday. Essentially, Insys confirmed an ongoing investigation into the company was still being conducted. The company wrote (emphasis ours):
The charges against individuals discussed in the DOJ press release relate to previously disclosed investigations. Insys continues to cooperate with all relevant authorities in its ongoing investigations and is committed to complying with laws and regulations that govern our products and business practices. Insys will not provide additional information or comments at this time on this matter.
While it is true that INSY is under different management, and has additional product lines it will likely try to rely on, we simply can't advocate at this point to try your hand at investing in such a risky scenario. We wrote in our last article on INSY:
A lot of investors are trying to make the argument that the company's financials are worth giving a look to. While we agree that the company does look relatively undervalued on a strictly financial basis, this would not be the first example we have found of a company that has indiscretions hidden under the surface that could cause a potential catastrophe in the future.

We have long stated that we thought implications from the way the company has handled itself and Subsys would be ongoing. Last week, we found that these consequences continue. While we can't possibly imagine a scenario where even more dirt is uncovered and catastrophe occurs with the company, we do not rule it out of the picture and we find it more likely to be possible in a company with INSY's operating history than most other companies.
We have written about INSY several times in the past. Over the last year, a lot of dirty laundry has been aired, as several journalists have alleged the company used disgraceful sales practices with regard to its fentanyl drug, Subsys.
Subsys is an extremely potent and powerful opioid that has shown to be much stronger and far more addictive than traditional painkillers. As such, it needs to be treated with immense respect and care. INSY executives have been charged with doing the exact opposite over the last 24 months.
While the payoff may be substantial if the company can get its act together (and if no more arrests are made), we can't be sure of how deep this rabbit hole goes. We can't help but think an open and ongoing investigation could lead to more arrests, and potentially serious consequences for the company and its shareholders, not just individual executives. For this reason, we believe INSY is uninvestable.
Disclosure: I/we have no positions in any stocks mentioned, and no plans to initiate any positions within the next 72 hours.
I wrote this article myself, and it expresses my own opinions. I am not receiving compensation for it (other than from Seeking Alpha). I have no business relationship with any company whose stock is mentioned in this article.