Let's start this article with a great quote.
"Bull markets are born on pessimism, grow on skepticism, mature on optimism and die on euphoria"
- Sir John Templeton
I've been increasingly bullish after leading indicators like the ISM index and regional manufacturing indices started to show momentum.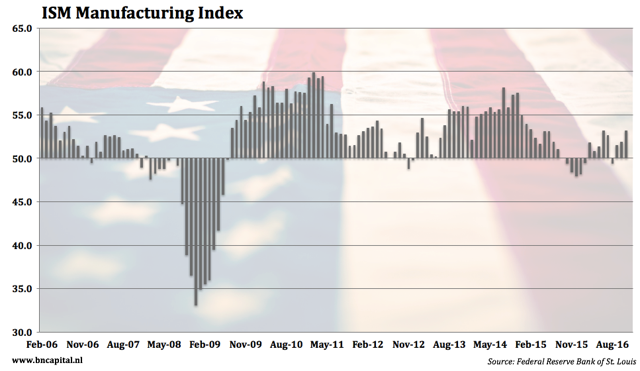 Since the start of mid-term growth acceleration in October/November, the stock market has added almost 7%. The recent trading week accounted for another 3.11% increase.
I added the quote above, because I saw an increasing amount of negative comments on my articles and Twitter timeline during the last two weeks. I don't mean this in a negative way, but it was interesting to see that many people distrusted the rally. In this article, I want to discuss the recent rally and fundamental foundation of the recent bull market.
The graph below is by far my favorite indicator. It shows the ISM manufacturing index and the year-on-year return of the S&P 500. The ISM index is a leading indicator and tells us what is going to happen in terms of economic growth and stock market returns. I used the current stock market value to look what future year-on-year returns would be if the price didn't change. The massive rally has pushed valuations way up, but not towards a crazy valuation in terms of mid-term growth. The stock market is pricing in an ISM index of about 54. This valuation goes way into the second quarter of 2017.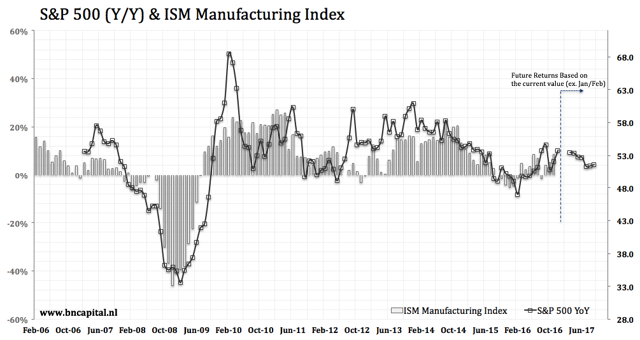 This means that there is still room to grow as growth accelerates further. An ISM index of 56 would justify another 100+ points increase of the S&P 500. The bad news, is that moderate economic growth is fully priced in at current levels and a growth decline would be devastating. However, the last options would be indicated by regional indicators who are published before the official ISM release. Feel free to follow me if you want to be informed about these indicators.
Now, let's go over some sentiment indicators. These indicators are ratio spreads between cyclical and less- or non cyclical assets. An increase of the ratio spread would indicate more willingness to take risk. Hence, it is called a RISK ON environment.
My favorite indicator (transportation stocks vs. the Dow Jones Industrial Average), has supported the entire rally since the start of November. Transportation stocks exploded and hit a fresh all-time high this week. This rally is a very strong signal.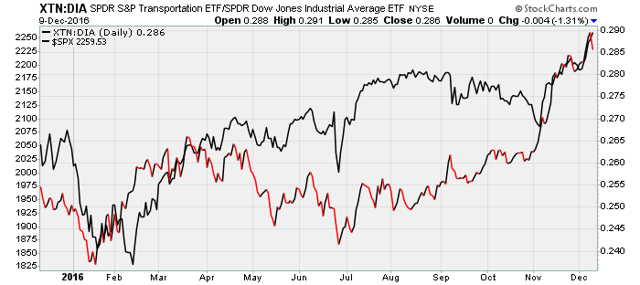 The ratio spread between high yield bonds and government bonds is every stronger. Both the weakness of government bonds and the high yield momentum have pushed this indicator way up.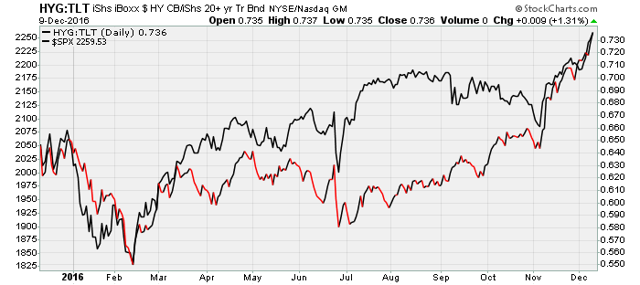 The Australian Dollar has outperformed the Japanese Yen massively. This is a clear sign of strength since the Yen is considered a safe haven and because of the cyclical characteristics of the Australian Dollar.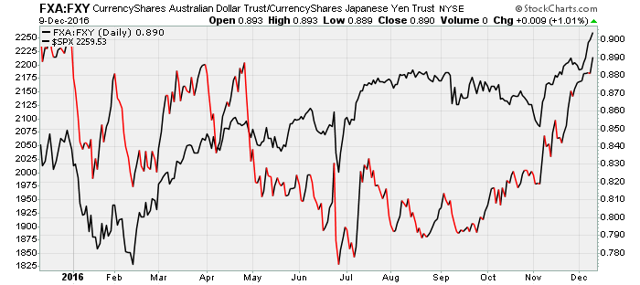 The amount of S&P 500 stocks that give bullish signals ($BPSPX), are at 68.8%. This is way up from the 50% low in November but also more than 10 points below the 'common' 2016 highs. This is no sign of a strongly overbought market.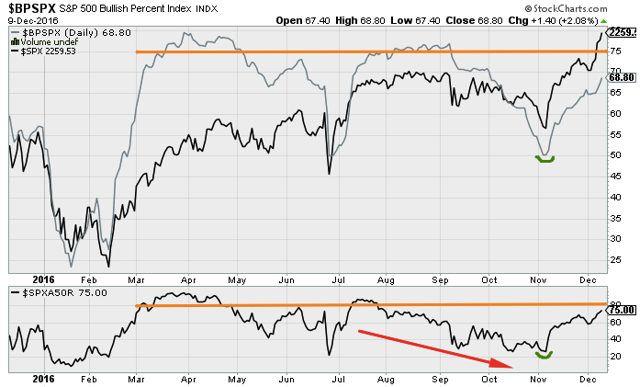 The amount of stocks above their 50 day moving average ($SPXA50R) has supported the stock market rally after indicating weakness since July. The Market didn't make any significant up-moves during that period. Note that this indicator is also below the 2016 highs.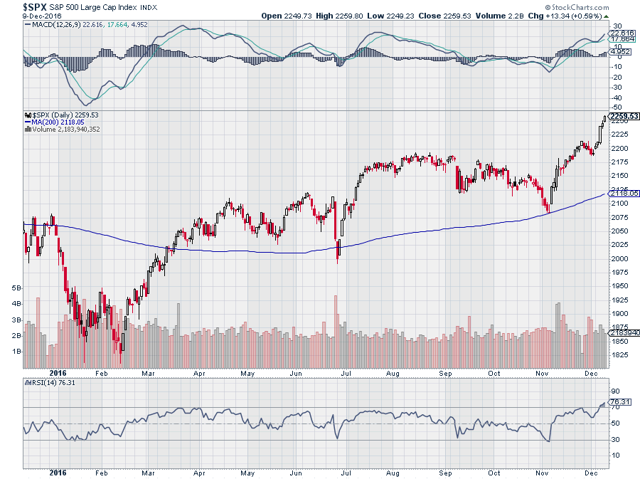 The current RSI (14) is close to 80. Mr. Market has gained almost 9% since the November lows. This is the main reason I am not giving another buy signal in this article. I steadily increased my long position since October. I added to my homebuilders, bought energy stocks and gambling/entertainment stocks. At this point, I won't be adding anymore. The chances are big that the stock market is going to have a small pause. I am not predicting lower prices, the stock market could increase again next week, it just doesn't make much sense to get people in at these prices who have missed the rally. The odds are just too low at this point.
My closing statement is to stay long if you if you placed your trades during the last few weeks. If you have been on the sideline, you should stay where you are. Don't worry that you will miss something. New changes will come. However, regardless of what you do, do not go net short in this market and play it safe. Stick to your risk management and follow the indicators.
Many thanks for reading my article. Please leave a comment below if you have questions or remarks. If the comment section is too busy, I lose track of questions directed to me. In that case, you can send me a direct message. I always try to respond within 12 hours.
Good luck!
PS: to the people who are watching long term indicators: I will write an article about long term valuation and outlook as soon as possible. Probably before Tuesday.
Disclosure: I/we have no positions in any stocks mentioned, and no plans to initiate any positions within the next 72 hours. I wrote this article myself, and it expresses my own opinions. I am not receiving compensation for it (other than from Seeking Alpha). I have no business relationship with any company whose stock is mentioned in this article.
Additional disclosure: My main holdings to play this market rally are: SWN, BYD, CAA, PHM, FCX