Welcome. In this article I'll tell the story for why I believe passive investors buying Caterpillar Inc (NYSE:CAT) are purchasing at too high of a price.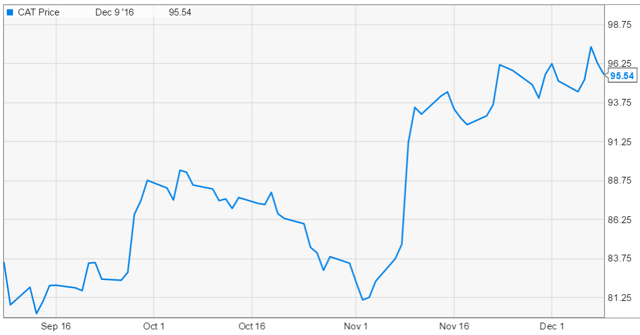 (Source: Faloh Investment)
Caterpillar Inc Stock Valuation
After including a few "steadying" assumptions (which we'll touch on in the following segments), the DCF Model returned these facts: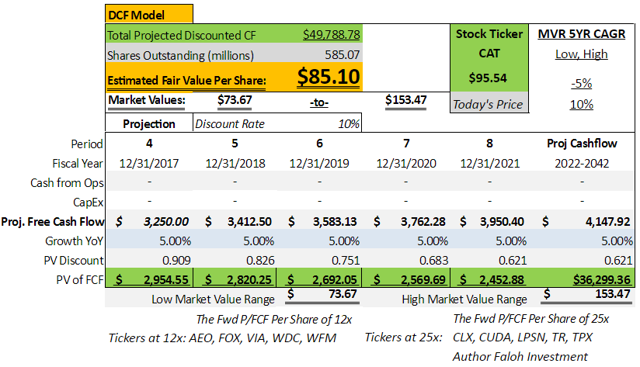 (Source: Faloh Investment)
Overall, the company landed a fair value of $85.10 per share. Companies earning similar amounts of free cash flow are on the market for prices of 12x through 25x, so a fair trading range or Market Value range for the company appears to be $73.67 - $153.47.The company's trading for $95.54 as of this writing.
A company tends to hit the upper or lower part of its estimated Market Value Range during any five year period depending on the general market's trading range, the timings of the company's internal business cycles, and the results of the company's operating performance.
In the next segment we'll take a look at the stock charts.
Quick Free Cash Flow Chart
CAT's Price, Free Cash Flow, and Price to Free Cash Flow are included: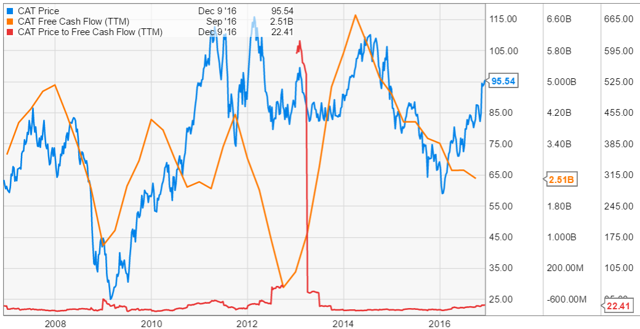 (Source: Faloh Investment)
Reading this chart's orange line, I notice the 10-years free cash flow generated by CAT have added up net positive. They've generated more than $32B in free cash flow during the trailing ten years, a substantial amount of money which compares well with CAT's market capitalization ringing in around $50B during 2007.
Balance Sheet
CAT's balance sheet has become more conservative and less leveraged since the turn of the decade. They've grown from carrying a regular cash balance under $500M to a balance of over $6B. I appreciate the offsetting balance against the receivables resulting from their financial business.
Generally CAT looks prepared for business as usual and has the resources to expand production when opportunity arises.
Expert Summary
Caterpillar is a great American company with a long history of success. Originally a domestic tractor manufacturer, the company is today the leading exporter for the nation in several engineering categories. Since the early 2000's CAT has regularly earned more than 50% of its annual revenue in international markets. The recently strengthening dollar coupled with prospects for a more active domestic infrastructure and industrial construction market bodes well for stakeholders' fortunes.
I reviewed Caterpillar's balance sheet and found the leverage-measuring ratio of Liabilities-to-Assets has shrunk by more than 15%. This is a good result for shareholders because future market shocks may result in less price volatility as the market will remain more certain about this company's ability to survive a troubled economy or profit performance misses.
The Booming Domestic Market Scenario
I restated the DCF Model, tuning the parameters in order to reflect a "Booming Domestic Market Scenario". This involved marking up the free cash flow generated during the years of 2018 and 2019 before trimming the boom's excess income in years 7 and 8. Finally, 20 years of free cash flow growth at the company are projected thereafter at the 5% annual "steady grower" assumption.
The "Booming Domestic Market" event in the DCF Model shows a lower fair value per share than the base case for steady growth presented above: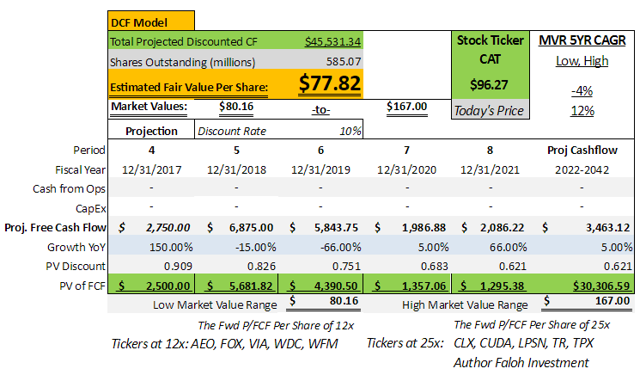 (Source: Faloh Investment)
The model shows the likely lumpy and large cash flows in the future don't necessarily create a higher fair value for the business. The Market Value Range is also very wide because material lumpiness in free cash flows are likely to accompany large price swings in the company's common stock.
Takeaway
Investors on a 10-years plus horizon, the long term investors who entered the stock at the $78 price level of 2007 have earned around a 5% compounded annual return (a 5% annual total return before tax, 2% of the total returns came in the form of qualified dividends).
At 5% money growth per year, I'm not very impressed.
In another part of the market, this company has produced great returns for those who purchase in the lower parts of the wide price range this trading stock displays.
Here's the skinny. CAT is a very fine company and over the long term the dividend appears well situated to average a 2% yield. CAT Investors are in powerful company, as August 2016 reports included CAT among President-Elect Donald J. Trump's top 15 equity holdings.
In good and bad company, most investors prefer to avoid price volatility. Long term investors in CAT are volunteering to stomach the ups and downs of price volatility, a trend well-established in this trading issue.
Last Word
Buying CAT at today's mid-rally price level of $95.54 may set an investor up for somewhat below par returns, or too much headache with volatility, especially for long term passive investor.
CAT will continue to rally if the Trump team can quickly affect the economic policies he's promised on the campaign trail. Otherwise, this company's stock price is likely to trade sideways from here and continue to display substantial price volatility.
5-Year Price Target: $120.00, a 5 year CAGR of 5% from today's trading price of $95.54 and a 2% average dividend yield on invested capital.
Disclaimer: This article represents the opinion of the author as of the date of this article. This article is based upon information reasonably available to the author and obtained from public sources that the author believes are reliable. However, the author does not guarantee the accuracy or completeness of this article. It is merely the author's interpretation of the information contained in the article. The author may close his investment position at any point in time without providing notice. The author encourages all readers to do their own due diligence. This is not a recommendation to buy or sell a security.
Please click the + icon next to my user name and follow me, Faloh Investment, as I work to keep you informed on further developments as the market continues to present major value opportunities.
Disclosure: I/we have no positions in any stocks mentioned, and no plans to initiate any positions within the next 72 hours. I wrote this article myself, and it expresses my own opinions. I am not receiving compensation for it (other than from Seeking Alpha). I have no business relationship with any company whose stock is mentioned in this article.