Due to a policy that allows small independent refiners to import foreign crude, China is positioned to catch up with the USA in terms of oil import volumes. As reported by Reuters, the situation is going to extend into 2017 and will possibly lead to further Chinese expansion on petroleum products market. The recent decline of South Korean refined petroleum exports was directly related to dumping by Chinese refiners that were getting rid of their domestic surplus. The ''teapots'', as they call Chinese independent refineries for their small size compared to state-run giants, were responsible for about 90% of the China's crude import volume rise in 2016, well benefiting from low prices and high refining margins, as well as from occasional possibilities to avoid paying taxes. After OPEC agreed on production cut quotas, the glut is supposed to gradually disappear, if appetites of energy-hungry economies remain steady. Skeptics point at Bloomberg analysis which is cautious about the future pace of Chinese crude imports' growth, sees it lowering to 5-9% on year from current 11-14%.
As we have seen these days, the price of oil is not skyrocketing, it is not much pressed upwards after the initial push. And there is always a reason behind any move up or down, like doubts over whether the accord will be successfully implemented or not, weak or strong dollar, another meeting of non-OPEC producers that is going to be celebrated (or not) and so forth and so on. From macro perspective view one may deduct that given the determination of the Chinese independents to persist in expanding their capacities, the refining margins will remain large enough to exploit and therefore, the oil prices should not go anywhere very far.
The tanker tracking data shows that the crude import slightly diminished during some days around OPEC's meeting date, then rebounded. It is again hard to insist that there is any link between these events, but as we have seen it on charts for other countries, too, we may take a note.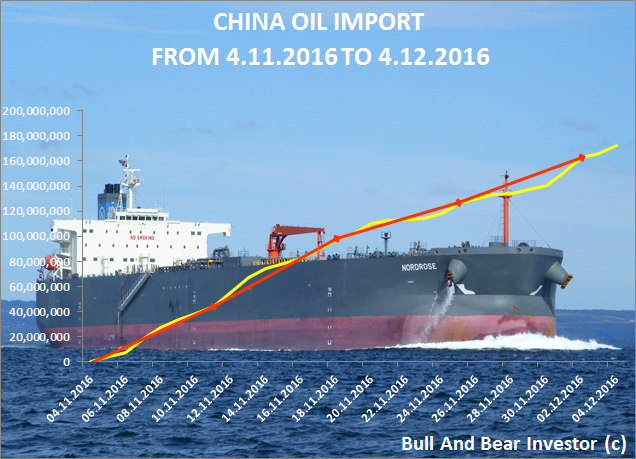 (Source: Tanker tracking data, Bull And Bear Investor's calculations).
There is much variety of import sources, many oil producing countries are represented here, as there is room for a lot of crude, especially when China is filling up its stockpiles.
We should pay attention though as the rebalancing process is on, for OPEC members and Russia might be adjusting their output to comply with the terms of agreements.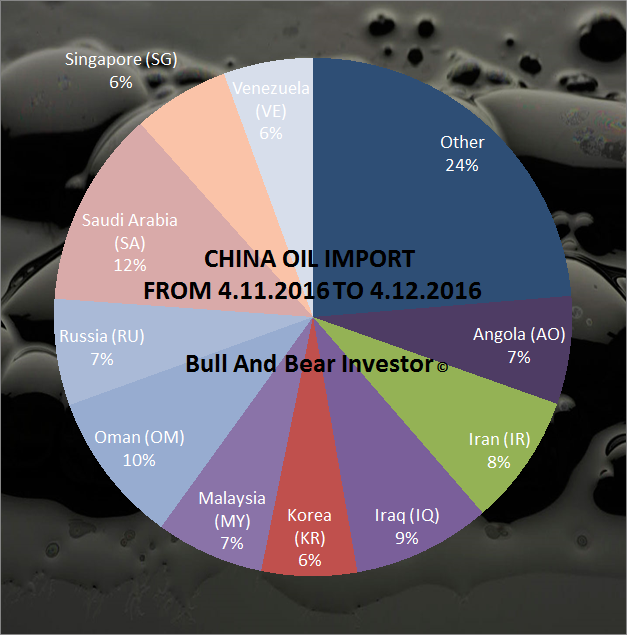 (Source: Tanker tracking data, Bull And Bear Investor's calculations).
As the year end is approaching, there is a lot of bidding for energy assets worldwide, and Chinese companies are taking every chance before the new US Administration would mess up the oil game. China Offshore, a part of China National Offshore Oil Corporation, secured on its own 2 of the 8 deep-water oil and gas blocks that Mexico auctioned on Monday. The rigs in the Perdido Ford Belt are promising to bring up an estimated 1.2 billion barrels of sought-after light crude, the deal becoming the largest Chinese investment in this Latin American country.
As we previously wrote, China has robust long-term strategies and is seeking participation and partnerships around the globe. The giant communist economy is seen successfully adapting to recent oil market dynamics and expanding its influence. To be updated soon.
Our articles are typically based on tanker tracking data, which is not available for free anywhere else. If you want to receive notifications on when our articles are published, please go to the top of this page next to my profile, click the "Follow" button and then click on "Real-time alerts on this author."
Disclosure: I/we have no positions in any stocks mentioned, and no plans to initiate any positions within the next 72 hours. I wrote this article myself, and it expresses my own opinions. I am not receiving compensation for it (other than from Seeking Alpha). I have no business relationship with any company whose stock is mentioned in this article.
Additional disclosure: The material presented in this article is provided for informational purposes only and is based upon information that is considered to be reliable.