In this post, I'll describe Treasury Inflation-Protected Securities, or TIPS. These inflation-indexed bonds offer protection against rising prices by paying interest adjusted for inflation. Interest is calculated to reflect the Consumer Price Index for All Urban Consumers, CPI-U or simply CPI - the headline, most widely used measure of U.S. inflation.
Maintaining real income is an important part of retirement planning and pension management. Inflation is arguably the deadliest enemy of long-term investors. This is especially challenging for older and risk-averse investors, as their portfolios tend to be tilted toward fixed income, which may fall short if inflation rises. Real estate, dividend income, etc. help, but also come with risk.
Rising Inflation
Inflation was very low in the past couple of years, but rose this year, as I described earlier. Core inflation, which excludes food and energy, has remained between 2% and 2.3% for about a year, and currently stands at 2.1%. Total CPI inflation has begun to rebound - in fact, it jumped from 1.1% in August to 1.6% in October. This, of course, is still fairly low, but so are interest rates, despite their recent jump. Intermediate-term bond yields, around 2%, still barely compensate for current inflation.
Inflation and Oil Price, 5 Years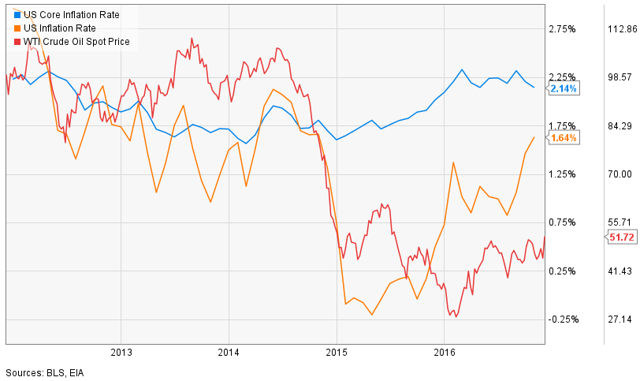 And inflation will likely rise in the coming months. It's only a matter of time, in my view, before total CPI rises to core inflation (2.1%). The rationale remains unchanged since my previous articles: energy prices are the most important driver. In addition, President-elect Trump's proposed pro-growth policies are viewed as inflationary.
So TIPS, with their automatic inflation protection, seem like a great solution, right? Yes and no - the benefit comes with unique risks. Let us take a look at their previous large declines.
Price Performance of TIPS
Despite their floating-rate nature, TIPS prices react to nominal Treasury yields in a similar way to nominal bonds. Their prices are inverse to yields. TIPS monthly correlation to the Barclays U.S. Aggregate index (AGG, BND) is fairly high at 0.76.
TIPS Total Return vs. 10-Year Treasury Yield, 2004-2016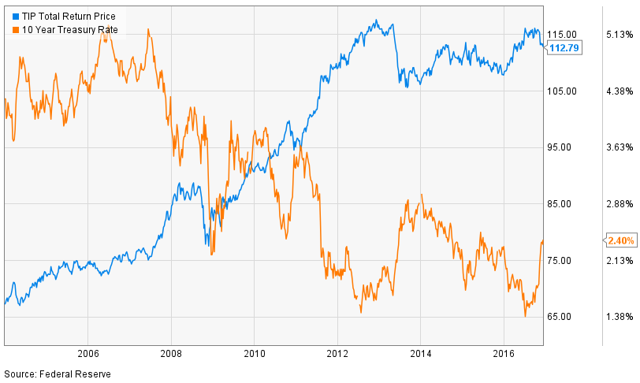 As you can see on the chart above, TIPS dropped by about 10% during the 2013 "taper tantrum," and their total return is yet to recover to previous peak. As interest rates rose this quarter, TIPS prices dropped.
TIPS vs. CPI Inflation, 2004-2016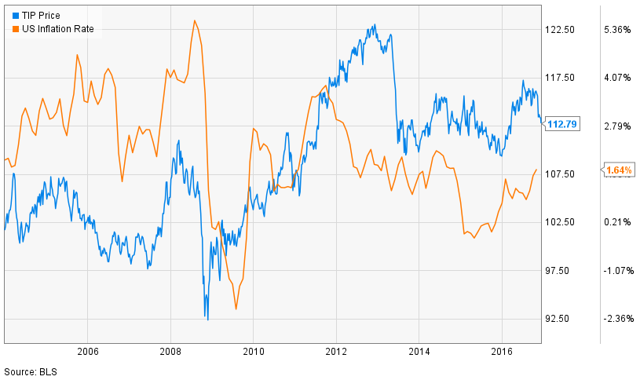 You can see here that there is some correlation with inflation. This turned out to be deadly for TIPS in 2008 as inflation plummeted - the price dropped by 16% from peak to trough in 2008, even though nominal Treasuries gained in that period.
TIPS vs. Real 10Y Yield, 2004-2016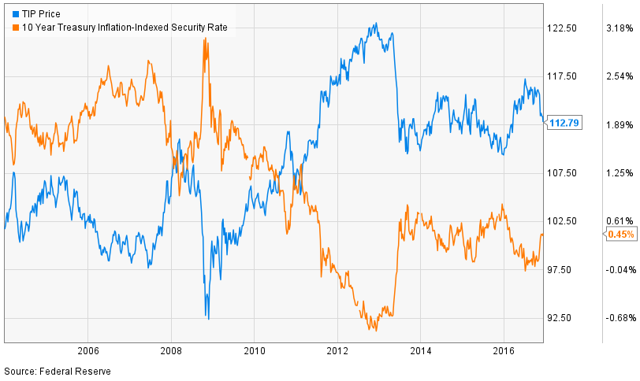 Lastly, we can view these securities as providing income equal to CPI inflation, plus real yield over inflation. However, this real yield varied widely, from 2.5% to -0.7% in the past 12 years. In retrospect, it was a bad idea to invest at negative real yield. Even though you missed part of the rally in 2012, it was more then justified by avoiding the 2013 plunge.
When To Invest
To active investors (meaning, those not satisfied with buy-and-hold approach), entry and exit points are very important. If you agree that interest rates will rise a bit higher in the short term, as I described most recently here, then the price may fall a bit more. But rising inflation provides support, so TIPS price drop may not be as steep as it was in 2013 for the same change in nominal yield. Our models that incorporate the factors above tell us that we are getting close - please stay tuned for updates.
Here are the tree most popular exchange-traded products that invest in TIPS:
iShares TIPS Bond ETF (NYSEARCA:TIP)
Schwab US TIPS ETF (NYSEARCA:SCHP)
SPDR Blmbg Barclays TIPS ETF (NYSEARCA:IPE)
They all mimic the same underlying asset class, so their performance is very similar: about +4.3% YTD, -3% QTD. TIP is the giant among the tree, but comes at a 20 basis-point fee. The Schwab product is cost-effective at 7 bps, and additional advantage to Schwab brokerage clients is commission-free trading.
Disclosure: I/we have no positions in any stocks mentioned, and no plans to initiate any positions within the next 72 hours. I wrote this article myself, and it expresses my own opinions. I am not receiving compensation for it. I have no business relationship with any company whose stock is mentioned in this article.
Additional disclosure: oman Chuyan is the president and general partner of Model Capital Management LLC, a Registered Investment Adviser. This article is for informational purposes only. There are risks involved in investing, including loss of principal. Roman Chuyan makes no explicit or implicit guarantee with respect to performance or the outcome of any investment or projections made by him or Model Capital Management LLC. There is no guarantee that the goals of the strategies discussed in this article will be met. Information or opinions expressed may change without notice, and should not be considered recommendations to buy or sell any security.