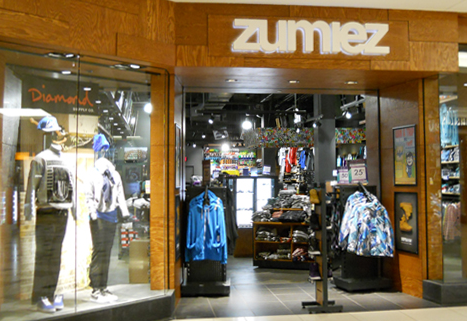 Zumiez (NASDAQ:ZUMZ) has no doubt been on a tear this year. In a period marked by weak sales momentum and shrinking margins for apparel retailers, Zumiez has bucked the trend. Shareholders have been rewarded for its outperformance, and while I was rather cautious on Zumiez based upon the valuation a couple of months ago, the stock has pushed higher once more off of a stellar Q3 report. With momentum improving despite a terrible environment for mall retailers, it seems my valuation call may have been wrong, but does the rally have legs?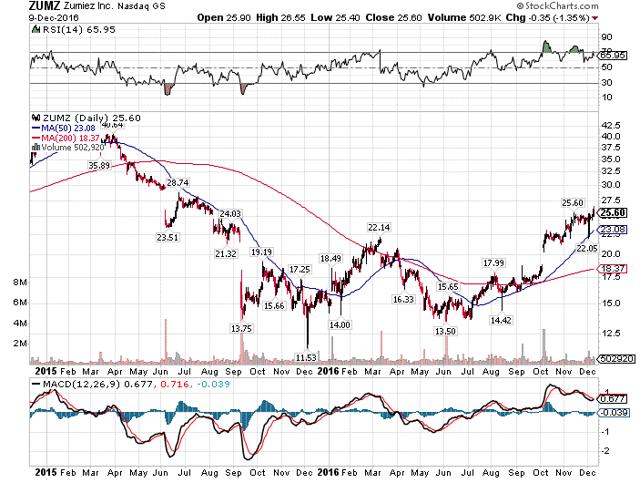 Total sales were up 8.4% in Q3 as Zumiez continues to grow its footprint. But more importantly, comp sales were up a robust 4% in Q3 in what amounts to a blistering hot result. Mall retailers and apparel retailers have been struggling this year as consumers have pulled back on spending. Zumiez fits into both of those categories and thus, one would expect it to struggle as well. But Q3 and the early read on Q4 would suggest otherwise. The improvement in comps comes on top of a gigantic loss in last year's Q3 of 7.3% so the two-year stacked number is still tough. But right now, I don't think anyone cares; Zumiez crushed it in Q3.
Further, management said that momentum picked up through the end of the quarter, which is congruent with the 5.7% gain reported for November comp sales. Zumiez is one of the best performing mall/apparel retailers in the entire market in Q3, and with the sizable gain in November, it seems the good times are still rolling. This is a hugely important development and Zumiez should be enormously proud of what it has accomplished in such a tough environment. And of course, my bearish call didn't include a 4% comp sales gain for Q3 so I was very surprised indeed.
Curiously, the strength in comp sales didn't translate into higher margins. Gross margins were up 10 bps and SG&A costs were flat, meaning that operating margins rose 10 bps. While that's fine, I would have thought a blockbuster comp sales result would have produced higher margins on both ends. Rising labor costs are a problem for retailers so the fact that they were flat in Q3 is a bit of a moral victory, but that's the extent of it. If operating margins don't expand, it will be difficult for Zumiez to keep up with investor expectations.
Speaking of expectations, Zumiez is seen growing EPS by 18% next year. That's a huge growth expectation and, in particular, in light of the fact that earnings are going to fall this year. Sales are expected to rebound to 6% growth next year, implying continuation of a very young trend in comp sales will continue. That may be the case but let's keep in mind that the first half of the year wasn't very good for Zumiez in terms of sales or margins and that its strength is very recent. Assuming higher comps are here to stay because of one good quarter isn't something I'm willing to do.
In addition, slightly higher operating margins are also new for Zumiez this year, and while the chain is getting hot at the right time - heading into Christmas - we are still dealing with one good quarter and two tough ones. Again, 18% EPS growth assumes some fairly substantial margin expansion for next year, and while it is possible, analysts are expecting a lot to be sure. Building in that kind of growth for a chain that is just finding its stride seems somewhat imprudent to me. After all, Zumiez right now is more of a turnaround story than an established winner.
And with the stock going for 22.9 times next year's earnings, it is hardly cheap. The chart looks very strong indeed with the exception of waning buying momentum, but otherwise, it looks quite bullish. I just think that at its highs and a lofty valuation, Zumiez is getting ahead of the fundamentals. Let's keep in mind that labor costs are still going to rise into next year and that the apparel and mall sectors of retail are still terrible. Zumiez bucked the trend in Q3, but I'm not yet willing to extrapolate that out into next year. If you've been long, well done, but there are many retailers out there that are far cheaper than Zumiez with much more achievable expectations for 2017.
Disclosure: I/we have no positions in any stocks mentioned, and no plans to initiate any positions within the next 72 hours. I wrote this article myself, and it expresses my own opinions. I am not receiving compensation for it (other than from Seeking Alpha). I have no business relationship with any company whose stock is mentioned in this article.