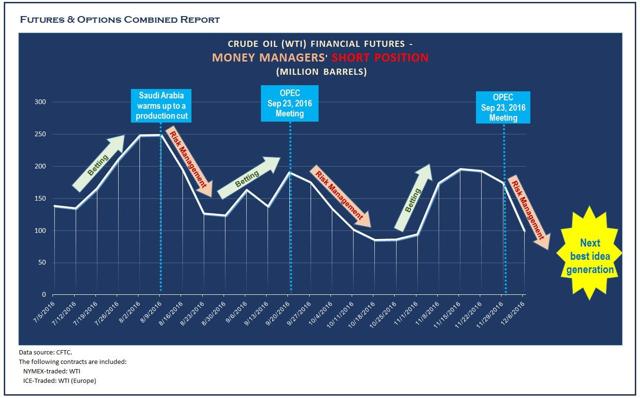 In my previous weekly update, I highlighted a large short exposure that hedge funds carried going into the November 30 OPEC meeting and argued that a significant re-positioning was likely to follow. The latest Commitments of Traders report by the CFTC indeed shows a rush by hedge funds to liquidate their short exposure as bets on OPEC's failure proved miscalculated.
As shown on the graph above, Money Managers' aggregate short position in WTI futures-plus-options dropped by a significant ~74 million barrels during the week ending December 6, or 42%, to 100 million barrels. (Among the Money Manager category, directional short positions are often carried by hedge funds which, in contrast to many other investment vehicles, tend to have flexible investment mandates.)
On the other hand, the aggregate long position in futures-plus-options increased only moderately during the week, by just 12 million barrels in aggregate, and stood at 376 barrels as of December 6. (The long position is dominated by commodity investment pools and other "long only" investment vehicles but also includes hedge funds' directional long positions.)
The rapid short liquidation by hedge funds confirms that the outcome of the meeting in Vienna caught many market participants by surprise. As a reminder, the five weeks preceding the OPEC meeting were marked by a rapid increase in Money Managers' aggregate short position in WTI futures-plus-options, only to be followed by a liquidation after the meeting.
Given the rapid pace of position adjustment, Money Managers' re-positioning is likely already reflected, in most part, in the futures prices. Short position liquidation will likely have run its course within a week and at this point may no longer be a major tailwind for oil prices.
At the same time, it appears that skeptical views with regard to an upturn in oil prices remain quite strong in the market, OPEC's agreement in Vienna notwithstanding.
The CFTC data illustrates that hedge funds' high-cost business model does not always produce winning insights or low-risk investment decisions.
While nothing in the OPEC world can be taken for granted, the outcome of the Vienna meeting appeared reasonably predictable and well communicated to the market by OPEC leaders. In multiple posts starting in August, Zeits OIL ANALYTICS has highlighted for its subscribers important changes in the OPEC process, as compared to the previous unsuccessful round of negotiations in early 2016. Those changes predicated the success of the initiative in November. Please note that the OIL ANALYTICS not only correctly anticipated the actual outcome of the November meeting, but had a fairly accurate granular read with regard to the agreement's specific details and context. The following posts in Seeking Alpha's public forum are examples of the "OPEC watch" that proved to be mostly on target: ten days prior, a week prior, three days prior, one day prior, and several hours prior to the OPEC meeting, just to provide some examples.
In this context, the rapid growth of short exposure immediately prior to the meeting was quite surprising and, in retrospect, appears to reflect both weak information analysis and high-risk betting by some large funds. On the other hand, the quick short liquidation highlights the strength of the hedge fund business model as it relates to the ability to react quickly to market developments and pro-active stop-loss management.
Futures-Only vs. Futures-plus-Options
In addition to reporting traders' positions in commodity futures, exchanges calculate traders' combined futures and options positions using delta factors. Long-call and short-put open interest are converted to long futures-equivalent open interest. Likewise, short-call and long-put open interest are converted to short futures-equivalent open interest. A trader's long and short futures-equivalent positions are added to the trader's long and short futures positions to give "combined-long" and "combined-short" positions.
In this review, my primary focus is on tracking changes in combined futures and options positions by traders, as options are an important and often material component of risk-taking (the combined futures and options charts in this note have a dark blue background). For those readers who are more used to tracking the CFTC's futures-only data, I have included a section that breaks out the futures-only positions by key trader category (the charts in that section have a light blue background).
I should note that excluding options does not change the recent directional trends observed in the futures-plus-options data.
Data Summary - Week Ended December 6, 2016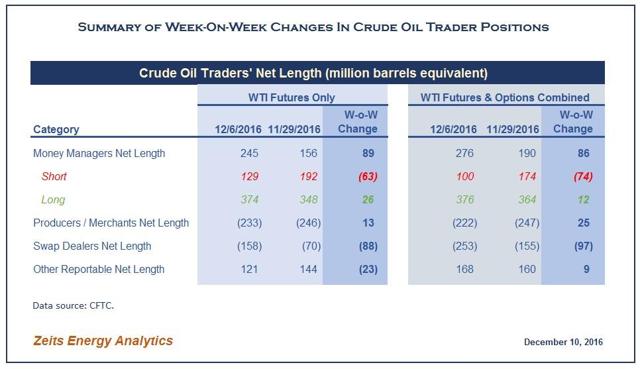 Combined Futures & Options Positions By Trader Category
Charts in this section depict changes in futures-plus-options positions for the following commodity trader categories: Money Managers, Producers & Merchants, Swap Dealers, and Other Reportables. Definitions of trader categories are provided in Appendix at the end of this note.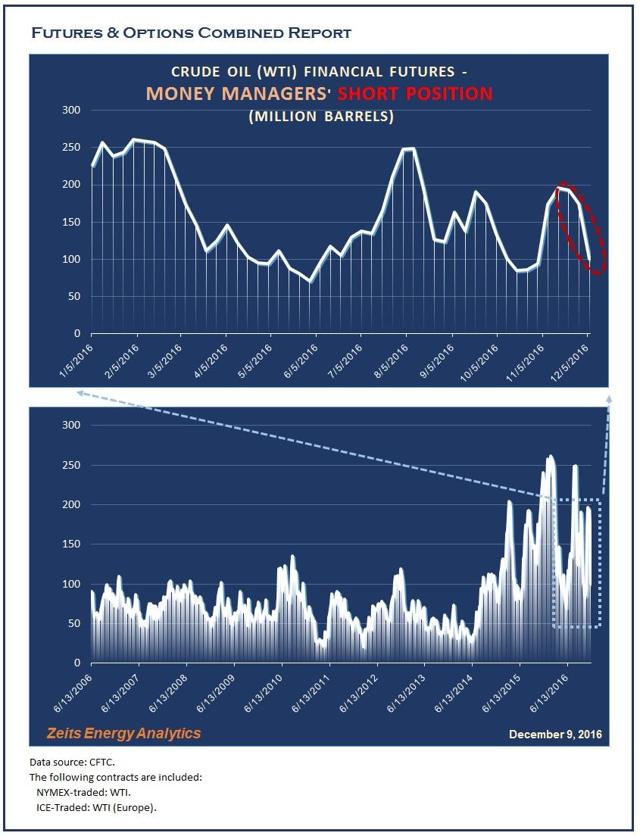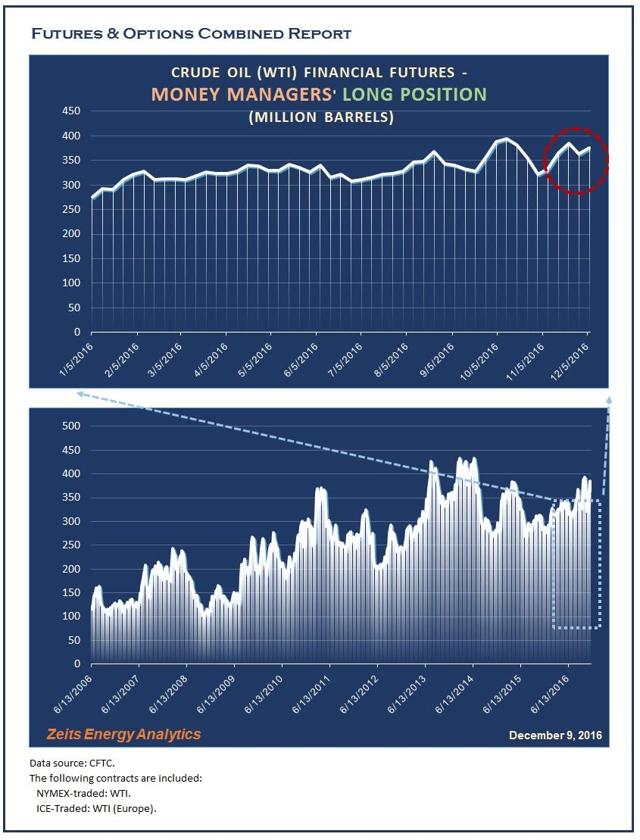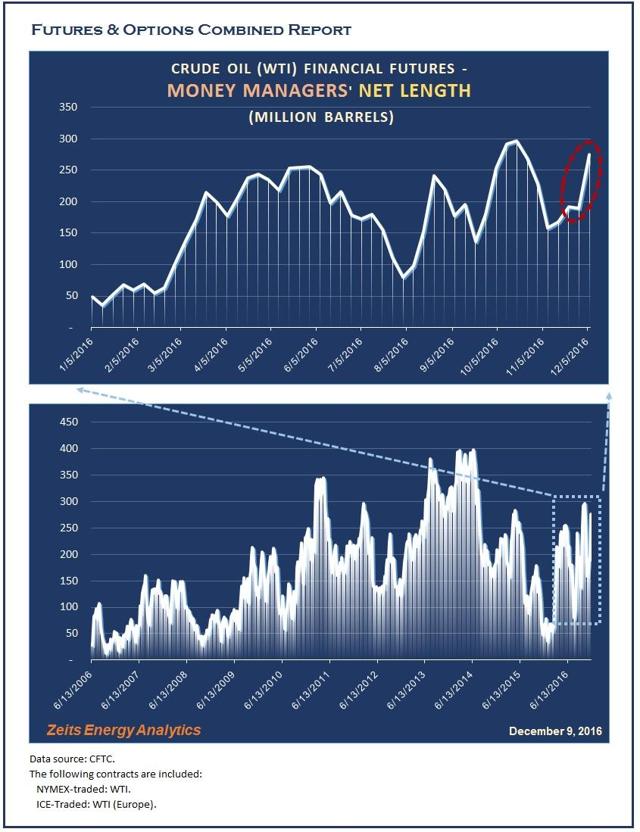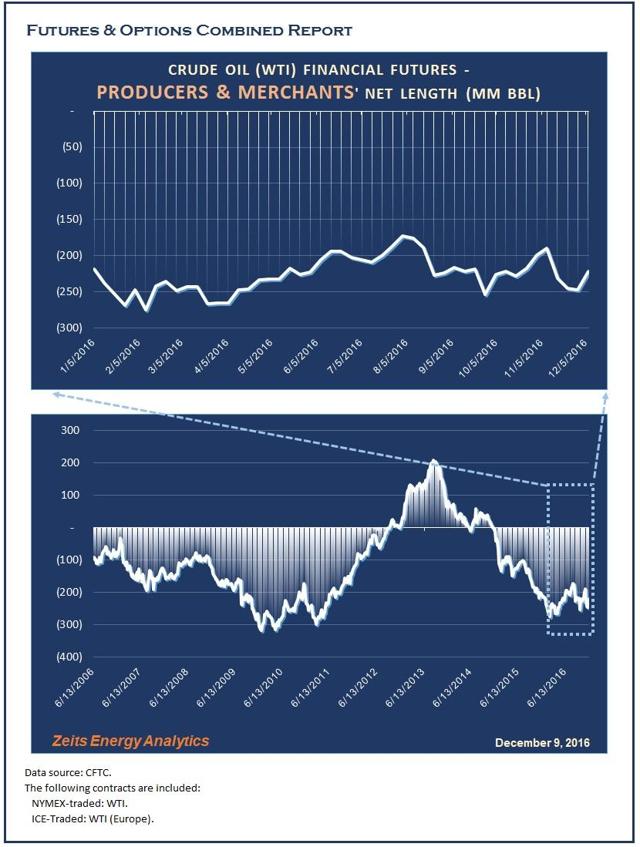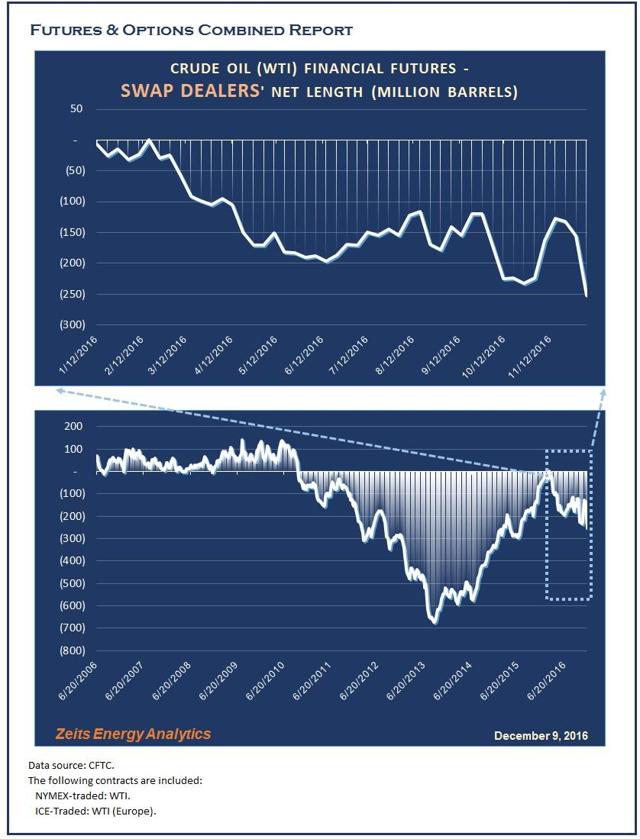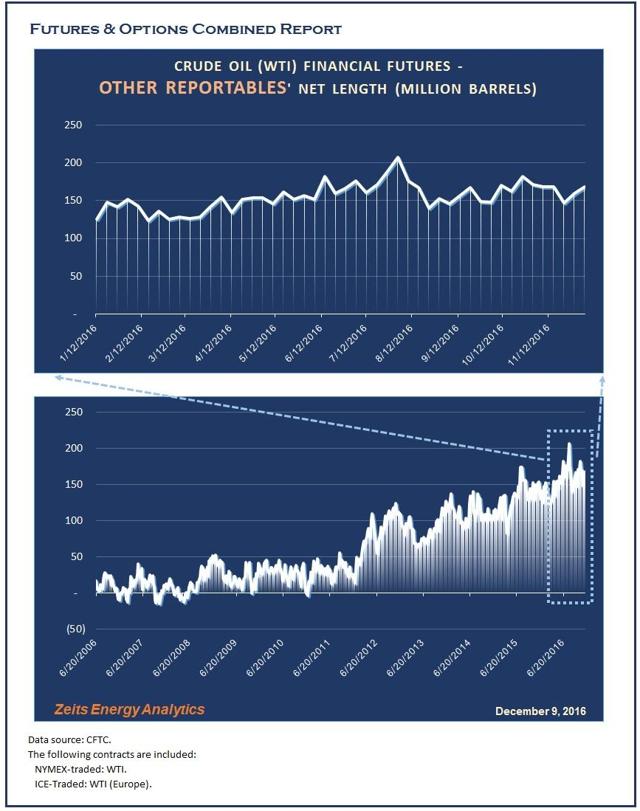 Futures-Only Positions By Trader Category
Charts in this section break out futures-only positions for the following commodity trader categories: Money Managers, Producers & Merchants, Swap Dealers and Other Reportables.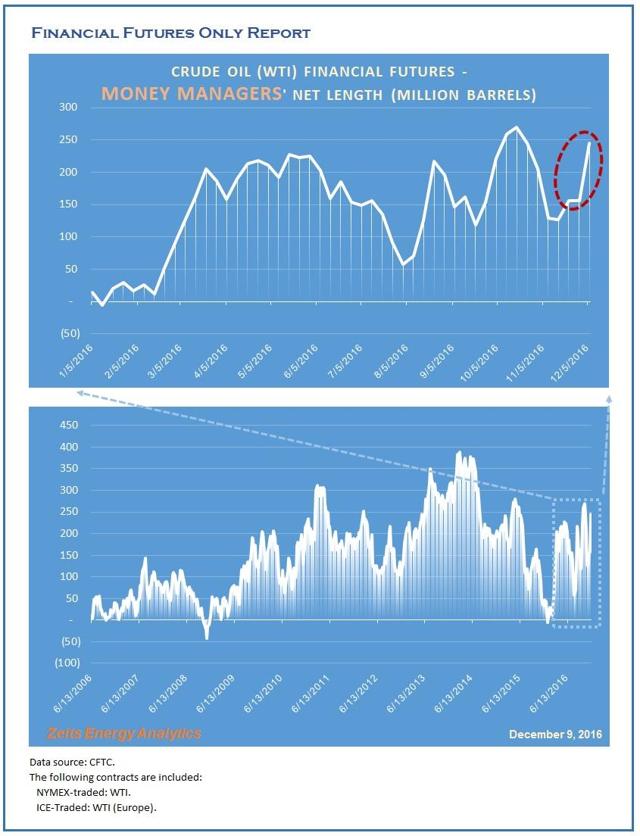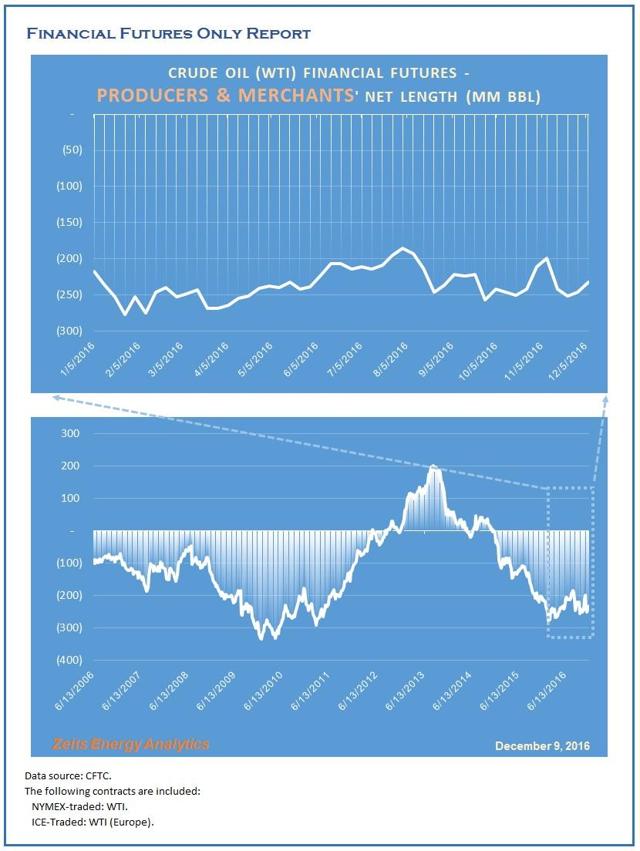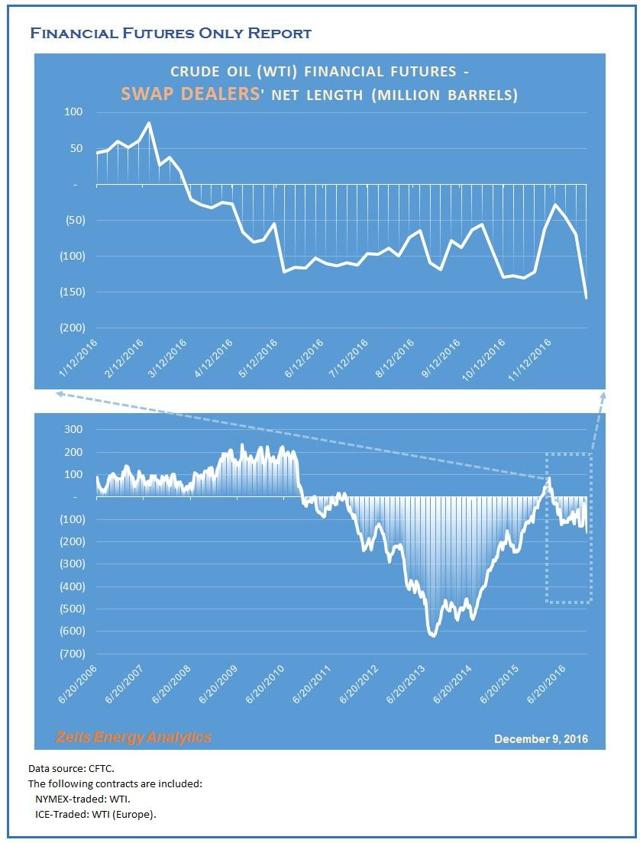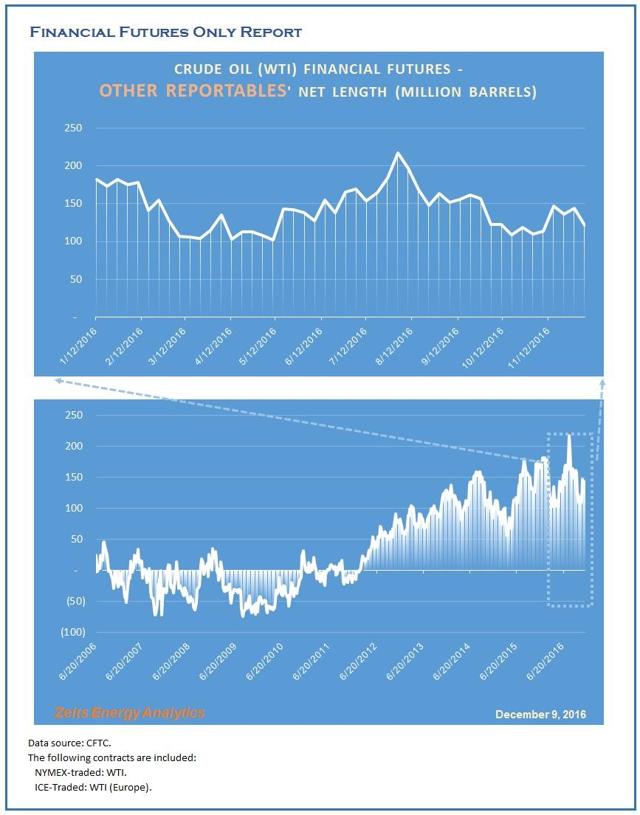 Appendix: Commodity Trader Categories
CFTC collects data on large traders' positions in commodity futures and options on a daily basis from clearing members, futures commission merchants and foreign brokers. The aggregate of all traders' positions reported to the CFTC usually represents 70-90% of the total open interest in any given market. Select data are made public on a weekly basis.
The four categories of commodity traders discussed in the article above are:
Money Managers. A "money manager" is a trader engaged in managing and conducting organized futures trading on behalf of clients. This category includes registered commodity trading advisors (CTA); registered commodity pool operators (CPO); or unregistered funds ("hedge funds").
Producers/Merchants/Processors/Users. A "producer/merchant/processor/user" is an entity that predominantly engages in the production, processing, packing or handling of a physical commodity and uses the futures markets to manage or hedge risks associated with those activities.
Swap Dealers. A "swap dealer" is an entity that deals primarily in swaps for a commodity and uses the futures markets to manage or hedge the risk associated with those swaps transactions. The swap dealer's counterparties may be speculative traders, like hedge funds or traditional commercial clients that are managing risk arising from their dealings in the physical commodity.
Other Reportables. Every other reportable trader that is not placed into one of the other three categories is placed into the "Other Reportables" category.
The CFTC reviews information provided by large traders to determine the category in each specific case.
Please note that the aggregate of all long open interest is equal to the aggregate of all short open interest.
For in-depth analysis of the oil and natural gas industry and commodity fundamentals, please consider subscribing to Zeits OIL ANALYTICS.
ETFs: USO, OIL, UWTI, UCO, DWTI, SCO, BNO, DBO, DTO, UGA, USL, DNO, OLO, UHN, SZO, OLEM, OILK, OILX
Disclaimer: Opinions expressed herein by the author are not an investment recommendation and are not meant to be relied upon in investment decisions. The author is not acting in an investment, tax, legal or any other advisory capacity. This is not an investment research report. The author's opinions expressed herein cannot be a substitute for comprehensive investment analysis. Any analysis presented herein is illustrative in nature, limited in scope, based on an incomplete set of information and has limitations to its accuracy. The author recommends that potential and existing investors conduct thorough investment research of their own and consult a qualified investment adviser. The information upon which this material is based was obtained from sources believed to be reliable, but has not been independently verified. Therefore, the author cannot guarantee its accuracy. Any opinions or estimates constitute the author's best judgment as of the date of publication, and are subject to change without notice. The author explicitly disclaims any liability that may arise from the use of this material.
Disclosure: I/we have no positions in any stocks mentioned, and no plans to initiate any positions within the next 72 hours. I wrote this article myself, and it expresses my own opinions. I am not receiving compensation for it (other than from Seeking Alpha). I have no business relationship with any company whose stock is mentioned in this article.