Nvidia (NASDAQ:NVDA) is set to witness solid growth in the GPU segment in the long run on the back of growth in demand for PC gaming, as I had explained in a previous article. But, apart from this segment, Nvidia is making rapid progress as far as the automotive business is concerned, driven by the increasing nature of connectivity in cars and higher installation of self-driving features.
More specifically, Nvidia gets only 6% of its revenue from the automotive segment at present, but the good news is that it has witnessed rapid growth over here. Last quarter, for instance, Nvidia's automotive business was up 7% quarter over quarter and 61% year over year.
This impressive growth in Nvidia's automotive segment is a result of an increase in autonomous driving features in today's cars, which has led to an increase in shipments of the company's autonomous development platform. As a result, Nvidia has witnessed impressive automotive revenue growth this year, as shown below: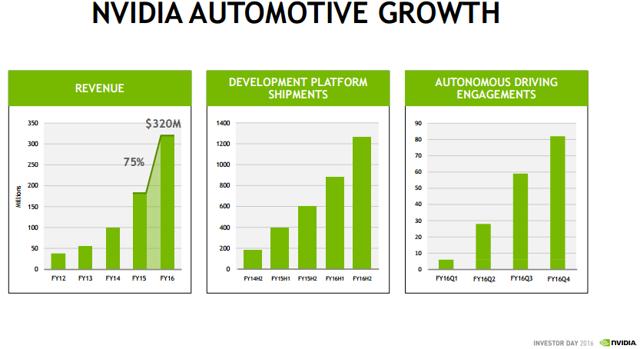 Source: Nvidia
The good news is that Nvidia will continue to witness substantial growth in the automotive segment in the long run as the market size expands. Let's see how.
The automotive opportunity is huge
In the last four quarters, Nvidia has generated total revenue of just over $6.1 billion. Of this $6 billion, the automotive segment has contributed $452 million in revenue. This means that the auto segment has accounted for over 7% of its total revenue. However, looking ahead, Nvidia sees a huge end-market in the automotive segment that it can tap, as shown in the chart below: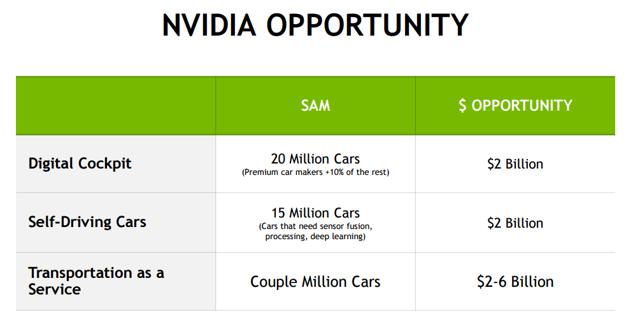 Source: Nvidia
As shown in the chart above, the automotive market presents a serviceable addressable market of $8-$10 billion for Nvidia going forward. Thus, the total market size that Nvidia can tap in the auto segment is more than the revenue generated by the company in the last twelve months, which is why it is safe to say that automotive is the company's next big growth play.
This is the reason why Nvidia has been focused on driving innovation in this segment, apart from enhancing its customer relationships with key players. Therefore, it won't be surprising if the company's automotive revenue continues to grow at robust rates in the future as well as the shipments of its automotive platform increase. The good part is that Nvidia has made good progress as far as increasing the reach of its automotive platform in major carmakers is concerned as this will allow it to tap the improving end-market.
What Nvidia is doing to tap automotive growth?
At present, Nvidia counts 21 automakers as its clients and is the tier 1 supplier of connected solutions to 16 of them. One of its most important customers is Tesla Motors (NASDAQ:TSLA), which recently announced that Nvidia's DRIVE PX 2 platform will now be used to power the AutoPilot system in all of Tesla's vehicles, including the upcoming model 3.
Nvidia has built the DRIVE PX2 on an artificial intelligence platform that uses deep learning to understand the car's surroundings and make self-driving decisions. In fact, Nvidia is of the opinion that the DRIVE PX2 supercomputer can provide "full self-driving capability" to Tesla's cars using the car maker's own system. According to an Nvidia blog:
"The computer delivers more than 40 times the processing power of the previous system. It runs a Tesla-developed neural net for vision, sonar, and radar processing."
Thus, Nvidia's supercomputer plays well with Tesla's software, which is why it is not surprising to see the company using the platform across all its cars. The deployment of Nvidia's supercomputer across all of Tesla's cars is great news for investors since it indicates a vote of confidence in the company's self-driving platform. Additionally, Nvidia will be able to benefit from the strong sales growth of Tesla's cars.
For instance, after delivering 50,000 cars last year, Tesla forecasts sales of 80,000-90,000 cars this year, which is a jump of 70% at the mid-point. What's more, in two years, Tesla expects to produce 500,000 cars annually and aims to sell 1 million cars a year by 2020. This rapid growth in Tesla's sales will be driven by the introduction of the Model 3, which is its budget EV priced at $35,000 and is expected to hit the market late in 2017.
Tesla has already racked up over 400,000 bookings for the Model 3, which means that Nvidia's automotive platform shipments will hit a higher gear when sales of the car begin. Thus, Nvidia has tied up with the right partner to take advantage of the expected growth in the automotive segment.
Conclusion
Nvidia has a multi-billion dollar opportunity in the automotive segment and the company is making the right moves to tap the same. As such, it will be a good idea for investors to consider remaining invested in Nvidia due to the massive opportunity in this business as it can take its growth to another level.
Disclosure: I/we have no positions in any stocks mentioned, and no plans to initiate any positions within the next 72 hours.
I wrote this article myself, and it expresses my own opinions. I am not receiving compensation for it (other than from Seeking Alpha). I have no business relationship with any company whose stock is mentioned in this article.