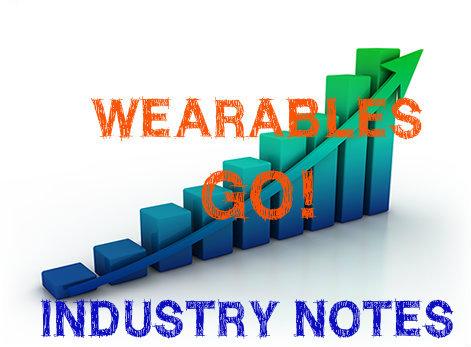 We may just now be starting to emerge from the early days of the wearables industry with many decades of growth ahead. 2016 marked a strong year of progress for this young category with innovation, new products, market development, IPOs and M&A activity. 2017 looks to be an even stronger year for wearables with the advent of continued corporate activity and new/recent products gaining market share. Progress is occurring for the wearables industry on many levels as the stage is being set for a promising future. The number of publicly traded companies who have established a presence in wearables includes Apple (NASDAQ: AAPL), Alphabet (NASDAQ: GOOG) (NASDAQ: GOOGL), Microsoft (NASDAQ: MSFT) and Facebook (NASDAQ: FB), to name just a few. New IPOs such as the upcoming Snap (PRIVATE: CHAT) IPO will continue to bolster the ranks of the growing wearables category.
Wearables devices and their accompanying connected software ecosystems are defined by the ability to provide solutions to problems in numerous, specific ways. The solutions provided by these new technologies often increase efficiencies, reduce costs, and/or provide the means to accomplish tasks that were previously out of reach. This definition of wearables may sound familiar to stock market veterans who witnessed the advent of the personal computer and The Internet technology revolutions. Both of those previous technology revolutions were major catalysts for significant, multi-year, bull markets in stocks. The wearables revolution is gaining momentum now and investors have been taking notice.
How significant could the wearables industry become in their impact upon the investment and business landscapes? Goldman Sachs (NYSE: GS) and visionary business leaders, such as Facebook's Zuckerberg believe that wearables devices in AR/VR could become the next platform for computing and communications.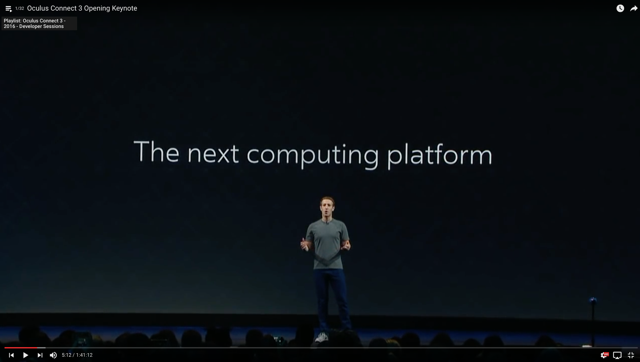 The implications for both opportunity and disruption abound as wearables are already making inroads to the replacement of older, less efficient, more expensive technologies. The healthcare industry is a case in point as mHealth innovation has already begun to disrupt and improve the industry's ability to achieve higher levels of patient service and financial efficiencies. Again, Goldman Sachs is a thought leader in seeing the future of wearables in mHealth. Simple is often good when communicating complicated macro trends. The following basic graphic illustrates Goldman's vision for the emergence of mHealth wearables in the healthcare industry: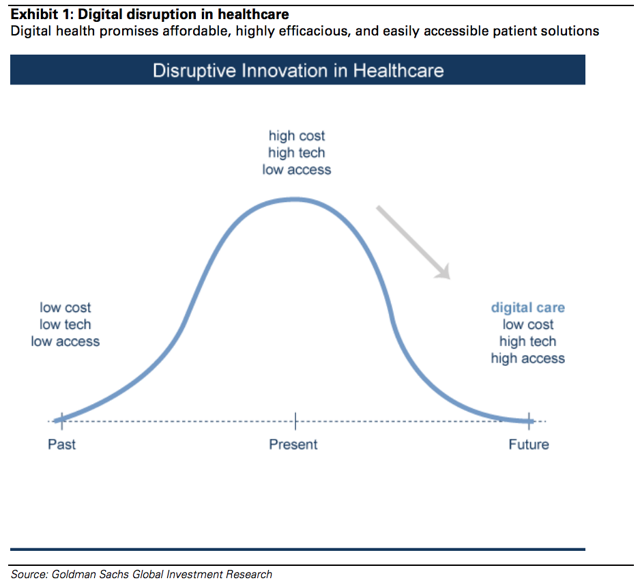 Wearables are now beginning to deliver a range of innovations that could make this nascent category concurrently disruptive and ascendant in computing, communications and mHealth. This is a far-ranging and significant proposition for a young wearables industry. For those of us who have grown up as both consumers and investors of the industry leaders in past technology revolutions, we understand the potential that exists for the creation of wealth via the stocks leading these events. Wearables represent the next classic technology wave that may revolutionize industries and could drive the prices of wearables-related stocks higher in the future. Only time will tell if these events will occur, but prescient investors and forward-looking business people are giving this young category their full attention now.
Jane Edmondson, CEO and Co-Founder of EQM Indexes, is one such visionary. EQM Indexes launched the Wearables Index of 54 stocks in February of 2016. The index is comprised of 35 U.S. holdings and 19 non-U.S. holdings.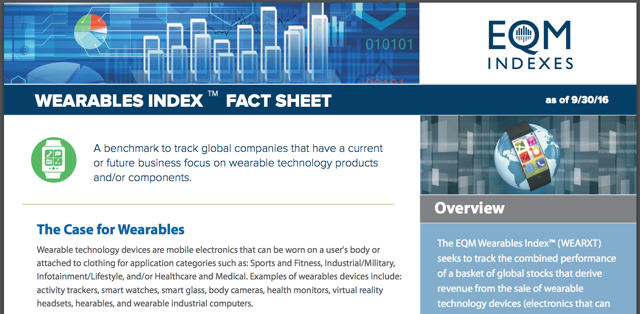 The first wearables index that was launched by EQM Indexes in early 2016 has become the basis for the first wearables ETF launched on December 9, 2016. Exchange Traded Concepts has provided the WEAR ETF traded for the first time on this date on the BATS exchange under the ticker WEAR. The new wearables ETF will track the wearables index established by EQM Indexes.
Wearables Go! had the opportunity to communicate with CEO Edmondson of EQM Indexes about her vision for wearables as she stated:
"What I would like to highlight is how broad the opportunity set is in the Wearables category. It spans everything from fitness bands and watches to virtual reality headsets, hearables, body cameras, and medical devices such as heart and glucose monitors. All of these areas are represented in our Index and now in this new ETF.

Wearable devices are the gateway to the Internet of Things, offering untethered access to a whole host of applications and use cases."
CEO Edmondson's views on wearables point to the formation of some consensus with the research reports linked above in this article from Goldman Sachs. In addition, other tech leaders have confirmed that wearables are becoming an increasingly important emerging opportunity. The launch of the first wearables index by EQM Indexes and now the first wearables ETF both in 2016 are a pair of milestones for the industry.
As investment in this first wearables ETF increases, this could result in greater inflows of capital for the top holdings in the fund. This could be meaningful for some of the smaller cap companies on the list of holdings in the EQM Index below: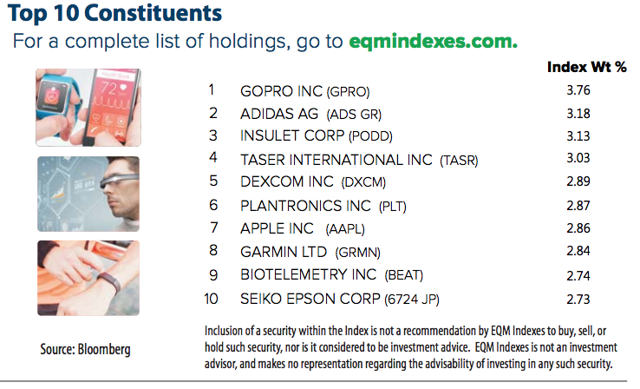 While the development of new technologies often proceeds at an incremental pace, occasionally we experience innovations that move the industry forward at a faster pace. We should be encouraged to see tech industry titans like Apple, Google, Microsoft and others becoming increasingly involved in the development of wearables devices and software. And small-cap size companies that are pure plays in wearables like Fitbit (NYSE: FIT), iRhythm Technologies (NASDAQ: IRTC) and BioTelemetry (NASDAQ: BEAT) can be expected to innovate and bring new products to their respective markets. The universe of wearables stocks continues to grow and the marketplace for wearables products continues to expand. The graphic below illustrates the forecast for global VR growth: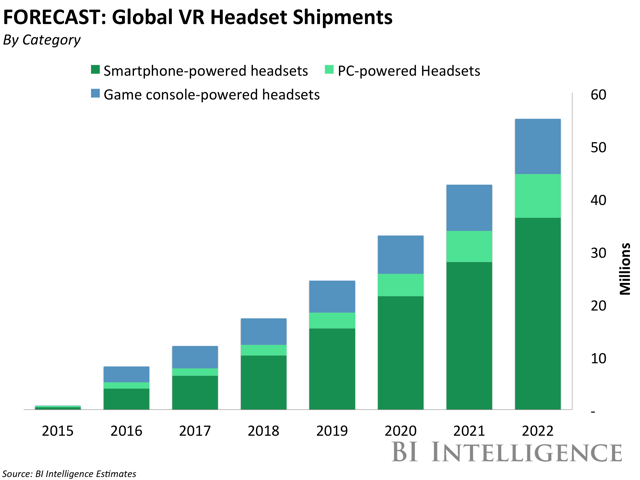 Conclusion: Wearables are an increasingly vibrant category experiencing a growing momentum in the marketplace and in innovation. Investors have taken notice as it is becoming apparent that the application of wearables offers increased efficiencies and reduced costs. These measures of a product's viability can determine the rate of consumer uptake, future investment in new R&D and appreciation in the stock price of publicly traded companies.
As a result of the work by CEO Edmondson's EQM Indexes in establishing the first wearables index earlier in 2016, we now have the wearables category's first ETF. The WEAR ETF launched and began trading this past Friday December 9, 2016. These events are milestones in the development of a new investment category.
Wearables Go! and Trader's Idea Flow provides coverage of the wearables industry for our subscribers to our SA Marketplace service. We are currently offering a free two week trial of Wearables Go! and Trader's Idea Flow. Join us.
Disclosure: I am/we are long AAPL, FIT, IRTC, BEAT, INVN. I wrote this article myself, and it expresses my own opinions. I am not receiving compensation for it (other than from Seeking Alpha). I have no business relationship with any company whose stock is mentioned in this article.
Editor's Note: This article covers one or more microcap stocks. Please be aware of the risks associated with these stocks.