Israeli security company Magal Security Systems (NASDAQ:MAGS) has seen solid gains since the surprising win by Donald Trump in the U.S. presidential election - and as highlighted below on a jump in volume: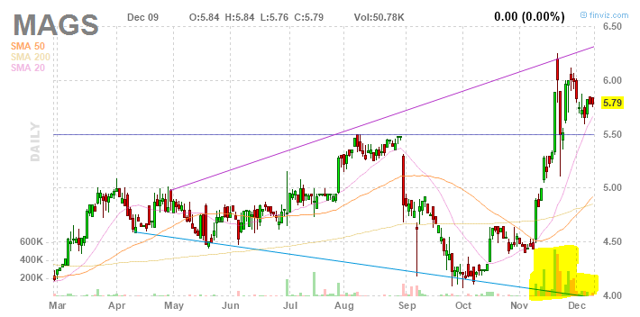 Source: finviz.com
There is some logic to the gains. Trump's campaign promise of building a wall on the border between the U.S. and Mexico provides a potential opportunity for MAGS, which has supplied "smart fence" technology worldwide, most notably on the Gaza Strip. Magal added a solid Q3 report late last month - though the market shrugged at the news - and a rights offering executed in October built up dry powder for M&A. A new CEO was hired last year from larger Israeli defense provider Elbit Systems (NASDAQ:ESLT) to continue a new strategy to diversify away from the lumpy project business by adding sources of stable, recurring, product revenue.
So the rally in MAGS isn't coming from unsupportable optimism based on some spurious connection to post-election policy. This isn't an "Ebola stock" or some other crazy short-term bubble; there's a real story here. The problem is that most of that story has been around for a while: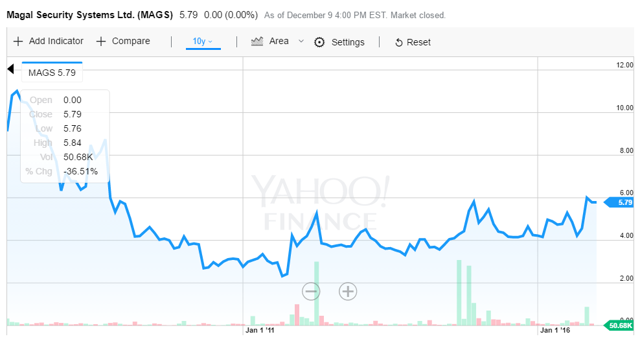 Source: Yahoo Finance
MAGS is right near an eight-year high, but overall since its 1993 IPO, shareholder returns have essentially been non-existent. Magal simply hasn't been able to generate consistent sales and profits over the long term, even discounting the inherent lumpiness in a business sustained mostly by large profits: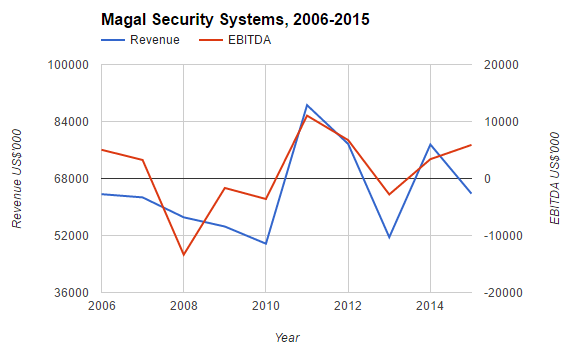 Source: author from MAGS filings; EBITDA unadjusted
Again, there are legitimate drivers here beyond the wall: interesting new products (including a pipeline leak detection system), increasing R&D, and what should be a relatively major acquisition in 2017. Magal isn't terribly expensive backing out losses in a cybersecurity business; a current enterprise value around $85 million means new projects - whether in the U.S. or overseas - can have a material effect.
At the moment, though, I'm not quite confident enough in the strategy going forward, nor do I see any real drivers in the mid-term. The bull case here requires a "this time is different" mentality, and while it is different, somewhat, it may not be different enough - and at the very least, it's not all that different yet.
Magal's Business - Now And Going Forward
The core of Magal's business is perimeter security, with the company offering what it refers to as PIDS (Perimeter Intrusion Detection Systems). Per MAGS' 20-F, two third-party firms named Magal as the industry leader (albeit in a small and very fragmented space), and the company is best known for "smart perimeter systems" installed along large stretches of Israel's borders, including on the Gaza Strip. Magal's products include barriers, sensors, cameras, and a relatively new "RoboGuard". The latter product is a robot with cameras and an intercom that patrols the area around the fence by riding on an elevated rail: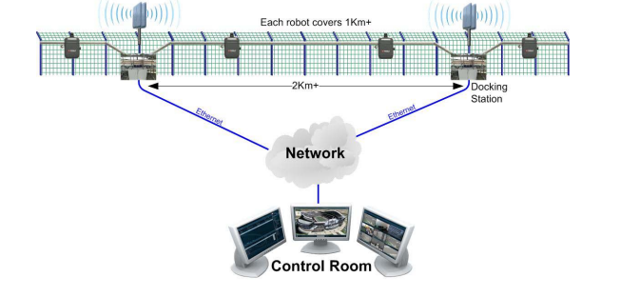 Source: Magal
It's a lumpy business, obviously; there is maintenance revenue (Israel's Ministry of Defense has been responsible for 13-15% of total sales the last few years), but larger, integrated orders tend to track tenders and even annual results can be impacted by timing. Perimeter products are used not just on borders, but in ports - Magal won a $21 million order in Mombasa, Kenya, in 2010 - and prisons: per the 20-F, Magal products have been installed in over 600 correctional facilities in the U.S. and worldwide.
That lumpiness has been a bit of an issue, as seen in the revenue chart above, and Magal has made a concerted effort to get project/product sales closer to an even split. CEO Saar Koursh called out the 50/50 share as progress on the Q3 conference call, citing a target proportion of 30/70 project/product, with a larger base of revenue smoothing out results somewhat.
In conjunction with those efforts, Magal is also looking to branch out beyond border and facility fences. A fiber product line has the capability to detect long-range pipeline leaks. A personal alarm system (think LifeAlert for prison guards) saw a small order in Q3, and could drive product revenue increases going forward. And Magal has been active on the M&A front. The company acquired WebSilicon in 2013 (since rebranded as CyberSeal) to add cybersecurity capabilities to its portfolio. In April, Magal acquired Aimetis, which offers software that analyzes IP video, and which can be integrated with Magal's camera offerings in both company-developed projects and third-party sales. A rights offering completed in October raised nearly $24 million, leaving Magal with $45 million in cash (against a market cap, adjusted for the offering, of about $131 million). That cash is intended for further M&A activity, with Koursh saying on the Q3 call that "several targets" were being considered, with the company hoping to make a deal next year.
What's somewhat ironic about the Trump-driven rally is that it comes at the same time Magal's strategy is to diversify away from the border/facility fence business. To be sure, MAGS isn't de-emphasizing that business: Aimetis' capabilities fill in a product gap in overall system capabilities, and at least part of the rationale for that deal was to improve the legacy business. But under a growth strategy detailed in late 2013, Magal also wants to be more than just a "smart fence" company, and it wants to get away from some of the lumpiness driven by that business's reliance on large, one-time projects - projects like, say, a fence along one of the 10 largest continuous borders in the world.
Will This Work?
The strategy does make some sense, and Magal does deserve some credit for at least making a more concerted effort this time around. There's long been a kind of "either fish or cut bait" problem here: R&D spend actually came down in the first half of this decade (falling from ~$5.5 million in 2008 to under $4 million three years later) and S&M spend was driven by commissions, not investments in building out headcount or capabilities. But on the Q3 call, Koursh said the company had almost doubled its headcount in the last three months - including increased muscle in the U.S. behind Canadian-based Aimetis - and R&D spend is up 64% year over year. The latter increase comes from the acquisition, in part, but R&D spend was up 39% in Q1 without Aimetis.
So there's a bull case here even without the US-Mexico wall. Magal is an industry leader in perimeter security and has only improved its capabilities. Current political trends - refugee movements in Africa and the Middle East, an apparent resurgence of nationalism - would seem to support mid-term demand for PSID solutions. (That may be true in the near term as well: Kenya is looking to secure its border with Somalia, an opportunity Magal is "chasing", per Koursh on the Q2 call.) Magal is branching out into newer applications, with a potentially big M&A catalyst coming next year. 1H results were not good, by management's own admission, but the projected back-half improvement did show up in Q3. Overall, there's a clear case that come 2018 or 2019, Magal will bigger, better, smarter, and almost certainly more profitable.
The one major problem I have is that I'm not sure the strategy is quite as attractive as it appears at first glance. Magal wants to "evolve", as Koursh has put it, into a more diversified company focused more on products and services. That sounds like a story heard so often in the small-cap world more broadly - and it's a story that seems to fail more often than it works.
There (admittedly on an anecdotal basis) often seem to be two key traps for companies executing strategies along these lines. The first is whether the "pivot" or "evolution" or however the shift is termed is strategically driven or based on a perceived need to satisfy investors or, at least, improve the perception of the company. Magal's core competencies are in designing and installing perimeter security installations. That's generally a lumpy, project-driven business. Adding personal alarm systems to be sold to those project clients makes sense; adding Aimetis' video capabilities to improve capabilities on that front similarly seems wise.
But that business - the business that Magal is good at, to the point that the stock has received a substantial amount of media coverage in the last few months relative to its size - is lumpy. That's just the way it is. So my concern with the goal of increasing the share of product revenue is whether it's driven by strategic considerations - i.e., benefiting from low customer acquisition costs by selling products to existing customers - or by financial/structural considerations - like a vague unease on the part of managers and shareholders in a business that has huge revenue swings from year to year and even quarter to quarter. Put another way, is the 30/70 project/product goal coming from major opportunities on the product side that can increase revenue 40%+, or is because those round splits sound like a more "stable" business that might help the stock?
Next year's M&A activity will give more color on this topic, but the tone of commentary often has sounded as if Magal simply wants less lumpy results. But that's kind of what shareholders and managers have signed up for - and, by most accounts, Magal at the least is good at that lumpy business. Magal only paid a bit over $4 million for WebSilicon/CyberSeal, but it had to impair those assets a year later. 2015 sales actually were down modestly from 2013, at less than $1.6 million, at a segment operating margin of ~negative 100%.
That leads to the second concern: is Magal really big enough to capture the opportunities it's citing, particularly in a security industry that has myriad Goliaths? The acceleration of spend is somewhat comforting on this point: at least Magal isn't implicitly or explicitly pretending (as too many small-caps seem to) that its products and services are so good as to take down multi-billion-dollar competitors with little in the way of incremental investment. But the cybersecurity step - even if that business did augment existing capabilities - seems a questionable move from that standpoint. $4 million acquisitions aren't going to move the needle in multi-billion dollar industries. Aimetis is 13 years old, in a brutally crowded space, and according to the Q2 call, generates "a few millions of dollars" in annual revenue.
Again, M&A activity next year will give a clearer picture of just what Magal's strategy is: whether it is simply trying to add muscle behind the somewhat narrow niche in which it's become a leader, or whether it has designs on becoming a broader security company. The latter move would concern me; while those expansions often make sense on paper, executives sometimes seem to forget that "broader" quite often implies "undifferentiated". And being small and undifferentiated in the markets Magal is targeted seems a path for MAGS' next eight years to look much like its last eight - at best.
Valuation And Strategy
Admittedly, my opinion may be too pessimistic, a result of throwing the baby out with the swampy small-cap bathwater. Again, there's an intriguing story here, beyond the US-Mexico border - which is important, because I'm skeptical of a border wall being a real driver from a fair value standpoint. I'm skeptical that the GOP will focus on the border; immigration in general seems more a useful way of scoring political points than a key concern for a party which clearly wants to take quick advantage of its control of the White House and Congress.
And MAGS isn't cheap; assuming Q4 results improve sequentially, 2016 EBITDA excluding the losses in Cyber probably comes in at $7.5-$8 million; at Friday's close of $5.79 (and, again, including the impact of the rights offering), the stock trades at 11-12x trailing Adjusted EBITDA despite increasing investment in sales and R&D. There's very much a "heads I win, tails I don't lose much" argument: before the rights offering, 54% of shares were owned by three funds (including Israeli P-E giant FIMI, at ~40%). This likely isn't a company that is going to be able to bleed shareholders dry; if the expansion strategy doesn't work, those institutions might push for a sale of the core PIDS business (Elbit, Koursh's former employer could be the first call) to salvage value.
But I'd like to see this play out a little longer, at least. The fact that Q3 results didn't move the stock might imply that the supply of buyers is relatively limited after high-volume trading since the election; and retail investors might flee if Trump at all implies a change in border strategy. Next year's M&A deal, as noted, will be an important guidepost for the longer-term plans. And barring an announcement relative to the Kenya/Somalia border, I'm not sure I see another upside catalyst for a stock that trades near a multi-year high.
Still, MAGS is a story worth watching - and a stock that isn't simply the beneficiary of knee-jerk, armchair, political analysis. There's a real bull case here, and a strategy to which the company has committed. My largest issue is that I'm not sure I entirely trust either, at least not yet - but a bit more confidence on that front might make me a lot more confident in the stock.
Disclosure: I/we have no positions in any stocks mentioned, and no plans to initiate any positions within the next 72 hours. I wrote this article myself, and it expresses my own opinions. I am not receiving compensation for it (other than from Seeking Alpha). I have no business relationship with any company whose stock is mentioned in this article.
Editor's Note: This article covers one or more microcap stocks. Please be aware of the risks associated with these stocks.