Today Most Factors Favor Emerging Markets
Having looked at the factors that have historically had some influence on emerging market relative returns, where does that leave investors today?
Assuming Europe muddles through, our expectation is that the global economy will experience below-trend growth, but avoid a recession in 2012. In addition, we would also expect most emerging markets to continue to or begin to loosen monetary policy during the first half of 2012, which should in turn lead to a soft landing and accelerating growth in the second half of the year. Looking at a slightly longer-term horizon, 2013 should be a marginally better year for global growth. The IMF recently forecast below-trend global GDP of 3.3% in 2012, but accelerating growth to 3.9% in 2013.
Although global growth is unlikely to provide any tailwind for emerging market stocks in 2012, we believe these stocks will benefit from relatively faster local growth, particularly in the back half of the year. Equally important, our expectation is that if Europe can avoid a crisis, investor sentiment is likely to continue to improve, with an accompanying contraction in credit spreads. As illustrated above, even in the absence of a significant acceleration in global growth, improving sentiment and credit conditions - further supported by easing from the Federal Reserve and the European Central Bank - should be supportive of risky assets.
In addition, emerging market relative valuations started 2012 in a reasonable position. At the end of 2011, the MSCI Emerging Markets Index was trading for approximately 10.6x trailing earnings, versus nearly 13x earnings for the MSCI Developed Markets Index, a discount of approximately 17%. The current discount is in line with the 10-year average and compares favorably to where emerging markets were in the fall of 2010, when they started to underperform developed markets. At that time, EM stocks were trading at a historically small 7% discount to developed markets.
As we've discussed in the past, faster growth and more stable economies suggest that over time the EM discount should gradually erode. That said, the process will take time, as investors slowly become more comfortable with investing in EM stocks. For now, we are more comfortable overweighting EM countries in an environment in which relative valuations are at or below their historical discount. All of which suggests that today's prices offer a reasonable entry point for emerging market equities.
Favor Latin America, Minimize Exposure to Emerging Europe
While we would generally advocate an overweight to emerging markets in 2012, we believe investors can further improve performance by unbundling that exposure into more granular units, i.e., country or regional exposures. Our argument is that while we would expect generally faster economic growth and decelerating inflation from emerging markets, 2012 is likely to be characterized by greater heterogeneity when it comes to regional growth. As such, investors may want to overweight certain segments of the EM space while minimizing exposure to others.
While investors with views on particular EM countries can certainly adopt a country-by-country implementation, for the sake of simplicity - and the fact that most of the significant differences are evident across regional lines - we've mapped our own sample implementation by region: EMEA emerging markets, Asia emerging markets, and Latin America. The basic conclusion is that we believe investors should overweight Latin America and to a lesser extent emerging Asia, while significantly underweighting emerging Europe. We performed this regional allocation to illustrate our preferences, but generally focus on country level views, which are described in each month's Investment Directions. As such, this analysis should not be considered a formal recommendation, but an illustration of a regional approach in the current environment.
It is true that emerging Europe is by far the cheapest region, trading for roughly 6x trailing earnings, or a 50% discount to the MSCI World Index. In comparison, Latin American and Asian emerging market equities are trading at 11x and 11.5x trailing earnings, respectively. A similar picture emerges when we use price-to-book (P/B) rather than P/E ratios. EMEA emerging markets have an average P/B of slightly less than 1, while the averages for Asia and Latin America are 1.70 and 1.60, respectively. Despite the apparent cheapness in Europe, we prefer Asia and Latin America. The basic explanation for this apparent discrepancy is we feel that EMEA emerging markets are generally cheap for a reason.
To start, companies in EMEA are on average less profitable than their competitors in Asia and Latin America. The average return on assets (ROA) for EMEA emerging markets is 7.87%, well below both Latin America and Asia. This is important as valuations generally have a strong, linear relationship with return on equity (ROE) and ROA; the higher the profitability the higher the value. Our models suggest that while EMEA stocks are cheap, they are not cheap enough.
There is a second, and arguably more critical, reason that we prefer Latin America and Asia to EMEA: The EMEA region is riskier. EMEA emerging markets are not only geographically closer to the European debt crisis, but are also much more exposed to the ongoing deleveraging of the European banking sector. As a result, investors are reasonably concerned about the potential contagion effects on these countries. This concern can be seen in the rapid rise in EMEA credit default swap (CDS) spreads. At the same time, most of Latin America and emerging Asia has remained relatively immune (see chart 3). EMEA countries' CDS spreads currently average 352 bps, more than double the level in Asia (168 bps) or Latin America (157 bps).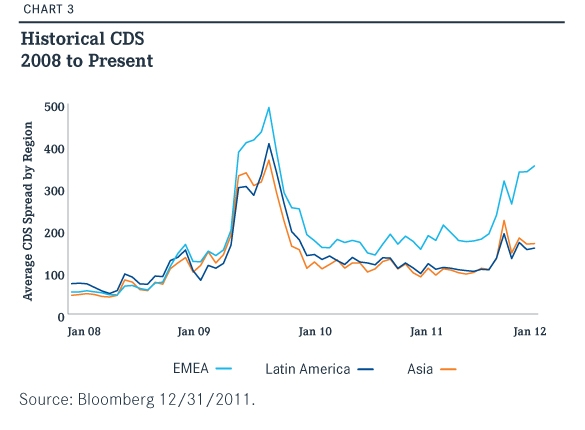 Given these views, what is the best way to implement them within an emerging markets portfolio? In order to assess "how much" to overweight each region, we constructed a simple regional portfolio using both return and risk expectations. Given our views on each region, each region's risk, and the correlation between the different emerging markets, our sample portfolio includes a 61% weight to emerging Asia, 32% to Latin America, and just 7% to Europe (see chart 4).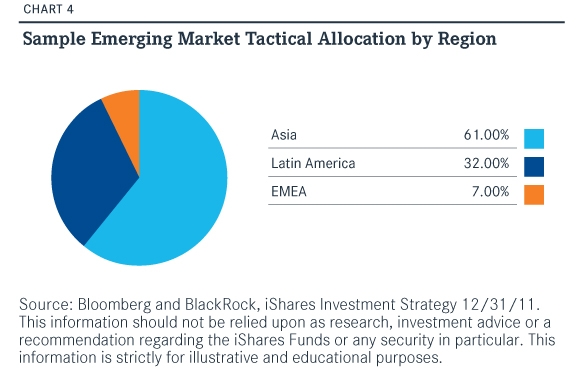 Relative to the MSCI Emerging Markets benchmark, this portfolio is significantly overweight Latin America (by 9%), slightly overweight emerging Asia (3%), and dramatically underweight EMEA (-12%) (see table 6).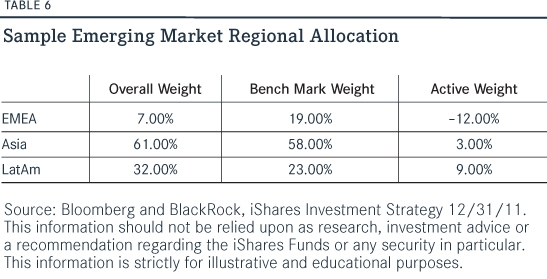 Conclusion
"I don't think anyone is thinking long-term now."

Thomas Mann
Given recent market volatility, and more importantly the nagging suspicion that it is not over, it is difficult to base investing decisions solely on long-term prospects, no matter how bright they may be.
The long-term arguments for emerging markets are well understood. Over time, many - although not all - of these countries should experience faster growth thanks to more favorable demographics and the benefits of playing "catch-up" with more developed markets. A second and less publicized argument in favor of emerging markets is that over time, these markets are likely to become less risky relative to developed markets (see "Are Emerging Markets the New Defensives?"). To the extent this development continues, all else equal, lower risk should argue for a higher allocation to these countries.
However, while relative risk has decreased, in an absolute sense emerging markets are still more volatile than most developed markets - Greece being a notable exception. Given this dynamic, it is not unreasonable that many investors are still concerned about timing the type and extent of their EM exposure.
Despite the recent rally, investors remain nervous. Many retail investors remain averse to any equity exposure, let alone emerging markets. Over time, and assuming Europe can continue to muddle through, sentiment should moderate. This is even more likely to be the case if credit conditions improve. As of mid-January most credit spreads were still wide, a situation not necessarily justified given strong corporate balance sheets and exceptionally ample liquidity, measured by the ever-expanding balance sheets of central banks.
To the extent that we see some mean reversion in credit spreads this should (1) provide for more liquidity, a condition that generally supports emerging markets, and (2) lead to further improvement in investor sentiment. Assuming these two developments occur, accelerating EM growth in the back half of the year and reasonable valuations should be enough to provide a modest tailwind for emerging markets in 2012. Within the EM space, we feel that the best way to take advantage of this trend is through an overweight to Latin America and to a lesser extent Asia, funded by a smaller exposure to EMEA countries.
Finally, for those focused on a longer horizon it is worth reiterating some of the points we made in our November Market Perspectives, "Are Emerging Markets the New Defensives?" Faster growth and stabilizing macro conditions are likely to prove to be long-term trends for most EM countries. At the same time, while 2012 may provide some respite for investors, none of the large, developed regions have yet tackled their longer-term structural issues. Eventually these problems will resurface, whether we're talking about structural problems in Europe or chronic deficits in the United States. You can kick the can down the road for only so long. Given this dynamic, a long-term tilt to EM is likely to prove a reasonable stance, albeit a volatile one.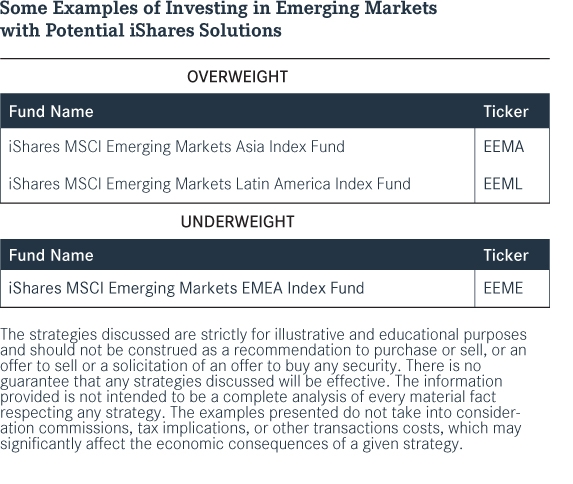 For a complete discussion of risks and other important information regarding this content, please go here.
Disclosure: I have no positions in any stocks mentioned, and no plans to initiate any positions within the next 72 hours.