Eyeball the ING (NYSE:ING) chart and you see something that looks in sight of a previous high. The stock is still 14% away from the level it occupied in July 2015 (€15.8), but is up 49% from the post Brexit low €9.12. For this analyst, the level $10.8 is important since this is what the stock occupied when I initiated on 26 September, and it's risen 26% since then.

Google Finance Chart
The obvious part of this performance is that nearly all rate sensitive names have enjoyed the shift in outlook to a growthier, more inflation rich picture with the Trump victory. However, this mainly applies to the U.S., where may names are up over 30% since November 8. Not so much Europe, and ING is up "only" 10% since the U.S. elections.
Much of ING's recovery since June has been due to something else then. I'd attribute it to straight value: the low of €9.12 corresponded to a PE ratio of 7.5x and a yield of 7.6%. I was interested to see Ellen Zentner, the Morgan Stanley chief U.S. economist, offer the view recently that the Fed saw the summer dash for yield as a temporary market distortion that would unwind. Anyone with that insight among investors could have cleaned up with greater certainty than anyone just buying on the value alone, though that was good enough.
ING has now progressed to a PE of 11.2x for 2017 and the yield around here is 5%. This means the "extreme and obvious" value been eroded. Still, this is a much lower multiple than one would pay for a U.S. bank of similar quality and of course to the extent that we do see higher inflation globally then ING has an income structure to benefit: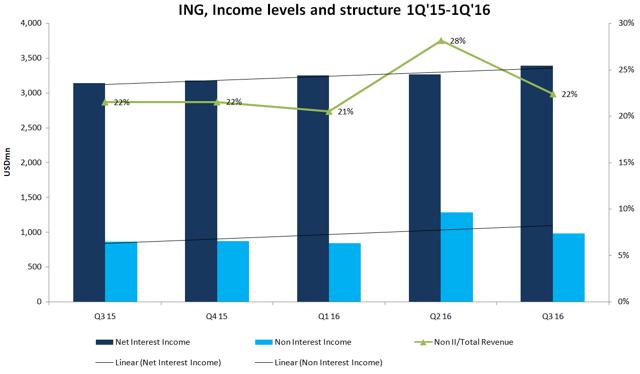 The predominance of net interest income in the mix is often cited as an opportunity for ING to grow fees, which is a valid observation. In the meantime, it means that ING's bottom line is more sensitive to higher NIM than a bank with a more fee rich income mix.
Just how much is impressive. If we boost INGs net interest margin, which is about 1.54% over total average assets, by 10bps, it would amount to just shy of €600mn on the bottom line, which in 2017 should be €4.5-5bn, so a double digit gain.
Inflation and rates lower in Europe than the U.S. and regulations less likely to ease
So far so good. However, we shouldn't expect European banks to share in the rising margin picture to anything like the same extent as the U.S. for the time being due to the lower growth outlook in the EZ economy, political risks around Brexit and key elections in 2017. The ECB's recent "trim" of QE to €60bn and month from €80bn does not really signal monetary tightening, as Draghi was keen to stress.
I would also be very surprised if we were to see anything like the commitment to regulatory easing for banks that the incoming U.S. administration is shaping up to make in Europe, in part because of Europe's relative ongoing financial fragility. And the Dutch financial regulators are among the more conservative in Europe. So this is a source of upside ING won't enjoy vs. U.S. Banks. Nor are taxes coming down in a hurry.
When might ING outperform U.S. peers?
You don't need looser capital rules or lower tax for ING to outperform leading U.S. bank stocks. What investors should watch for is a combination of two developments. If Trump delivers the program he is talking about, and Europe gets through the politics of 2017 with the EU intact (and implicitly strengthened if the likes of Marine Le Pen lose at the ballot box), then there should be enough imported inflation for the ECB to markedly reduce QE thanks to EUR weakness. That's simple, but important due to the growing discount of the best European banks to the U.S. average.
Conclusion
ING is a hold and still very comfortable as a value. I wouldn't look for outperformance vs. the U.S. as yet - but I would want a big position if the political and connected financial risks in Europe dissipate at some point in 2017, which to my mind is fairly likely.
Disclosure: I/we have no positions in any stocks mentioned, and no plans to initiate any positions within the next 72 hours. I wrote this article myself, and it expresses my own opinions. I am not receiving compensation for it (other than from Seeking Alpha). I have no business relationship with any company whose stock is mentioned in this article.