On January 20th of next year, Donald Trump will become president of the United States. Apple (NASDAQ:AAPL) investors should cheer that fact even more joyously than Trump himself, for the simple reason that corporate tax reform is going to happen, and Apple is going to receive perhaps the largest one-time benefit in the history of corporations. Below, I'm going to show you what exactly that means: how large a dividend Apple could pay, and why a one-time special dividend is the best use of cash.
The Situation
As a US-based corporation, Apple has the unenviable position of international profits being taxed at the US's extremely high corporate tax rate of 35%. Instead of bringing international profits back to America (and paying the absurd taxes), Apple has decided to let the cash languish offshore until a more friendly tax code is devised. One of the staples of Donald Trump's economic policy has been to lower the corporate tax rate or use a tax holiday to bring home the trillions of dollars that corporations are holding abroad. Now that we've got that out of the way, let's get to it.
How much cash can Apple bring home?
This number is going to be quite fluid, depending on any number of factors: the new corporate tax rate (25%? 15%?), whether there's a corporate tax holiday for repatriating cash (the Bush administration oversaw a 5.25% tax holiday in 2004), whether there are stipulations attached to the repatriation (i.e. spend at least 25% of repatriated cash on investment/wages etc). But, thanks to Excel, it's easy to model these! First, let's come up with the inputs:
Amount of cash to repatriate: As of Apple's 10-K filing in 2016, Apple had $216B in cash held outside the USA. By the time the new administration enacts new tax policy, let's say that grows by ~ $4B (extremely conservative) to $220B. Of course, Apple won't take all of that home in case cash is needed outside the US for whatever purposes. Let's leave Ireland $20B of walking around money, meaning Apple will repatriate a nice, round $200B of cash. (Kudos to Open Square Capital's latest Apple article for demonstrating the need to leave some cash in Ireland, a point largely ignored by most.)
Tax rate: Here's where things get dicey. The current US corporate tax rate is 35%. Trump has spoken of getting that number down to 15% - it would be hard to imagine anything more than 25% being the new corporate tax level. As mentioned above, however, a tax holiday during the Bush administration allowed companies to bring back cash at a mere 5.25% tax rate, which isn't completely out of the picture. So, we'll model a tax rate of 5.25-25%.
Percent of repatriated cash used for dividends: Once we have the after-tax number, how much of that will be used for dividends? I'll break it down into bins of 20%. This will give you a rough estimate of what could be paid out depending on your assumptions. For instance, pretend that the Trump administration requires 20% of repatriated cash during a tax holiday to be used on tangible capex and Apple decides to use 10% on buy backs and 10% on acquisitions of attractive companies. That leaves you with 60% of repatriated cash available for a special dividend.
Here's how that all works out: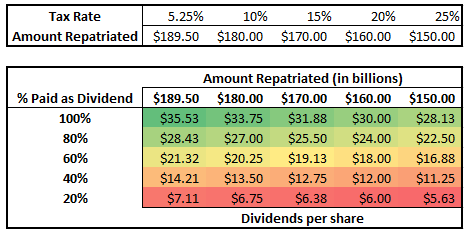 Yes, you're reading that right. If Trump reenacts the Bush tax holiday of 2004 (5.25% tax rate) and Apple decides to spend all (100%) of the repatriated cash as a special dividend, you're getting a check worth $35.53 for every share of Apple stock you own.
Challenges on getting to a $35 dividend
Unfortunately, there are a few challenges on getting to a $35 dividend. The most important hurdle is the tax rate: I believe a 5.25% tax holiday to be extremely generous and unlikely in the current political climate due to the large political capital congressional Republicans would have to expend to get a rate that low. Far more likely is the 15% realized tax rate. This is the targeted tax rate of the Trump tax plan, and wouldn't require any additional corporate tax holiday, while still being low enough to encourage repatriation of cash.
Further, Apple could use the cash on acquisitions. Although large acquisitions are anathema to Apple, they have made a few splashes, most notably their investments in Beats ($3B) and Didi Chuxing ($1B). With such a large cash pile, Apple could feel the time is ripe to make a large strategic investment to bolster the ecosystem or "Services" business segment that management has been promoting. Pandora (NYSE:P), Spotify, Twitter (NYSE:TWTR) and Netflix (NASDAQ:NFLX) all beckon as plausible takeover targets. The total cost to acquire all four of the mentioned companies would be about $80B.
Finally, part of a repatriation deal may entail a requirement for hard capex or employment of US workers. In order to fulfill this, it is easy to imagine Apple creating a multi-billion dollar assembly plant within US borders for assembly of at least US-facing consumer electronics. Using the Tesla "Gigafactory" as a proxy for a state-of-the-art manufacturing facility at a cost of $5B, we can project a similar hard capex cost. Let's double that to get to $10B to cover extensive training, hiring and administrative costs for an operating segment that is essentially new territory for Apple.
If we assume all of these hurdles:
A tax rate of 15%;
An acquisition spree of $80B; and
A large US-Capex project
we come to a final cash hoard of $15 per share. This should demonstrate the substantial size of the Apple cash hoard that is being repatriated: even given a massive acquisition spree (including four high-valuation growth names) and a massive capex project, Apple still would be left with $15 per share to be used on share repurchases, increasing the dividend, or a special dividend.
Now, what's the best use of all that cash that we're bringing back home? Bill Maurer and Open Square Capital have both done an admirable job at taking a shot at the idea - unfortunately both are wrong. The better use of Apple's newfound cash hoard is a special, one-time dividend, not an increased quarterly dividend or lengthy and large share buyback. Here's why:
Money today > Money in 2091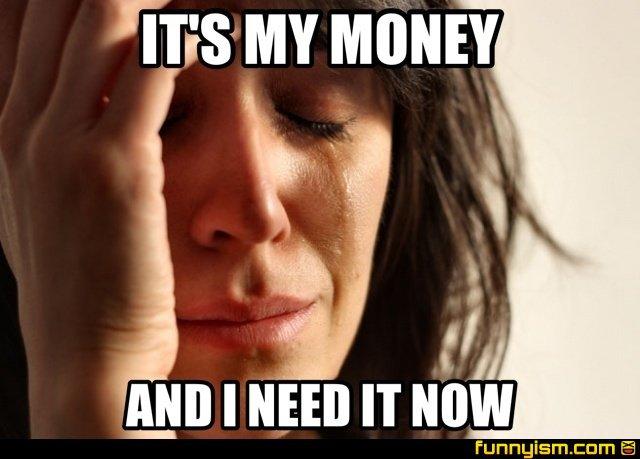 (Link to the meme)
Bill Maurer makes the argument that the existing dividend could be substantially increased and sustained for many years, which is certainly true. He proposed an increase to at least the level of long-term US treasury yields, i.e. an increase of ~ $2.5B per year in dividends paid. At that rate, the repatriated cash would be completely distributed after ... drumroll please ... 60-75(!!!) years. Unless someone under the age of 18 is reading this (in which case, go outside and make a snowman), you'll be dead by the time Apple finishes distributing that cash. Even if Apple increases the dividend by 10% per year, it would still take 20 years to burn through that cash. In the words of perhaps the greatest commercial of all time: "It's my money, and I need it now!" The time-value of money makes a large special dividend preferable over a small increase over time.
Massive buybacks are self-defeating
Open Square Capital is of the idea that a large share buyback program is the better idea. The main thrust of his argument is that A) share price will be increased, and B) buybacks are tax-advantaged. This is normally true, but the Apple situation is somewhat special. As mentioned, the announcement that Apple is going to repurchase ~$125B worth of stock will instantly jolt the stock price upward, easily by 10-20%. That's actually a bad thing: now we're using our repatriated cash at a 10%-20% penalty to what we would have otherwise had since the stock is more expensive to repurchase. With dividends only being taxed at a rate of 15-20%, the simple announcement of a massive buyback will nullify the tax-advantaged status of a buyback by causing such a large swing in the stock price. Though this wouldn't normally be the case, it is simply because of the massive amounts of money we're talking about (one-third of Apple's market cap is cash).
Getting the dividend off the balance sheet (and share price)
The last reason I'm hoping and praying for a $35 dividend next year is the most basic: I think Apple is extremely undervalued, but this fact is hidden by Apple's extreme cash hoard. Consider the following:
After Apple's (presumed) $35 dividend the stock price will decrease by $35, while earnings should remain the same. This will move Apple's P/E ratio from ~13.3x to ~9.2x. I think anyone looking at a company trading at a 9.2x multiple with sustainable cash flows and a world-dominating position is going to have a hard time not hitting the buy button. Repeatedly. Of course, nothing has really changed about the company's prospects, but I think removing the cash overhang will demonstrate with extreme precision just how undervalued shares of Apple are.
Conclusion
There you have it: it's possible for Apple to pay a $35 special dividend next year. Whether or not they do is a function of a number of inputs, which you can play around with in the table above. However, given even a massive capex and acquisition spree, Apple can still return $15 per share to stockholders. I will certainly be watching management closely in the coming months to see what their guidance is for repatriated cash.
Disclosure: I am/we are long AAPL.
I wrote this article myself, and it expresses my own opinions. I am not receiving compensation for it (other than from Seeking Alpha). I have no business relationship with any company whose stock is mentioned in this article.